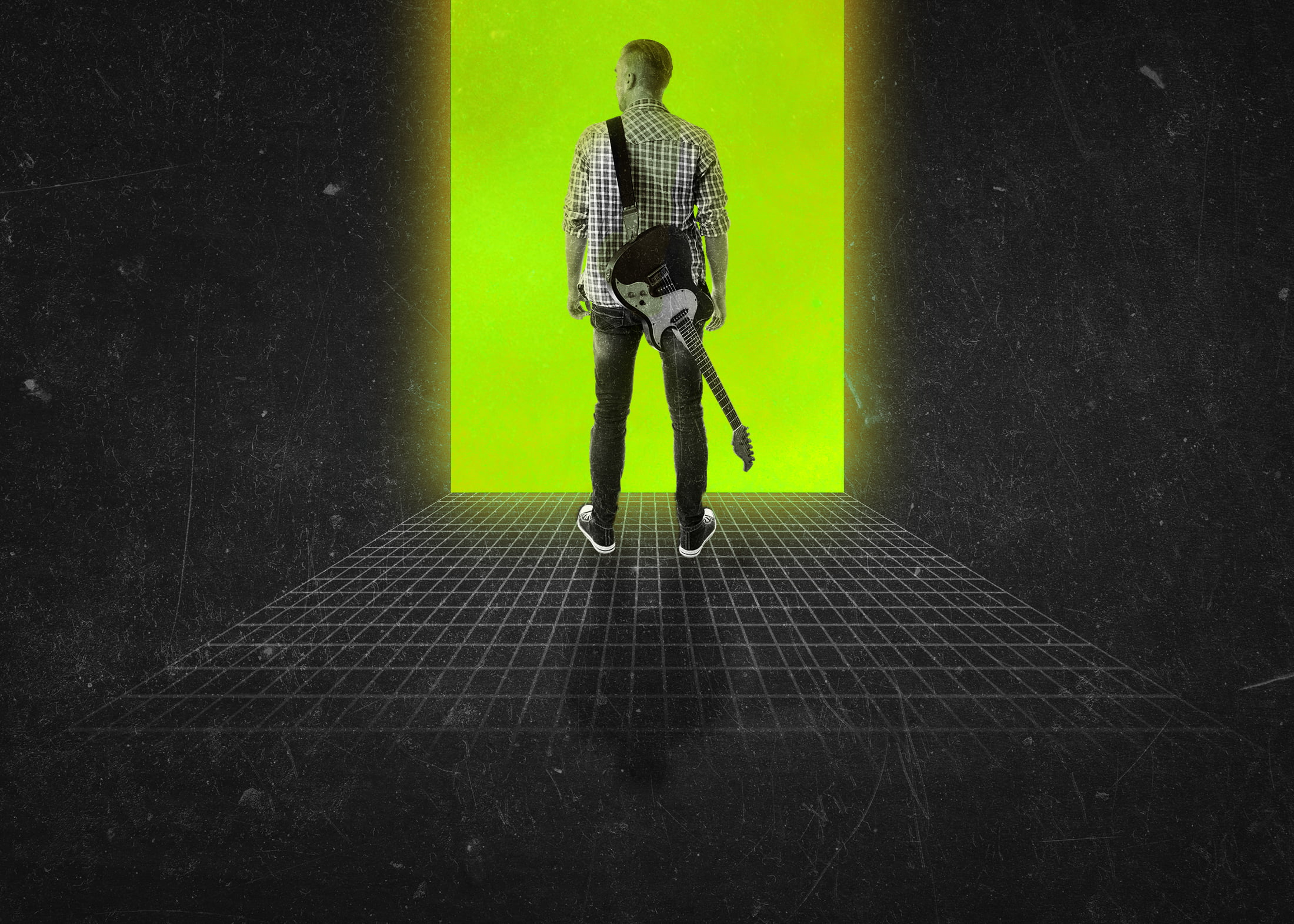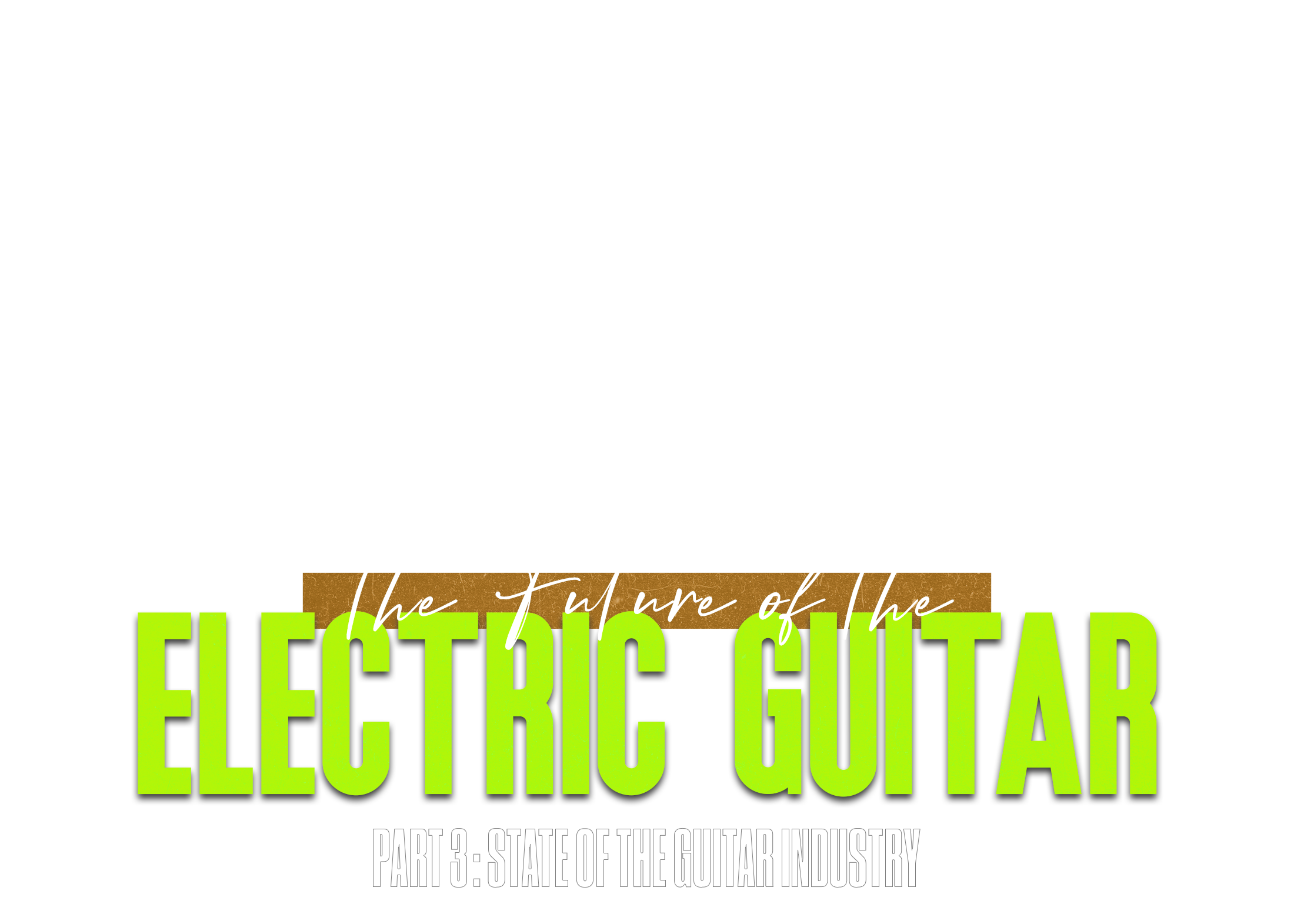 The Future of The Electric Guitar
Part 3: State of the Guitar Industry
As we attempt to predict the electric guitar's future, let's place a stethoscope on the heart of the industry behind it. By parsing statistical sales data and trends, as well as the observations and opinions of experts and stakeholders, we will get a sales-driven view of how successful the electric guitar is today.
But there's more to measure beyond the ledger. We have to consider whether the guitar industry is prioritizing values like sustainability, inclusion, and innovation. We'll look at how environmental regulations have impacted guitar production, how female, nonbinary, LGBTQ+ and ethnically diverse guitarists are treated and portrayed in the wake of #metoo and other social movements, and whether the spirit of innovation is as alive in the industry as it was in the mid-20th century.
"The electric guitar market is indeed changing, as it always has," Walter Carter, the founder of Nashville's Carter Vintage guitar shop, explained to me over a phone call. "And it is cyclical."
Is Carter — who has over 25 years experience in the vintage guitar industry — correct that the electric guitar market follows a cycle? If so, where in the cycle are we today?
Let's take a look at some recent history. In 2022, it's now been four years since Gibson's bankruptcy filing. We've been through 13 years of slow and steady growth since 2009 — the year the musical instruments industry saw its worst U.S. retail sales in 25 years. That year, the industry as a whole brought in $5.8 billion — a 17% drop from 2008.
20 Years of Musical Instrument Sales
Chart data is listed in US dollars by billion
Source: Music Trades 2022 Music Industry Census Report
Today, the guitar industry is showing major signs of life. Gibson, now about three years into its current leadership regime, has successfully refocused back onto guitars and revitalized its core business. The Nashville-based company's current iteration of its Standard model lineup, first released in 2019, has received a warm reception from players for its quality control and adherence to the specs that made the originals classics. In 2020, Gibson revamped the Epiphone brand to similar praise, and in 2022, they brought back Maestro pedals. Major retailer Guitar Center has gone from filing for Chapter 11 bankruptcy in November 2020 to flirting with going public, according to reports from late 2021.
Brian Majeski, editor of the industry publication firm Music Trades, was quoted in an NPR story as forecasting "2022 to be the biggest year of guitar sales in history." It's such a rosy outlook, it almost makes you forget about that one thing we've been dealing with for the past two years.
Surviving COVID-19 in 2020
Before analyzing the music instrument industry's performance over the last two years, we should pause to acknowledge the impact the COVID-19 pandemic has had on the world. The mortal toll it has taken, the stress and division it exacerbated, and the inequities it has brought to light can't be ignored.
But if music has any core purpose, it's to reconnect us with the beauty in life. Whether we create it or consume it, music acts as an outlet for our frustrations and our joy, a medium to express and cope with whatever is going on inside. And in 2020, music was called on more than ever before to do just that.
"A tough year, but far better than initially expected" is how the Music Trades annual Music Industry Census report summarizes 2020. When reports first arrived of how serious COVID-19 was looking, manufacturers gritted their teeth and "braced for absolute disaster," as Majeski put it.
"They felt the world was coming to an end," he said in our interview. "It was cash conservation mode, batten down the hatches – just anticipating a precipitous decline in revenue."
20 Years of Musical Instrument Sales
Chart data is listed in US dollars by billion
Source: Music Trades 2022 Music Industry Census Report
Then, after about a month of anxiety, the orders started coming in – not in a trickle, but in droves. It turned out that early COVID harm reduction efforts like stay-at-home orders and economic stimulus payments were having a very positive impact on guitar sales. By April, the floodgates had opened and retailers were reporting to Majeski that anything with frets was selling.
By years' end, fretted instrument sales in the US had totaled $2.3 billion, up 6% from 2019. To take a more granular view, acoustic guitars saw the highest growth within this segment, growing by 11% up to $957.3 million in total sales. Electric guitars closed the year at $712.6 million in retail sales, with growth of just .66% from 2019. This nearly flat trend in electric guitar sales is largely attributed to product shortages.
Backorders and shortages throughout 2020 and 2021 led to some unexpected buying habits, as would-be buyers of affordable entry-level models instead opted to learn guitar on mid-priced instruments around the $500 mark. The overall rising tide of guitar sales helped to bolster the retail value of adjacent categories like amplifiers (up 4.9%), effects pedals (up 3.4%), and strings (up 3.9%).
Quiet Stages, Empty Schools
While new guitarists and the synth-curious spent their lockdown days making music at home in 2020, stay-at-home orders and the closing of music venues had an inverse impact on other segments of the music industry.
Pro Audio Segment Sales 2019-2021
Chart data is listed in US dollar by million
Source: Music Trades 2022 Music Industry Census Report
The live sound or pro audio category, which typically includes PA speakers and subwoofers, mixers, power amps, and in-ear monitor systems, took a nosedive. The retail value of this segment dropped by 44% in 2020. And as schools nationwide shifted to remote learning, music departments put a freeze on purchasing band and orchestra instruments and other gear, as the school music category retail value dropped 30%.
The electric guitar is fortunate it escaped such a blow, and almost no one expected to see demand rise in 2020. But it isn't immune to live music shutdowns, supply chain issues, or economic inflation. We're now two years removed from the start of the pandemic. So how has the guitar industry adjusted?
Getting Healthy in 2021 & Beyond
If 2020's economic conditions were a shock to the guitar industry, then its response in 2021 was anyone's guess. Would we see a new boom in live music, or continued shutdowns? Would the supply chain return to its normal flow? Was the rush buying of 2020 an unsustainable fluke?
2021 brought much of the same woes, from continued supply chain issues to new strains of the coronavirus. With hindsight, it's clear that we are still not out of the woods yet, as labor, supply chain, and inflation issues continue to hover as economic stormclouds loom.
But in 2021, the guitar industry began to stabilize itself amid the uncertainty. As Music Trades' 2022 Music Industry Census Report shows, fretted instrument sales in 2021 were up 23% from the previous year. This time, electric guitars saw incredible growth — up a whopping 30% in retail sales for 2021. Instrument amps saw 30% sales gains. Acoustic guitars continued their steady growth, up 14% in 2021.
The musical instruments industry as a whole is seemingly back on track. In 2021, Music Trades reported a 22% year-to-year increase in 2021 — the largest gain since it began reporting on sales in 1992. The year closed with $8.9 billion in total sales across all categories. More good signs from around the industry: electronic and MIDI instruments sales jumped up 30% in 2021, and two categories that really hurt in 2020 were up: live sound grew by 16.5% and DJ was up by 13.5% in 2021.
While 2021 was a historic sales success, guitar gear manufacturers, retailers, and buyers should not lose sight of the bigger picture. As Americans feel the pinch of inflation at the grocery store and at the pump, we also see prices increasing on musical gear. We've also already seen the outbreak of war in Ukraine have an impact on the industry. Russia has banned the export of 200 goods, including tubes commonly used in guitar amps. Mike Matthews, who owns a family of seven Russian tube manufacturers through his company Electro-Harmonix, has announced he will not be able to ship any Russian tubes until the export is lifted. The war has also exacerbated the ongoing chip shortage, with shutdowns of Ukranian semiconductor plants affecting brands like Behringer.
Never a Better Time to Learn Guitar?
"I think this is the best time for guitar, I really think so," Tomo Fujita, who teaches guitar online through his subscription based Guitar Wisdom course, said.
He may be right – for those who couldn't tell an E string from an A string, 2020 might have been the best time in history to learn guitar. For one thing, the availability, variety, and quality of beginner-friendly guitar models priced around $300 was at an all-time peak.
Once equipped with a guitar, the student has plenty of options to learn the instrument. Private, in-person instruction took a big hit in 2020, but instructors had the option of turning to Zoom to conduct lessons. In recent years, companies like Fender, Gibson, and Orange have invested heavily in developing guitar teaching apps or platforms featuring exclusive content. And with subscriptions to guitar lessons often bundled with instruments or other gear, it's no wonder so many people learned how to finger a G chord while they were also learning how to make sourdough bread. In turn, such lesson platforms have been a new source of revenue for manufacturers, helping secure the health of the industry even during challenging times.
Outside the manufacturers' guitar lesson apps, there's a dizzying number of paid and free programs and video channels that teach guitar. Want one-on-one instruction? Find free lessons on YouTube from JustinGuitar, Andy Guitar, Marty Music, and hundreds more. Want something a bit more advanced? Try videos from Rhett Shull, Paul Davids, or Eric Haugen. In more of an abstract mood? Explore the fringes of music theory with the likes of Adam Neely or Ben Levin.
Not all guitar newbies from 2020 will stay on the six-stringed path, but this recent spike in interest may hold long term benefits for the guitar industry.
"My sense is you're going to see a drop off in entry-level guitar purchases, and the premium manufacturers and the premium brands will have an opportunity to capture some of these buyers for some years to come," Majeski said. "And then after that, who knows?"
Innovation Or Stagnation?
So, what kind of guitars are selling in today's market? While SKUs and specific product titles are as varied as ever, look at most top-selling electric guitar lists and you'll start to see a trend. Whether they cost $100, $1,000, or $10,000, the vast majority of top-selling guitars tend to look rather similar.
To be specific, we're talking about the old standbys: the Fender Stratocaster and Telecaster, and the Gibson Les Paul. If they're not Fenders or Gibsons in name, they're one of the countless models that borrow from these designs. There's nothing wrong with that — these are comfortable, excellent-sounding, well-proportioned instruments that have stood the test of time. It's arguable that had Leo, Les, and Ted created lesser instruments, the electric guitar may have never gotten off the ground.
"I think yes, Leo Fender did just get it right, and Gibson did too with the Les Paul for a precious few years in the late '50s," Ian S. Port, author of The Birth of Loud, said. "I think they just got it right. It was a brilliant piece of industrial design. It had an incredibly versatile sound, it was extremely user-friendly, extremely durable."
But lightning was caught in a bottle over 70 years ago. Music today sounds completely different from when those guitars were invented. The guitar playing community looks completely different. Is it time for something new? Or has some inherent timeless quality kept these guitars so popular?
"Fender's allowed us the capacity to keep the aperture really wide, so as music changes and evolves and as new genres pop up, our instruments work for those as-yet-undefined new genres: the next thing that's gonna happen after the thing that's happening now," Justin Norvell, executive VP of Products at Fender, said.
Norvell likens Fender's adaptation to that of the auto industry. A modern Ford Mustang doesn't look identical to its ancestors from the '60s, but the design cues are there. It's much the same with a modern Stratocaster. The pickups are more finely tuned, the neck is more stable, and it can achieve more sonic variety, but the outline remains the same, and the legacy of its past can be seen and heard.
Fender, Gibson, Gretsch, and other long-established brands seem to favor this approach. Their early brilliance put into place a rock-solid foundation upon which to build their businesses. As long as they remain open to evolution without losing their essence, they can continue to modify and refine the formula to meet the needs of guitarists today.
The legacy-based approach doesn't represent the entire guitar industry, however. There are more electric guitar brands than ever before, and many of them see things differently. Though headless guitars have been around since the '80s, they've seen a resurgence in recent years. And since once-dismissed ideas – see the cancelled original Les Paul Standard, revived years later by Eric Clapton – sometimes see new life in this industry, it's worth taking notice.
Smaller builders like Steinberger and NS Designs (both of which have ties to Ned Steinberger, the headless guitar's creator), Kiesel, and Strandberg have gained a foothold with modern technical players who require precision for metal and math riffs, or intricate arpeggios. These guitars look nothing like the classics, but such players favor them because they emphasize form, comfort, and tonal clarity. The demand for headless guitars has grown enough to the point where major manufacturers like Ibanez have added such models to their lineup in the past year.
Seven-string-and-up guitars have been around for some time now, demonstrating their lasting appeal. More recent improvements like asymmetrical "fanned" frets have also taken off with players. And there's an explosion of creativity in making guitars from all sorts of materials, from popsicle sticks to skateboards. While these won't likely replace alder or mahogany anytime soon, they speak to the constant fascination we have with the guitar.
In the past decade, we've seen a major shift in how the guitar is approached and utilized by musicians. The boutique pedal market has experienced tremendous growth. Music Trades reports continuous annual growth in effects pedals and multi-effects pedals sales since 2018 with both categories growing by over 30% in 2021 alone.
While the quest for the perfect analog overdrive or fuzz tone is alive as ever, advances in digital signal processing and the ubiquity of DSP chips has opened the floodgates for innovation. Your average digital reverb pedal today, for example, is likely to carry not one, but six unique reverb tones, everything from spring and hall to shimmer and other ethereal tones. Even digital overdrive pedals, once scorned by purists, are becoming indistinguishable from the handwired analog models they emulate.
Rick Gagliano, product manager at Line 6, sees two distinct market segments. First, there are the traditionalists, who prefer traditional gear or vintage-inspired recreations or digital models of amps, guitars, and pedals.
"There's this new crop of what I would consider very experimental musicians that use the gear that they have as a means to a textural end," he said, naming the likes of Sarah Longfield, Felix Martin, 12 Foot Ninja, and St. Vincent as innovators.
The capabilities of advanced modeling units like those from Line 6, HeadRush, Fractal, and others, allow such guitarists to not only craft imaginative soundscapes, but to rapidly cycle through preset sounds onstage. The results can be jarring and jaw-dropping: imagine the abrupt switch from a high-gain baritone to a clean, chorused nylon-string sound on the same guitar in the snap of a finger. That's what's possible today.
Guitar as a Sonic Platform
Taking a step further into this open-sourced future are those who play and create MIDI-enabled guitars. Be it with add-ons like Fishman's TriplePlay, Roland's GK-3 systems, or standalone guitars that act as MIDI controllers, like the Jamstik Studio, such gear opens up worlds of possibilities.
Though MIDI guitar has been explored for decades to varying degrees of success, it is poised to become fully realized this decade. Like with pedals, the technology has never been better, cheaper, or easier to integrate. Today's MIDI-enabled guitars can much more accurately recreate the sound of an acoustic grand piano or a saxophone than the cheesy '80s MIDI sounds you may remember. And latency, the bane of MIDI guitarists up until now, is nearly a thing of the past. Measuring in single-digit milliseconds on modern devices, the pestering "lag" of the old days is almost imperceptible today, and should only get better with time.
Another troublesome wall to come crashing down was the issue of playing feel. Touch sensitivity and nuance are what the guitar does best. The guitar's responsiveness allows players to express themselves in myriad ways. Until fairly recently, subtle changes in picking attack couldn't be accurately captured through MIDI guitar. Expressive bends just sounded cheesy, or weren't tracked at all. And fast tremolo picking sounded like a jumbled mess.
The dawn of MIDI polyphonic expression (MPE) has changed all of that. This technology enables MIDI devices to transmit nuances, like how hard a note is struck, how it is bent, aftertouch, and more — all critical elements in any guitarist's unique style. It's easy to hear the difference MPE makes by listening to a modern MIDI instrument with MPE to one from 20 years ago.
While advances in DSP and MPE were not done by luthiers, the guitar industry has wisely made great use of both. Today, guitarists have access to an infinite number of sounds that are more authentic and expressive than ever, and they can control them with the familiar six-string feel. Keyboardists take notice — guitarists are after your synth gigs!
Guitar: The Instrument for Everyone?
To stay relevant, the guitar industry must not only keep up with technology, but with its customers and the ever changing social environment. A common critique (and one of the causes of the so-called death) of the guitar market was that it only catered to one demographic: white males, while largely neglecting guitarists of other ethnic backgrounds. In yesterday's guitar culture, women were at best tokenized and at worst objectified. So how do things look today?
Over the past decade, music tradeshows, guitar magazines, and guitar culture at large began to make much-needed changes. Up through the early 2000s, if women were seen in guitar media or at tradeshows, they were often models meant to keep eyes on an ad, or hired to draw men over to a booth. Online, things weren't any easier for female guitarists, who were more likely to face harassment on forums, or get more comments on YouTube about their looks than their legato.
One of the biggest indicators of this change came in 2016, when the publishers of Guitar World magazine announced their decision to stop using bikini- or lingerie-clad models to advertise guitars in their annual buyer's guides.
"It had run its course and there was no need to do this anymore," Guitar World Tech Editor Paul Riario said of the decision. "The world was changing and it started to feel more exploitative than sexy. When it starts to reek of being sexist, it's time to call it, to hang that hat and move on from that.
At the same time we started to recognize that there were a bunch of great female players coming up the pipe, and I think we felt the need to explore that area."
Since that time, Guitar World has featured more female guitarists on their magazine covers, including Orianthi, Nita Strauss, and, perhaps most notably, Annie Clark, aka St. Vincent, who ironically did don a bikini (sort of) on the cover.
St. Vincent, has, in many ways been one of the most prominent figures of guitar's cultural shift, and a reminder of all that the industry and community have neglected for so long. In 2015, Ernie Ball Music Man announced the St. Vincent signature model, which she designed. The guitar has a unique body shape that looks cool and is meant to feel comfortable to women. It was a near-instant success, finding popularity among guitarists of all genders, drawing attention from national media even beyond guitar publications, and spawning a number of spinoff successors.
Broadening Representation
And Ernie Ball Music Man is far from the only guitar maker investing in female guitarists. Since 2018, Ibanez has developed the JIRA signature model for Alice Cooper guitarist and solo shredder Nita Strauss, the YY10 for math rock wizard Yvette Young of Covet, and a signature LB1 for Brazilian guitarist Lari Basillo. In 2021, Epiphone developed a unique Sheraton signature model for Austin-based blues rocker Emily Wolfe. ESP partnered with Reba Myers of hardcore act Agent Orange for a signature model in 2021. In 2020, Fender created signature Stratocasters for Grammy-winning artist H.E.R., reggae-infused R&B artist Tash Sultana, and a signature Telecaster for Pretenders frontwoman Chrissie Hynde.
"We're finally starting to move away from this tired notion that guitar is just a thing for white dudes to play rock music on, and seeing women, minorities and people from every genre and nationality embrace the remarkable creative power that this instrument contains," said Josh Gardner, editor of Guitar.com.
While this response by the industry is appreciated, representation of women, non-binary, and queer guitarists is still not where it arguably should be. When compared to the emerging modular synthesis and electronic music markets, guitar could stand to learn a thing or two.
"The industry is much more inclusive than it's ever been and is actively pushing visibility of BIPOC, womxn, and non-binary players," said Vanessa Wheeler, a guitarist and performer who goes by the stage name VAVÁ. "It can feel performative at times, but the point is to normalize seeing all kinds of people playing all kinds of instruments."
For Wheeler, the increase in visibility is welcome, but just as necessary are shifts in attitudes with how female guitarists are seen and treated.
"It's more about how traditional audiences bring the shade when they see BIPOC/womxn/non-binary players not execute/choose not to play with virtuosic ability, or play in styles that they don't view as valid; it says a lot about the group of people the industry used to pander to until it realized that a far greater ROI could be had by diversifying its client base."
A leading voice in promoting female as well as gender-nonconforming guitarists and musicians is She Shreds Media. Found in print and online, She Shreds publishes interviews, in-depth features, and videos celebrating and featuring female and non-binary guitarists like H.E.R., Willow, Esperanza Spalding, and others.
If the industry's intention behind growing and undoing past mistakes is noble, the representation can't simply stand still at this point. Instead, manufacturers, media, and retailers must continue to elevate the discourse and promote guitarists from an even broader range of ethnic backgrounds, sexual orientations, and gender identities.
Are Guitars Good for the Planet?
As much as culture, international supply chains, or even the global economy impact the success of the electric guitar, the instrument, like every consumable good, depends on the health of our planet.
The rosewood fretboard on your Les Paul, or the swamp ash used to build the body of your Telecaster, has quite the journey to go through before it ever gets to a luthier's workbench. The trees must first survive in the wild, despite threats of natural predators and invasive species.
One such species, the emerald ash borer, an invasive beetle native to China, has gained national attention for its destruction of ash trees across the United States. Its spread has even impacted some of guitarists' favorite models.
Luthiers prize the wood taken from the swamp ash tree's submerged trunks for its light weight and resonant tone. In recent years, a shortage of such wood, caused by the emerald ash borer and climate change, has driven some manufacturers to seek new weight relief methods that enable them to use the heavier upper portions of the tree.
Resourcefulness in the face of scarcity and environmental challenges is what's driving sustainable innovation in all sorts of industries. You see it in the growth of electric cars, plant-based burgers, and LED lighting. As a valuable natural resource sought after in multiple industries, the availability of wood is also subject to regulation, price fluctuation, and scarcity.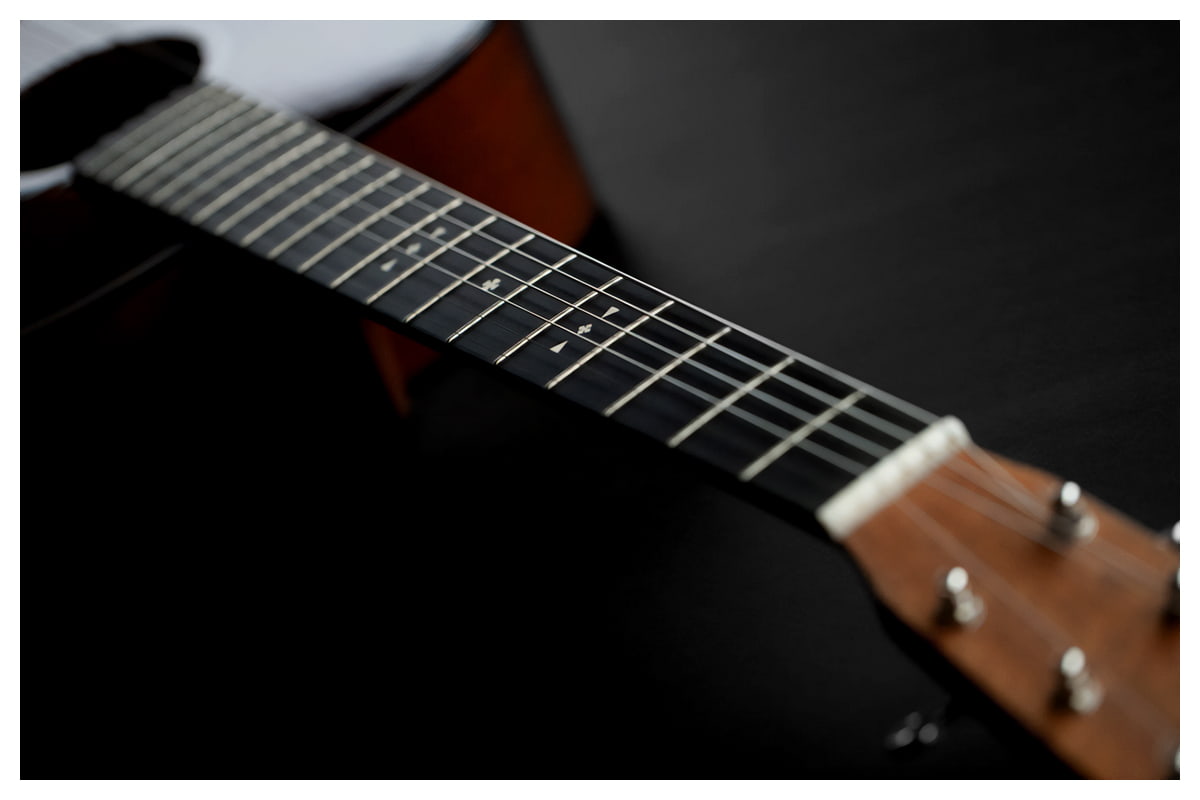 Richlite
A composite material made from recycled paper and phenolic resin, Richlite is an alternative to ebony wood in guitar fretboards and bridges. Beyond guitar, Richlite is widely used in countertops, architectural millwork, and many other applications.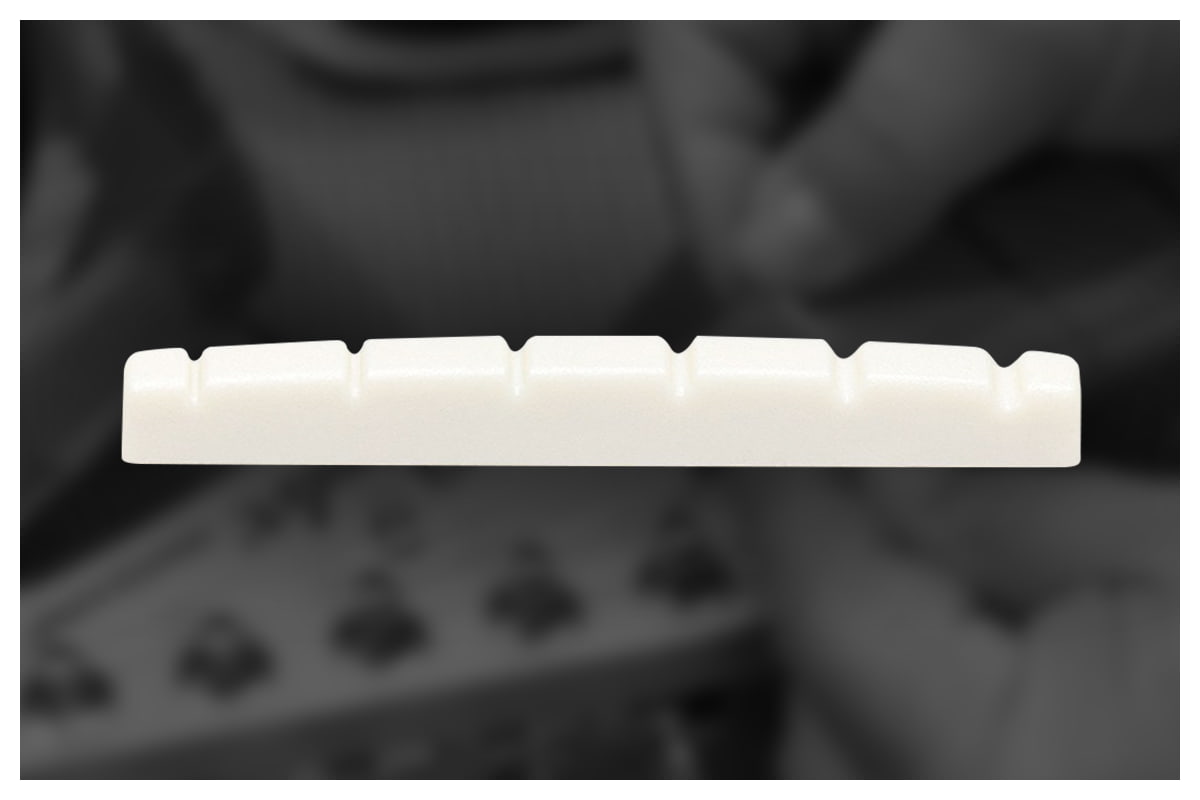 TUSQ
Those seeking a vegan or cruelty-free instrument will appreciate GraphTech TUSQ. This synthetic material is widely used in guitar nuts and bridges as an alternative to animal-derived bone and ivory.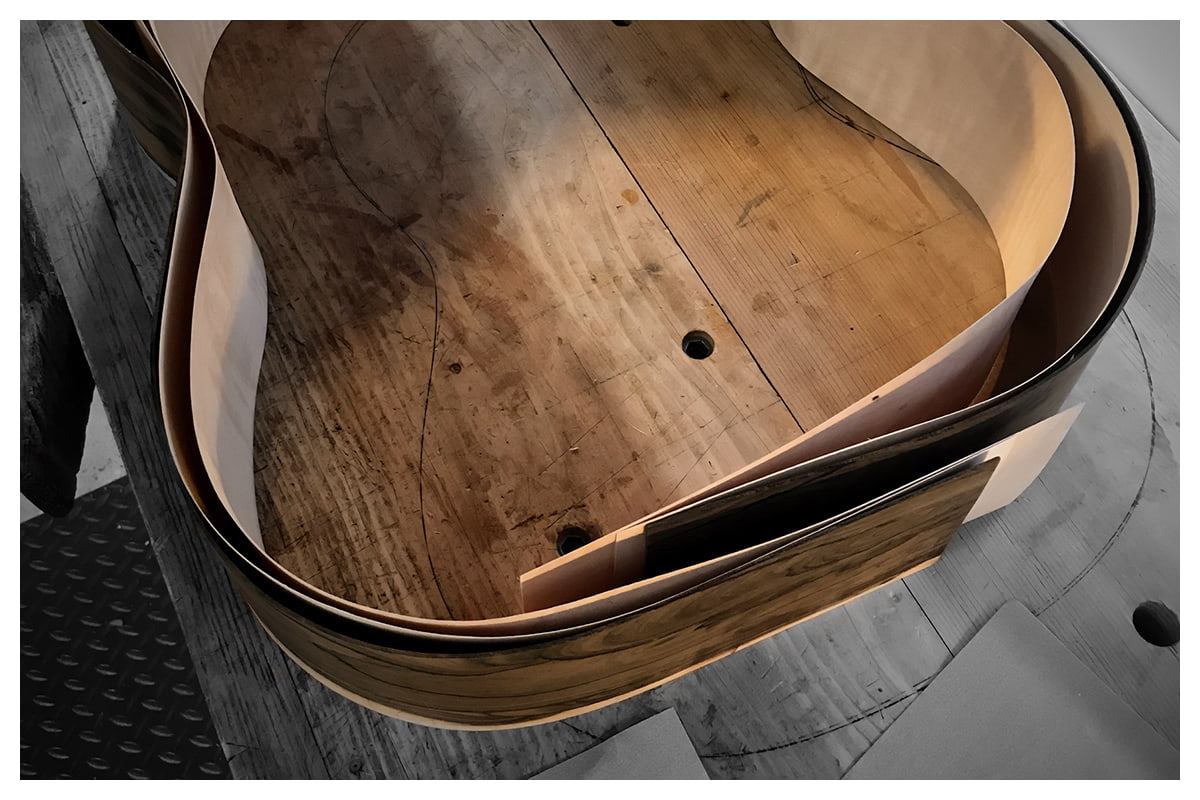 Laminated / Layered Wood
A guitar with laminated (sometimes called layered) back, sides, and/or top has been constructed with several thin pieces of wood bound together and shaped. Luthiers get a much greater number of laminate panels per inch of wood thickness than they do with solid components.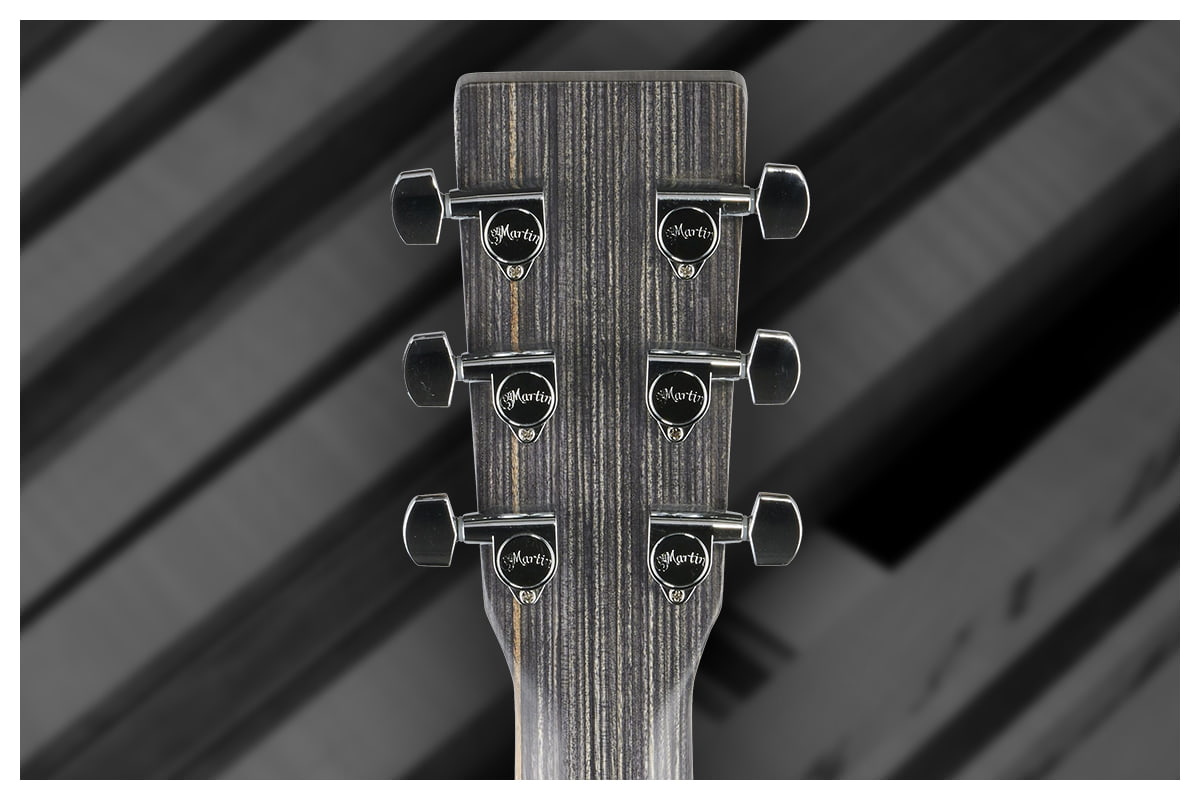 Laminated / Stratabond Neck
Stratabond is a composite material made of several thin pieces of birch, bonded by resin. Stratabond is used as a sustainable alternative to solid mahogany. Likewise, laminate guitar necks use multiple pieces -- often varied in species -- of wood, enabling luthiers to use smaller pieces that would otherwise be disposed of.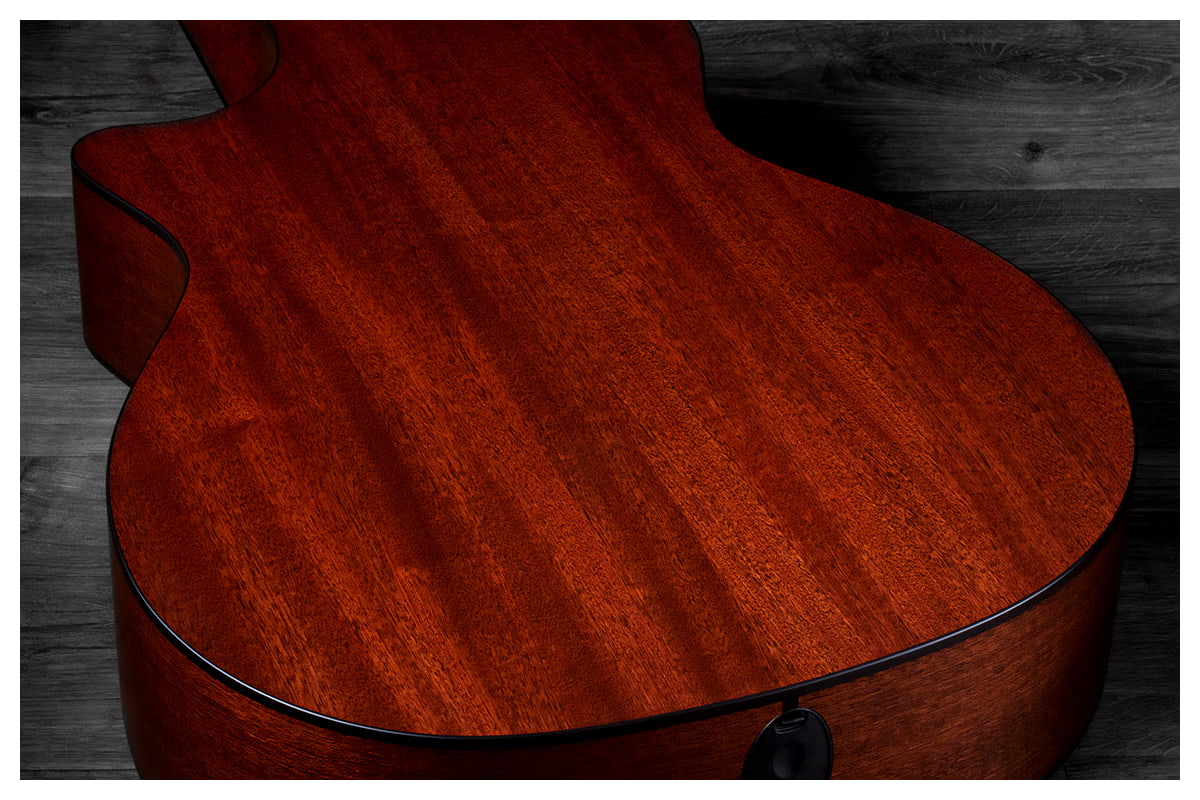 Alternative Wood Species
In an effort to conserve over-harvested exotic woods like mahogany and rosewood, manufacturers opt for lesser-used alternatives like sapele, pau ferro, ovangkol, and others, which sound and look similar. Macassar ebony, which has a striped appearance, is also a popular alternative to jet black ebony.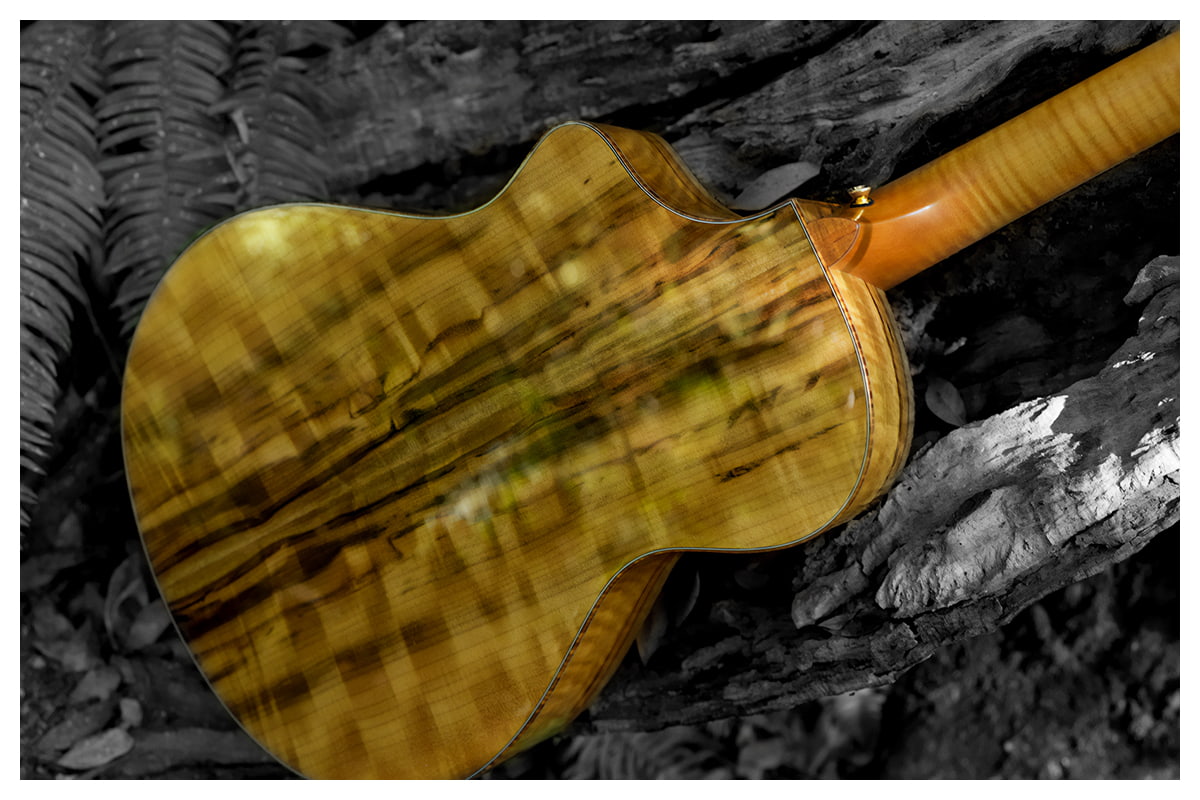 Domestic Woods
Although domestic woods like maple and spruce have been used for years, many brands offer an expanded catalog with options like cedar and red cherry. Breedlove in particular takes pride in native Oregonian myrtlewood. The process of "roasting" maple gives it a darker hue and tone and opens up a variety of uses.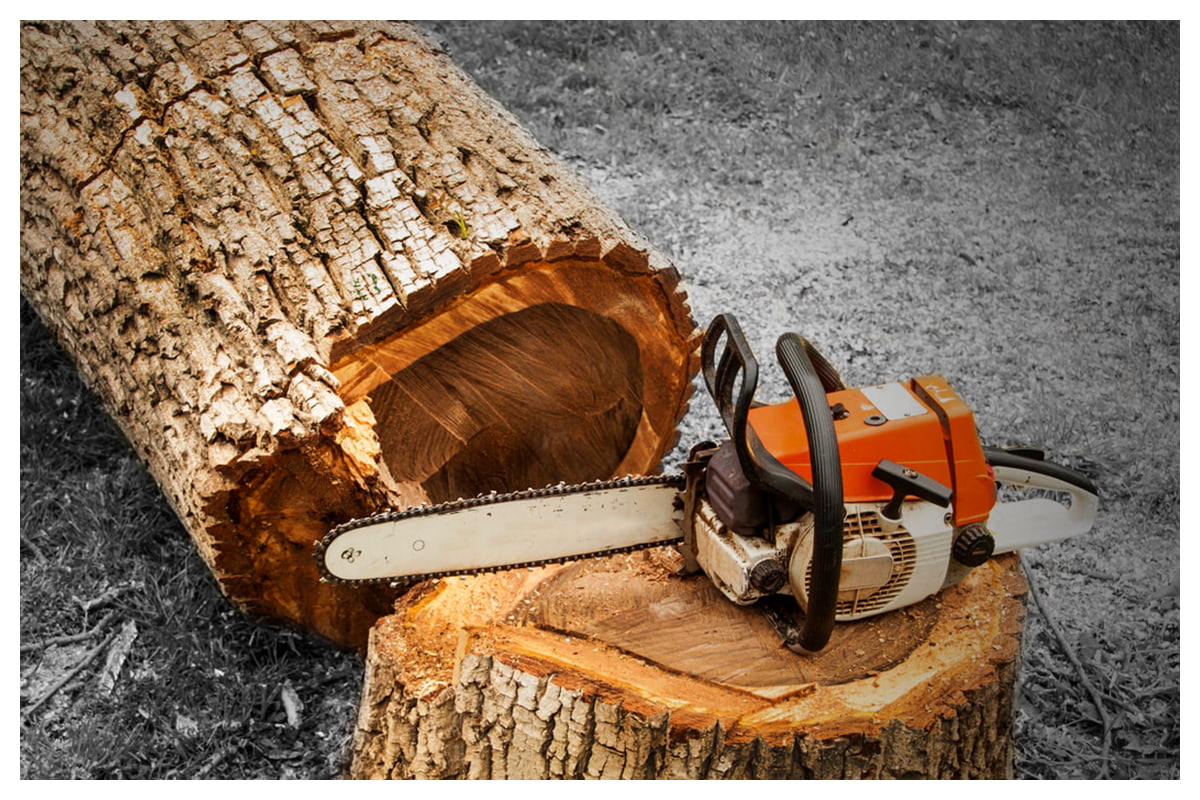 Reclaimed Woods
Brands have found several ingenious ways to repurpose otherwise unused wood. Martin has made use of "sinker" mahogany, recovered after centuries spent in the bottom of a river in Belize. Taylor Guitars has also used "Urban Ash" gathered from aged municipal trees in California that would have otherwise been disposed of.
In 2017, the Convention on International Trade in Endangered Species of Wild Fauna and Flora (CITES) passed restrictive measures on the use and transport of rosewood. This was a major agent of change as rosewood is ubiquitous in the industry. Electric guitars often sport rosewood fretboards, and acoustic guitars use it in even greater quantities for back and sides material, fretboards, and bridges.
Guitar brands needed to pivot, and quickly. Over the next couple of years, they began using all sorts of alternative woods, from pau ferro to ebony, to lesser-known types like jatoba. Some manufacturers made use of widely available domestic maple, and would "roast" or "bake" it for a noticeably darker tint. Others opted for man-made materials like Richlite, a composite material made from partially recycled paper and phenolic resin, for bridges and fretboards.
In 2019, CITES exempted the musical instruments industry from the ban, deciding that the industry's use in rosewood was minor when compared to that of the furniture industry. While CITES regulations on rosewood created headaches for manufacturers, such rules are necessary to ensure a stable supply of beloved tonewoods for years to come. And while guitarists can enjoy the sweet tones of rosewood on new guitars once again, the ban was a wake-up call for many.
The acoustic guitar industry, in particular, seems highly conscious of its impact on the environment. Brands like Taylor Guitars, Breedlove, and Martin have invested heavily in sustainability efforts in recent years.
Taylor Guitars is seen as a leader with their efforts in Cameroon, where they source ebony. As the co-owner of the Crelicam ebony mill, they earned the Award for Corporate Excellence from the U.S. State Department for their work to increase environmental efficiency and improve working conditions at the mill. More recently, Taylor Guitars released the Urban Ash series of guitars, which are built with evergreen ash trees sourced from their home state of California. Every ash tree used in this series came from a municipal area and was deemed in need of removal due to age or other concerns by a management company. Today, they've found new life in the hands of players.
In 2021, Oregon-based Breedlove committed to making every one of their guitars from sustainably sourced woods. To that end, they've agreed to forego using any wood obtained from clear-cut methods in their guitars. Clear-cutting is a destructive process that uniformly cuts down all trees in a large area of land, often preferred due to its cost-effectiveness. In addition, Breedlove has invested in the use of myrtlewood, a tonewood native to Oregon.
Sustainability efforts don't stop with the guitars themselves. Many manufacturers have taken steps to reduce the carbon footprint of their packaging and shipments. Frank Untermyer, Supply Chain Director at Martin Guitars, mentioned many of the initiatives being taken by the brand, including reusing master pack cartons for cases 3-4 times before recycling, transitioning to using biodegradable or 100% recycled packing materials like air pillows and shipping cartons.
If the guitar industry at large can commit to sustainability by making use of domestic tonewoods, appreciating and investing in the ethical harvest of exotic tonewoods, and developing novel uses for nontraditional wood sources, it stands to grow toward a healthier future. These efforts are necessary to avoid further tonewood regulation, but more importantly, to protect our environment and atmosphere from further degradation.
By almost every factor, the guitar industry has grown and evolved over the last decade. Sales in 2021 reached an all-time high, fueled by the old standby models as well as innovative new technology, particularly in pedals and amps. Luthiers and manufacturers are more aware of their ecological impact than ever before and are putting our environment and climate at the top of their priorities. Media, marketing, and the online guitar community is by far more inclusive than it has ever been and much better represents the actual populace of guitarists.
Consumers entered 2022 paying more for everything, from guitars to gasoline. Time will tell how heightened inflation and interest rates will impact the guitar industry, and for how long. There is also still much more room for improvement on the environmental and social fronts, and the guitar industry will need to keep pace, or better yet, lead the way. If it does, the guitar will not only remain relevant, it can become a force for good.