When you listen to a song, you're taken on a journey of ups, downs, twists, and turns. The bridge is a great place to make some of these twists and turns happen! This section is not necessary for every song, but it can help add narrative and/or color layers. Continuing in our songwriting series, we will go over the various ways to layer and write a bridge section. First, let's start with some general concepts.
What is a Bridge?
Often occurring toward the end of a song, the bridge briefly diverts the themes and/or harmony of your song in another direction. Its placement in the song allows it the opportunity to offer contrast to everything that came before it. With this in mind, we want to try to achieve some level of contrast to write a bridge that will really pop, so let's start with some harmonic approaches to this idea.
Before we do that however, it's important to keep in mind that the examples we will go over in this post are not hard-set rules. These approaches should be seen as options. Some options will work better than others. But as with anything in music, experimentation taken from what you listen to will help lead you to creative results that work! So my suggestion would be to take the methods from this post, and apply them in a way that works for you.
Harmonic Approaches
One of the most popular harmonic options that many songs go to for the bridge are the VI/vi (major/minor sixth) chords. Going to the six chord within the key of your song is a great way to create a strong mood change.
In a major key, going to the minor vi chord will bring you from a happy mood straight into something more serious and or melancholy. This is a great option if there is a part of your story that involves a bump in the road to your otherwise cheerful journey. We will get into the thematic implications later, but the underlying minor harmony will heavily assist in that mood change. Let's check out the example below of this concept with "Daughter" by Pearl Jam:
"Daughter" is in G major, generally considered to be a fairly cheerful key. The bridge turns this mood into something more serious by starting on the minor vi E minor chord. See the chord progression below: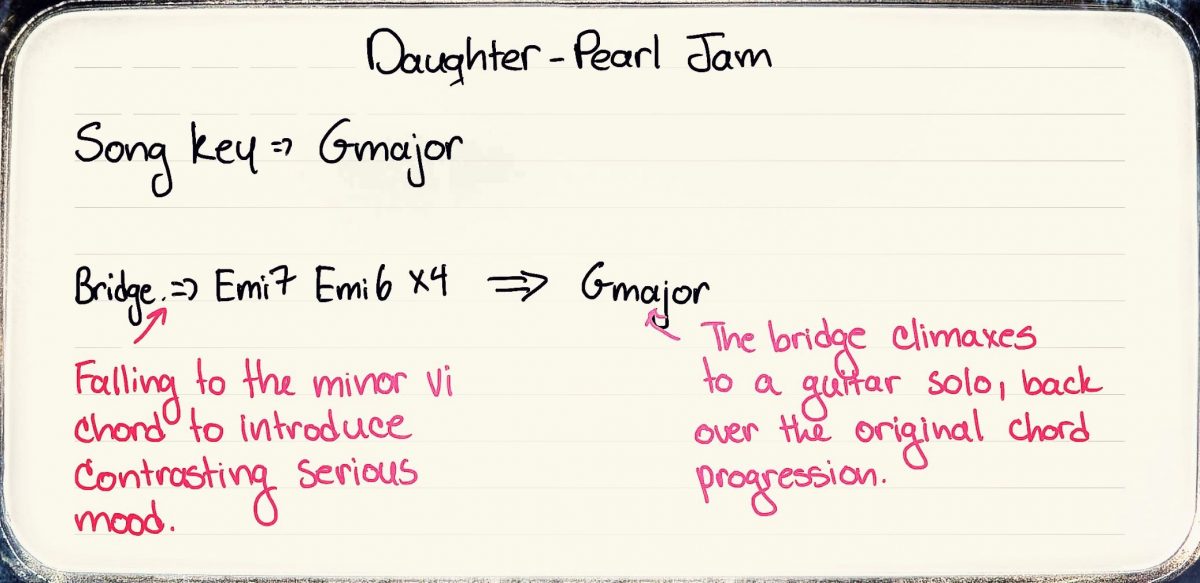 This bridge is brief and climaxes into a guitar solo played over the original G major progression. This is a good example of how you can add layers to your song with a brief mood diversion in the bridge!
The "Major" Alternative
Now, let's flip this option its head and take a look at the impact a bridge starting on the major VI chord can have on your song! I like to equate the major VI bridge as giving your song a breath of fresh air. It always seems to open things up in a pleasant way. Let's take a listen to what this sounds like by listening to the bridge of "Like a Stone" by Audioslave:
"Like a Stone" is in G minor, largely considered to be one of the most melancholy of song keys.
In the bridge, we take a nice breath of fresh air by landing on the Major VI chord: Eb major. Check out the chord progression below: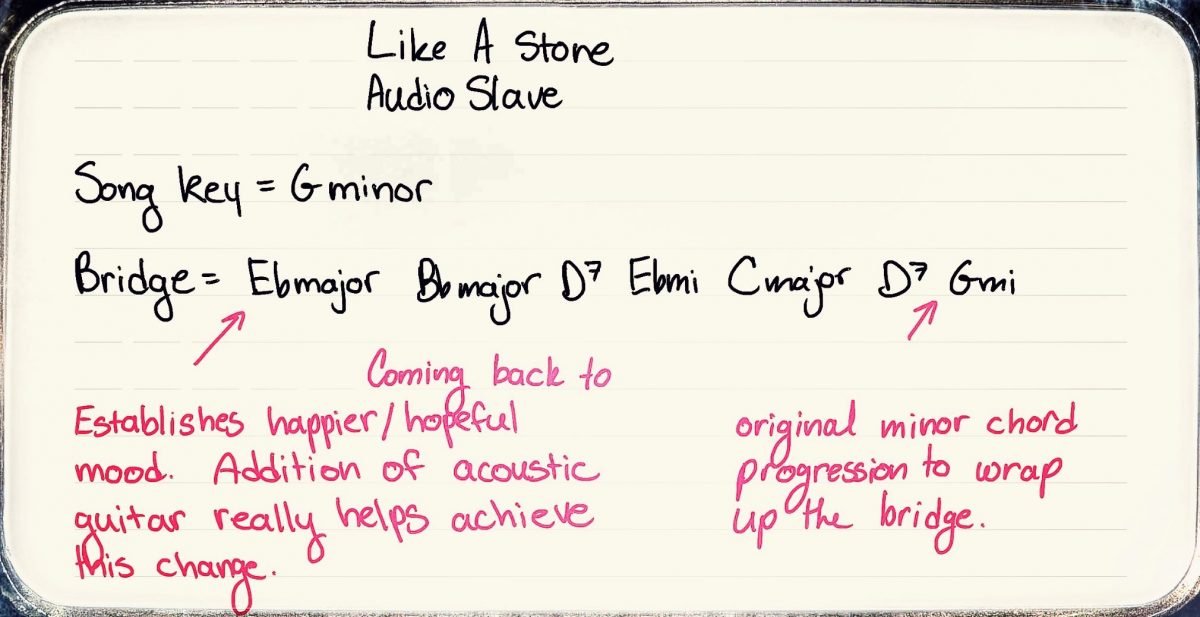 This progression is interesting because is works a balance between a more cheerful mood and the serious color of what came before it. This is a totally acceptable "color" option, because when we look at mood change, it does not always have to be night and day. Take a look at your song, and create that mood diversion that fits within the context of your song.
Look Outside The Bridge (Or Box)
In both of these examples, we see that there is contrast achieved with these chord changes to varying degrees. But, are these the ONLY options that allow us to achieve contrast? Of course not! Knowing the chords that are within the key of your song will allow you to experiment with different options. Going to the 3, 4, or 5 chord(s) for example, will offer even more variations of contrast for your bridge.
Now that we have our harmonic changes worked out, the question becomes: how do we make our themes follow them?
Changing Themes In The Bridge: Lyrical Approaches
In this section, we'll look at some examples of bridge lyrics, and how they flow with together with the harmonic contrast you find in your bridge.
There are many ways to approach this, but a good place to start is by looking at what your song is about. What have you written about so far? Is there something in your story or message that has some sort of twist or turn that is worth adding to your lyrics? Once you find that, look at the harmony you have chosen, and let that guide your words. Let's start by looking at "Good Old-Fashioned Lover Boy" by Queen.
Up to the point of the bridge, the lyrics detail good times with a "lover boy." The tone of the song is very upbeat and cheerful to compliment the lyrics. These lyrics speak of someone happily swooning over someone they spend a lot of time with.

Coming to the bridge, the first line is "When I'm not with you, think of you always." All of a sudden, we go from being very happy to the sad thought of not being with the person who is the subject of the song. We begin reminiscing about summer nights and how we hope they're thinking about us. Immediately after this, the song reverts back to its upbeat feel and groove, illustrating that our bridge theme was only a thought that thankfully is not reality.
This is a perfect of example of a night-and-day thematic contrast that really works for a love song like this.
Let's Flip The Script
Let's flip this idea on its head just like before, and explore a song that has a "serious" theme but falls into something with a happier mood in the bridge. See the bridge for "Goodbye Angels" by the Red Hot Chili Peppers:
This song can be interpreted as being about a person who was not able to save someone that they wanted to be with and see to their happiness. With that person dying, so did their love.
Coming to the bridge, we transition into a very atmospheric feel that's a breath of fresh air compared to the stark seriousness of the rest of the song. This goes back to what was stated earlier in regards to context. While the bridge may not be considered cheerful, it offers a lot of contrast compared to what came before. The lyrics of this section are:

At this point of the song, everything seems to slow down a bit. The lyrics suggest a sort of acceptance that is not displayed prior to this point. The contrast here, is that the lyrics prior to this are about what could have been. Here, we accept that love can be funny, because it's not meant to last forever. It's almost as if they were trying to illustrate that there's peace in accepting what we cannot change.
Bridge Dynamics: The Subtle (Or-Not-So-Subtle) Key
Lyrics? Harmony? Is that it? Actually, there are even more options to explore when writing your bridge! A great way to add a shake up to this section is to change up the dynamics of your song.
Dynamics can include slowing down the song, speeding it up, or even changing the underlying beat. You can use dynamics to create a bridge that may have similar harmony to the rest of your song, but offers change in its feel just enough to differentiate itself. Let's take another look at "Good Old-Fashioned Lover Boy" as an example. This time, we will look at the dynamic changes that occur at the bridge to see what impact they make.
The Subtle Approach
This bridge actually starts on the tonic chord of the song. So, based on the options we have talked about so far, you may be asking yourself how this song achieves such a mood change without changing chords. Aside form the thematic changes, this is artfully achieved by the dynamic changes.
The song slows down considerably to a ballad feel when approaching the feel. Even if the bridge were objectively cheerful, if slowed down to a ballad feel, then it is still going to have a stark contrast to its more upbeat earlier sections. By slowing the pace of our song, we allow things to breathe and take a turn into a more contemplative mood. Aided by the melancholy lyrics, this approach works very well!
The Not-So-Subtle Approach: The Climax!
Let's take a look at another example. The bridge for "Walk" by the Foo Fighters, gradually ramps up in intensity as it progresses through an aggressive four-on-the-floor drum beat. This creates a climax in a song that is already very high in energy. After the bridge, we land into the chorus. I equate this to driving up off a very high cliff and landing on another cliff going 100 miles per hour. If you are looking to ramp up the intensity of your song to its dynamic peak, this is a great way to do it!
The Real Shake Up On The Bridge
The last of these dynamic changes that we will explore can be found in "Snow (Hey Oh)" by the Red Hot Chili Peppers. Prior to the bridge, the song has a straight 4/4 rock beat. Going into the bridge, that beat is cut down to half note hits. This brings heaviness to the section without bringing the pace to a halt. After a few bars, the rhythm ramps up to a double time feel that leads towards a climax, a concept we reviewed with "These Days" earlier in this post.
Dynamics can serve as a unique option to help add variety to your bridge. Adding changes to the underlying feel is a very creative way to differentiate your bridge section and make it really *feel* different. Explore rhythms that contrast what you have already injected into your song to make something really pop!
Putting it to the Test : Burning Candles
Now, let's put these concepts together into an original song! Continuing our song from the last post, we will add a bridge using what we have learned so far.
Like "Daughter" by Pearl Jam, "Burning Candles" is in G major and falls to E minor in its bridge.
To approach this section, I walk the bass down from G major down to the E minor chord. I find this is a great way to dramatically drop into that serious/melancholy mood change you are going for. The entire chord progression is below:

The E minor to F relationship adds a color to the song that was not previously there. This shows us that the bridge can also be a great place to explore different harmonic textures.
We then come around to A minor to reintroduce the walking down bass motion, then back home to the tonic.
Lyrically, we are using a change in perspective to create a shakeup in the song. We go from 1st to 3rd person, changing the narrative from our thoughts to her thoughts. Doing so adds to the overall change we are looking for our bridge to create while adding some narrative depth!

Dynamically, I took a page from the "Snow (Hey Oh)" playbook. First, I establish a consistent acoustic strumming pattern. Then, in the bridge, we switch it up to hits and breaks. These changes add a fun rhythmic depth to an otherwise straightforward pattern.
Let's take a listen to how all of these changes work together:
All of these things combined together make for a bridge that had really added layers and depth to the song. So, where will it go next?
Wrapping It All Up
In this post, I've provided you with a number of popular approaches to bridge writing. So with that, the best way to use these tools is to experiment with them! There is no one size fits all approach to each song, because everyone writes differently. Different songs require different approaches, love, and care. So listen to music, and listen for these things. Learn from them. Take from them the things that will inspire and help you to create something that really works!