Not quite digital mixers, but with capabilities beyond the basics of analog mixers, hybrid mixers employ both analog and digital signal paths, with features like USB inputs/outputs, digital effects processing, or built-in digital recorders.
Mixers that combine analog and digital tech have existed for decades. But more recently, manufacturers have been touting the "hybrid mixer" moniker on mixers like the PreSonus ARc series, Tascam Model series, and Korg SoundLink series mixers.
Let's take a closer look at what makes a mixer analog, digital, or hybrid — and a few examples of hybrid mixers you might expect to see in studio recording and live performance setups.
Analog Mixers vs. Digital Mixers
What's the difference between an analog mixer and a digital mixer? A digital mixer converts incoming analog audio signals to digital audio, and all signal processing, routing, and mixing takes place in the digital domain. An analog mixer processes and routes audio in its original analog form.
How do you know you're looking at a digital mixer? One dead giveaway is the row of "select" buttons for each channel. Select a channel by pressing one of those buttons, and you'll be able to assign routing or dial in effects via a set of "soft knobs" that affect whichever channel you've selected. Another tell-tale sign: if someone's remote-controlling the mix via a tablet or laptop rather than standing in front of a console, there's a digital mixer at work. In fact, the digital mixer hardware might not have any physical control panel to speak of — perhaps it's just a rack box or a stagebox with an antenna, and all the mixing is done remotely, via a mixing app on an iPad or the like.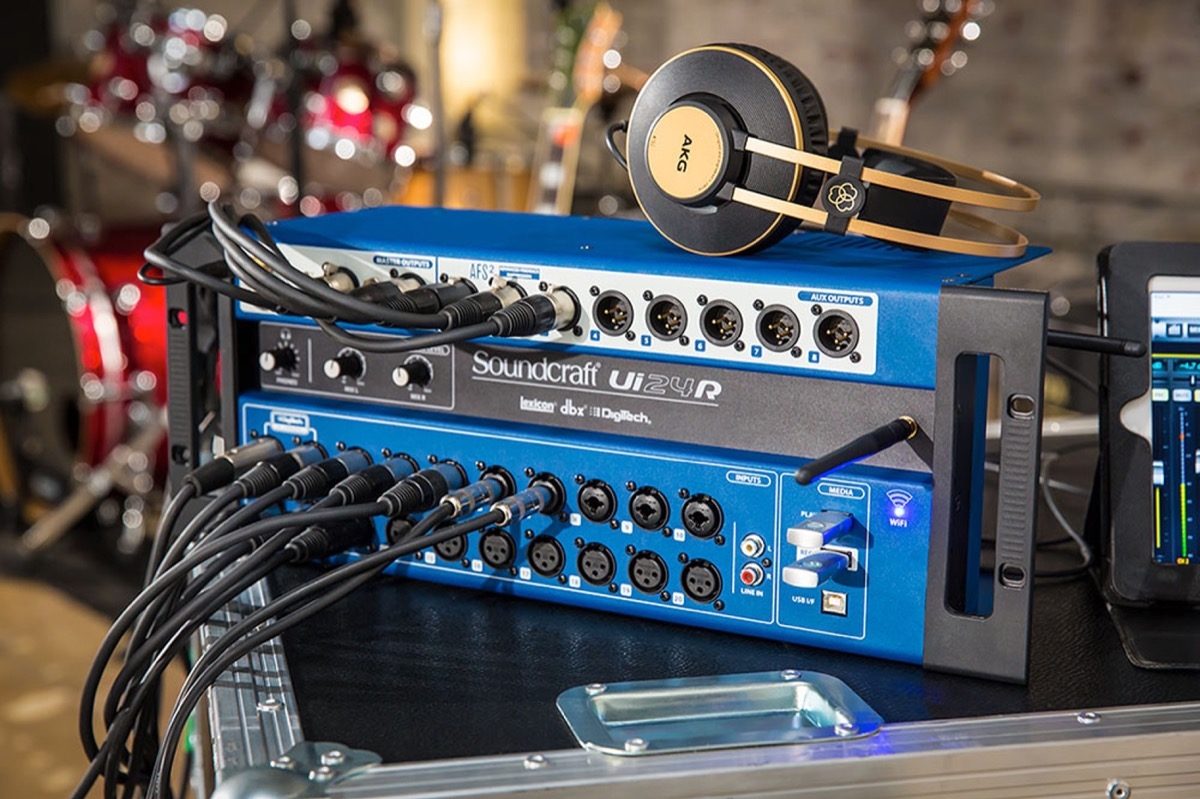 Benefits of Digital Mixers
Why choose a digital mixer over analog? The answer comes down to convenience and expandability. With fast and easy recall of settings, and powerful, flexible effects processing built into the mixer, digital mixers save time and space. While digital mixers represent a sizeable investment, they can potentially save money, too — since they can take the place of racks of expensive outboard gear, like reverb units, compressors, and graphic EQs. Because of these efficiencies, mixers like the PreSonus StudioLive digital consoles have become increasingly commonplace in live applications, even in smaller venues and houses of worship.
A digital mixer has analog inputs and outputs, but it'll also have digital audio I/O of some kind, often on a USB cable that can plug straight into your computer, which makes DAW recording simple. Larger digital mixers often come with an Ethernet port, or a slot for an expansion card that can accommodate Ethernet audio networking protocols such as AVB (Audio Video Bridging), Dante (Digital Audio Network Through Ethernet), WSG (Waves SoundGrid), Klark Teknik StageConnect, etc. This kind of digital I/O is especially useful for sending and receiving audio over long distances, because digital audio is much more resistant to noise than long analog cable runs.
Benefits of Analog Mixers
An analog mixer may be a giant console with a ton of bells and whistles, or a compact sound board with very basic capabilities — but if all mixing and routing is done in the analog domain, it's an analog mixer. Visually, the first tip-off that you're looking at an analog mixer instead of a digital mixer is that each channel has its own dedicated row of EQ knobs and aux sends.
Compared with digital mixers, analog mixers score points for simplicity and ease of use. Since analog mixers typically have one physical control per function, all of which you can easily see and access via a hardware control panel, the mixer's signal flow is relatively easy for a first-time user to follow. Ease of use is a big advantage if the mixer is bound for an environment like a school or a DIY venue where a variety of folks, some with little or no experience, may find themselves in front of the sound board. (That's not to say that digital mixers are inherently difficult to use — some digital mixers, like the QSC TouchMix-8, are known for their intuitive workflow. It's just that with a digital mixer, it's simply not possible to see everything the mixer can do at a glance.)
Analog mixers are also generally less expensive than their digital counterparts, and if you don't need all the networking capabilities, recallable complex effects chains, and remote-controllability of a digital mixer, an analog mixer can be the more cost-effective choice.
It's worth mentioning that for certain high-end studio applications — like out-of-the-box analog summing — an analog mixer is really the only choice. When you're after the warmth and character that only an analog summing mixer can provide, digital mixers don't even enter the conversation.
What are Hybrid Mixers?
Most hybrid mixers are technically analog mixers at heart, with at least part of the signal path seamlessly converted from analog to digital (and perhaps back again) within the mixer, under the hood. While the term "hybrid mixer" doesn't really have any hard-and-fast qualifications, what makes these mixers "hybrid" are the digital-world features they build in — most notably digital audio interfaces, digital recorders, and digital effects processors. Let's take a look at each of those features and how you might use them in the real world:
Hybrid Mixers with Built-in USB Audio Interfaces
One hallmark of a hybrid mixer is its built-in digital audio interface — a means of sending audio in and out of a computer, usually via USB connection. If a mixer is touted as a hybrid mixer, odds are it's got a USB port. It could be a USB-C port, such as on the PreSonus StudioLive ARc family or Tascam Model family. Or it might be the older USB-B port, found on Korg SoundLink or Mackie ProFX mixers. If your goal is to record into a DAW — whether it's capturing live shows, quick demos, or intricate productions — a USB output on a mixer can save you the cost and hassle of adding a separate USB audio interface to your rig.
What's Your Channel Count?
What you can't tell by looking at a mixer's USB port is the channel count of the built-in interface. For example, the Tascam Model 12 has a 12-in/10-out (or 12×10) interface, which means it can send 12 separate audio channels to your computer, and receive 10 separate audio channels. The Mackie ProFX12v3 has a 2-in/4-out (or 2×4) interface: it can send 2 separate audio channels (a stereo mix) to your computer, and receive 4 separate audio channels.
How many input channels do you need on your audio interface? If you're recording a podcast or solo performance with just one or two microphones, then 2 input channels may be all you need. If you're multi-tracking a full band, you'll probably need 8 input channels at the bare minimum. It all depends on how many simultaneous audio sources you'd like to capture on their own separate tracks.
And how many output channels do you need on your interface? If you're doing all your mixing "in the box" in your DAW software, then you can get by with just 2 output channels to send a stereo mix your pair of monitor speakers or headphones. But if you'd like to send individual audio tracks out of your computer for outboard processing through various hardware, you'll need more channels.
Hybrid Mixers with Built-in Digital Recorders
Many fully digital mixers have SD Card slots, or a port for a USB stick, giving users the ability to record (and play back) multi-track audio right on board the mixer, no computer necessary. At zZounds, we're starting to see analog hybrid mixers adding this capability. The Tascam Model series mixer/recorders have Portastudio-style recording capabilities, with up to 24-track recording and playback on SD Card media. PreSonus StudioLive ARc mixers offer 2-track stereo recording/playback via SD Card, as does the Rode RODECaster Pro podcast production console.
Even if you're planning on doing all your recording to a computer-based DAW, these built-in SD Card recorder/players can really come in handy for capturing quickie demos, or even triggering a playback track at a live show.
Hybrid Mixers with Digital Effects Processors
Who doesn't want more reverb? Just about every live performance or recording scenario can benefit from some tasteful use of FX. That's why digital effects processors have become common additions to even the most basic entry-level analog mixers.
Now, the addition of a digital effects processor doesn't necessarily turn an analog mixer into a "hybrid." But the digital effects engine on Korg's SoundLink MW-2408 and MW-1608 hybrid mixers, with FX borrowed from Korg's Kronos workstation synth, deserves a big shout-out here.
The 32-bit effects engine on Korg SoundLink mixers lets you stack up to 10 effects, choosing from 12 reverbs, 4 delays, chorus, flanger, exciter, and sub-bass booster, all with tweakable and recallable parameters. These mixers also feature multi-band EQ, compression, limiting, noise gate, feedback suppression, and even a spectrum analyzer with test tones on board — tools you'd be hard-pressed to find on any other mixer that's not a full-blown digital board. (And all this is in addition to the one-knob compressors and parametric EQ on each channel, which are analog-domain effects.)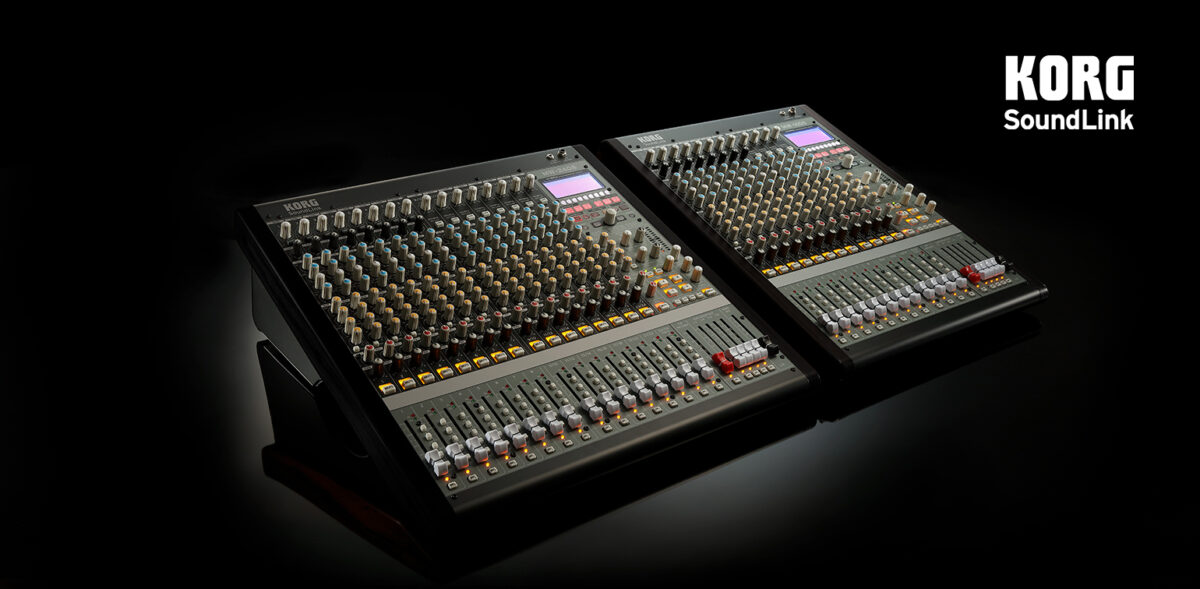 All Hail Hybrid Mixers
If the Korg SoundLink mixers, Tascam Model series mixer/recorders, and their ilk are any indication, we're betting we'll see more and more "hybrid" designs that draw from the best of the analog world and digital world. Expect to hear the term "hybrid mixer" bandied about — and expect to see these mixers on studio desks and in live venues in 2020 and beyond.