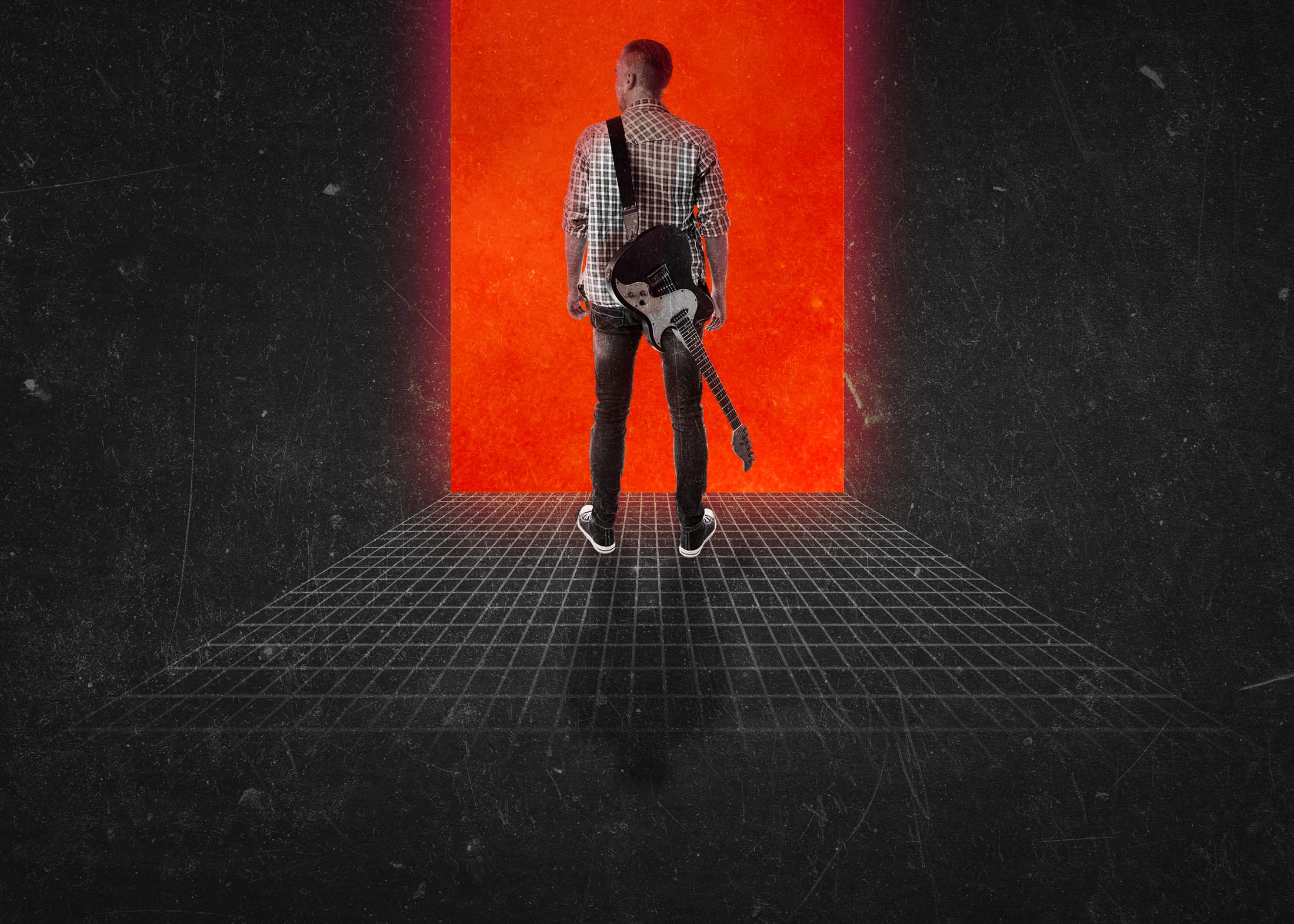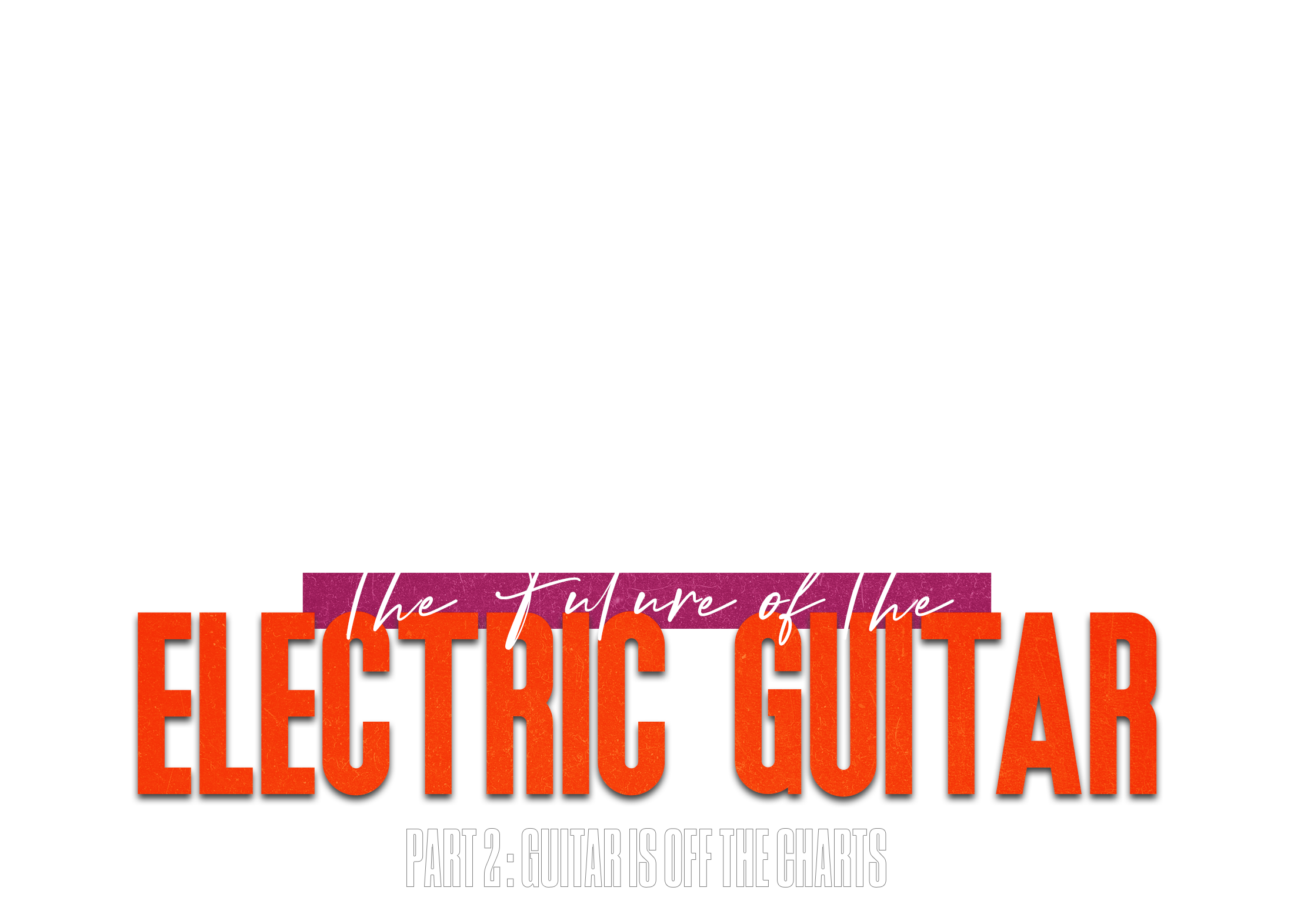 The Future of The Electric Guitar
Part 2: Guitar is Off the Charts
When the electric guitar was pronounced dead a few years back, would-be coroners were quick to identify one of the main causes: the languid state of American rock music. This was a bitter blow: the electric guitar and American rock music grew up together, each helping to influence and refine the other over time, as we saw in Part 1.
As an outlet for angry and angsty youth, rock 'n' roll caught on like wildfire in the mid-20th century. Over the next few decades, rock music ebbed and flowed in mainstream consciousness, but earned staying power through constant evolution. It could be defiant, decadent, political, or progressive — sometimes all at once. Rock, and its ever-growing family of subgenres, was critically respected, commercially successful, and culturally impactful music that could make global superstars of those who played and sang it.
Standing right there next to the magnetic lead singers were those who wielded an electric guitar. To musicians, these "guitar heroes" were often bigger stars than the singers, both inspiring you to play better and making you want to quit in the span of just one solo. Rock has always been made for young people, and the electric guitar has always been the de-facto instrument for rock. Their symbiotic relationship has had an incredible run over the past six decades, but is it coming to an end?
Now That's What I Call Rock?
In November 2021, the Recording Academy announced the nominees for the 2022 Grammy Awards, with the category of Best Rock Performance giving nods to AC/DC, Chris Cornell, Deftones, Foo Fighters, and Black Pumas.
The guys in AC/DC average 68.4 years old. Chris Cornell, who was nominated for his rendition of a Prince's "Nothing Compares 2 U," passed away in 2017 and would have been 52 today. Deftones have been around since 1988, and Foo Fighters formed in 1994. To the nominators' credit, Black Pumas were formed in 2017, though their retro-soul-inspired sound is a stretch in the rock category.
On the bright side, there are plenty of guitars to hear among the nominees – Angus Young even played a solo in AC/DC's song! But is the fact that none of these bands have a member under 30 a troubling sign? Is rock now the music for "the olds?" There's not a rock song to be heard among the Grammy nominees for Best Record, or Song of the Year, nor was there a bona fide rock record nominated for 2022's Album of the Year.
As any critical music fan is sure to tell you, the Grammys don't really matter. In recent years, their nominations, winners, and broadcast have best served as fodder for memes and reaction videos. Still, for many casual music fans, the Grammys remain a 210-minute briefing on the music that matters in a given year. Before we dismiss the Grammy nods, let's examine how rock arrived at its current place in the cultural zeitgeist.
The idea that "rock is dead" has become a meme in and of itself, repeated and re-interpreted in thinkpieces, in Facebook and forum chatter, on the radio, on podcasts, in print, and in just about any media format you can imagine.
We can get this out of the way right now and say that rock is of course still alive. As long as there are still musicians making rock music and a market out there for it, rock — just like jazz, blues, and disco — can't be called dead.
That being said, it must be acknowledged that rock music doesn't hold the same cultural cache as it once did. This is true of both legacy acts from the past and today's rock bands. Good things never last, and when they start to decline, it's natural to want to point fingers. With rock, the accusations fly, and everything from the rap's popularity, to younger generations' tastes, to our "P.C. culture" gets blamed for bringing rock down.
I believe a big reason rock lost its way has less to do with society and more to do with technology.
When Rock Left the Physical Realm
Up until the new millennium, we listened to music on ever-evolving physical media formats, from vinyl records to cassette tapes to compact discs. As home Internet speeds advanced, digital audio file formats like the MP3 became more accessible to consumers. By 2011, digital downloads would go on to eclipse physical medium music sales in the United States. But the actual format shifts over the years are less important than how each format changed the ways we value and consume music.
This really started to show in the days when music files were "ripped," then "burned" to CD-Rs. For example, a fan of rock in 2001 could go to Tower Records and buy the new Korn, Linkin Park, and System of a Down CDs for a tidy sum… 
…or, they could go online, download a peer-to-peer application like Napster, Kazaa, or LimeWire, then use it to search for those bands, select only their favorite tracks, then wait a few hours (this was the early aughts, after all) for them to download, ready to be burned to a CD-R. And with plenty of space left on the disc, why not add a couple tracks by The Strokes and The White Stripes? How about some classic cuts by Led Zeppelin and Black Sabbath? Might as well add a couple of pop songs by Coldplay and Destiny's Child, too. 
The later rise of the MP3 player and the iPod accelerated the trend. Suddenly, it was possible to hold thousands of songs in your pocket. Most fans don't have 7,000 songs they truly cherish, but if you iPod had the space, you might as well fill it up!
Vinyl Records (LPs)
Introduced in 1948 by Columbia Records
Large jacket to display album art, inserts could contain lyrics or more artwork
The need to physically flip to side B and a lack of portability encouraged active listening
If equipment is in good condition, vinyl produces a prized "warm," "analog" sound
Audio quality subject to degradation with use, quality of turntable, needle, etc.
Costly and difficult medium to produce; amateur bands needed a lot of money or the backing of a label to produce
Transistor Radio
Introduced in 1954 with the Regency TR-1
The first portable device to allow listeners to hear music anywhere
Musical curation was up to the radio station or DJ, and listeners' choice was limited to broadcast stations in their area
DJs and programming schedules were gatekeepers over listeners' taste in music
No artwork or visuals, so listeners relied on DJ to identify artists and songs
Cassette Tapes
Introduced in 1962 by Philips
First format that could be easily overwritten
Ease of overdubbing meant listeners could now curate their entire music collection into custom mixtapes
This also made it easier for amateur musicians to record demos to tape
Music could be enjoyed on-the-go with the introduction of portable devices like the Sony Walkman (1979)
Subject to wear with repeated use
Art was still present on case but greatly reduced from vinyl
Compact Disc
Introduced in 1982 by Philips
Storage capacity and sound quality greatly exceeded that of the record and cassette
Artwork and lyrics regained real estate in the form of booklets
Introduction of the CD-R in 1988 and CR-RW in 1997, along with home internet, led to listeners "ripping" songs and "burning" them to their own mix CDs full of songs they often did not own or pay for
CD-Rs began to replace tapes as the choice of amateur EPs and demos, though tapes remained popular
The ease of skipping tracks helped emphasize singles over full albums
Bottom of disc subject to scratches and skips with heavy use
MP3
Introduced in 1991 by the Fraunhofer Society
MPEG 1 Audio Layer 3 is a coding format that selectively compresses digital audio to reduce file size with minimal loss in quality
The MP3 enabled mass quantities of music to be stored across media from hard drives to CDs, to MP3 players
MP3 players like the Apple iPod (2001) made it possible to carry thousands of songs in your pocket
This, plus the lack of skipping or degradation, made MP3 players the ultimate on-the-go solution
Album art was not often seen on MP3 players or computers, and when it was, it was typically small and low-resolution
The "shuffle" function, which randomized a user's music catalogs, grew popular and was co-opted when radio stations devised "on shuffle" programming
Streaming Services
Rose to popularity in the mid 2000s by services like Pandora, Spotify, and Rhapsody
Users pay a subscription fee to gain unlimited access to a library of tens of millions of songs
Audio quality is comparable to MP3s, but users can sometimes pay more for lossless or higher quality audio
Users can explore and discover new music on their own, but this is often an algorithmic process based on past behavior
Royalties to artists vary greatly – popular services pay anywhere from $2 to about $7.50 per 1000 streams
Musician-oriented music hosting sites like Bandcamp and SoundCloud have made it extremely easy to upload music and connect with fans
This is not to say that MP3s and the iPod had a negative effect on rock music or the electric guitar. The ability to carry one's entire music collection in-pocket went a long way toward listeners experimenting with new genres and artists. I believe this helped cultivate the cross-pollination and niche genres that have developed over the last decade and continue to emerge. In a weird way, we can thank Steve Jobs for emo-rap.
What did suffer in these times was the notion of an album as a cohesive piece of work, one meant to be digested as a whole. For many pop artists this wasn't a major concern, as singles had been the focus for decades. But in the rock world, a record that took listeners on a journey — be it an abstract concept album or a rock opera — strengthened the mythos around a band and its guitar hero. Album art, once given a grand canvas on vinyl, shrunk to fit CD cases, then disappeared for the early years of downloading, eventually resurfacing as a lo-res thumbnail once MP3 players could display images.
New rock music, which had always lived on the album release and touring cycles, began to look less attractive to the music industry. Why promote young rock bands, who at best could deliver two decently performing singles per album cycle? The return on investment was nothing like what could be gained from mainstream pop or burgeoning rap artists.
"The industry has done a lousy job of grooming new superstar rock acts this century," Alan Cross, a longtime Toronto broadcaster, podcaster, and music writer, said.
Radio, once rock's committed partner, was quickly becoming a legacy media format. It would soon try to adapt by way of imitation.
The Shuffle function, which randomly queues songs from a user's music library, was a double-edged sword for rock. On one hand, it gave rock bands equal footing with pop superstars, so long as a user's selection was balanced. At the same time, it discouraged deep dives into an artist or album in favor of smaller doses of their hits. 
On the airwaves, shuffle's impact was obvious. The "alternative" rock stations, which once seemed to have a clear direction, were losing shape trying to keep up with this new way of listening.
"We used to worry about playing a soft song next to a hard song. Your [millennial] generation got that out of your system because now when you listen to Spotify it goes from whatever to whatever. There's no such thing as a 'train wreck' segue anymore. We became a singles world," Tim Virgin, former Vice President of Alternative Rock Promotion and current on-air personality at 94.7 WLS-FM in Chicago, said of rock radio at the time.
Since the mid-2000s, modern "active" rock stations have continued to blur the definition of "alternative" rock. Tune in today and you'll likely hear an old Weezer song followed by Glass Animals' inescapable "Heat Waves", followed by a new Weezer song, which may be a cover of an '80s song. With regards to newer acts, modern rock radio has shown a preference for promoting buzzy bands who quickly catch broad appeal, but often fizzle out after one or two hits.
But in the 2020s, good old-fashioned rock radio is still around. Classic rock stations have evolved slightly by welcoming grunge acts like Pearl Jam into the rotation alongside Van Halen and Pink Floyd on your "Block of Rock" afternoon drive. Unfortunately, much of the experimentation and personality of classic rock stations has been watered down thanks to media conglomerates like Clear Channel buying up and homogenizing radio stations across the country.
As Alan Cross puts it, radio's task of keeping up with modern tastes is akin to "having to change the wings of an airplane flying at 38,000 feet." Therefore, modern rock radio's business model resembles that of modern Hollywood: stick with the established, blue-chip franchises and leverage nostalgia.
So what has radio done to promote rock in today's culture? Let's face it: rockstars pushing 50 don't inspire teenagers to pick up a guitar or drums. If radio DJs were still today's cultural gatekeepers, rock music and the electric guitar might be stuck in this malaise. Thankfully, they're not.
The Streaming Era: Ownership and Control
Today, streaming services like Spotify, Apple Music, and YouTube Music are the primary way most young fans listen. These services have marked the biggest shifts in listening habits since the rise of the MP3. For the first time in history, music lovers can now (legally) stream from a library of millions of songs, without owning or directly paying for a single one.
Deborah Small, marketing professor at the University of Pennsylvania's Wharton School and one of the authors on the study "Evolution of Consumption: A Psychological Ownership Framework", said that as part of today's gig-based and streaming services, consumers seem to be losing the "endowment effect." This refers to a sense of increased value when someone owns an object or a piece of media.
"For instance, if you had a fancy bottle of wine in your possession, the amount of money you would be willing to [accept to] give it up is much higher than the amount of money you would be willing to pay to acquire it if you didn't own it," Small explained in an interview with Knowledge@Wharton.
The idea that listeners feel less of a connection to a song that they stream and do not own, and are less likely to invest their time in deeply listening to and appreciating a song or album, is neither a good nor a bad thing. One one hand, rock fans today are exposed to more rock bands and guitarists than ever before.
But on the other, how much fans value rock music may be changing. Does purchasing a physical copy of Rush's 2112 make one more likely to pore over the lyrical content, or to rewind and slow the record down to learn Alex Lifeson's guitar solos note for note?
Today, listeners have more choice of what they want to listen to, with millions of songs just a click away. But ironically, they're also more willing to give up control than ever before, by letting playlists, created by fellow humans or AI, set the mood.
There's nothing wrong with this on the surface. Behavior-based, algorithmically curated playlists such as Spotify's Discover Weekly are effective ways to find more music that suits your taste. But with time, users tend to discover this AI-based approach isn't perfect.
"Spotify's job is to give you what you want," Damian Keyes, founding director of The Brighton Institute of Modern Music, said. "The problem with that is over time, your Discover Weekly becomes more dull — not because the music is dull, but because it's trying to give you what you want at all times, and it's not gonna take a risk."
In the streaming ecosystem, bands looking to build a following must now focus not on attracting the attention of a label or a scout, but of the algorithm. If a band isn't willing to do the additional legwork of maintaining a strong social media presence (or paying to maintain one), their presence on streaming platforms becomes mere drops in an ocean.
"Will we ever see something like the garage rock revival of the early 2000s? Will we ever see grunge again or punk again? It's really hard to imagine that given that everybody has individual control over the music they listen to, and not only do they have the music of the moment to listen to, they have a library of 60 million songs at their fingertips," Cross said. "So new acts are not just competing with each other, they're competing with the whole of human history when it comes to music."
Social media has led to some odd anomalies over the past couple of years, with unexpected older artists gaining young fans overnight. Consider Nathan Apodaca, the cranberry-juice drinking skateboarder singing along to Fleetwood Mac's "Dreams." You've definitely seen it. The viral fame changed his life, and earned Stevie Nicks and Co. a huge swath of new Gen. Z fans overnight. After three days, the song doubled its average stream count on Spotify and sales nearly tripled. Who saw that coming? 
Even stranger: last year's trend of teens making TikTok videos featuring The Mountain Goats' "No Children." The 19-year-old-song is now the band's top-streamed Spotify single. The idea that kids would take to these caustic lyrics about a bitter divorce "sort of feels like if Ulysses suddenly became the bestselling book on Amazon," as Vox put it.
Unless algorithms are far more advanced than we realize, the above examples are encouraging evidence that there is a human factor to music curation in our day and age. Young listeners seem to be finding appreciation for older rock artists in their own way, through media made for them. Yes, they may appreciate the music for different reasons than their parents' or grandparents' generations. This is OK. It may just point to something timeless about rock.
Rock may not be what it once was, but the idea of the rockstar is alive and well. Where Keith Richards, David Bowie, and Kurt Cobain wore the crown in decades past, today, fans flock to see Lil Nas X, Megan Thee Stallion, and Kendrick Lamar.
"Rappers became the rockstars and did a fucking amazing job at it," Virgin said.
Even the tragic trend of young stars passing too soon has continued. Artists like Juice Wrld, Pop Smoke, XXXTentacion, and Mac Miller are this generation's answer to Jimi Hendrix, Janis Joplin, Jim Morrison and others, all dying in their 20s, each early into their careers. The canonization of these stars by their young fans is further proof that the cultural mythology of rockstars is still present in our culture.
What the shuffle and streaming eras did for popular music was to alchemize once disparate genres of music together. While the old heads bemoaned the rise of "mumble" or "emo-rap," the sound is natural to kids who grew up hearing Kid Cudi and All Time Low songs back-to-back on their iPhones or in YouTube playlists. 
But what about rockstars who play guitar? For much of the last decade, rock didn't have an answer to rap's biggest artists. But in 2020, things started to change. Starting his career as a rapper, Machine Gun Kelly made the switch to pop-punk, joining up with veterans drummer Travis Barker and slinging a pink Schecter down low. 
MGK's current sound is a throwback to early 2000s pop-punk with a dash of his hip-hop past. He's had no qualms proclaiming himself a rockstar and playing the role at award shows, and in photos with girlfriend Megan Fox. How long this all lasts will have to be seen, but the idea of guitarists being A-list rockstars is suddenly not so hard to believe. And this revival of rock and pop punk
"As much as YUNGBLUD and Machine Gun Kelly are like teen heartthrob versions of rockstars, I can guarantee you one thing: people are buying guitars because of Machine Gun Kelly and YUNGBLUD," Keyes said.
And it isn't just those two. Olivia Rodrigo's breakout success in 2021, particularly in singles like "Good 4 U," show there's a healthy appetite for angsty rock. Billie Eilish wasn't afraid to feature heavy guitars on "Happier Than Ever." The same goes for the likes of WILLOW, The Linda Lindas, and Italian rockers MANESKIN. Hell, even Avril Lavigne is back. Are we entering a new age of rockstars?
While pop-punk is currently undergoing a revival in pop culture, it's really just a small segment of all the guitar music out there. For starters, country music is as popular as ever, and guitars remain a staple in that genre as they have for decades. In recent years, as country production has incorporated elements of hip-hop and electronic music, the guitars are still present, showing us just how versatile the instrument can be. We also would be remiss to leave out mainstream megastars like John Mayer, Taylor Swift, and Ed Sheeran, each of whom have made the guitar a centerpiece of their careers for over a decade.
But let's look outside the mainstream and radio worlds, and even outside the country for a moment. One of the most buzzed-about guitarists in recent years is Mdou Moctar of Niger. Moctar uses a Stratocaster and a collection of pedals to play a modern form of Tuareg music. The resulting concoction is a swirling blend of pentatonic desert psychedelia unlike anything you've likely heard before. His record Afrique Victime was widely considered by critics to be one of 2021's best.
Brazil's Mateus Asato has carved a different path to stardom with his incredibly tasteful arrangements for solo guitar. An expert in dynamics and tone-shaping, he's earned a massive following on YouTube and Instagram, not to mention a signature pedal with Jackson Audio. With nearly 2 million YouTube subscribers, Japan's Ichika Nito is another international guitar star, putting impeccable technique to work on nimble math and metal riffs coated in jazz harmony. His uploads often have a subtle quirky humor, and his version of the McDonald's "I'm Lovin It" jingle is a must-see.
That's not to say there aren't plenty of guitarists to get excited about in the U.S., however. Today, American guitar "heroes" are everywhere. You may not hear them on radio, but poke around online guitar communities on Reddit or Facebook, or spend some time browsing Bandcamp and you're bound to hear one that catches your ear.
Where guitar virtuosos of the past (think Steve Vai and Yngwie Malmsteen) made their names on their shred chops, today's masters might use two hands to create intricate pieces. Take Yvette Young of Covet, who adds her unique blend of guitar mastery to prog and emo-influenced songs. Likewise, Tim Henson may look like a SoundCloud rapper at first glance, but he's a super-gifted guitarist who performs dizzying leads on top of trap and pop-influenced tunes by his band Polyphia. Guitarists like Young and Henson are prime examples of the kind of genre-blending that came with our shifts in format.
And if you're more of a traditionalist, there's a lot to like from modern guitarists who have found new appreciation for the blues, like Gary Clark Jr., Jared James Nichols, and Emily Wolfe, each of whom take the classic American genre to new places, and have reached the level of earning signature guitars and gear. A couple genres over, H.E.R. has earned five Grammys over the last three years, including Song of the Year, for her sultry R&B grooves. She's often seen accompanying her voice with — or soloing on — her signature chromed-out Stratocaster. And in funk — always an underrated outlet for guitar — you've got the likes of Cory Wong elevating the rhythm game with his wrist-breaking strumming patterns, always vacuum-sealed tight with the groove. He even does it on skates.
There is even room today for the long-haired, chest-baring guitar heroes. Acts like Greta Van Fleet, The Struts, White Reaper, and others are bringing back stadium-sized classic rock vibes as if the '70s never ended. There are enough pentatonic riffs, epic solos, and operatic falsettos in those catalogs to satisfy that guy you know who insists no good music was made after 1984.
These are just a small few of the amazing guitarists and guitar-oriented bands out there today. I highly encourage you to dig a bit and discover more!
The 2022 Grammys: A Retrospective
After all of the above, when I look back at the 2022 Grammy Rock Performance nominees, I'm seeing things a little differently. Yes, the Foo Fighters are old*. But look at how much they've grown in their nearly 30 years together. You can't tell me that "Making a Fire", the song they were nominated for, sounds like anything off their early albums.
And Chris Cornell, despite his tragic death five years ago, is alive as ever through his influence with Soundgarden, one of the "big four" grunge acts of the '90s. 
Deftones are part of the nu-metal subgenre that was looked down upon by critics even in its time. In today's genre-blurred landscape, Deftones are getting their due credit as innovators for blending metal with hip-hop and shoegaze influences.
You're right if you think 2020's "Shot in the Dark" sounds like it could have been from Back in Black, or any other AC/DC album. That's because AC/DC long ago discovered an eternal truth: people like to party. In 50 years, when we're all connected neurally to the Metaverse, you bet your ass our digital avatars will be air-guitaring to "Shoot to Thrill."
And while Black Pumas don't exactly rock, they are re-interpreting Black American soul music as a way to critique and protest the inequity we see today. Maybe that makes them the most rock 'n' roll of the bunch.
*Editor's Note: I wrote this meaning no disrespect to the band or their late drummer, Taylor Hawkins. He will be sorely missed.