If you had to name just a few guitar players who reinvented the electric guitar, nay, created a whole new school of guitar itself, then Eddie Van Halen would be an obvious choice. Instantly recognizable, his style and sound became forever synonymous with shred guitar as we know it today.
Some even say that without EVH, '80s guitar culture simply wouldn't exist. His influence can be felt far and wide: who really hasn't heard of Van Halen before? The band's sales numbers alone also showcase this: they place 20th on the RIAA list of the best-selling artists in the United States, and are included amongst the highest-selling artists of all time with 80 million certified record sales worldwide. Pretty neat, huh?
What better player could we have picked to make a Top 5 solos video on? It was certainly a no-brainer. Before we dive into that, let's take a brief look into the early beginnings of Van Halen to see just how all of the members met.
And, take a look at our Legends of Tone: Eddie Van Halen page on zZounds, to learn more about the modern gear you can use to get Eddie's tone!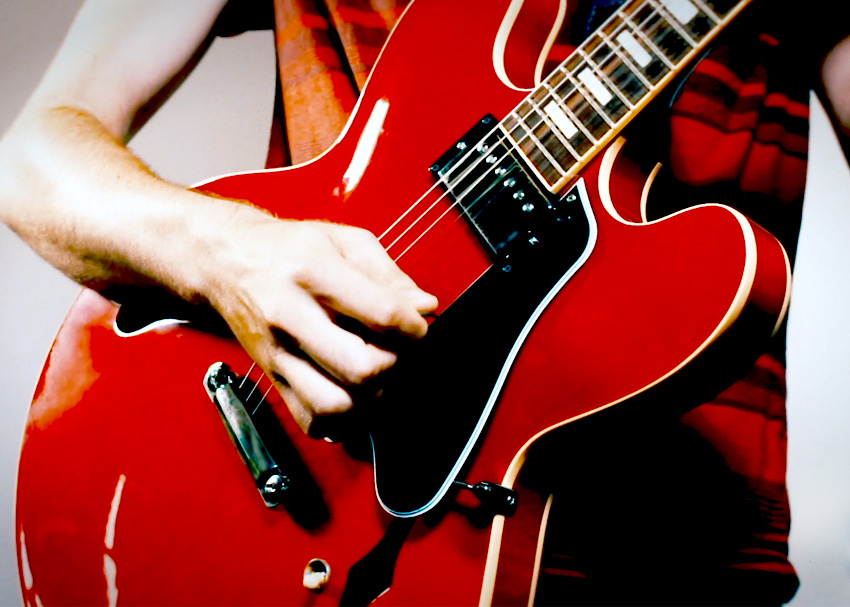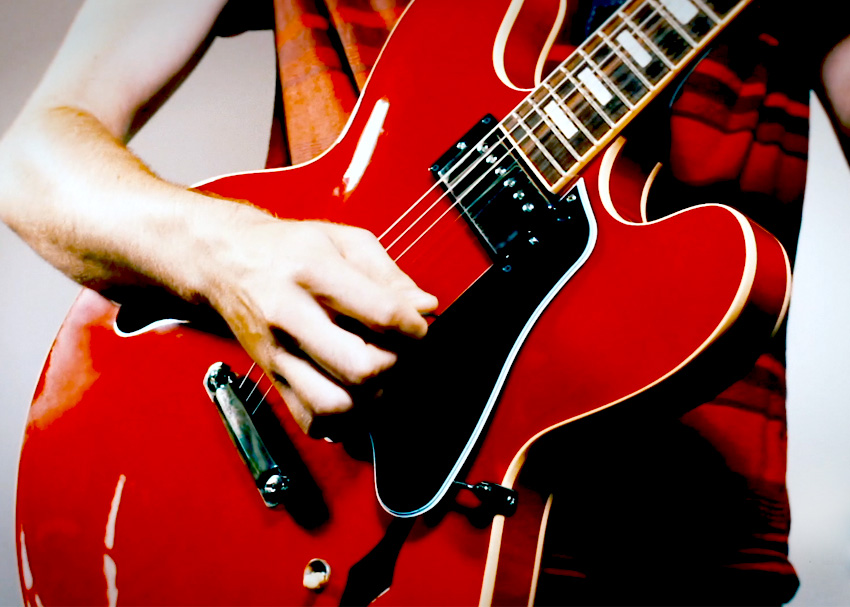 We attempt our favorite Rush guitar solos | Watch»
Early Days
In 1964, Eddie Van Halen started a group with his brother Alex Van Halen on drums called The Broken Combs. The group eventually gained local popularity and allowed the brothers to begin developing their brand of rock music together. They eventually changed the name of the band to The Trojan Rubber Co. and continued to play local parties and gigs. By 1972, they changed their name to Genesis, unaware of the already popular English prog rock band of the same name. This prompted them to switch their name to Mammoth, and they continued to gig under this moniker instead.
Van Halen…Assemble!
Funnily enough, the band was renting a sound system from someone by the name of David Lee Roth. In order to save some money, they allowed him to join the group, even though he had already auditioned to be the lead singer and didn't get the job. Today, the world thanks the band for this seemingly immoral decision, because where would early Van Halen have been without Roth?
The band underwent a few stylistic changes, but decided upon a crucial lineup change. In 1974, the Mammoth's bassist was Mark Stone, but as the band continued progressing, they felt they needed a different energy in the group. Mammoth was playing numerous local gigs with a heavy classic rock sound, and this put them in touch with other local acts like the band Snake.
Anthony, who back then was bassist and lead singer of Snake, was a veteran of the classic rock scene and played tunes of the likes of ZZ Top, Led Zeppelin, and Cream. Eddie brought him in as a potential candidate to fill that spot after their bands connected. Apparently they all hit it off well, and this ended up in an all-night jam session with Anthony being hired on to fill the backup singer and bassist role.
Michael Anthony's soaring vocals and driving bass work would complete the classic early lineup of Van Halen. In 1974, they officially changed their name to Van Halen, in large part due to a push from Roth. He had thought that the name had "power", like Santana, and figured it would be a good fit for their high-energy music. Good call.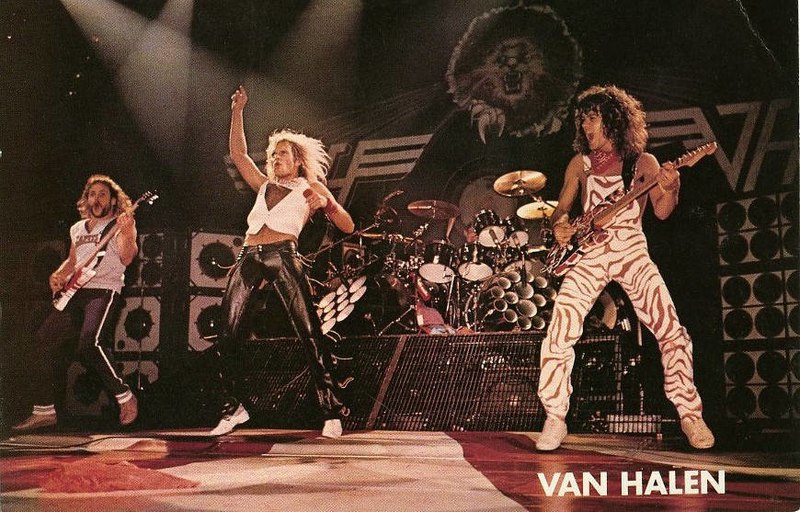 With a new name, the band pushed forward. Eddie Van Halen had always been the centerpiece of the group's musical sound, with a reckless swagger and bombastic lead style that was downright explosive. His guitar acted as the driving force to their songs, providing energy and momentum in a back-and-forth pendulum dance with David Lee Roth. Without question, his skill and style are revolutionary and continue to inspire awe in plenty of modern players even today.
A large part of that mystique lies in Eddie's tone: it's raw and brash but somehow has clarity and cut without being too bright. It is the perfect counterpart to the actual way that he plays the guitar, and it helped separate the band from the rest of the pack. He wasn't just shredding, but was retaining a sense of melody and musicianship throughout his material as well.
With that being said, let's take a look at how I managed to replicate Eddie Van Halen's earlier tone with modern available gear, and dig a little further into how you can more easily achieve the same.
The Gear
While making our EVH Top 5 Solos video, I'd obviously be lying if I said I didn't wish we had a late '60s Marshall Super Lead head and Eddie's Frankenstrat. Alas, we had to find some practical gear to work with!
Fortunately for us, there is a wide selection of gear that works perfect for this video: EVH equipment. Eddie signed off on a ton of gear, from guitars and amps, to pedals and pickups and just about everything in-between. I figured we could use a collection of that gear to replicate his '70s and '80s sounds, even though we weren't using Marshall amplifiers.
Sure enough, we were able to use a combination of an EVH Striped Series Guitar, an EVH 5150 50-watt EL34 amp head and its accompanying EVH 5150 2×12 cabinet. With these couple pieces of core gear, you can get a surprisingly accurate representation of that early Eddie Van Halen tone. I opted for the EL34 version of the amp head (as opposed to the 6L6 version) to get closer to the feel and response of those early Marshall amps that Eddie used.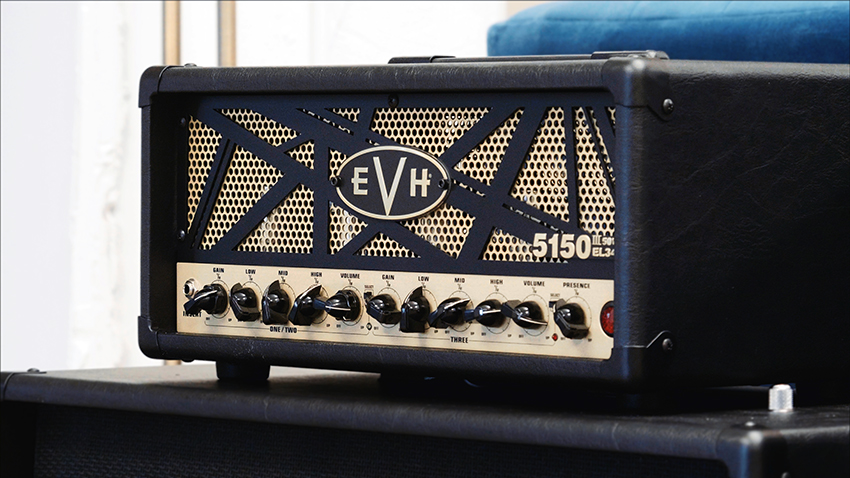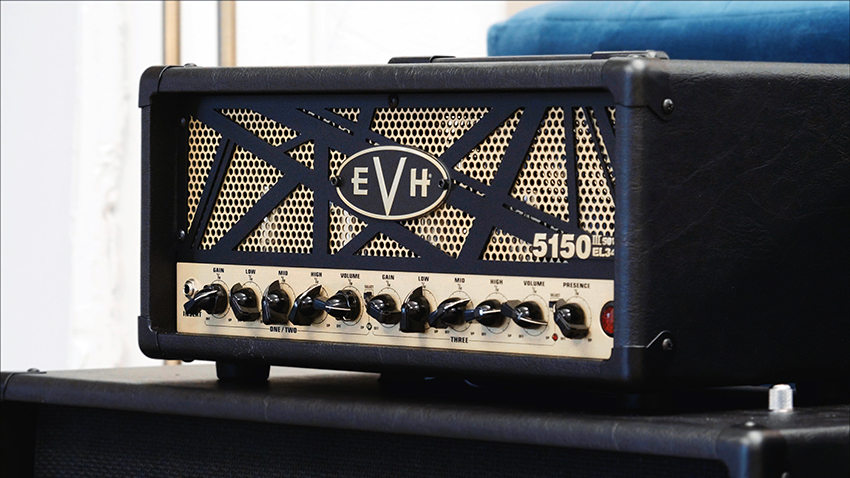 The amp is a three-channel beast, but I chose to use only the two drive channels – the blue channel and the red channel. The blue channel got the most usage on this video because it was pretty intense but its range of gain was remarkably versatile – I was able to dial the Gain knob back to clean it up to a clear but punchy overdrive sound for several rhythm tracks heard in the background (like on "Beat It" for instance).
The Red channel was quite a bit more snarly, and it notched up the gain saturation a bit and added some extra compression. I used it on "Ice Cream Man" in our video, and it really did feel like a totally cranked Marshall, but with even more gain! Overall the amp was great for this project, and was just fun for playing really any type of rock.
Pedals
We used just a quick few pedals for the video: an MXR EVH Phase 90 pedal (using the Script mode for its more vintage sound), and an MXR 5150 Chorus Pedal (used on Panama at the end of the solo).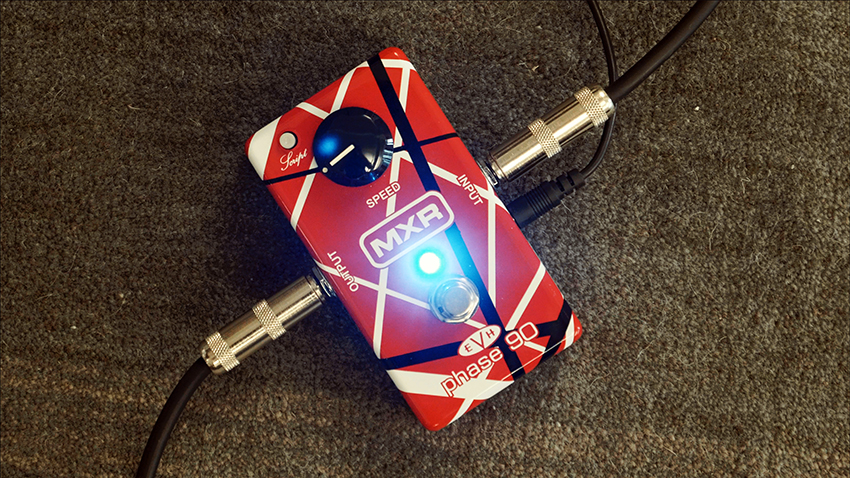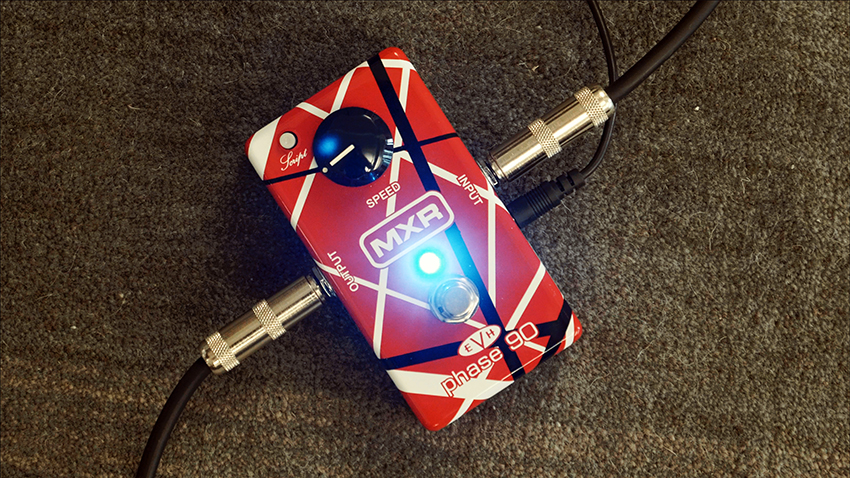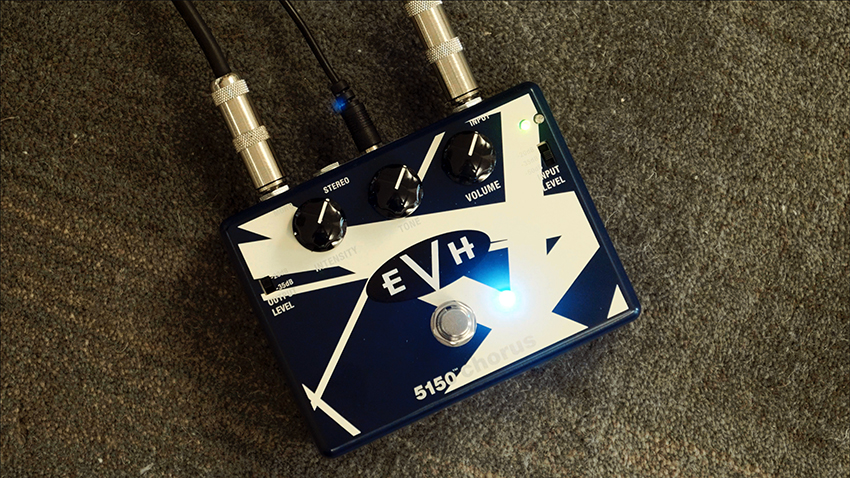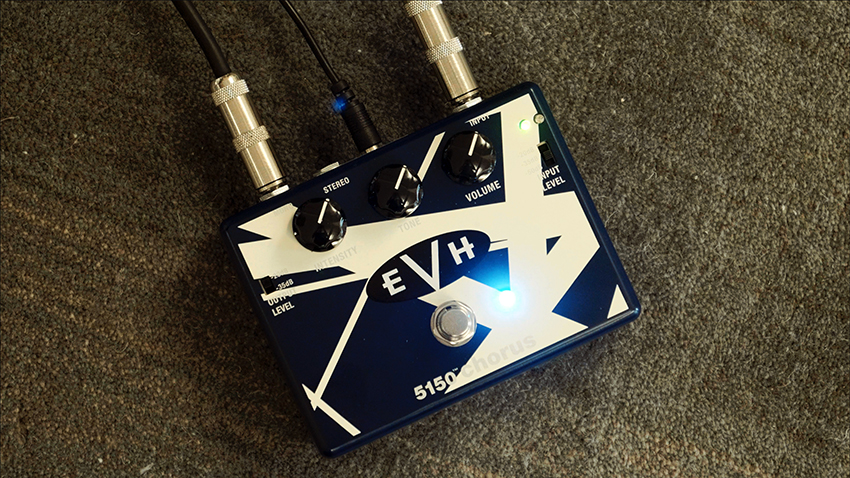 I also want to mention the MXR EVH 5150 Overdrive, because I personally own this pedal. It's essentially an amp-in-a-box unit that simulates the sound of Eddie's rig for those who don't have the coin to shell out to buy all of the expensive gear. It works great on cleaner amp platforms, like with my Fender Deluxe Reverb for example, because it has its own character that it imparts on your signal. The noise gate is also really handy too — highly recommended for players on a budget!
We made a handy Behind The Scenes walkthrough video of this rig complete with a few audio examples above, so check it out if you'd like to hear the aforementioned gear in more detail!