Prince might be gone but elsewhere the dissection of his cultural influence still reigns supreme. There are thousands of think pieces, listicles, and gifs competing right now for your moment of thought. If all of this feels overwhelming, join us as we shift our focus onto a much lighter topic. Let's explore some of the unique gear Prince used to create his most enduring legacy. It goes without saying that we can't detail every piece of gear Prince has used, as he was notoriously tight-lipped about sharing that info, but for someone who can play everything, he sure had some instruments that were uniquely his.
Introducing: The Prince Thinkpiece Generator https://t.co/eCLVRWMonX pic.twitter.com/5AeWZgKpUK

— Gawker (@Gawker) April 22, 2016
Let's take a look through some of Prince's most memorable instruments…
Hohner Madcat Telecaster
If we can count on one thing during our time revisiting Prince, it's running across his thorough demolishing and re-imagining of "While My Guitar Gently Weeps" at 2004's Rock and Roll Hall of Fame ceremony. Coaxing simply insane tones from what appears to be a custom Tele guitar left more than a few Traveling Wilburys' jaws a'dropping. At the end of the night, many were left wondering, 'where can I find this model?'
This is the stuff of lore. It's one of the reasons you'll most likely never find that guitar. Half of the magic isn't in the guitar but in what Prince saw in it. Whether it was a birthday present from his mom, the end of a search for a guitar that could match his leopard print guitar strap, or simply being a Japanese-made Telecaster knock-off that he could afford, Prince took a liking to this guitar. What he bought was a legitimate original.
One could argue it was the looks. It all began with that striking leopard-print pickguard. Once you joined it with a walnut center join bind outlining a luxuriously shiny polyurethane book-matched flame maple top and back (a rarity even in these days), the Mad Cat spoke of a high-end guitar that for all intents and purposes wasn't meant to be one. Introduced at NAMM in the early '70s by a fancy-sounding Japanese-manufacturer H.S. Anderson, it was these looks, and the Fender-copied headstock, that was attractive to somebody.
Back then it was Hohner. This German harmonica brand had the foresight to buy the design, manufacture the guitar, and stamp their logo on it as a way to get into the electric guitar market. Before a lawsuit in the early '80s halted its first run, Prince had secured two original versions that he'd task other luthiers to make copies of.
This is the guitar you hear on Prince's early recordings like Controversy, Purple Rain, and Sign O' The Times. What's most surprising? It wasn't until very recently that Prince started to have replicas made that swapped out the stock single-coil Hohner pickups for Kinmans, and then for Fender Noiseless versions. When you hear the original's scratchy tone paired with Prince's playing style, you'll understand why. This whole package allowed him to create his own version of electronic funk: if it started out subtle and fluid, that doesn't mean it couldn't end differently. It allowed him to get dirty, and come out sounding nasty, in a good way.
Periodically, Hohner, Cort, and H.S. Anderson have made as true-to-original replicas, but for authentic Prince-sanctioned versions your best bet to find any would be at his Paisley Park studios or at the Smithsonian.
---
The Cloud Guitar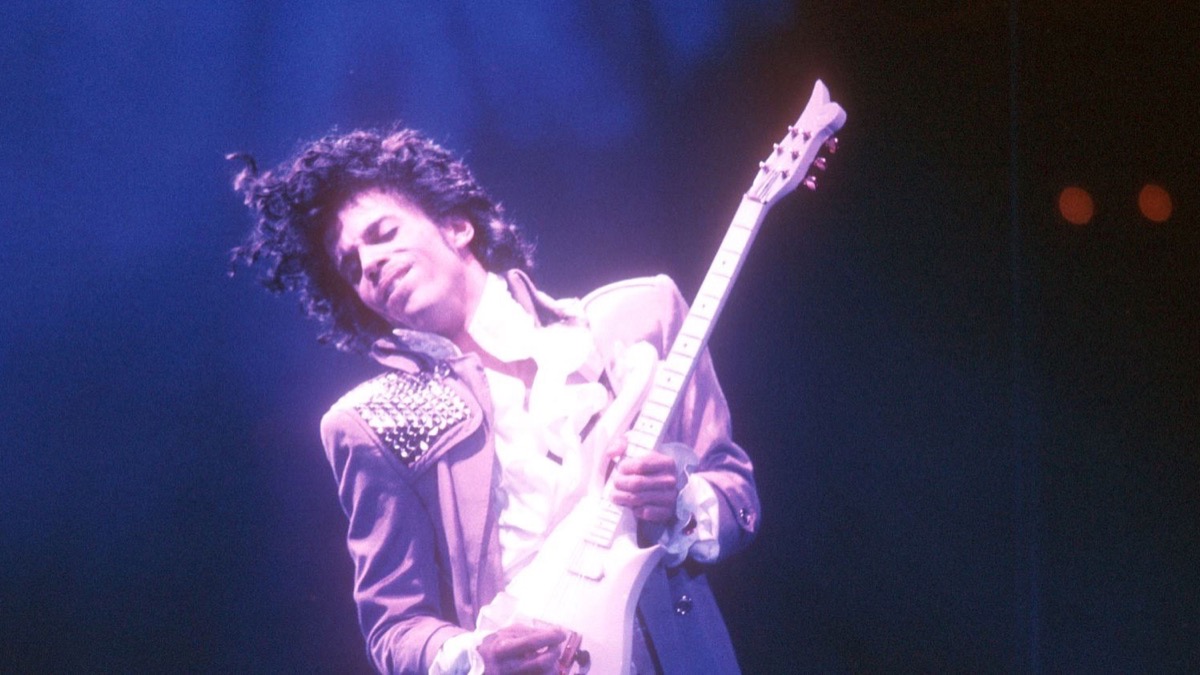 It's not often a guitar gets exhibited by the Smithsonian. Take one look at Prince's Cloud Guitar and it's not hard to figure out why. An innovation in shape, style, and sound, it signaled something far different than what his Hohner could deliver.
The Hohner was bought and played when Prince was a household name; the Cloud Guitar was made to craft his ascension to stardom. Taking cues from an Orr electric bass he borrowed from pre-Revolution-era bandmate Andrew Cymone for the "I Wanna Be Your Lover" video, Prince tasked Knute Koupee Music Store luthier Dave Rusan to create an electric guitar version to be used in a film he was working on. He did so, albeit with some very Prince-like enhancements.
According to Purple Rain cinematographic history, it was that white Cloud Guitar that Prince lusted for as a struggling musician. I'll spare you some spoilers and cut to the chase. When Apollonia gifted "The Kid" that same guitar he had been thirsting for, and would later use to try to win her back, few had known then that Prince had already given Dave directions on what present he wanted to receive.
The enhancements found on the Cloud Guitar were made to accentuate and complement Prince's compact stature on stage. First was the appearance of his own "Love Symbol" in the inlays of the guitar, years before it was used to christen him as the Artist Formerly Known As. Then, to offset the smaller scale of the guitar, the upper horn of the Orr was further elongated with a Dali-esque, curling protuberance. To finish the requested all-white finish, gold-plated Schaller hardware was added to complement Prince's curious aesthetic choice. What made everything far more curious was that belying the Cloud Guitar's small body was the heaviness of the guitar itself.
Once again, Prince demanded something different. The Cloud Guitar was a one-piece design made from maple wood entirely. To drive forward the surprising heft in the guitar, Dave packed in two active EMG pickups (one single, the other humbucker) allowing Prince to go from playing tender melodies all the way to soaring, or searing, leads at any moment. Purple Rain might have made that guitar iconic, but Prince found it sufficiently perfect to not tinker much with future versions of it. As Prince shape-shifted stylistically in following albums, and the guitar made continuous reappearances, few changes would be made in the Cloud guitar itself other than color.
What's surprising is that as different as Cloud Guitar is, Prince himself commissioned Schecter to create consumer versions of it that he could sell exclusively during his 2014 Hit and Run Tour.
Famous Clouds, as summarized on the authoritative Cloud Guitar FAQ:
White Cloud: Purple Rain era – Destroyed at the last Revolution gig. Features "Love symbol" fret markers.
Black Cloud #1: Parade era – This guitar was the only one to have a natural finished maple fretboard (not painted). Later became the 'Batman' guitar (see below).
Peach Cloud:  Sign O' The Times era – Given away as a prize and not seen since. This Cloud has small black dot markers.
Blue Cloud: Lovesexy Era – Commonly known as the 'Blue Angel'. Also featured small black dot markers.
Black Cloud #2: Batman era – All black with bat symbol fret markers.
Yellow Cloud: Diamond and Pearls era. [author's note: The Cloud Guitar featured currently at the Smithsonian.]
Blue Cloud #2: RaveUn2 era – This guitar has gold plated knobs rather than the black plastic 'mini JB' knobs found on earlier guitars. It also has a rounded profile to the body.
The Love Symbol Guitar
If you can encapsulate a certain era with a few choice images, take a look at the video below for a bit of moral relativism:
What is it that we're looking at? Yes, its some grainy footage of Prince laying down monstrous slap bass on a Auerswald Cleo, but there's more to it than what we see. Just a year before Prince had been toying with a new love…it was with German luthier Jerry Auerswald's guitar designs.
Beyond brow-raising, these guitars feature a lot of the late '80s tinkering that had started to appear in guitars like the Roland G-77 and other "headless" guitars. Acquired sometime during the filming of the "Alphabet Street" video, all the things we might think are a bit too much: the massive sustain bow attached to a thru-neck design, violin-like fine gold-plated tuners on the bridge, a high-gain EMG SA single-coil and 81 humbucker set, were exactly what Prince needed at that time.
The Auerswald Model C became Prince's "Rocker" guitar, meant to be used in performances to massive audiences during 1988's Lovesexy tour. Painted completely in white, it looked the extravagant part he wanted it to play live, but, truth be told, the insanely high action made it a pain to perform with.
In short time, the compounding pain stemming from this guitar and the kind dealing from Warner Bros. record label forced the creation of another iconic guitar. When he wanted wanted to be known by the Love Symbol, "The Artist Formerly Known As Prince" needed a guitar that signaled his break from that part of his past.
Auerswald was entrusted to come up with an entirely unique guitar based on a symbol Prince had been knocking around since Purple Rain and that was now featured in his Love Symbol album. The design you see above became the basis for the custom guitar that would soon be seen on stage as a clear you-know-what to his record label. The guitar, in its full gold-plated glory, most likely made its debut on the Today Show during Prince's performance of "Love Sign". However, its first true workout was more effectively demonstrated at a Letterman gig not too long after.
In spite of the complete design trickery involved in creating a "Symbol" guitar, for all intents and purposes, this new model was very similar to Prince's previous Model C. Still present was complete maple construction with a thru-neck design, slightly-tweaked EMG pickups still outfitted the body, and custom gold hardware rounded out the guitar. Forget about exposed wood anything, Prince still asked for each "Symbol" guitar to have every part of the guitar's body and fretboard painted in whatever finish he desired.
Although never mass produced, this guitar maybe have had its Renaissance due to Prince's eye-popping Superbowl performance in 2007. Back then, it was set in purple, and projected that certain Prince-ness that you won't find in his earlier guitars. We can say that recently we were lucky enough to snap a pic at Schecter's NAMM booth showcasing one of these reproductions. Even in person you can't help but marvel at its audacious design.
---
Oberheim OB Synthesizers
Dearly beloved, we are gathered here, to remember the iconic Oberheim synth pad that propelled one Prince Nelson George into stardom. If, you dig out your well-worn copy of Purple Rain, pay special attention to the heavenly organ opening the album. What you're hearing is the multi-tracked sound of the Oberheim OB-Xa synthesizer.
Perhaps one of the last truly great polyphonic, analog synthesizers, the 8-voice Oberheim OB-Xa was used to brilliant effect by Prince to kick off every opening track in his career-defining album trilogy: Controversy, 1999, and Purple Rain. 
Prince, ever the multi-instrumentalist, could have hired session musicians to play real horns, he could have used a real Hammond, he could have spent hours crafting a sound on a gigantic modular synth to soundtrack his vision, but he didn't. He wanted something grander. There was something audaciously larger-than-life in the sounds that he could wring out of the Oberheim OB synths.
What makes them so special? When Prince kicked off his career, he used thin-sounding Farfisa organs to try to stay in league, and compete, with New Wave bands. That was the sound of the late '70's For You and Prince. Then in the early '80s he obtained an Oberheim Four Voice synth but still sonically, something was missing. The Oberheim OB-X which you can hear in Dirty Mind, signals the shift.
With the OB-X, finally, Prince had a truly fat-sounding synth with actual on-board memory. As notorious of a studio workaholic he was, one can imagine how storing and recovering patches that he could translate outside the studio realm was something he desperately needed. We all know how ubiquitous Yamaha DX-7 and Roland D-50s were in the '80s, but having the ability to quickly come up with brass-sounding parts without having to dig through tons of menus truly introduced the Minneapolis sound to the world. And behind this, was the Oberheim OB-X. Van Halen, New Order, Depeche Mode, and Rush may have made the OB-Xa famous but it was Prince's influential work with it that still lingered far beyond that era. Heck, we can imagine Tom and Dave had some of the Purpled-one in mind when they recently created the Dave Smith Instruments OB-6.
---
Linn LM-1 Drum Computer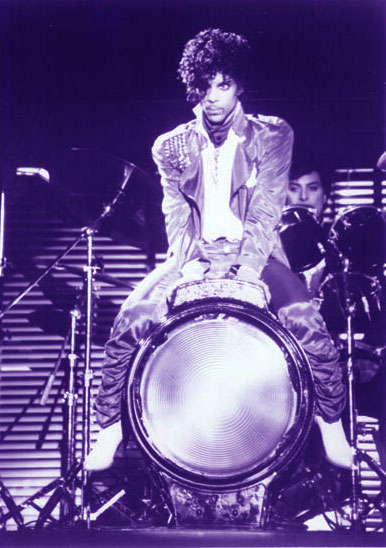 Have you ever stopped and really listened to a Prince song? Forget all the guitar hero histrionics, forget all the one-man synth band. Stop and really listen. What's the most interesting part of the song you'll hear? I'd wager its those drum parts. If you have a copy of Sign O' The Times, now is the time to take it out and skip forward to "The Ballad of Dorothy Parker." Now, if you can't, let's dispense with all niceties and go directly to a song that you can hear (free from copyright restrictions) like Vanity 6's "Nasty Girl," written and produced by Prince.
Now, can you un-hear those drums?
There was a time when Prince used live drums exclusively on an album, 1978's For You, for one. Heck, he'd probably be playing them at that time as well. However, there came a time when Prince discovered how to really do some unique things by layering real drums with a drum machine. and that sometimes, he didn't need real drums on albums at all, and could get away with using synthesized drums exclusively.
What machine led him on such a path? None other than Roger Linn's Linn LM-1 Drum Computer. Prince bought his LM-1 around 1981, and though we now take most of its features for granted, at the time, its capabilities were unheard of. Imagine being able to program your own drum patterns. Forget the samba, foxtrot, and rumba. Imagine having sampled drum sounds rather than digitized approximations. Although recorded at 8-bit, 28kHz fidelity, all the drum hits had the tail and detail for Prince to sign off on them.
Designed by a musician for musicians, the LM-1 was the first drum machine that swung. For a hefty price tag, Prince was able to take advantage of controls like Shuffle, separate drum intonation, and 12 individual drum outputs to fashion a different kind of drum attack. He did so by applying specific effects to single drum hits. Maybe a sampled drum can be downtuned? Maybe one can apply digital reverbs in a way they weren't intended to be used? Flip the gate, compress, and jam. These were the sounds no one had experimented in before and what made Prince's tracks so exceptional.
Break down songs like "Erotic City," and it all sounds so simple. They're all four-on-the-floor. But, upon closer inspection, these songs show why Prince is the subject of thousands of think pieces. It's a brilliant formula: accent the second kick and drop, or replace sonically, where you expect a steady-sounding snare to be and you've got tracks that can be memorable dance-floor bangers decades from their creation. It's all so plain and simple, yet Prince played what no one else even bothered to worry about. For all the talk about Prince being frank about all sorts of things, it was in those rhythms that Prince showed us all his unheralded craftsmanship as a musician.
---
Prince's Guitar Rig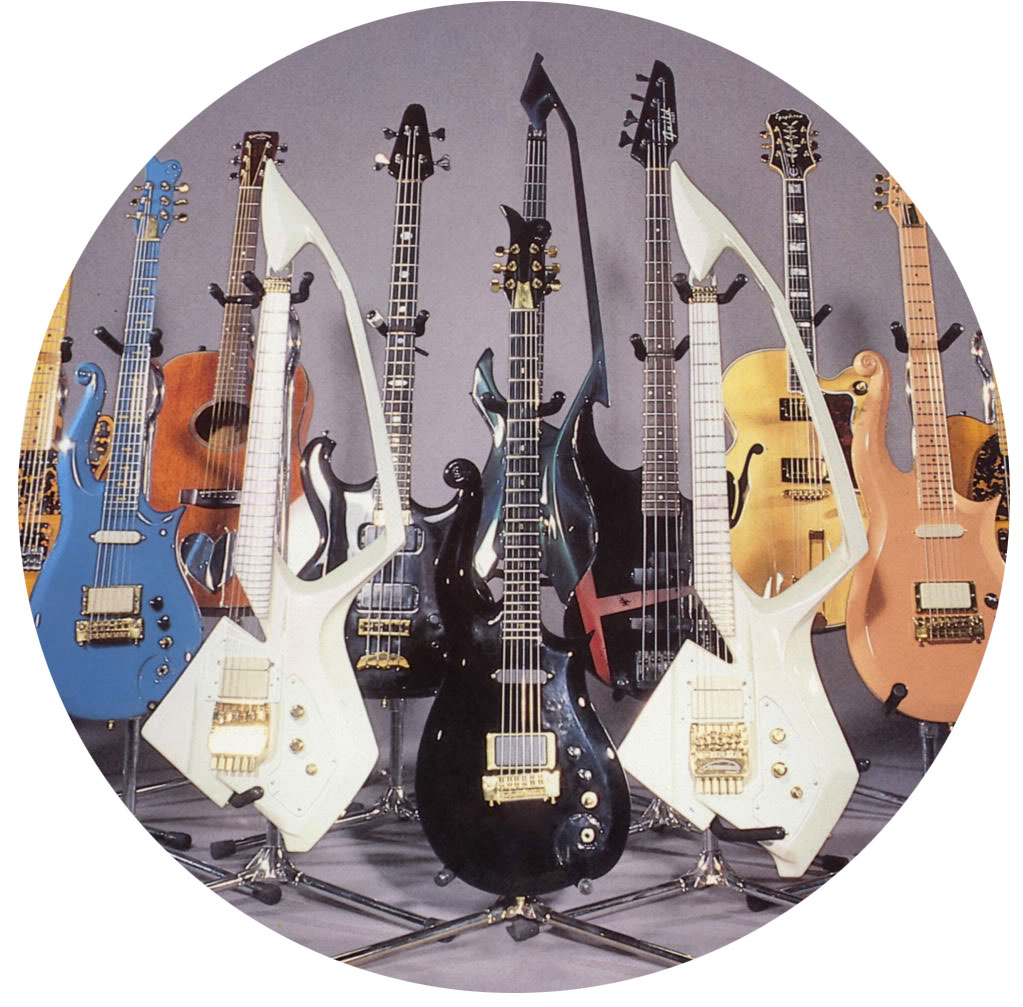 Here's where you come in. Feel free to share in the comments if I'm missing something. I've compiled a gallery, and some knowledge, of all the miscellaneous gear that Prince has used throughout his career. Save the forum digging for some other time.
What's surprising is that most Prince's rig is financially accessible to nearly anyone, once again proving the adage that it's not the size of the hammer that matters. Prince's preference for high-gain amps like the Mesa Boogie Lonestar or Soldano tube amps tips his hat to what he demands tonally. Although if someone would have asked Prince himself, he probably wouldn't care what gear he used.
"We don't spend much time working on sounds. The Artist isn't a gear head, and we never spend, like, six hours checking out different amps, guitars, or mics. I never have time to set up tones that you take for granted in most recording situations. The board is always set up for mixing and overdubbing simultaneously. Studio A has an SSL 8000 G+ console with Ultimation, and Studio B has a custom DiMideo with API components that I believe was used to record much of Purple Rain and Sign O' the Times." — Hans Buff, Paisley Park Engineer as told to Guitar Player Magazine, January 2000.
—
"Kids don't learn to play the right way anymore. When the Jackson 5 came up, they had to go through Smokey Robinson and the Funk Brothers, and that's how they got it down. I want to be able to teach that stuff, because kids need to learn these things, and nobody is teaching them the basics. See, a lot of cats don't work on their rhythm enough, and if you don't have rhythm, you might as well take up needlepoint or something. I can't stress it enough. The next thing is pitch. That's universal. You're either in tune or you ain't. When you get these things down, then you can learn how to solo." — Prince, as told to Guitar Player Magazine, July 2004.
The Gear.