From soaring David Gilmour guitar solos to saturated and raw Jack White rhythms, fuzz pedals have moved into the lexicon of nearly every modern player. An effect that by nature is hostile, unwieldy and a whole lot of fun, the modern fuzz pedal plays into our fascination with the unknown. Endless sustain, wonderful feedback and a ton of body are the building blocks of any great fuzz tone.
Read on for a deeper look at each fuzz pedal featured in our video, along with an explanation of how we achieved those famous tones!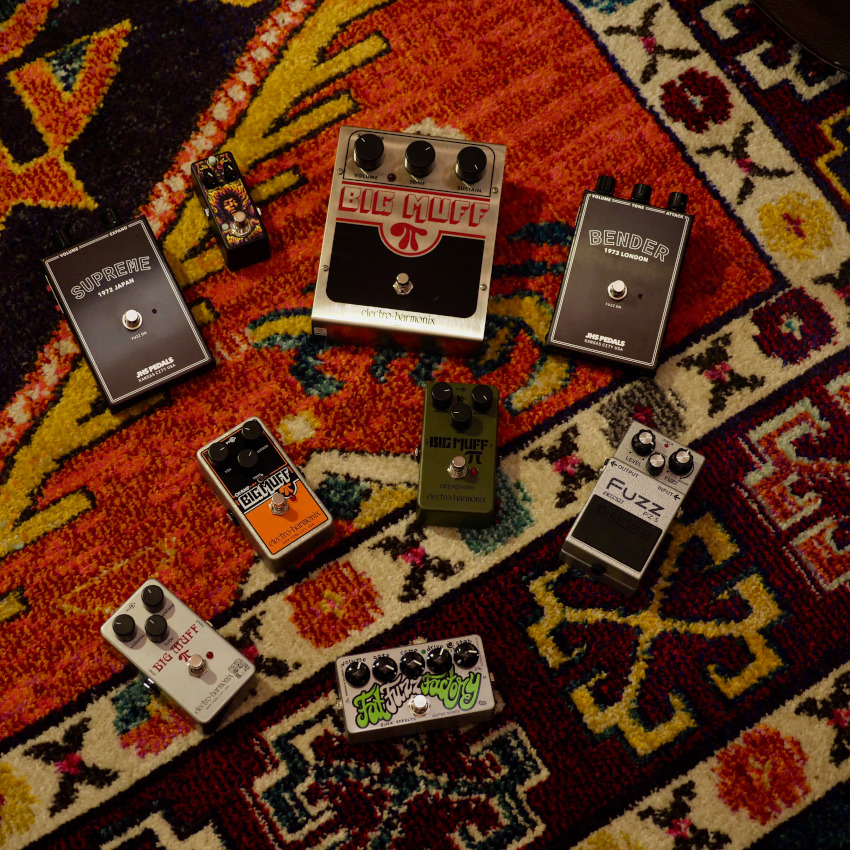 The Big Muff
Big Muff. Hearing its name alone likely fills your head with a wall of bass-heavy crushing distortion tone. It also might make you think of one riff in particular: "Cherub Rock." This Smashing Pumpkins classic featured Billy Corgan's walls of guitars played through a Big Muff Pi with operational amplifiers in its circuit. Using this very same Op Amp Big Muff, a Fender American Pro Stratocaster guitar, and a Friedman Dirty Shirley 20W Head got me the perfect tone for this riff.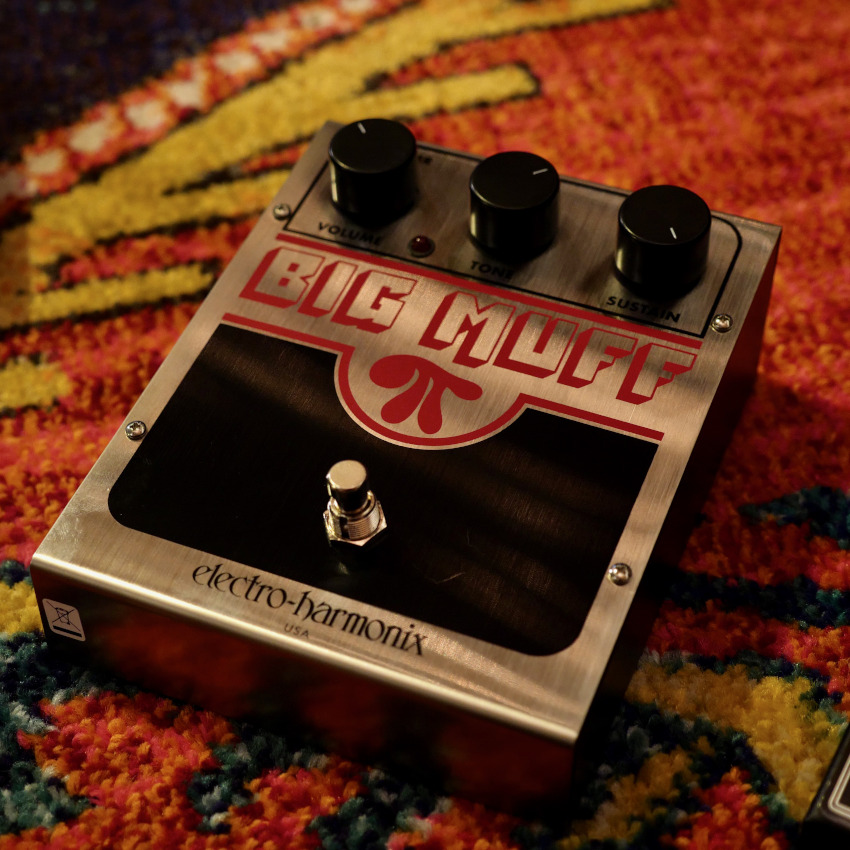 The Black Keys' guitarist Dan Auerbach is no stranger to fuzzes – the band's entire sound would be lost without it. Take the song "Thickfreakness" from the album of the same name, and see how much sonic space his guitar can occupy while using fuzz. For my own recording, a Green Russian Big Muff Pi pedal and the Harmony Meteor guitar fed through a Neve 1081 preamp clone got me all of the Black Keys' larger-than-life fuzz tone easily. What a riff!
Chelsea Wolfe's "16 Psyche" is another tour-de-force of fuzz tone, with loads of guitar tracks on the chorus of the song. I used a Gibson ES-335 guitar to record the parts, which makes sense since the 335 is one of Chelsea Wolfe's personal favorite guitars. The Big Muff Pi pedal sounded like just the right amount of sizzle to get the same guitar sound. I blended it with two different ranges of its EQ and combined them and voilà! It's the classic beefy sound we all know and love.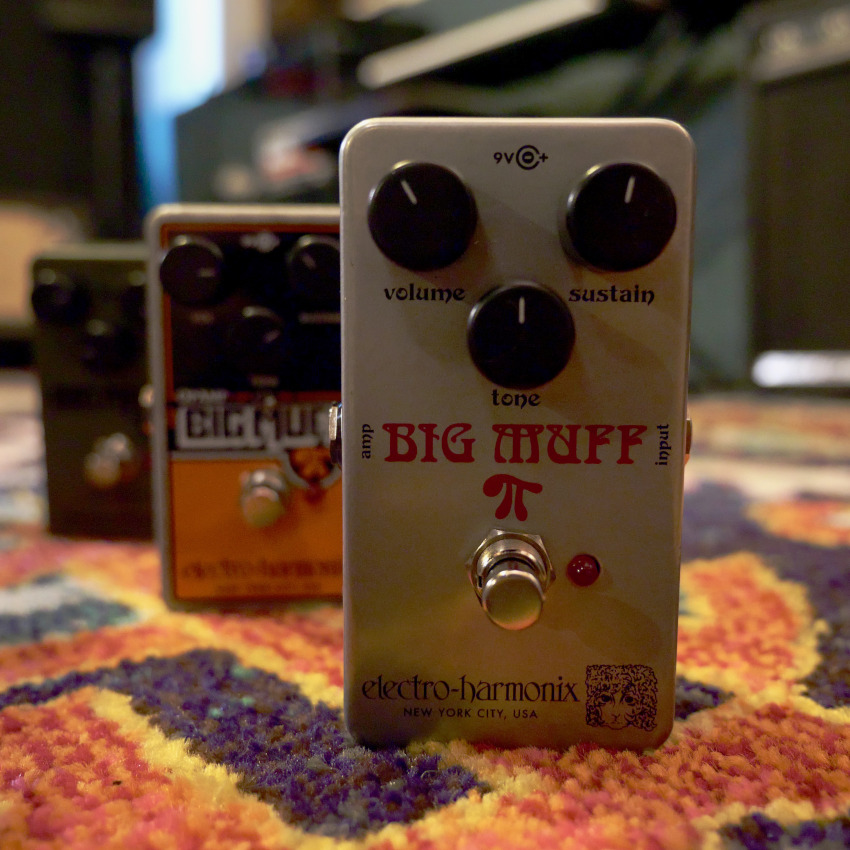 Regularly placed as one of (if not THE greatest electric guitar solo of all time), "Comfortably Numb" was a reminder of the Big Muff's versatility. Pink Floyd's David Gilmour was a fan of the pedal, namely the "Ram's Head" variation produced around the time. It can be heard all over the 1977 album Animals, as well as 1979's The Wall.
To get the tone, I reached for my trusty Stratocaster, my Friedman head again, and an Electro-Harmonix Ram's Head Big Muff Pi pedal. I also split the signal, and sent it through a Fender Blues Junior amp for a stereo rig somewhat similar to Gilmour's own studio setup. I blended the Fender lower in the mix, and it gave it a fatter, weightier sound compared to just the Big Muff signal alone. I finished that tone off with a TC Electronic Flashback Delay – it conveniently had a "2290" setting, which was a digital delay released in 1985 several years after the recording happened, but gave me the texture I needed for the solo. This sound is what rock guitar is downright made of though, and the Big Muff played a huge hand in that tone. If I had another free minute of video runtime, I'd surely have included the entire solo! It's that good.
The Fuzz Factory
Up next is a modern pedal that takes all of the velcro-y goodness of '60s fuzzes and then pumps them full of steroids: the ZVEX Fuzz Factory. Beloved by many for its range and its gated fuzz glory, it can be over-the-top or even tame if you want it to be. Needless to say, I chose the former. I decided on the modified Fat Fuzz Factory because of its extended EQ range and beefiness. One of the most associated users of the Fuzz Factory is Muse's Matt Bellamy, known for conjuring up sonic spells of whining, screaming, brash and ghostly guitar.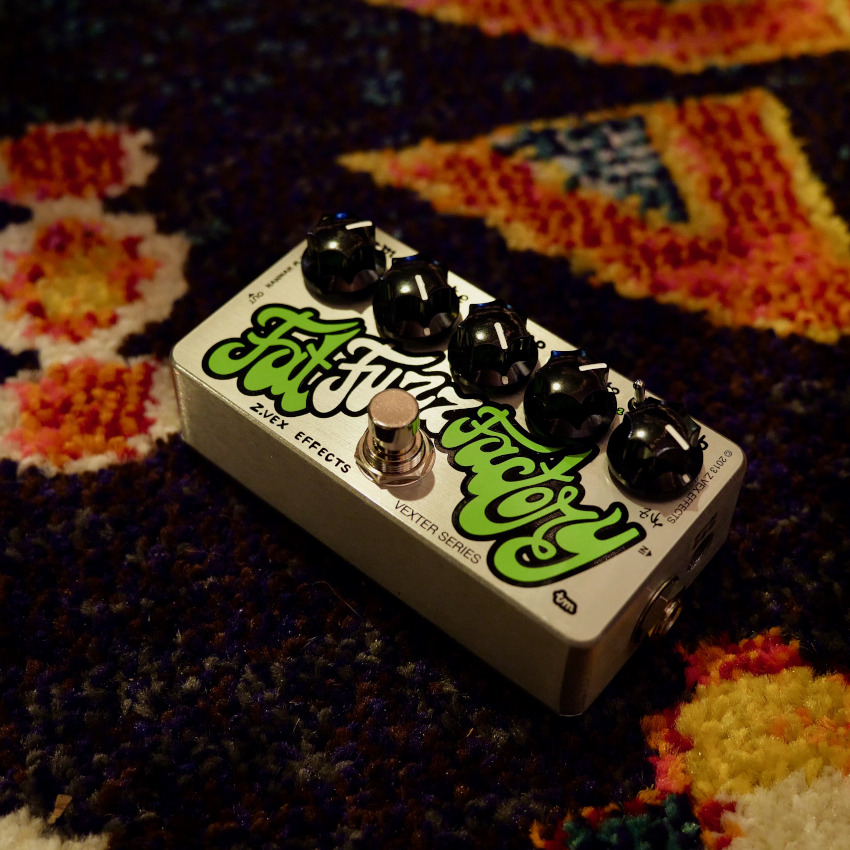 The band's 2001 hit "Plug In Baby" opens up with the Fuzz Factory's gated feedback, which I tried to get as close to his original as possible – even down to the exact feedback pitch from the pedal! I used a Music Man HSS Cutlass guitar for the humbucker flavor, and ran the ZVEX pedal through an EVH 5150 III 50W amp head and matching 2×12 cabinet. It's a great riff based on the B harmonic minor scale, and shows the pedal in some of its most extreme and sizzly settings.
The other end of the pedal's spectrum can be dark and wooly with a rounded tone that stacks well with other tracks. Sure enough, St. Vincent's guitar wizard Annie Clark did just that on their hit "Cruel" (and an extremely fuzzed-out guitar solo too!). In 2010, Clark was battling serious writer's block and burnout from her high-paced New York lifestyle. Her solution was to relocate to Seattle, isolate herself, and get to work on the album. What came about was 2011's Strange Mercy.
I wanted to faithfully record her "Cruel" guitar melody, so I used my Music Man HSS Cutlass again, (Clark has her own signature Music Man guitar), the ZVEX Fuzz Factory, and my Fender Deluxe Reverb for a nice big clean bed for the fuzz tone. I dialed in the gate and compression higher for a slightly spitty tone, and rolled the gain nearly off for just a bit of boost and hair to the notes. Doubling the line in octaves gave it a beautiful warm tone that sounded exactly like her riff.
The Boss FZ-5 & JHS Supreme
How could we make a fuzz classics montage without including the pivotal fuzz hit "Satisfaction?" Keith Richards played an old Maestro FZ-1 Fuzz-Tone pedal on the record, known for its liveliness and spitty tone. I used the Harmony guitar again, but chose the Boss FZ-5 Fuzz pedal instead. The mode knob in the center of the pedal had an excellent version of Keith's old Maestro fuzz, and it just sounded right.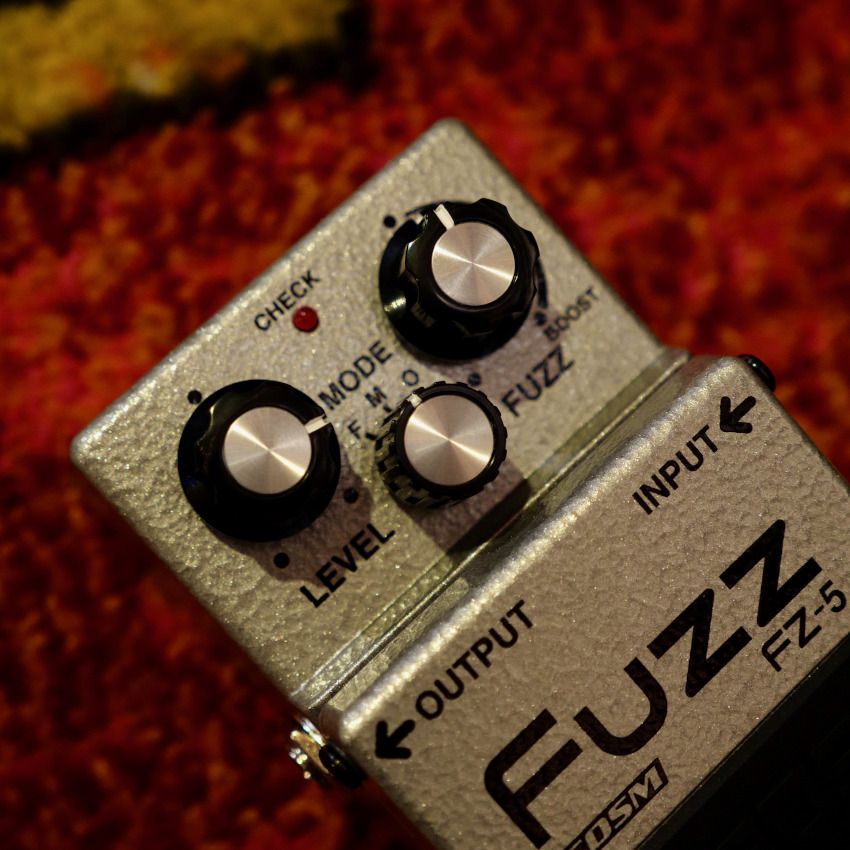 The Beastie Boys' 1994 classic "Sabotage" was a massive in-your-face bass riff drenched in fuzz. Adam Yauch played a Black Cat Superfuzz pedal on the record, a Japanese replica of the '70s Univox Super-Fuzz. To get as close to that sound as I could, I chose a Fender P-Bass and a JHS Supreme pedal. The Supreme was the most wily of the bunch, and had a distinct blown-out clipped type of fuzz sound that was massive. For bass, blending in a DI signal gave me a tone that was full, but distorted in the right way.
The Fuzz Face
Takin' it back old school, we featured possibly the most iconic fuzz of all time: The Fuzz Face. It's space-age chassis and gorgeous tone make it stand out as a classic even today. But who comes to mind when you think of the Fuzz Face? For me, it's Jimi Hendrix. And what better song to represent it than "Foxey Lady?" It's an undeniable jam and is 100% pure Fuzz Face goodness. I grabbed my Strat, my Friedman Dirty Shirley Plexi clone, and a Dunlop Jimi Hendrix Fuzz Face Mini pedal and got to work recording. I found the switches for either Silicon (more later-era Hendrix) or Germanium (early Hendrix) fuzz to be quite useful, and I naturally was drawn towards the Germanium setting to nail the beefy early tone. I fed it through my AML 1081 Neve preamp clone on the way in for even more iron and vintage touch.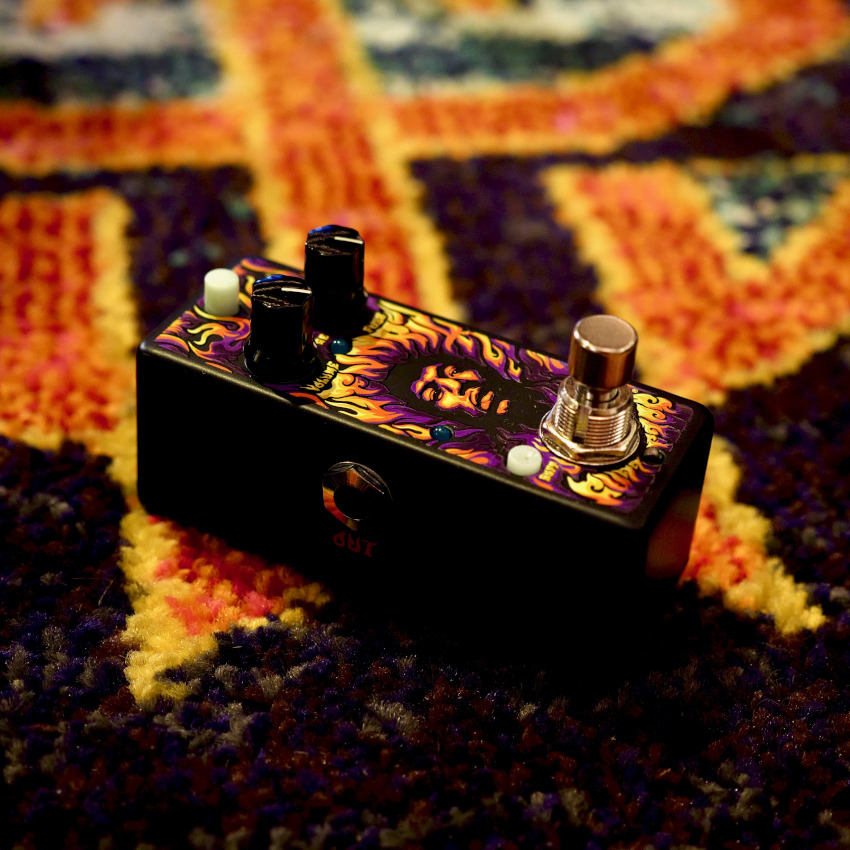 Pink Floyd's landmark album The Dark Side of the Moon is one of the most famous albums of any genre, period. Sound after sound was revolutionary, from the recording techniques and synthesizers, to the guitar effects and tones. Gilmour was exploring different textures, but the stand-out part of the first half of the album is found on "Time." His Strat, a Fender Twin Reverb (turned up so loud the engineers had to leave the studio), his Dallas Arbiter Fuzz Face with BC108 transistors, and a Binson Echorec unit created this epic and cavernous guitar solo that still to this day gives me chills when I hear the last few phrases. Perfection.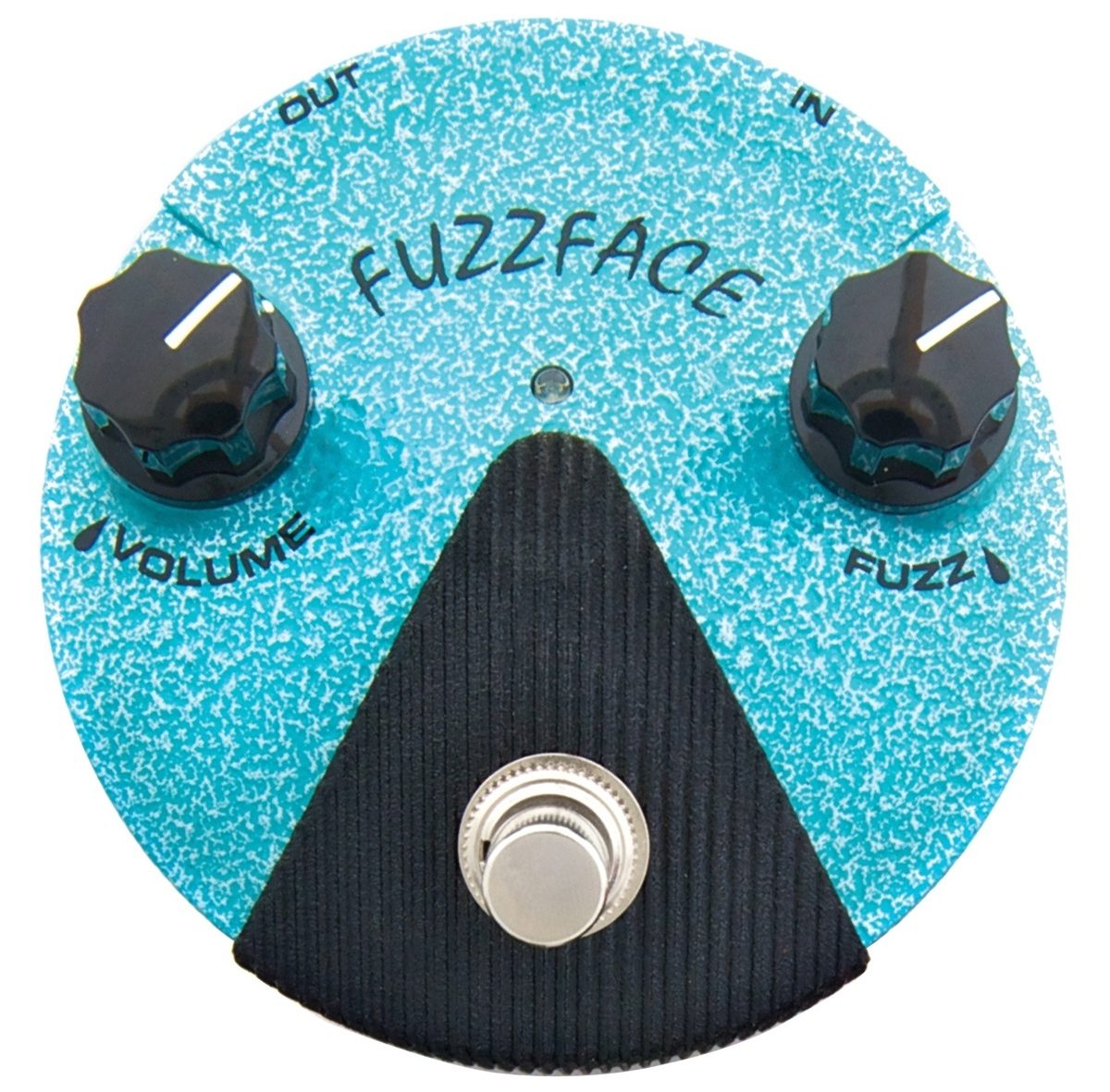 To get as close as I could, I of course grabbed my Strat, a Fender Deluxe Reverb, the aforementioned Dunlop Jimi Hendrix Fuzz Face Mini pedal set to the Silicon fuzz mode, and a TC Electronic Flashback 2X4 Delay. I ended up using the Tape mode on the delay, as it got me close to the proper sound. The "Time" solo's fuzz tone is biting but warm, and I opted to get my Deluxe Reverb as loud as possible before hitting it with the Dunlop fuzz to get the maximum punch. This tone rips. When the whole rig came to life and those guitar-hero tones oozed from my amp, it plastered a dopey smile on my face. You could even call it a…Fuzz Face.
The Tonebender
Led Zeppelin's "Dazed and Confused" is a classic example of a Tonebender fuzz at work – all of its snarl, bite, and wide gain range are on full display. To get the tone, I chose to use a JHS Bender pedal, which attempts to copy all of the mojo and germanium transistor goodness of the original 1973 "Onomatopoeia" Tonebender pedal.
The JHS Bender itself has a wide frequency range, ample gain capabilities, and two switchable modes. Admittedly this version is a few years after Jimmy Page's classic recorded version on Led Zeppelin I in 1969, but it gets incredibly close. To complete the rig, I used my Telecaster-style home-built guitar to see if I could coax a little of that Tele magic that Jimmy Page had on the album.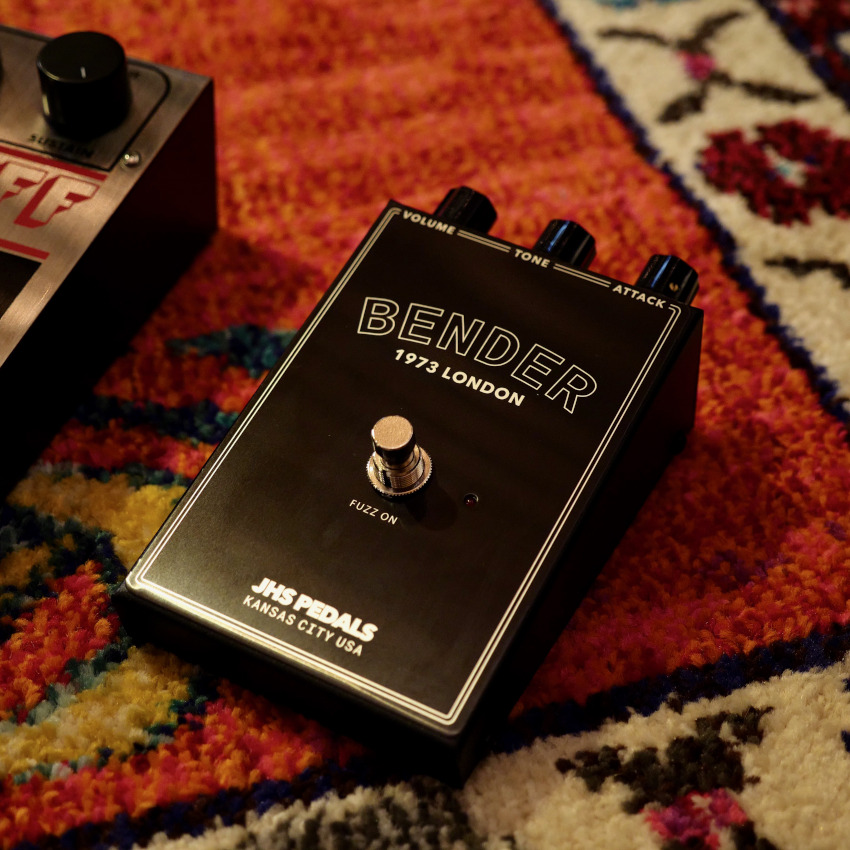 Grabbing the trusty Bender pedal and reaching for my vintage 1960 Harmony Meteor H70, I got classic Yardbirds "Heart Full Of Soul" tone. Jeff Beck's attempt to emulate a sitar lead to this classic stingy sound that practically single-handedly created a new generation of fuzz players afterwards. The pedal's alternate mode option, and its tone knob were versatile enough to dial in this unique fuzz tone.
Fuzz is truly a legacy effect. From its use on guitar, bass, keys and even drums, it has cemented its place in legend. So the next time you step on that bypass switch on your favorite fuzz think about the legacy that made fuzz a true Legend of Tone.