Bluetooth Wireless Headphones Noise-Cancelling Headphones Casual Headphones Earbuds & In-Ear Headphones Studio Headphones DJ Headphones Audiophile & HiFi Headphones
---
Noise-Cancelling Headphones Buying Guide
How do noise-cancelling headphones work to improve listening quality?
Call it active noise-cancelling, adaptive noise-cancelling, or active noise control — the technology in these headphones helps you press the "mute" button on your surroundings. It's no surprise that they're considered the best headphones for airplane travel! Take a look at this guide to learn how noise-cancelling headphones work, and whether they're worth the price.
---
Noise-Cancelling Headphones FAQs

Click each question to learn more about how noise-cancelling headphones work their magic.
Got a question of your own? Leave it as a comment below!

How do noise-cancelling headphones work?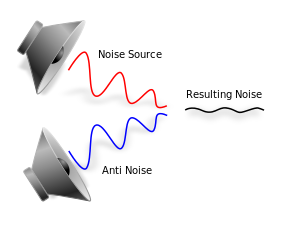 On a pair of active noise-cancelling headphones, each earcup or earbud has at least one tiny microphone that's constantly "listening" to the surrounding environment. When you turn on the headphones' power switch, noise-cancelling circuitry inside the earcups phase-inverts anything the microphone picks up, resulting in a sound wave that's 180 degrees out of phase with the surrounding noise.
This phase-reversed "anti-noise" wave is like an upside-down mirror image of the original sound wave. When it's played through your headphones, it cancels out the surrounding noise via a process called destructive interference. Just as +2 and -2 add up to 0, noise plus anti-noise adds up to silence. The result is a quiet environment to enjoy your music — or simply enjoy the sound of silence.

What kind of noise do noise-cancelling headphones cancel out -- and what still comes through?
We get these questions a lot: Do noise-cancelling headphones block snoring? Can noise-cancelling headphones block out voices? What about a crying baby?
The answer is that the circuitry found in consumer noise-cancelling headphones works best on low frequencies. So, noise-cancelling headphones are best at cancelling out the lower-pitched, consistent, steady, droning background rumble and hum from fans and ventilation systems, vacuums, generators, machinery, trains, plane engines, and traffic.
If the noise source is rapidly varying in frequency — like the sound of voices — noise-cancelling headphones don't work so well.
So, active noise-cancelling headphones can't press the mute button on the crying baby or snoring passenger in the next seat. But they're great for reducing constant, steady, cyclical noise like airplane engine hum. Plus, most active noise-cancelling headphones also have thickly padded earcups or sound-isolating in-ear earpieces that work as passive noise-isolation, helping to muffle those higher-frequency sounds in your environment.

Can noise-cancelling headphones be used without music?
Yes! Pause your music and use your noise-cancelling headphones to cancel out the world around you — great for sleeping or studying.

Can noise-cancelling headphones play music with the active noise-cancelling turned off?
Yes! While older Bose QuietComfort models did not pass music through when powered off, most current noise-cancelling headphones work in "passive mode" when the switch is off — even if the battery is dead! That said, you'll likely want to keep your 'phones switched on while listening to music, since they're louder, clearer and more dynamic when they've got the battery power helping to bump your tunes.

Can noise-cancelling headphones damage my hearing?
If you plug
any
headphones into a super-loud source for an extended period, you run the risk of hurting your ears. But noise-cancelling headphones can actually help
save
your hearing.
People have a tendency to turn up their headphones too loud in an effort to drown out a noisy environment. With active noise-cancelling headphones, you won't need to blast your music as loudly in order to enjoy it in peace. What's more, most music actually sounds better when it's not at maximum volume — because most portable music players and headphones can start to distort and sound worse as they approach the very top of their volume range. With noise-cancelling headphones, you can listen to your audio at a reasonable level without hearing the background hustle and bustle.

Are noise-cancelling headphones harmful to my health?
Only if you're wearing them in a hazardous environment!
Headphones with active noise cancelling are designed to reduce ambient environmental sound. When you're wearing noise-cancelling headphones — or any headphones, for that matter — you'll be less likely to be able to hear sounds in the world around you. Since noise-cancelling headphones make outside noise more difficult to hear, the sounds of warning beeps or alarms may be altered.
If you're driving or biking, or in a factory, construction site, or train station where your safety depends on being able to hear what's going on around you, it's smart to turn off the noise-cancelling function of your headphones.

Are noise-cancelling headphones worth the cost?
Yes — if you're using them for their specific intended purpose: reducing consistent background noise, so you can enjoy your audio. If you're a frequent flyer, or your office has a constant HVAC hum, noise-cancelling headphones may be well worth it. But if you want a pair you can use as your serious music-making headphones, noise-cancelling headphones are probably not it. In the studio, you want to hear an accurate picture of what you're recording — background noise and all.

What are the drawbacks of noise-cancelling headphones?
The main drawback is that active noise-cancelling circuitry is expensive, and the best noise-cancelling headphones don't come cheap. You could likely spend the same amount of money on high-end audiophile headphones and get better sound — but you wouldn't get the cool noise-cancelling wizardry.
Secondly, there's the battery. Active noise control requires a power source. In some headphones, it's an AAA battery, which lasts around 30-40 hours. In other headphones, it's a USB-rechargeable internal lithium-iron battery, which lasts around 15-20 hours per charge. These batteries make your headphones a bit bulkier, and of course they require recharging or replacing.
Finally, if you're using your headphones as a smartphone headset, keep in mind that with noise-cancelling turned on, it can be tough to judge how loudly you're talking!
---
Know Your Lingo
Passive vs. active noise cancellation: What's the difference?

Both passive sound isolation and active noise cancellation help you hear more of your music and less of the outside world — but in very different ways.
Active noise-cancellation:
As explained above, active noise-cancelling headphones use miniature microphones and battery-powered electronics to detect noise around you, and generate an "anti-noise" wave that cancels it out via destructive interference.
Passive sound isolation:
Passive sound isolation is simply a means of sound-proofing your ears from your surroundings. Sometimes, headphones' sound isolation is referred to as "suction" for the vacuum-like way the earcups seal against the wearer's head. Passive sound-isolating earphones or earbuds work like earplugs: the foam or rubber sleeves fit inside your ear canals, blocking outside sound.
Unlike active noise-cancelling headphones, sound-isolating headphones do not require electronics. However, most active noise-cancelling headphones also offer some degree of passive sound isolation with thickly padded earcups or earplug-like foam sleeves.
Around-ear passive sound-isolating headphones look a lot like the ear protection headsets used in shooting sports, covering the entire ear. They're quite bulky to be carrying around for casual listening — but drummers are known to use this type of sound-isolating headphones in the studio to hear click tracks and other musicians over the sound of their own kits.
---
What's Your Price Point?
Why are noise-cancelling headphones so expensive? They contain delicate electronics, and in many cases, fancy DSP chips to work their magic. Here are our recommendations by price point:

Entry-Level to Mid-Priced: Noise-Cancelling Headphones Under $150
Audio-Technica has also gone up against the more famous expensive models in the noise-cancelling arena with their QuietPoint series — headphones that deliver serious environmental noise reduction for a more affordable price.The QuietPoint ATH-ANC7b-SViS model is a favorite among the jetset, and the addition of a smartphone remote cable with an in-line mic and remote controls makes them a convenient travel buddy. And ATH-ANC20 QuietPoint headphones — with an on-ear design that blocks up to 80% of environmental noise — are likely the most affordable active noise-cancelling headphones you'll find!

---
Mid-Priced to High-End: Noise-Cancelling Headphones $150+
Bose's newest flagship headphones are the Noise Cancelling 700 headphones. This wireless pair features the latest noise-cancelling technology, letting you fine-tune the system so you can hear more of what you want in the real world, like voices, while filtering out what you don't. These headphones also work seamlessly with most popular voice assistants, making them a sort of mobile tech hub.
Korg may be a relative newcomer to the headphones game, but their NC-Q1 DJ headphones impress with their blending of active noise-cancellation with passive isolation. Adaptable memory foam ear cushions and a meticulously designed frame make for an excellent seal around your ear, giving these headphones the boost they need to provide hearing protection to DJs, front-of-house engineers, and you!
Right on par with Bose noise-cancelling headphones are Audio-Technica's ATH-ANC700BT QuietPoint headphones. While less expensive Audio-Technica noise-cancelling cans require an AAA battery, the MSR7NC pair has an internal rechargeable battery that will last you 25 hours. These come highly recommended if you don't think you'll be using the noise-cancelling circuitry at all times, and simply want a great pair of all-around headphones.
---