Bluetooth Wireless Headphones   Noise-Cancelling Headphones   Casual Headphones   Earbuds & In-Ear Headphones    Studio Headphones   DJ Headphones Audiophile & HiFi Headphones
Earbuds & In-Ear Headphones Buying Guide
In one ear, in the other
Earphones are the types of headphones nearest and dearest to us…literally! They're made to go in your ear, so their fit is of utmost importance. Space comes at a premium, so the best earbuds need drivers that can reproduce at least fairly detailed sound across a broad frequency spectrum despite their tiny size. Earphones (or earbuds, if you prefer) are even part of our social lives! We can make and take calls through their in-line microphones and buttons — a feature that's invaluable for those on the go today.
Yet for some reason, many are content with the status quo and don't consider earphones beyond the ones that come stock with their phones. Or if they do, they lean toward cheap models from a big box store. This buying guide was written to let those listeners know there are far better options out there. Quality earbuds not only bring much higher quality sound, but are built to last much longer than department store buds. Read below to learn about what you're putting in your ears every day, and get some solid recommendations to find the best earbuds for you!
---
Earbuds & In-Ear Headphones FAQ
Below are some frequently asked questions about earbuds. Click a question to see its answer.
Got a question of your own? Leave it as a comment below!
What's the difference between earphones and in-ear monitors?
For starters — fit, appearance, performance, and price.
You may have seen performers on stage wearing in-ear monitors. Small, yet powerful with surprisingly full-range sound, in-ear monitors fit in performers' ear canals with cables that wrap around the top of the ear and behind the head into a wireless bodypack receiver — feeding the monitor mix, backing tracks, and click tracks to performers' ears, keeping them on the beat and hearing themselves accurately.
Consumer earphones or earbuds (the terms are interchangeable) are meant for everyday listening. They generally are not equipped to handle the volume levels that professional in-ear monitors can, nor do they provide the same accuracy. While you wouldn't want to use everyday earbuds on stage as monitors, you can certainly plug some in-ear monitors into your mobile device for superior sound quality and detail.
One tell-tale sign of a product that's aimed at the consumer market is the fit. If your earphones are designed to hang down instead of wrap around the top of your ear, they're probably aimed at listening to MP3s on a portable device, not performing on stage.
Professional in-ear monitors are considerably more expensive than earbuds and earphones for casual listening. You can get a fantastic pair of consumer earbuds for around $100, but pro IEMs start around $200 a pair.
I want a pair of earphones that deliver deep, heavy bass. What should I look for?
The main factor affecting bass response in earphones is driver size.
Earphones with larger
drivers
can often reproduce lower frequencies with greater accuracy. Driver size is commonly listed in headphone specs lists, so be sure to read up on it if you're looking for big bass! Most earphones stick to one driver per ear bud, but some higher-end models and many in-ear monitors feature multi-driver design. This splits the duties between drivers, so each is dedicated to a certain frequency range, allowing for greater accuracy.
Can using earbuds hurt my ears or damage my hearing?
Yes, but that is completely in your control. Listening at loud volumes can damage your ears and cause hearing loss with time. Some ways to prevent this include limiting your volume (some devices include volume limits as optional settings) and limiting your listening time.
If you're turning up the volume because you're listening in a loud environment, consider earphones designed to fit inside your ear canals like earplugs, or even noise-cancelling earphones. These earphones cancel out outside noise, letting you hear your music more clearly without having to turn it up.

Do in-line microphones or playback controls affect my sound quality?
No, a microphone or playback buttons on the cord of your earbuds do not impact the sound quality. You're free to take calls and enjoy great sound!

Are earphones good for mixing?
Generally, no. The comparatively small drivers in earphones aren't as accurate as most over-ear studio monitor headphones, so they wouldn't give you the truest representation of your mix.

---
Know Your Lingo
When comparing in-ear headphones, knowing the terminology can help you sort through models to find exactly what you need. Here are some terms relevant to in-ear headphones.
Wireless:
Earphones with wireless capabilities typically receive a signal from an audio player via radio frequency or Bluetooth. They are a good choice for exercise, because they do away with cable clutter.

In-line Mic: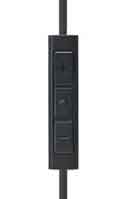 Some headphones feature a cord with an in-line mic. These small microphones allow you to speak into them to conduct phone calls. They also often feature volume and/or playback controls for music and taking/ending calls.

Driver:
Headphone drivers are magnets in each earpiece that convert the electrical signal to sound. Some earphones (and especially in-ear monitors) house multiple drivers for each ear. With drivers dedicated to different frequency ranges, such earphones can create a broad spectrum of sound.
Active Noise Cancellation:
Some in-ear headphones feature active noise cancellation, a process that uses miniature microphones and battery-powered electronics to detect noise around you, and generate an "anti-noise" wave that cancels it out via destructive interference. Check out our Noise-Cancelling Headphones and Earbuds buying guide to learn how noise cancellation works.
Sound Isolation:
In contrast to active noise-cancelling headphones, sound-isolating earphones work much like an earplug, sealing against your ear canal to block sound from the outside world. In order to effectively isolate you from outside sounds, the foam or rubber sleeve of your sound-isolating in-ear headphones must be properly inserted into your ears.
---
What's Your Price Level?
In-ear headphones are available in a wide array of price points. Here are a few of our recommendations for three price levels.
Entry-Level: Earbuds & Earphones Under $70
On average, earbuds are the most affordable type of headphones available. While you can nab a pair for under $5, investing a bit more cash to buy some from a reputed brand will pay off in sound quality and durability. One big upgrade from those ubiquitous white buds you got with your iPhone are Shure SE-112 earbuds. Their ergonomic design and included ear tips in three different sizes will fit any ear and help filter out ambient noise so you hear your music clearer. Looking for a budget option that goes above and beyond? Mackie's entry-level CR-Buds in-ear headphones are a huge step-up from stock earbuds thanks to their precision-tuned drivers, tangle-free cable and custom-designed ear tips. And speaking of a step-up, their CR-Buds Plus in-ears feature dual dynamic drivers in each ear with an over-the-ear band for a more secure fit, plus the ability to answer calls, control playback, and adjust volume via an in-line remote!

Mid-Priced: Earbuds & Earphones Under $150
Headphones in this tier have a few more features, more rugged construction, and improved sound compared to entry-level options. Shure SE215 in-ear monitors offer great sonic isolation and are thoroughly tested by Shure for durability and sonic performance. Sennheiser IE100 PRO headphones are designed for onstage musicians, but even if you don't perform live, you'll appreciate their rugged build, great audio clarity and cofmort! Mee Audio Pinnacle P2 HiFi in-ear headphones bring audiophile sound to the streaming crowd with handmade 10mm drivers and phone-friendly low-impedance voice coils. Mackie's MP-120 in-ears have an ergonomic design to stay put in your ear whether you're wearing them in the gym or on the stage.
High-End: Earbuds & Earphones $150+
Ready to really treat yourself? These high-end earbuds and in-ear headphones represent some of the best sounds you can get in a compact package. Take the Sennheiser IE 400 PROs for example — their TrueResponse technology grants an amazingly clear stereo picture while ending the problems of distortion and feedback peaks. Audio-Technica brought their sonic expertise to their true wireless ATH-TWX9 earbuds. They utilize the Snapdragon Sound platform for supreme fidelity and feature 360 Reality Audio for an unbelievably authentic soundstage. They even feature their own UV sterilization system! Shure SE425 earphones may be designed for live performance, but there's no reason why you can't benefit from their dual micro-driver design and superior sound isolation when you need a pick-me-up on your morning commute.