Bluetooth Wireless Headphones   Noise-Cancelling Headphones   Casual Headphones   Earbuds & In-Ear Headphones    Studio Headphones   DJ Headphones Audiophile & HiFi Headphones
---
Casual Portable Headphones
Where sound, style and fit meet

Sure, studio engineers and DJs have high standards for their headphones, but we also ask a lot of the headphones we use every day. We want them to sound good, look good, fit comfortably, and be able to travel with us anywhere we go. That's a lot to ask, but thankfully, there's no shortage of headphones up to the task.
This segment of the headphones market has always been in demand, but it's really exploded over the past few years. Since then, manufacturers from Bose to Sennheiser and Audio-Technica have raised the bar for what we consider "casual" headphones. It's a big, broad umbrella with a lot of brands, styles, and price points to consider. If you're shopping for headphones for casual listening, but don't know where to start, fear not! We're here to guide you based on what you want out of your headphones.
---
Headphones FAQ
Below are some frequently asked questions about casual, portable headphones. Click a question to see its answer.
Got a question of your own? Leave it as a comment below!
I want a pair of headphones that deliver deep, heavy bass. What should I look for?
The
frequency range
 and frequency response
of your headphones are important considerations. Frequency range can be expressed in just two numbers: the lowest and highest frequencies (or pitches) a speaker can produce, measured in Hertz. The spectrum of human hearing ranges from about 20 Hz to 20 kHz. Frequency
response
, on the other hand, needs to be expressed in a graph — with the frequency range that a device will reproduce on the X axis, versus amplitude or volume (measured in decibels) on the Y axis.
To hear recordings as they were intended to be heard by the engineer, or to accurately mix your own tracks yourself, you'll want a frequency response as flat as possible, or for all audible frequencies to be produced at as close to the same volume as possible. However, if you want your music to have boosted bass, you'll want a pair of headphones that emphasizes frequencies between 20-150 Hz. This will really bring out the low end, making sounds from the kick drum, electric bass, bass synths, etc. louder.
Another factor to consider is driver size — the diameter of the actual speakers pressed against your ears — which typically ranges from 30mm to 55mm. Headphones with larger drivers can often reproduce lower frequencies with greater accuracy. Driver size is commonly listed in headphone specs lists, so be sure to read up on it if you're looking for big bass!
Can using headphones hurt my ears or damage my hearing?
Yes, but that is completely in your control. Listening at loud volumes can damage your ears and cause hearing loss with time. Some ways to prevent this include limiting your volume (some devices include volume limits as optional settings) and limiting your listening time.
If you're turning up the volume because you're listening in a loud environment, consider noise-canceling headphones instead. These headphones block outside noise, letting you hear your music more clearly without having to turn it up.

Do studio monitor headphones make good casual listening headphones?
That depends on what type of listening experience you are looking for. If you prefer a flat response to hear recordings as they were meant to sound, then studio monitor headphones are generally a great choice.
If you are constantly on the go, you should consider that studio monitor headphones are generally larger than most casual listening headphones. Most do not feature convenience functions like on-board volume controls, an in-line mic for phone calls, Bluetooth connectivity or noise cancellation. Price points on studio monitor headphones also tend to be higher than casual listening headphones, but that's not always the case; you can find some great studio monitor headphones priced lower than some casual pairs.

Do in-line microphones or playback controls affect my sound quality?
No, a microphone or playback buttons on the cord of your headphones does not impact the sound quality. You're free to take calls and enjoy great sound!

---
Know Your Lingo
When comparing headphones, knowing the terminology can help you sort through models to find exactly what you need. Here are some terms relevant to casual headphones.
Over-Ear Headphones: (aka Circamaural, Full-Size, Around-Ear)
Put most simply, over-ear headphones fit over the ears, with the ear pads forming a seal that helps block outside noise from coming in.
On-Ear Headphones: (aka Supra-Aural)
On-ear headphones feature ear pads that sit on the ear. These headphones tend to be smaller and more portable than around-ear headphones.
Wireless:
Headphones with wireless capabilities typically receive a signal from an audio player via radio frequency or Bluetooth. They are a good choice for exercise, because they do away with cable clutter.

In-line Mic: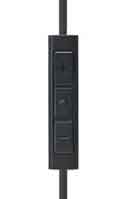 Some headphones feature a cord with an inline mic. These small microphones allow you to speak into them to conduct phone calls. They also often feature volume and/or playback controls for music and taking/ending calls.

Driver:
Headphone drivers are simply small speakers — the magnets in each earpiece that vibrate back and forth, converting the electrical signal to sound. The size of drivers corresponds with the size of the headphones, and larger drivers tend to be able to reproduce lower frequencies with greater accuracy.
Noise Isolation:
Not to be confused with active noise cancelation, noise isolation occurs when headphone ear pads help to block outside noise from your ears. Larger, over-ear headphones typically are more effective with noise isolation than on-ear headphones. Drummer isolation headphones are especially adept at blocking out noise even from loud sound sources.

Frequency Range:
The spectrum of sound a pair of headphones can reproduce is known as its frequency range, which is denoted in Hertz from low to high (ex. 20 Hz to 25 kHz). The range of human hearing is generally known to be 20 Hz to 20 kHz, in young people, and it is often debated if whether or not headphones with a frequency range beyond the range of human hearing yield benefits to the listener.
---
What's Your Price Point?
Lifestyle headphones are available in a wide array of price points. Here are a few of our recommendations for three price levels.
Entry-Level: Headphones Under $30
There's certainly no shortage of everyday-use headphones at affordable prices — and yes, these sub-$30 headphones are made to last. Samson SR350 headphones bring studio style design to an affordable format. Enjoy deep bass courtesy of their 35mm rare Earth magnet drivers.  Yamaha's RH1 headphones feature a light and super-comfortable fit that's perfect for those learning an instrument. Finally, Samson's HP30 headphones provide the ultimate bang for your buck with powerful 40mm drivers for a full range of sound.
---
Mid-Priced: Headphones Under $50
If you're willing to spend a bit more, we'd recommend it, as you'll get a lot better performance from headphones in this range. AKG K72 headphones follow the company's classic form, with a one-size-fits-all headband and immersive sound. Samson SR400 headphones feature a comfortable over-ear fit, and their studio-standard 20Hz – 20kHz frequency response make them a viable choice for mixing. Finally, Audio-Technica's ATH-M20X headphones are an incredible introduction to their longtime favorite ATH-M line of studio headphones. You'll find M20Xs have similar audio performance as their big siblings, but with a lighter, more comfortable fit.
---
High-End: Headphones for $100+
Grab a pair of Yamaha HPH-MT8 headphones if you want to experience rich, producer-grade audio quality in a portable package. These headphones' folding design and removable cable make them great on the go. If you're seeking a great pair of on-the-go headphones that don't compromise on audio fidelity look no further than Sennheisier HD25 PLUS headphones. Their lightweight, comfortable design belies their ability to handle high sound-pressure levels, making these a bonafide pair of backup DJ headphones. Audio-Technica ATH-MSR7b headphones feature True Motion drivers for distortion-free, incredible audio.
---
Are You a Gamer?
Finally, we wanted to include some recommendations for great gaming headsets. Gaming headsets differ from other headphones for one primary reason: they include a gooseneck mic for communicating with other players online. They also tend to feature large drivers (often 40mm and up) for immersive sound — an important factor when you need to hear all that's going on around the battlefield.
If you're a serious gamer who needs the mic, but also wants quality headphones for enjoying music, we suggest the Audio-Technica ATH-G1WL headset — it features a closed-back design and switchable 7.1 surround sound for an unbeatable soundstage and immersive audio. It also features a flexible boom condenser mic that can be positioned at just the right spot for any player.