The MXR Slash Octave Fuzz is a pedal that sounds like it knows it is the underdog.  It's angry, gritty, and intimidating, and if you think you can handle it, it is well worth spicing up your chain with. Now, why do I consider this pedal an "underdog?"  Well, Slash is not particularly known for using fuzz. So the way I see it, a signature pedal from a guitarist who hardly uses the effect might get overlooked by some players. I would know: I am a huge Slash fan, and even I overlooked this pedal for a long time. So…why did I buy it?
Quite simply because I needed a fuzz pedal and an octave pedal. I'm sure many of you can relate. So I figured, why not save money and space on my pedalboard and buy an octave/fuzz pedal? This my friends, turned out to be a fantastic idea. And being a fan of Slash, this was a no-brainer.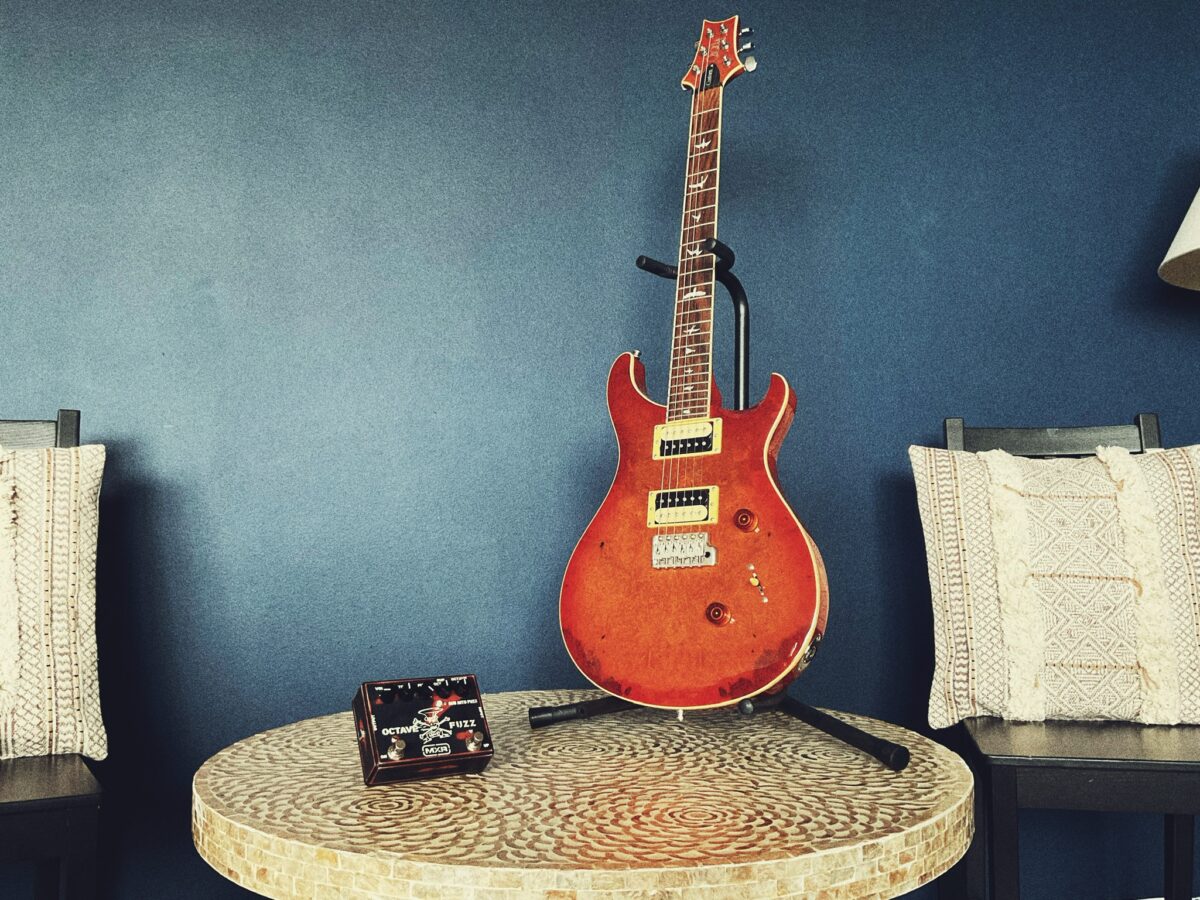 The Octave Fuzz: For Dummies
For starters, I feel this pedal has a bit of a learning curve. Most fuzz pedals are typically very straightforward and simple, but when you combine octave effects into the mix, it becomes a bit more complicated. The Slash Octave Fuzz offers one octave up and one octave down, and the capability to run fuzz into either octave. So, before we get into the good stuff (not that it's not all good when it comes to this pedal), let's talk about how it works.
For stomp buttons, you've got your octave button on the bottom left, and your fuzz up button on the bottom right. The octave button activates the pedal into octave mode, but in order to activate the higher octave, you have to hit the fuzz up button. Then, you have your sub into fuzz button. This is not a stomp button, so you will have to plan ahead of time with how you will use this button in a song before playing. This button activates the sub octave with the fuzz tone, giving it that angry gritty sound that is signature to this pedal.
Tone Controls
Now for the knobs. The volume knob controls the overall volume output of the pedal. The tone knob controls your bass or treble mix of the fuzz itself. The fuzz knob controls how much fuzz you are adding to the mix, and the sub octave knob is for dialing in the sub octave. The octave up knob is for adding the upper octave into your signal. Overall, all of these settings are very responsive, and this pedal is set up to give you tons of options for sculpting your fuzz octave tone. Now…let's get to the really good stuff.
The Signature "Good Stuff" Tone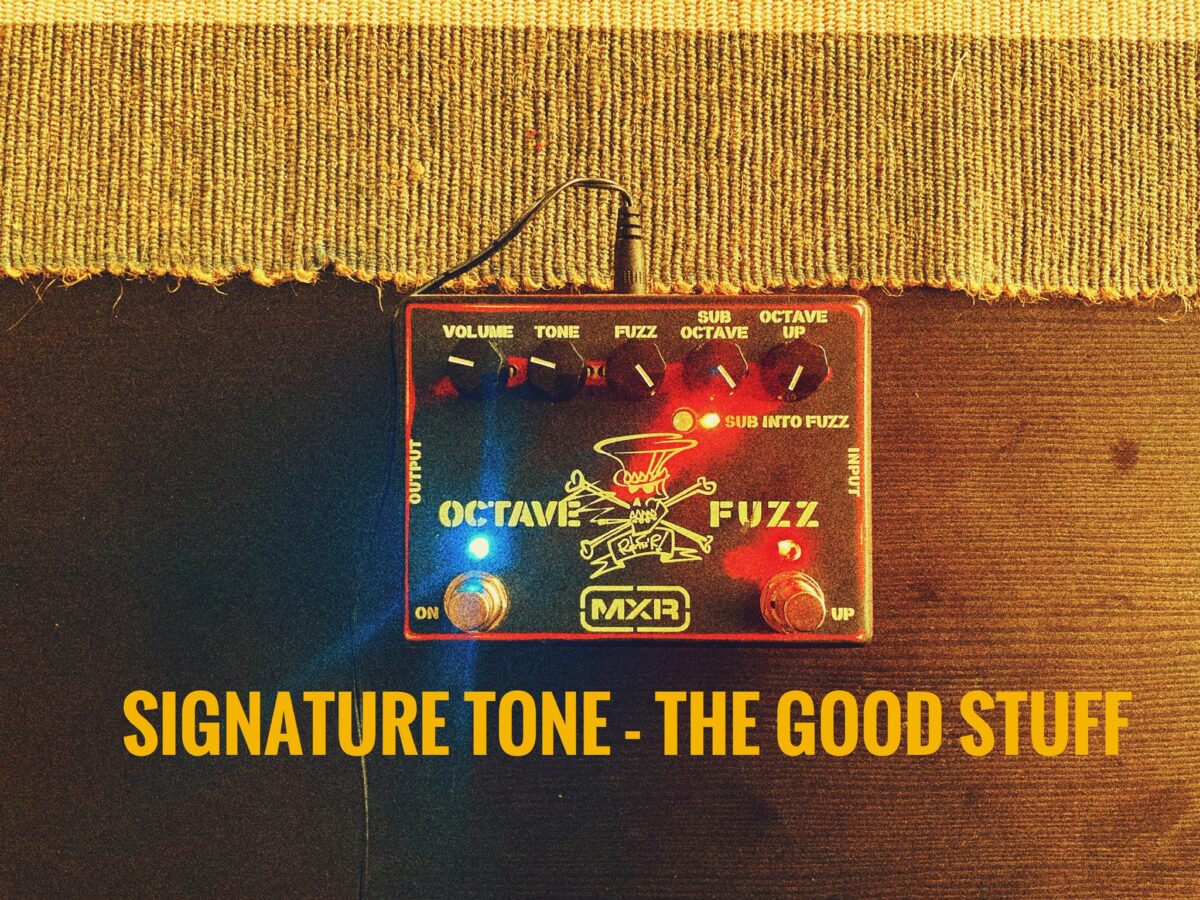 This setting has the sub octave and sub into fuzz options engaged. I left the fuzz up switch engaged but not in use (Octave up knob turned to 0) in case I decide to kick it to that setting. You can alternatively turn the octave up and leave the fuzz up switch off until needed. With this setting, fuzz is added to both your bypassed clean signal, and the sub octave signal that comes through. Interestingly enough, they seem to have their own tone qualities. When combined together, it produces a very gritty, searing, and aggressive fuzz octave tone that I believe was the intent of this pedal when Slash and MXR designed it. Check out what that setting sounds like below.
Here is an isolated example :
Undeniable Flavors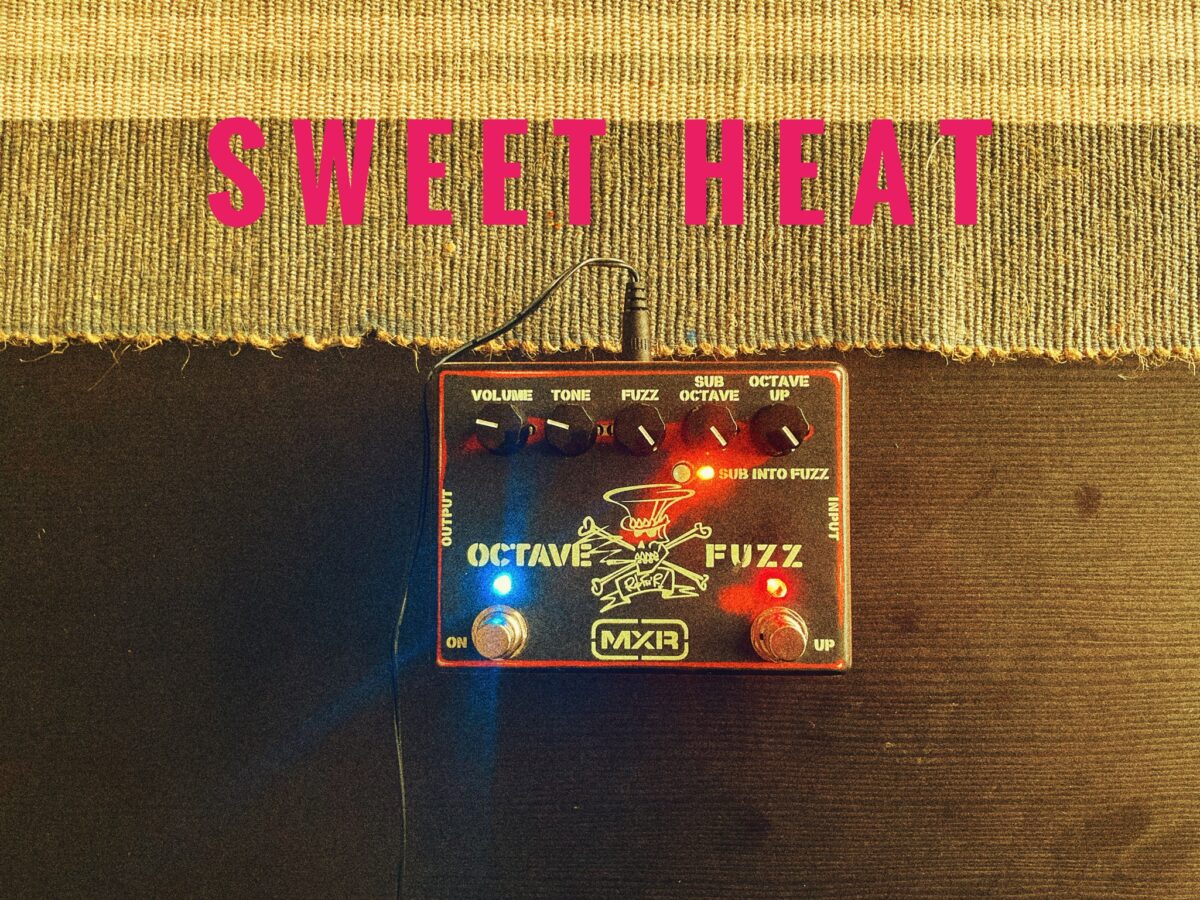 Here is a setting that I have dubbed "sweet heat." Now personally, any food that has that "sweet heat" kick to it is a winner in my book. The following setting reminded me of those foods; it's gritty and spicy with a touch of sweetness to make it even more savory. The sweet heat setting basically takes the previously mentioned signature sub octave fuzz tone, and adds a bit of the octave up setting into it. Not too much, but just enough to widen the sound a bit, and also give the tone a bit of high-frequency sweetness. You can have the "signature" sound, and the "sweet heat" sound set up independently, and all you have to do is hit the "fuzz up" button to switch between them. It is absolutely red hot, and will cut through with searing, blazing, head-turning tone. Check it out:
Here is an isolated example :
Solo Octave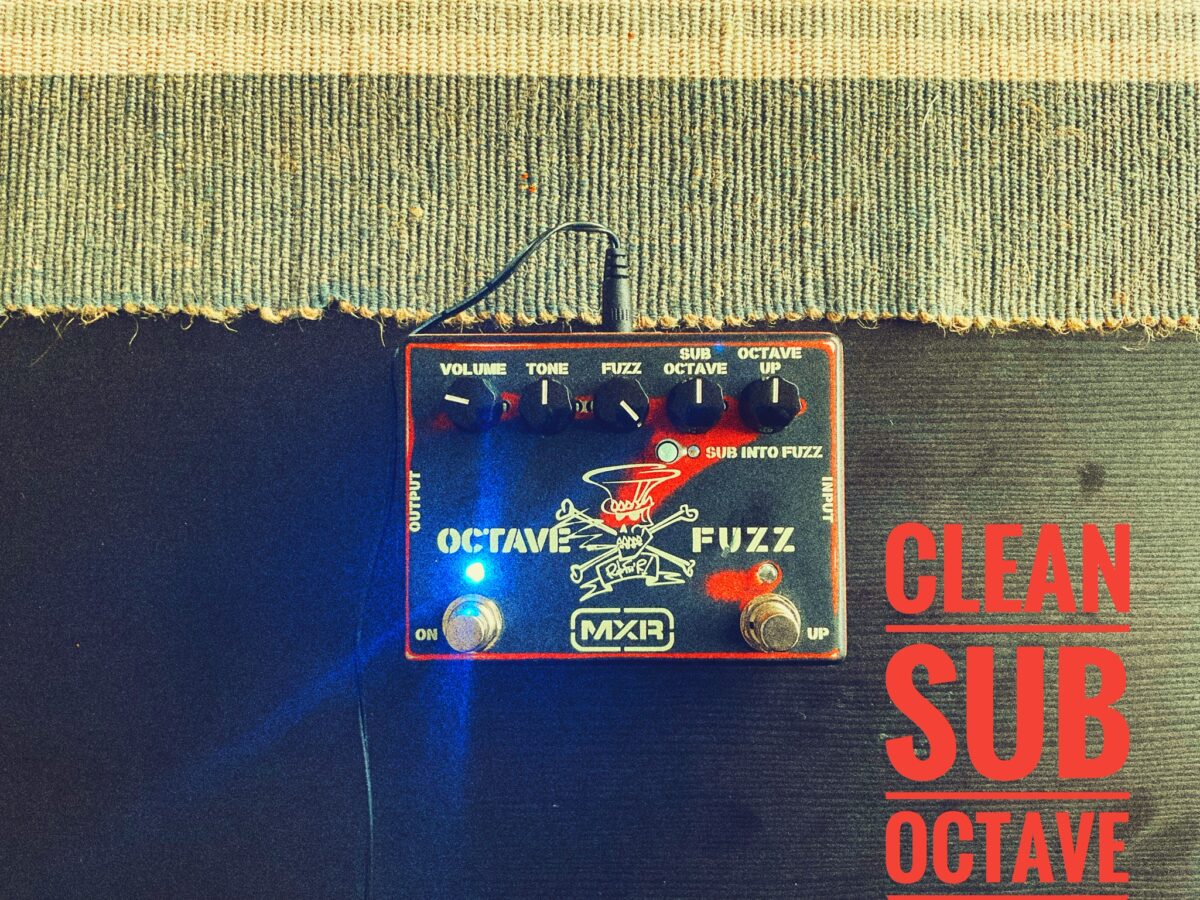 Generally speaking, the sub octave setting through a clean tone with no fuzz sounds great. But I wanted to put this setting under a microscope to see if there was anything more to it. The first time listening back with this setting, I immediately noticed that the sub octave is extremely boomy. The sub setting has to be dialed back considerably in order to eliminate that low-end boom. Certain notes/frets will resonate more than others. With this in mind, I did not EQ the recording below, because I wanted to demonstrate the best way to eliminate that boom organically through the pedal's EQ. I recommend listening through headphones or speakers/monitors for the best results.
Side note: When only the octave setting is engaged, the fuzz EQ knob will not bring fuzz into the mix unless the fuzz up switch is engaged.
Additionally, the sub octave seems to come through more on low notes with this setting. This is not referring to the low-end boom, but rather the actual sub octave. Going up the fretboard, the sub octave seems to be less present. So overall, it is a great setting to use for tasteful clean soloing/melody playing with a bit of flare. Just be mindful of the low-end presence. Check out this isolated example to get a good idea of the shifting low end/sub octave presence:
Sub Into Fuzz: It Makes a Difference!
The bread and butter of this pedal is really the sub into fuzz setting. When not activated, your bypassed signal stays clean. The tone this creates reminds me of a more classic fuzz octave sound: It's a meaty fuzz that is not aggressive, with a layer of clean signal parallel to the fuzz signal, which is activated via the fuzz up button. When the sub into fuzz button is engaged, as described earlier, you get that searing, aggressive fuzz octave tone. It cuts aggressively and creates a perfect alternate tone for riffing. The following tracks demonstrate the difference the sub into fuzz button makes.
Here is an example of the sub into fuzz setting engaged:
Here is an isolated sub into fuzz example:
Here is an example of the sub and up octave settings engaged, but the sub into octave left off: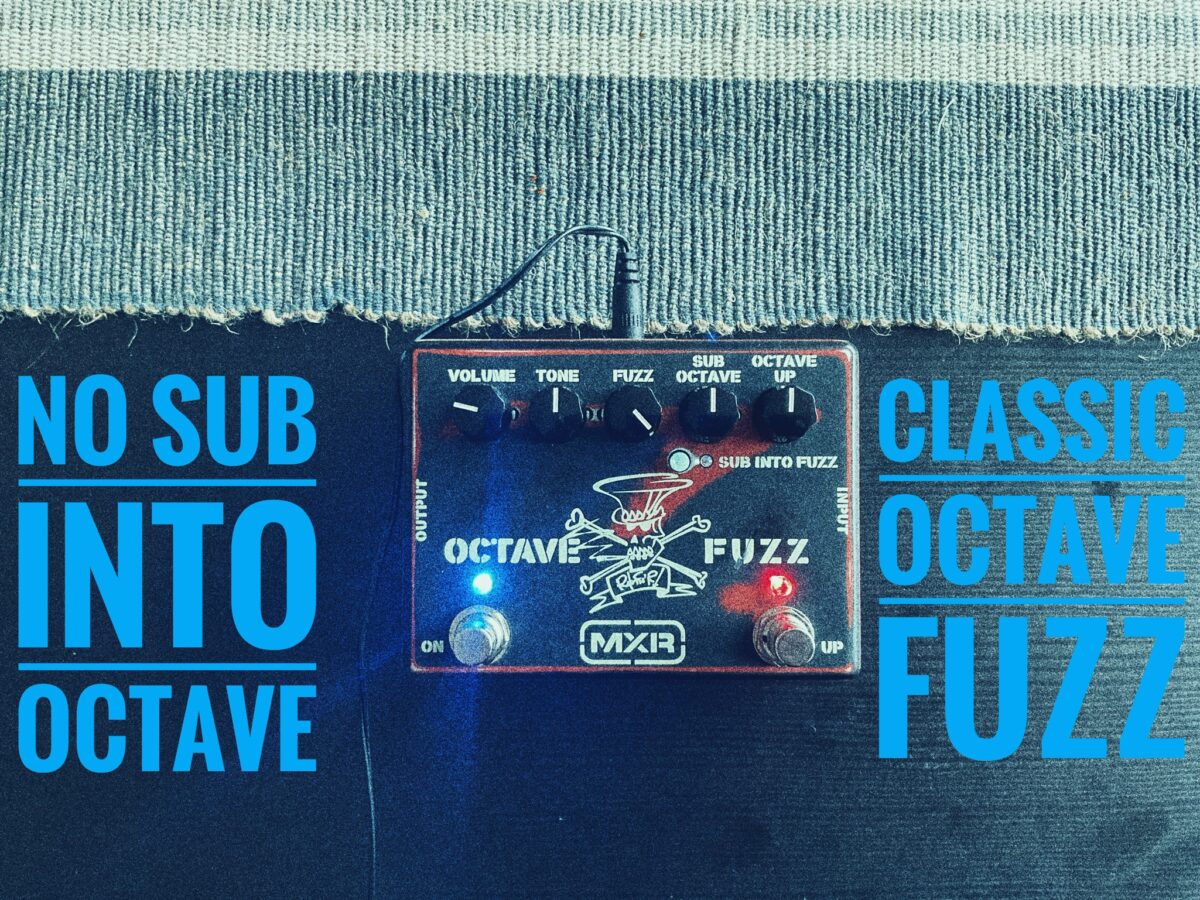 Here is an isolated example:
The Slash Fuzz Octave…And Friends!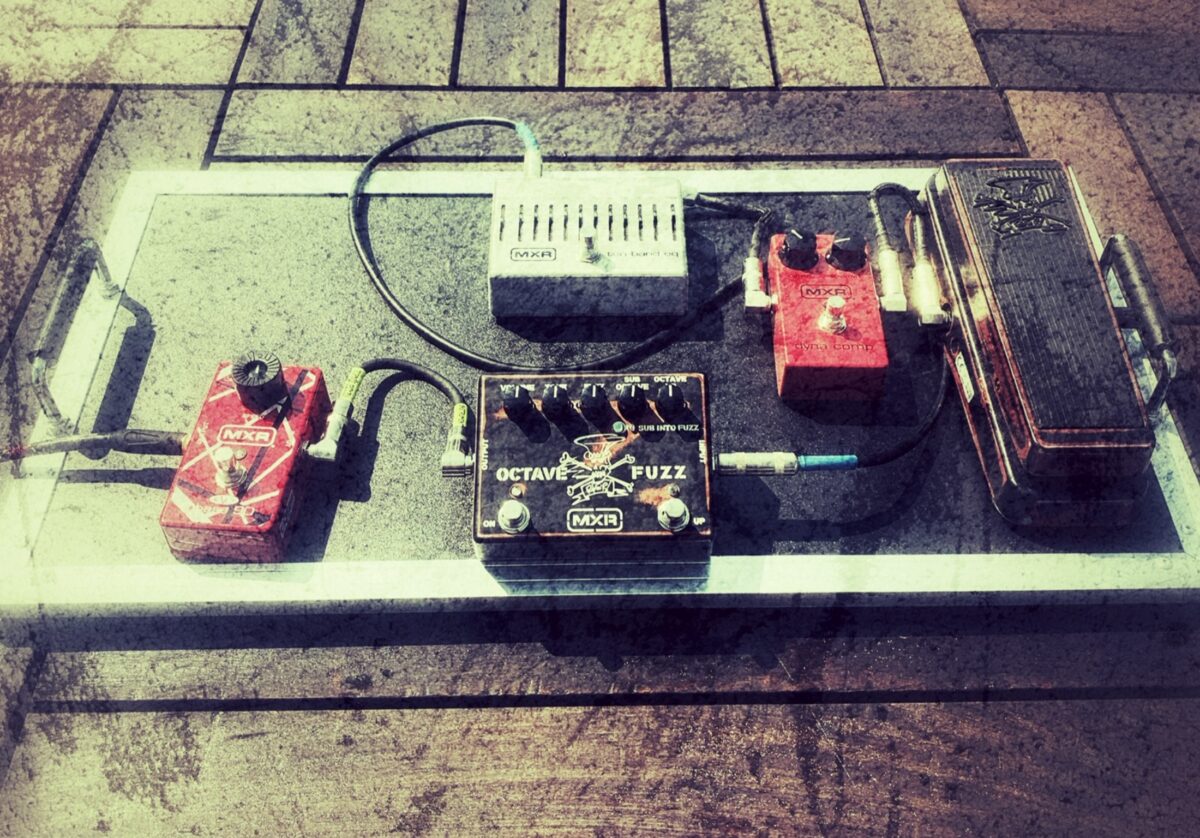 The following tracks demonstrate a few different things at the same time. They show how the Slash Octave Fuzz pedal sounds playing big, open, airy chords, and not just riffs. They demonstrate how the tonal qualities of this pedal can fit in the background of a mix as a rhythm guitar of any kind rather than something that is supposed to aggressively cut though. These tracks also demonstrate what the pedal sounds like uncompressed vs. compressed.
Uncompressed, playing airy chords sounded large but a bit wild. Compressed, it sounded more controlled as the attack at the beginning of each note/chord is impacted nicely by its compression. The Slash Octave fuzz also seemed to sound fuller with the Dyna Comp, as it has a touch of vintage tone of its own that seemed to impact the tone nicely.
Example 1: Full Compression :
Listening to the Octave Fuzz, you can hear how it sits in the mix and really fills it out. The Dyna Comp evens out the presence of the Octave Fuzz with a nice, warm quality.
Example 2 : Isolated Compressed
Example 3 : Uncompressed
In this example without the Dyna Comp engaged, the tone is a bit thinner and not as balanced.
Example 4 : Uncompressed Isolated
Slash and More Slash
Another pairing I could not ignore was putting my Dunlop Slash Signature Wah together with my Slash Octave Fuzz. Of course I was curious about combining fuzz with wah, but I was also curious about pairing two signature pedals together. I did not have any expectations going into this test, but I thought it would be a fun experiment.
Essentially, to me at least, adding wah to this already searing aggressive octave fuzz tone made it more aggressive and even a bit tastier. It will be a great go-to tool for when I want to go from riffing to soloing with this pedal engaged. Check it out below:
Here is an isolated example :
Slash Octave Fuzz And Other Fuzzy Friends
To put this discussion into a wider perspective, I decided to bring in the Electro-Harmonix Octavix to do a side-by-side comparison with the Slash Octave Fuzz pedal. The photo says "VS" but I promise this was a friendly meeting between two great pedals! The biggest difference between these two pedals was the separation of the octaves. On the Octavix, the octaves are very tight, almost creating one tone rather than two. The Slash Octave Fuzz, with fuzz up or down, creates a very clear and distinct separation of the octaves. One is not necessarily "better" than the other, it just comes down to what your preferences are. I prefer the Slash Octave fuzz in this regard because of the heavy grit this separation of the octaves causes.  
I also noticed the the octave settings themselves seemed to serve different purposes. The octave switch on the Octavix in the off position leaves the pedal in a fuzz-only setting. Turning the knob up raises the volume of the octave up. Is this a better approach than the separate sub octave and octave up knobs on the Slash Octave fuzz? It really just depends on which tones you value, and which layout you prefer. Check out the comparisons below:
Slash Octave Fuzz :
Electro Harmonix Octavix :
The Wrap-Up
The Slash Octave Fuzz gave me everything I wanted and needed and more. I haven't had the pedal for long, but having had the chance to play one live show with it so far, I must say it is absolutely searing on stage. It will definitely help your riffs and solos stand out when you are looking for something to really kick it into overdrive. But before taking it to the stage, or in general, it really pays to experiment with this pedal. There are truly great tones to be found in it – whether it be with the low growl of the sub octave, or adding the octave up for sweet heat, the sub into octave, and everything in between. It plays well with other pedals, so it take it from me, it is a great pedal to spice your pedal chain up with. Do not sleep on this pedal!
BONUS : If you are looking to dive deeper into the world of fuzz, take a look at Fuzz Worship: Can Fuzz Be Used as an Instrument?