Editor's Note: This post covers the origins of Sequential's Prophet through a historic and technical lens. For more on the video above, please see the section labeled "Notes From Our Sequential Prophet Video." And learn more about modern Sequential Prophets in our Legends guide on zZounds!
How exactly does one travel into space without exiting one's stratosphere? Staring down into a bevy of switches, pots, and buttons, all encased in metal, enclosed in a wooden case, at a musical device called the Sequential Prophet-5, two musicians (Richard Barbieri and Steve Jansen) tried to answer this philosophical question through music.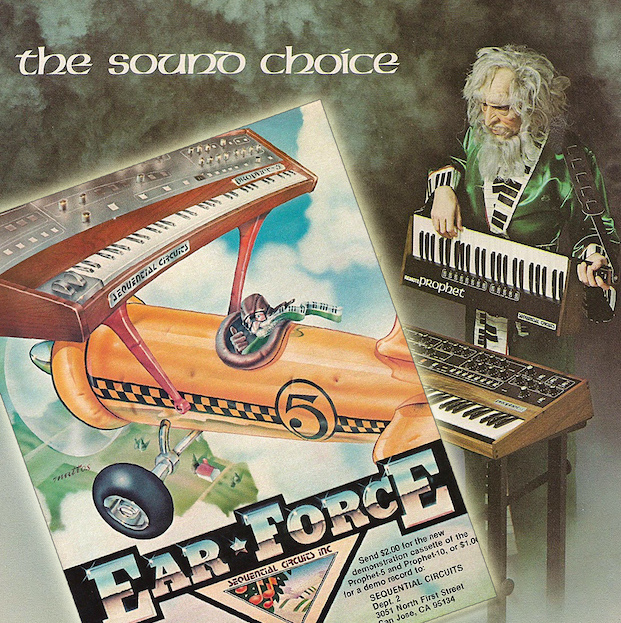 Like a mission control center lording over launch, they did the only thing they could. Richard and Steve boldly went inside, metaphysically-speaking, tapping into the spirit of the cosmos, adjusting parameters here, saving calculations there, swiftly creating otherworldly music for a film and atmosphere they'd never seen. Multiple voices, conjuring with equally as many fingertips, as this Prophet pointed toward a new horizon.
It was in the year 1984, somewhere in Japan, that keyboardist Richard Barbieri would join percussionist Steve Jansen to perform alongside Japanese drummer Yukihiro Takahashi. The phrase "Big in Japan", had seemingly come to haunt the band that made it big in Japan, by simply being "Japan." There they would become wanderers reeling from the shocking dissolution of their band just two years earlier.
You see, at the cusp of worldwide acclaim with their decidedly Eastern-influenced Tin Drum, performing to huge audiences in Yokohama, Tokyo, and elsewhere, backing up massively popular, pioneering Japanese bands like YMO (Yellow Magic Orchestra) and Ippu-Do, their lead singer David Sylvian pulled the plug, jettisoning himself off the good ship "Japan," leaving the rest of the group searching, trying to find their way home from Nagoya. For the time being they made due helping the locals create their own vision, but their own path seemed nebulous, at best.
It's times like these that all their training came back to rescue them.
Richard was a natural synthesist. Untrained in classical piano technique, and more of a self-learner, he'd come to the band as a sound designer, taking that craft and applying it to the only tools he had: a Sequential Prophet-5 and a Roland System 700 modular synthesizer. As for Steve, he was more than just a drummer. A gifted photographer but a constant tinkerer and experimenter everywhere else, as an original member of the band by birth (by way of being David Sylvian's brother), he deviated from being a mere rhythm agent by exploring the world of electroacoustic instrumentation and electronic trigger systems. Here, together on a fateful day, they bonded over an assigned mission.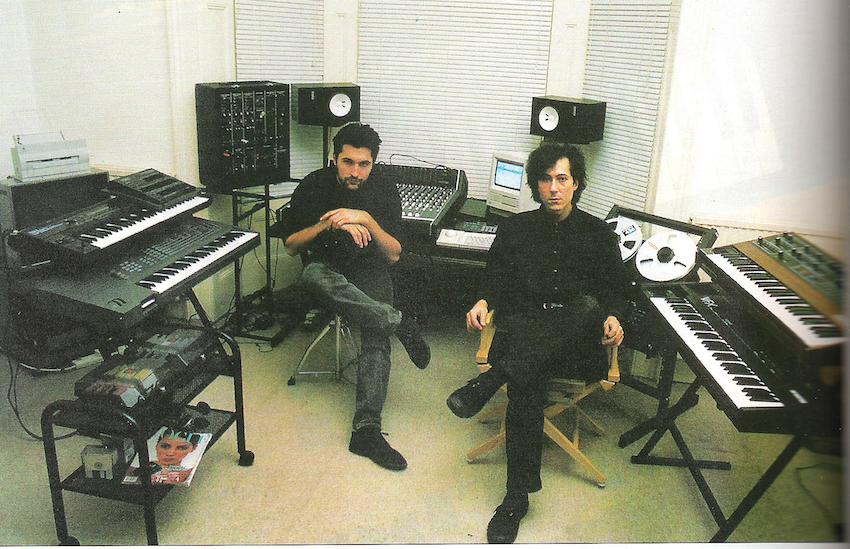 Back in London, a commission came from noted Japanese hi-fi audio company JVC asking them to create BGM (background music) for a space-themed film and cassette video. Somehow, their once drifting careers now had a destination. In short course, they'd journey back to Tokyo bringing into the foreground a style of "ambient music" they once had to leave far off in the horizon. Expecting a copy of the film beforehand, logistics made it impossible for JVC to procure them that media. Resolute to finish their mission, in Victor's Aoyama studio they took stock of all the instruments they needed and mastered to make a show of it. Their solution: the duo would create all scores of sounds and music first, then afterward splice together the film to fit their music.
At the center of this "floating" music would be a little-heralded synth the duo had used for years. The Sequential Circuits Prophet-5 gave a nod to earlier "portable" monophonic analog synthesizers popularized and designed by the greats like Dr. Bob Moog and Alan R. Pearlman by reimagining the lot of those ideas for an uncertain future. It did so by carving out absolutely buoyant brass, atmospheric pads, and clangorous percussion, by centering its focus on making sound design more player-friendly and forward-thinking. Memory storage for settings, battery backup, polyphony — these were just a few of the curious things we take for granted now that the original Prophet-5 pioneered.
As they stared at the film projection, at the silent expanse of NASA's space scenes, that minor visual symphony to the moon, stars, and space, coalesced its trajectory with the drifting, warm, organic music emanating from their Prophet-5. Somehow, in the heyday of silicon synthesis, their analog workhorse used all of its five voices to soundtrack the heavens above us in their full spectrum of shadow and light. This success would in large part be due to another fateful day where, many moons before, the creator of this machine, Dave Smith, had his own day of reckoning.
The Story of Dave Smith and Sequential Circuits
It was some day in 1972, when a young engineer in Palo Alto — then a hub for aerospace technology — stepped into the lobby of Lockheed Martin's credit union. Bored with the drudgery of his day-to-day job, he was here looking for a promise. While others ahead of him asked for money that would go to pay down their first mortgage, car, or business, a young Dave Smith, asked for a $1,500 loan (close to a whopping $10,000 in our era) to purchase his first synth: Moog's Minimoog.
You see, just a day earlier, on a whim, David had journeyed to a small local music store looking for something a friend of his said he had to see. Dave, by his own admission, was not a musician but something about what he heard and saw that day, that Minimoog, was mind blowing. How could this device full of keys, knobs, and switches produce sounds like those on a favorite album of his, Wendy Carlos' Switched-On Bach? Entirely unsure of what exactly it did and how it worked, Dave resolved to use his first big loan out of college to pay down a device he barely discovered a day before.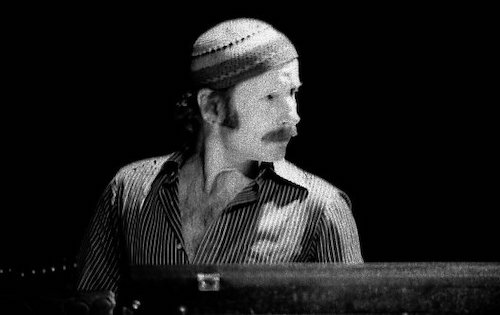 This Prophet keyboard is an incredible machine; it has what I've always needed to make the music come off. I have forty-four different programs, including a string sound that you will not know isn't a symphony orchestra. It hasn't changed the way I write music, it just means there's no limitation.

– Joe Zawinul to Downbeat Magazine
Like all first time Minimoog users, Dave began to discover the machine's limits and limitations. In the beginning, using a 4-track TEAC 3340 cassette recorder, he realized the tedium of having to overdub multiple monophonic tracks to make a single harmonic chord or to store a musical pattern. While others might have taken this as a cue to buy Moog's huge sequencer module, Dave (whether out of thrift or sheer curiosity) leaned on his engineering degree to create his first "musical" device: an analog sequencer.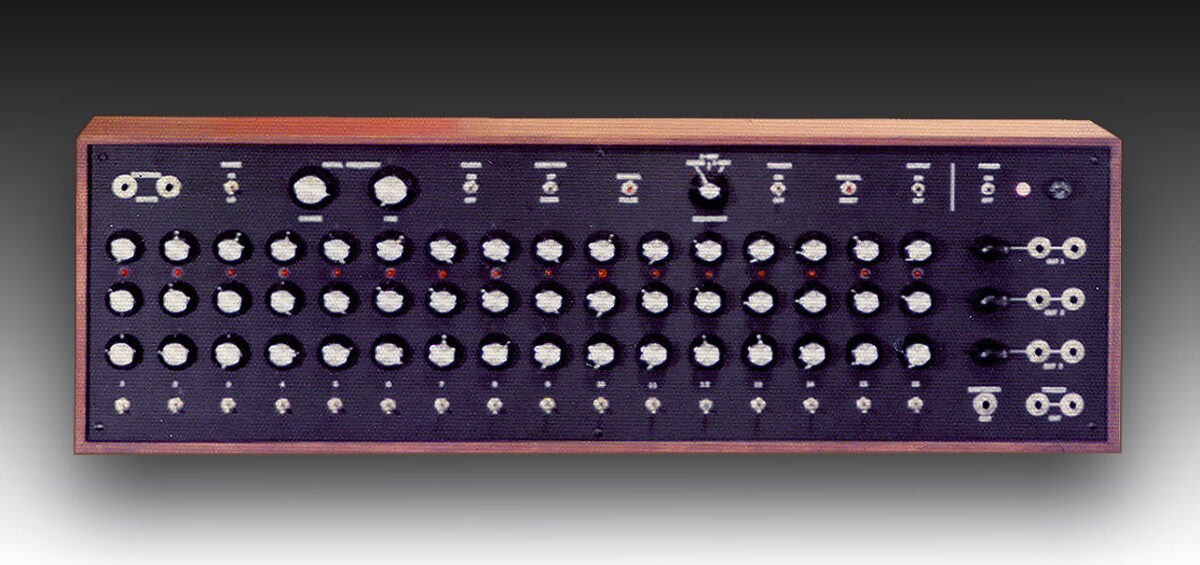 As word got around to other users of this young upstart creating a more affordable Moog sequencer, Dave realized that this might be the sign letting him know to jump ship. Post-haste, he quit his lucrative job at Lockheed Martin to start his own company. In 1974, Sequential Circuits was launched on the strength of their first commercial device, the Model 600, a 16-step sequencer sold mostly to computer music labs.
A Prophetic Sequence
From then on things took off jet-speed for Dave Smith. The Model 600 begat the Model 800, a groundbreaking digital sequencer that could store 16 banks of 16-step sequences. Then in 1976, Sequential Circuits introduced their first digital sequencer, one capable of storing both sequences and patch programs for most in-demand Moog and ARP synths. By 1977, after amassing enough capital and gumption, Sequential Circuits began creating their first synth, one that would try to roll in all these incremental advances and others they found lacking on existing synthesizers.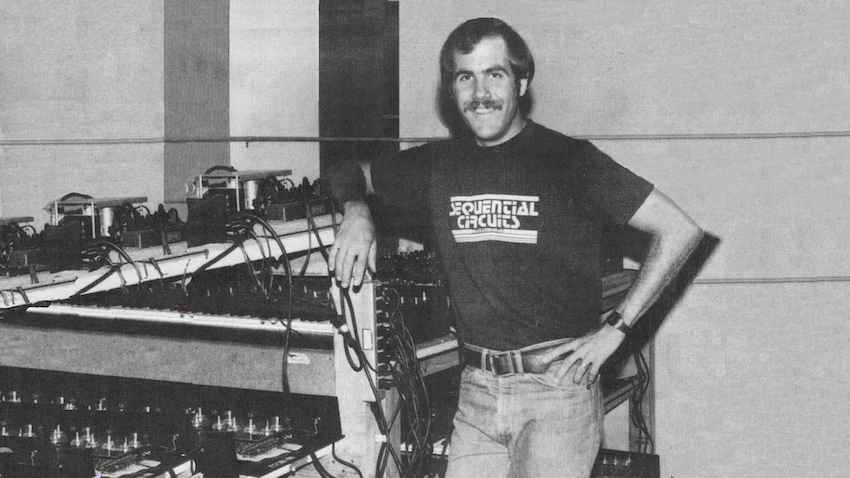 Dave had heard feedback from various musicians complaining about the lack of synthesizer memory. In the era of disco, prog, and fusion bands, increasingly, the keyboardist was being tasked more and more to create and play myriad sounds. Unable to switch among sounds fast enough, or simply lacking the time to save all the sounds they committed from tape to patch paper (as that was the preferred mechanism to recall settings), touring keyboardists had to resort to a large phalanx of keyboards — probably, all taped or locked to a specific setting.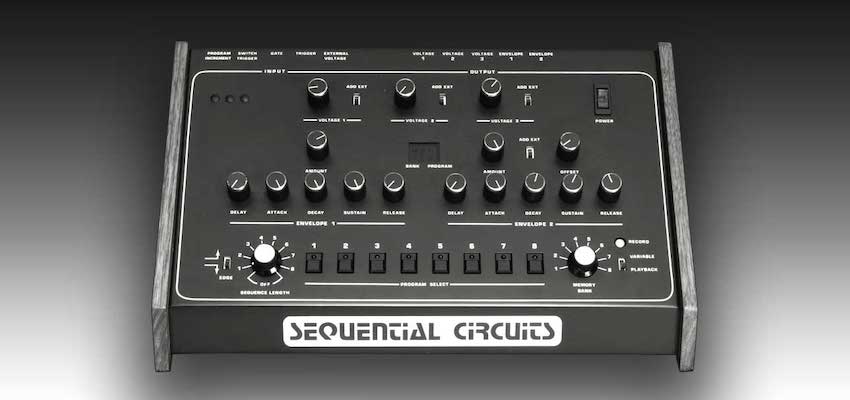 Likewise, although Dr. Moog, Don Buchla, and others, envisioned one voice being enough for musicians, keyboardists themselves realized quickly that they (much like Dave Smith) needed a way to play harmony without having to rely on "simple" sound machines like string machines and organs. If there was a way to create a polyphonic device that could also display the same kind of evolving sound as a synthesizer, many sonic ailments could be cured and more needless devices left home.
Consequential Circuitry
Dave Smith took all of this to heart, and in 1977 released the first Sequential Circuits synthesizer, the Prophet-5. Although initially taking aesthetic inspiration from the Minimoog with its koa wood-and-metal construction, Dave drifted away from that original creation, instead using a microprocessor from Solid State Music to take control of all its analog circuitry. From his home base in Silicon Valley, he could sense how computer processors allowed simple computer-based logic to control things like keyboard intonation and to store voltage settings. So, he designed his creation to in effect be a fully programmable synthesizer.

Additional unique features to the first Prophet-5 included a Poly-Mod (Polyphonic Modulation) section that allowed all five voices to have separate modulation paths. Its use of IC (integrated chips) also made the Prophet-5 far more compact and portable than existing synthesizers, allowing such a powerful synth to take up less real estate on stage or in the studio. All that was left to do was to dry rub in the Letraset spelling out the words "Sequential Circuits Prophet-5" and present it to the world.
When they showed it off later that year, in 1978, in the basement of the Disneyland resort in Anaheim, California, expectations weren't running high. However, at this, the much less-heralded Winter NAMM, of the few visitors that demoed the Prophet-5, all were immediately floored. When word got around to session musicians and recording artists of this new, affordable analog polyphonic synth with preset patch memory, history began to be set in stone. It seemed all of the West Coast had found their new sonic prophet and a year later Ohio's own The Cars would rocket this first version to the top with "Let's Go."
The first version of Sequential Circuit's Prophet-5 was released for the (adjusted for inflation) price of $16,700. Around 200 were made, with some of its famous first users being David Bowie, Joe Zawinul, and Rick Wakeman. Of those first who received the original allotment, with its infamous SSM branded chip, they were treated to a beefy sounding synth that promised more than delivered. An inability to stay in tune or to deliver consistent voicing promptly introduced Dave Smith's commitment to revising his vision. Revision 2 came with Curtis Electromusic chips replacing the original SSM chips, introducing the now iconic technological upgrade that brought along tuning stability, cleaner voicing, and optional cassette interface. MIDI capability, a new communication standard Dave would later help introduce, wouldn't come until later as a retrofit with Revision 3.
Dave would go on in 1980 to introduce a 10-voice model appropriately called the Prophet-10 with a dual-manual keyboard and polyphonic sequencer and a more affordable monophonic Prophet, the Pro-One, a year later. Still, what made the first Prophet so appealing had cemented its place in the music industry.
Once In A Lifetime (A Prophecy Fulfilled)
In the milieu that brought the world other instruments like Oberheim OB-X, Fairlight CMI, and Yamaha's CS-80, somehow, the Prophet-5 was the one that endured the longest.
The Prophet-5's almost trademark brassy sounds were heard in songs like Peter Gabriel's "Sledgehammer," creating gorgeous, vaguely eastern-sounding atmospheric pads in Laurie Anderson's Mister Heartbreak, Japan's "Ghosts" and YMO's resonating sounds in various albums and side projects. Various groundbreaking adverts marketing how the Prophet-5 was "The Sound Choice" made it just so for many, to the tune of nearly 6,000 units sold in the span of its first four years of release.
By 1982, just four years after its introduction, one couldn't escape hearing the Prophet-5 soundtracking the start of a new decade — at the beach, in the shopping mall, at the brokerage firm — through Steve Winwood's wistful ode to "Valerie" beginning its slow ascend through the Billboard charts. From Weather Report to Radiohead, the Prophet-5 has evolved into its own new musical standard with newer instruments like the Take 5 and Pro-3 building on ideas from the original.
What else can we say? Not a bad return for its creator's initial investment. Although, one wonders if we can convince Dave to lend his talents back to the world of space flight.
All the synth/key/organ sounds were created using the Prophet-5 into a Neve DI. Guitars were recorded on a Music Man Stingray into a Fender Deluxe Reverb, using a compressor pedal in front of the amp.

Another key piece of gear was the Walrus Julianna Chorus pedal. Chorus is such an essential '80s effect and I ended up using it all over the place. Depending on the song, the Julianna was used on the Prophet, guitars and bass.

I also used a Source Audio Collider for a handful of delay and reverb sounds. Overall, the Prophet has a super intuitive layout, so dialing in sounds is a pretty quick process. Most of the tracks feature well-known preset sounds which can be modified to achieve the effect you're looking for. One of the reasons the Prophet was so popular in the studio and on stage was its combination of analog warmth, polyphony and easy access to preset sounds.

Presets and polyphonic operation really helped The Prophet compete with the convenience of newer digital synths throughout the '80s. It was actually the first-ever analog synth with patch memory, and set itself apart from its closest analog competitor – the Yamaha CS-80.

There's a reason there was so much excitement about the newly released Sequential Prophets: they're versatile, sound incredible and are not overly complex. The fact that this synth can be re-released 40 years later with only subtle refinements and updates speaks to what an impressive instrument the Prophet-5 was at the time of its original release.