In our era of master tempo and the "sync" button, mixing can become very stagnant and boring. These features easily become crutches and they aren't always correct. You may find yourself in a situation where you need to know how to manually beat-match and, most importantly, mix songs unassisted.
So while computers and CDJs/media players have taken a lot of guesswork out of mixing songs by providing a song's BPM and key, I still find myself using the pitch riding technique at most gigs. It also proves to be a fun party trick if you master it properly.
What is Pitch Riding?
Pitch riding is the act of moving the pitch slider in quick movements to slow down or speed up the track that you are mixing in. Pitch riding works in a couple of ways. It is a good way of beat-matching songs together and also for keeping a song in time with another track playing. This tool was originally employed while DJ-ing with records, for both matching BPMs and mixing songs together.
The pitch slider on a turntable, controller, or CDJ allows complete control over the speed of the song that is playing. It was originally called pitch because as you sped up or slowed down a song on a turntable, it would adjust the pitch of the song playing back. This can create a whole bunch of problems on its own when playing records and playing songs in a certain key, but for now let's talk about it in a beat-matching scenario.
The most beneficial perk to come from pitch riding is improving seamless transitions. When nudging the jog wheel or platter on a deck, you can hear a momentary speed up/down warp effect. It also helps with not accidentally stopping a record or song during the middle of a transition. With minor adjustments riding the pitch, you can blend the two songs without experiencing the warping.
How to Use Pitch Riding
I've explained all the fun benefits that pitch riding can bring to your mix, so how do you do it? Let's imagine that you have two songs playing. Song A is playing on the left deck and you are mixing in song B on the right deck. Now if you follow the guide on how to set cue point, and you have matched both songs to a similar BPM, you are ready to mix song B in. Check out my guide on how to set up proper cue points.
Instead of nudging the platter or the record, ride the pitch till you have the songs perfectly synced up. Pull down on the pitch slider to increase the speed and push up on it to slow the songs down. Be careful though: drastic movements on the slider can cause your mix to train wreck. I prefer quick and precise movements when trying to mix songs together.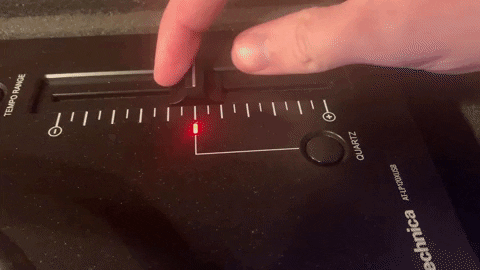 Quick movements on the pitch slider help keep the song under control and close to the beat-matched pitch. I used two tracks for this demonstration. Track A is "BRB" by No Mana and Track B that I am mixing is "Anker" by Thomas Schumacher.
For our first example let's look at track A way ahead of track B. In this case you would want to speed up Track B using quick movements. This will catch Track B's kick drum to be in time with Track A.

Now this example shows the two tracks caught up. You can now continue to use small movements to keep the song in time. You can see now that both Track A and Track B are playing in time with each other.

Now let's see how to ride the pitch to get the song in time. In the audio clip you can hear me mixing the new song in. In this example you will hear the new track slide ahead and behind and then lock in. I have not mixed out all the low end on the song coming in, so that you can hear the the track properly.
Most of what you hear in this clip is only heard in your headphones when mixing. Starting at 15 seconds you can really hear the introduction of a new kick drum from the song I am mixing in. At 34-37 seconds you can actually hear what the audience would hear as the songs are in time and ready to blend together. Once you have the technique mastered it becomes second nature when mixing in a new song.
At the end of the day, pitch riding is another tool to add to your DJ repertoire of tips. It can help you get out of jam in a mix or allow you to just impress the crowd. It is another flavor to add to spice up your mix and helps you keep the dance floor moving.
Top photo credit: Dejan Krsmanovic via Flickr