With better noise cancelling, longer battery life, and a new "spatializer" audio setting, Shure's new flagship AONIC 50 Gen 2 wireless headphones improve on the original in several areas. So how do all of these new features affect the listening experience?
Design and Layout
The AONIC 50 Gen 2s are reasonably lightweight with a nice snug fit. There are certainly lighter noise-cancelling headphones available, but the weight isn't excessive. With headphones, comfort is always going to be subjective, but I found them to be comfortable to wear for hours at a time. Also, as an owner of the AONIC 40s, I've noticed that Shure's headphone padding tends to get softer and more comfortable after a few weeks of wear.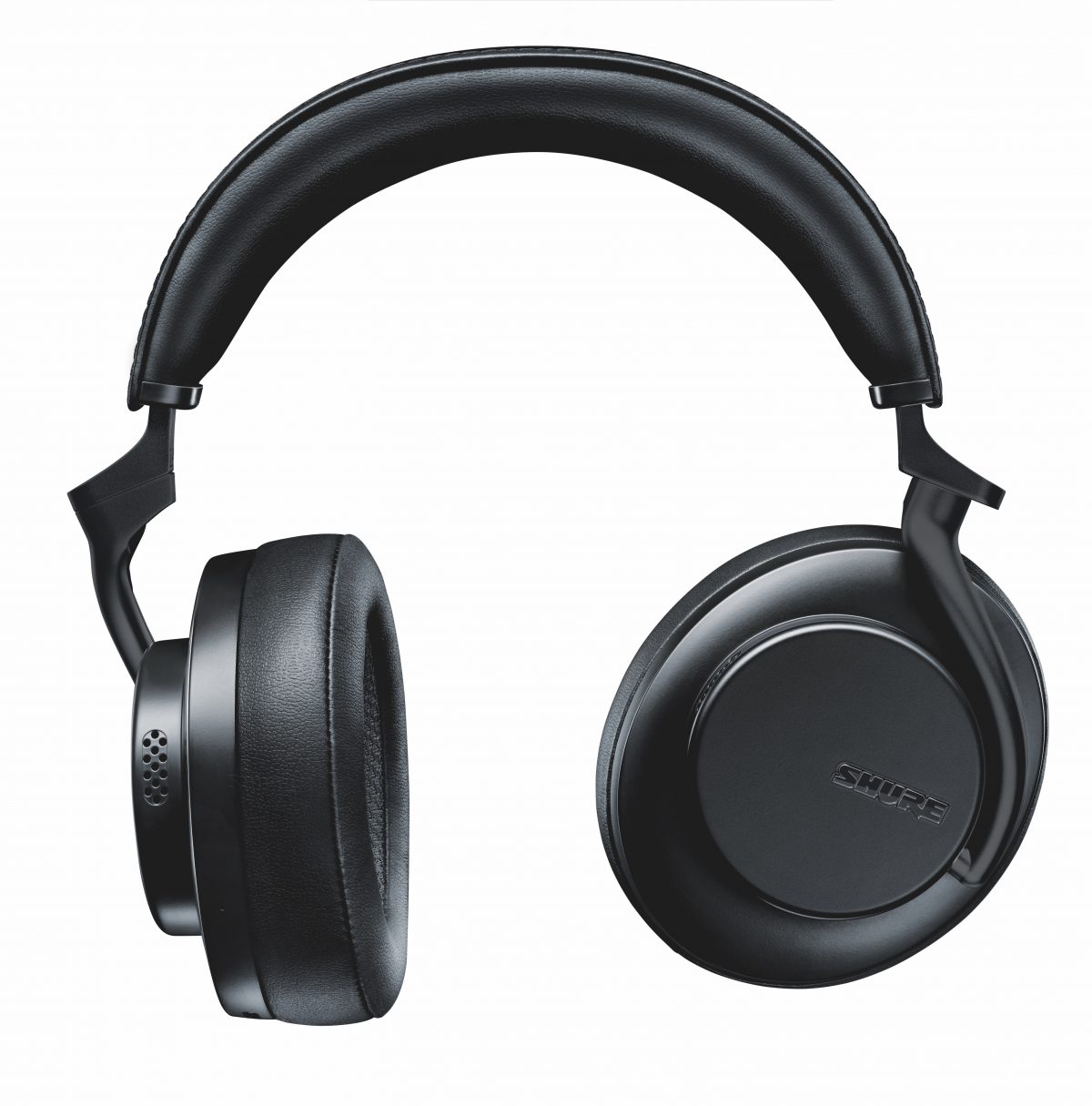 They feel very sturdy and seem to be solidly built, which is something that can't always be said about competing headphones, even in this $300+ price range. This may be due to Shure's long history in music production gear (they do make the near-bulletproof SM57 after all).
Control buttons are located on the right ear cup, with a multi-function power button, volume buttons, a multi-function center button (located between the volume controls), and a 3-position slider button for noise-canceling controls (on, off, and Environment Mode).
Battery Life
Battery life on the AONIC 50 Gen 2 has been increased to an impressive 45 hours — more than double the original AONIC 50. They also have a "quick charge" capability that lets you get 5 hours of runtime from just 15 minutes of charging.
Noise Cancelling, EQ, App
Shure claims that the noise cancelling has been improved on this model, and it does seem to be quite good based on some subjective tests. With the ANC level set at "Max," the headphones did a great job at eliminating noise from music playing out of full-range speakers, as well as noise from a fan running in the room. The music was reduced to a whisper-quiet sound with only a bit of midrange audible; no bass or treble. The fan was completely inaudible. This is largely thanks to the microphones inside and outside the earcups that improve noise-cancelling performance.
Speaking of noise cancelling, one of the best features of Shure AONIC headphones is the Shure PLAY app, which is used to control headphone settings. The app gives you a lot of options such as Environment Mode (uses microphones on the outside of the headphones to increase ambient sound levels), and ANC Level, which includes Light, Moderate, Heavy, and a new "MaxAware" setting, which is similar to Environment Mode but filters out background noise and optimizes for voices, so you can hear what people are saying around you.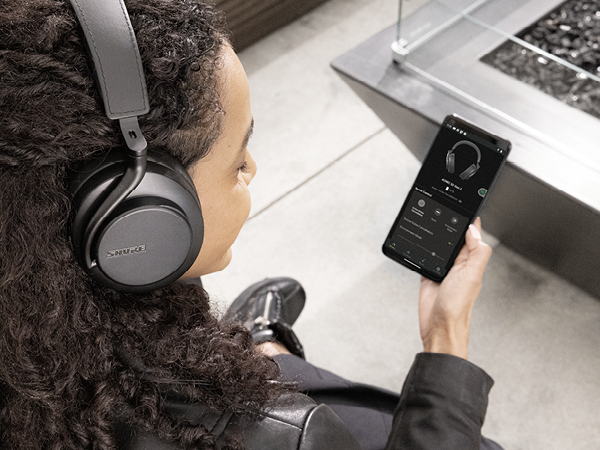 The app also has controls for the new Spatializer feature, which aims to reproduce the natural sound of listening to speakers in a room. Out of the three Spatializer settings, I find myself using the Music setting for most audio. The Music setting is the most subtle of the three, with Cinema mode providing boosted low-end frequencies, and Podcast mode giving a more intimate, close-to-your-ears sound. I find that I usually prefer the Music Spatializer setting to listening with the Spatializer off, which surprised me a bit.
The app also gives you access to an excellent parametric EQ with a high shelf, low shelf, and two parametric EQ points, so you can really dial in your sound. I found this feature to be a life-saver, because the AONIC 50 Gen 2s had a bit too much low mid and treble for my tastes. There are a few presets included also, but they didn't seem to quite solve the EQ issues I was hearing with the headphones in Flat mode. With the parametric EQ, it's easy to set the frequency response how you want it. The app saves all your settings directly into the headphones, so they are applied to any audio you listen to from any input method, even with the app off/disconnected.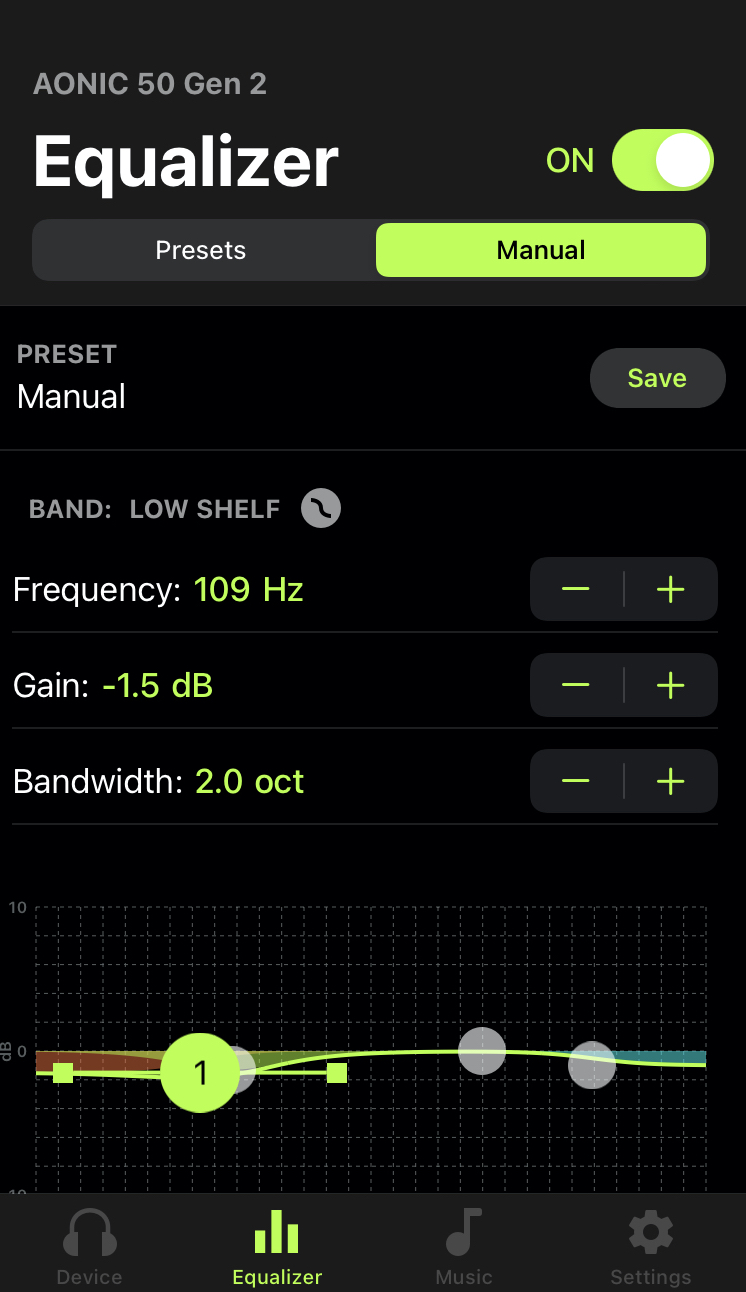 Sound Quality
Sound quality on the AONIC 50 Gen 2 headphones is very good, with a clear, detailed midrange, crisp treble, and full bass. While good bass performance is always nice, midrange clarity is really what separates nicer headphones from budget models, and in this regard the AONIC 50 Gen 2 is a very solid performer. The Spatializer does add a pleasantly natural character to the sound, which helps reduce the "boxy" feel of listening with phones (the feeling that you have two small speakers pressed right up against your ears — which of course, with headphones, you do). As I mentioned earlier, some listeners may find the low-mid and bass to be a bit too forward, but this is easily adjusted in the app.
Summary
Overall this is a great update to an already great wireless headphone from Shure. As compared to similarly priced offerings from Bose, Sennheiser, and others, the AONIC 50 Gen 2 may be more specifically suited to musicians. The parametric EQ allows the audio to be fine-tuned, which is good news for anyone who's planning to use them for music production, and their sturdy build ensures they won't break easily from the normal amount of wear that comes from gigging, studio work, etc. They're comfortable, adjustable, and ready to be your music production partners-in-crime!