This post is part of a "Shure Week" (August 6-13) series celebrating the release of the new MOTIV line of USB and iOS microphones and interfaces. Check with us through the week to learn more about Shure!
Go In-Depth with the MOTIV line
---
It's hard to believe that a company over 90 years old still has some surprises, yet dig into the history of Shure and you're certain to uncover a few. From special one-off projects to famous endorsers, to influential innovations far ahead of their time, we've put together a list of nine facts about the famed mic manufacturer you might not know.
1. Shure produced and released an album
In an effort to demonstrate the benefits of stereo recordings to a then-skeptical public, Shure commissioned a limited edition album entitled "The Orchestra…The Instruments." Recorded in 1960, the album presented the works of Debussy, Wagner, Mozart, and other composers performed by an orchestra that was intended to sound "as one instrument." The advanced recording technique yielded a sound faithful to a live performance, with stereo imaging and spacial separation distinguishable by listeners. The album was also thought to be too advanced for many standard turntable cartridges of the time, requiring constant contact from needle to record. One of the few cartridges that could handle such a task? The Shure Stereo Dynetic phono cartridge.
2. Shure mics have sent millions to bed
For a long stretch of his tenure as host of "The Tonight Show," Johnny Carson used a Shure SM33 ribbon mic on his desk bearing the inscription: "Johnny's Mic…Not Ed's… Not Fred's." The mic sold at auction in 2005 for over $50,000 following the host's death. Carson's "Tonight Show" successor, Jay Leno reaffirmed Shure's place in late night with a KSM44A on his desk.
3. A Shure guitar exists
Well, sort of…In the 1980s, Hamer Guitars (then of nearby Palatine, IL) created this one-off guitar model resembling a Shure SM58. It may not be as loud as Nigel Tufnel's Marshall stack guitar, (especially with the second cab attached) but it definitely still rocks.
4. Shure is the Presidential standard
Late-night hosts are great endorsers, but who better to be seen using your product than the Commander in Chief? Starting with Lyndon B. Johnson and continuing through the current Obama administration, the go-to microphone setup for presidential addresses has been a pair of SM57s. Trusted for their durability and performance even in extreme temperatures, they've been a favorite no matter what the President's approval rating!
5. Shure developed a throat mic during WWII
Shure, like many other companies at the time, had to adapt its business during World War II. One of the breakthroughs of that time was the T-30 throat microphone. Communication between pilots and from station to pilot was crucial during the war, but was made nearly impossible due to roaring engines. The T-30-V was strapped around a pilot's neck, with the microphone picking up vibrations from the Adam's apple and transmitting it as speech. While it might not have been adequate for recording vocal tracks, the T-30-V received much commendation from the military and is credited with saving many pilots' lives.
6. The Unidyne mic received a prestigious award in 2014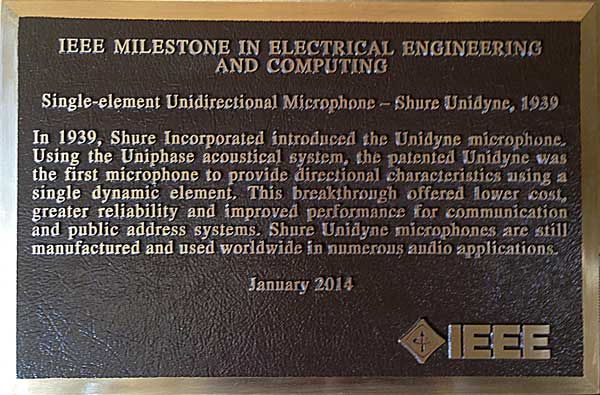 The IEEE (Institute for Electrical and Electronic Engineers) recognizes historic achievements in engineering, such as the landing of the Transatlantic cable and Guglielmo Marconi's first experiments in wireless transmission, with their Milestone awards. In January, 2014, Shure's Unidyne microphone, developed in 1939, joined that list. The plaque above, which is mounted proudly in Shure's first-floor lobby, recognizes the microphone as the first single-element dynamic directional mic — a breakthrough in microphone performance for the price.
7. Shure invented a wireless mic…in 1953
Introduced at the 1953 Electronic Parts Show, the Vagabond 88 was the first wireless microphone system for performers the world had seen. Shure's impressive booth at the show included a live performance to demonstrate the system and a second room to house the expansive crowd that came to see. The Vagabond 88 included a 12″ transmitter powered by two hearing aid batteries and five tiny vacuum tubes, and a receiver unit. The batteries lasted for about 30 hours and the transmitter worked up to about 30 feet away from the receiver, letting the performer cover the stage untethered by cables.
8. Shure began as a radio parts wholesaler
In 1925, S.N. Shure founded his Chicago-based company inspired by his uncle's successful wholesale business, which sold everything from clothing, camping gear, musical instruments, and other goods. The Shure Radio Parts Company sold tubes, resistors, speakers and capacitors at wholesale prices through a catalog, and like his uncle's business, Shure's catalog eventually expanded to offer goods in various industries. Competition in the radio parts industry grew, however, and by 1931, after working as a distributor for a small Chicago mic manufacturer, Shure shifted gears and began developing its first microphone: the 33N carbon mic, released in 1932.
9. Shure made an early venture into home recording
…but it wasn't used in the same way you might think. Starting in the late 1930s, Shure produced magnetic recording heads for users to cut their own records at home. By fitting a head, like the 96-11b, to the end of a tone arm on a turntable, then connecting the turntable to wires attached to a radio's speaker terminal, the user could record radio programs and cut a record at home. However, due to their high cost, recording capacity of just three minutes, and the rising popularity of wire recording, these magnetic recording heads were not a great success for the company.