Sterling by Music Man crafts more affordable versions of guitars and basses by their big brother brand, Ernie Ball Music Man, allowing everyday musicians to experience a performance instrument at a fraction of the price. When Ernie Ball Music Man released their DarkRay in partnership with Finnish bass amplifier and pedal brand Darkglass Electronics, players were intrigued by the abilities of this feature-packed bass. The original DarkRay's well-earned price tag left many bassists in the dark, however. Now, the Sterling DarkRay brings this incredible bass design to the masses with all the Darkglass preamplifier goodness under the hood!
A Partnership Made in Bass
Bass players and fans of incredible tone alike were floored when Ernie Ball Music Man and Darkglass Electronics first partnered for the original DarkRay bass guitar. An incredibly versatile instrument, the Sterling version keeps these important Darkglass appointments for ultimate tone and control. Each DarkRay features a three-way switch onboard for selecting either clean (preamplifier only), Alpha (a Darkglass distortion circuit), or Omega (a Darkglass fuzz circuit). The latter two are indicated by either a red (Alpha) or blue (Omega) LED that lights when selected. All three of these get their signal from an alnico humbucker pickup set near the bridge, which offers a great amount of pick or finger attack while retaining warm low-end.
Each of the two gain circuits are fully mixable via the illuminated knob (which is a blend control) and a gain knob. When in "preamplifier only" mode, the bass remains clean with adjustable volume, treble, and bass knobs. The instrument is rounded out by its modern appearance, an ebony fingerboard, roasted maple neck, and a comfort-contoured Nyatoh StingRay body.
Alpha
Darkglass Electronics are renowned for their studio-quality distortion circuits, with their Alpha distortion becoming incredibly popular and used worldwide. When engaged, the Alpha distortion doesn't suck the life out of your bass tone; you can hear and feel the low-end anchor while everything around it distorts into chaos. It's ideal for filling out the frequency range in a verse or a huge chorus that needs a little bit more edge.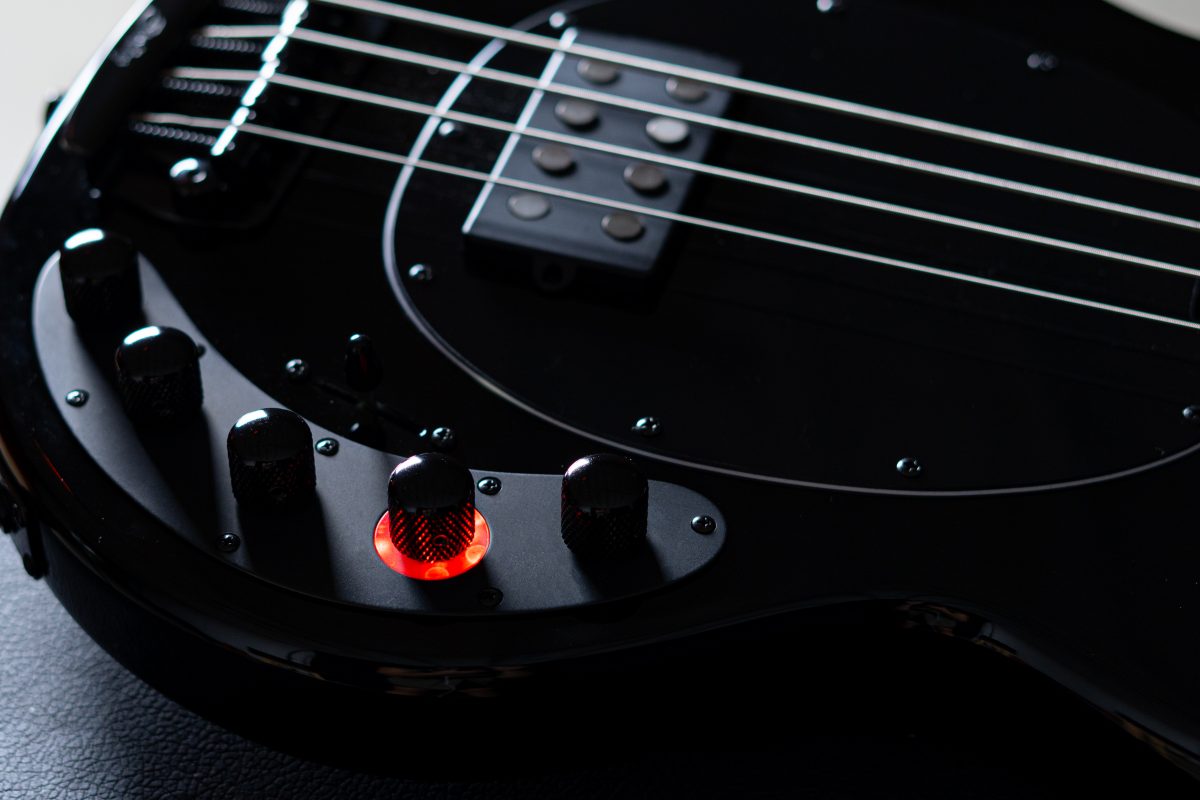 The best part about these onboard circuits is their ability to mix and blend as needed. As previously stated, the low-end is retained in a good way when you engage the fully-dimed Alpha circuit, but that could be a little much for every composition.
If you roll off the gain or blend knob a bit you can keep a little distorted edge, but the majority of your tone sticks within the confines of the preamplifier's clean tone. It's almost like you're pushing your amplifier to the edge of breakup, and only when you really dig into the strings will you push it over the edge.
Omega
Bass and fuzz go hand in hand. The Omega fuzz circuit from Darkglass offers classic fuzz sustain with huge "wall of sound" potential when fully engaged. Omega is for those crushing bass tones you're chasing for lightning fast thrash verses, or during a bridge when you really want to take center stage away from the guitarists and let your bass sing. You'll notice Omega has an edge that never lets up, but feels familiar and a little nostalgic as it's a modern fuzz with roots in classic circuits from the '60s and '70s.
The Sterling DarkRay is not just a second option anymore; it really feels like Ernie Ball Music Man wanted everyone to experience this incredible instrument. From the no-brainer partnership with Darkglass, to the professional appointments like an alnico humbucker and roasted maple neck, the Sterling DarkRay is a real option for the hobbyist and gigging player alike. Leave your pedalboard at home and experience the dark side of Sterling!