Drum Workshop has been an elite, American-made drum and hardware brand for over 50 years. Their artist roster reflects the high-quality approach they take to their kits, and their time in business is a testament to that fact. But before handcrafted DW drum kits began flying off the line, their sole focus was on drum hardware, and before that, DW didn't make anything at all — they taught. From DW's roots in teaching the beauty of drumming to the massive stars that rock their handcrafted kits to this day, these are the beginnings of a great American drum brand.
The DW Story Begins
In 1972 a 26-year-old Don Lombardi opened the Drum Workshop teaching studio in Santa Monica, California. Lombardi filled his days with teaching private lessons and monthly drumming workshops for artists in the area.
Lombardi reflected upon his early draw to the drum set in The DW Story "My fascination with drums started at 12 with a neighborhood teacher at a local music store. Over the years, I had such great experiences with renowned teachers that as my love for playing drums grew, so did my love for learning and teaching about drums."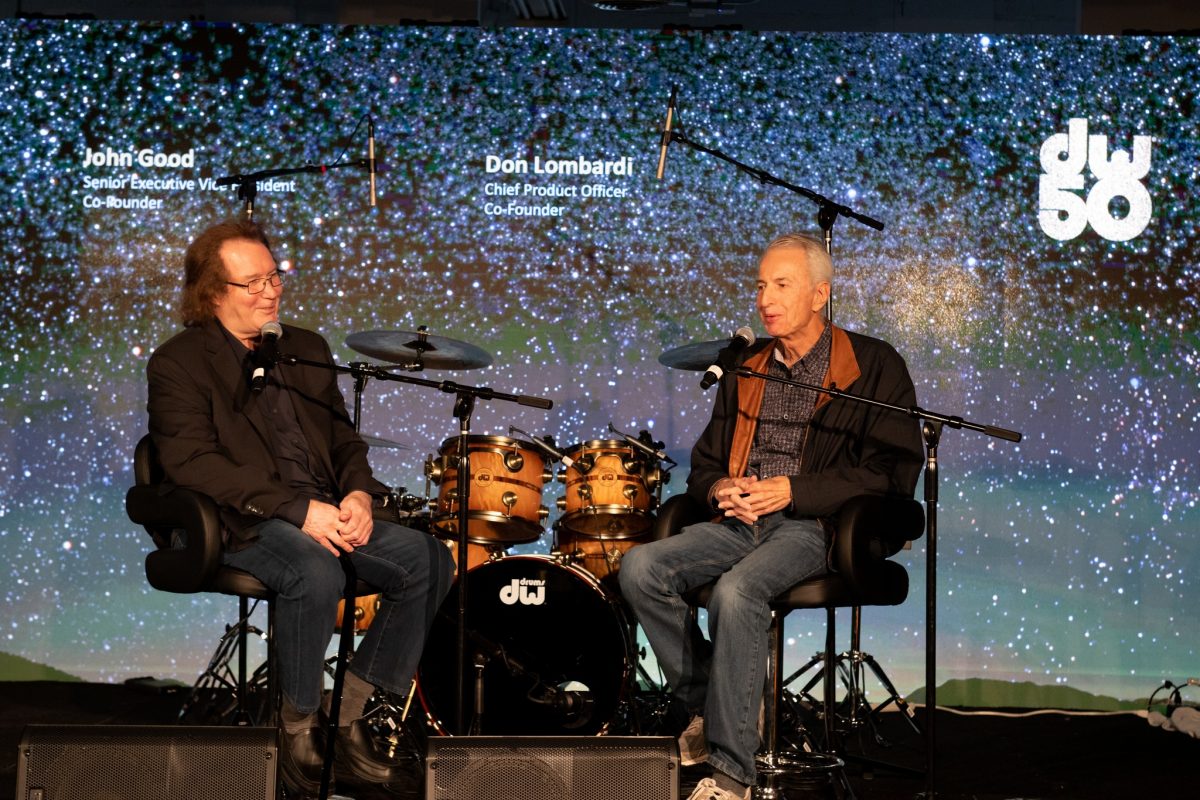 Though Lombardi grew a following of loyal students in the area, he soon realized that overhead costs were eating into Drum Workshop's profits. To supplement costs, he began selling drumsticks, used drums, and teaching materials. During this turbulent time, current DW COO John Good first met Lombardi when Good was only 17 years old and had booked for a private lesson at Drum Workshop after seeing an ad in the Yellow Pages. As Lombardi and Good's lessons weren't leading to much success, Good — ever passionate about drums — was hired in as a part-time sales manager and they began brainstorming DW product ideas to satiate investors and keep the company afloat.
"That's how the spark and enthusiasm got started," Good recollects in The DW Story. "We would talk for hours about our ideas for creating better products. Before we knew it, we were working together."
These brainstorming sessions led to Lombardi's first design and DW's first official product: the height-adjustable trap-case seat. Drum Workshop started selling these at a clip of about a dozen a month, mostly because they were limited to producing the hand-sewn seats themselves each night after lessons or gigs were over. But it wasn't until DW received a purchase order for 100 seats that Lombardi began to see the limitations of his business plan.
The Big Move
In 1977 Camco Drum Company offered to sell their machinery, tooling, dies, and molds to Lombardi under the condition that the Camco name wasn't used by Lombardi on future products. This would give Lombardi the expanded capacity needed to fulfill purchase orders and lower costs leading to an expanded product line from DW. After gathering funding from his parents and DW's investors, Lombardi purchased everything but the Camco name in the sale. This began the process of Drum Workshop switching from teaching to selling and manufacturing.
Just one year later, DW would move to a Los Angeles-based facility with the new tooling and expanded operations beyond their small Santa Monica-based workspace. During this time, DW reintroduced the Camco 5000 nylon strap bass drum pedal, which became the second product in the DW line. Lombardi was eager to improve the 5000 and make the design a DW original.
By 1980, Lombardi had improved the 5000's design to include an upgraded chain and sprocket drive system that would become a mainstay on the DW line of bass drum pedals. Three years later, DW would introduce a double bass drum pedal that included these updates, as well as unique linkage with universal joints named the DW 5002 double pedal. These updates and unique engineering achievements solidified DW as innovators in the drum hardware market and ushered in a new era of drumming. Crafting rhythms with both feet would propel the sound of '80s drumming and certainly still has a massive space in music today.
---
Do size and wattage really matter when it comes to amp choice? Why it may be time to reconsider everything you thought you knew! | Read »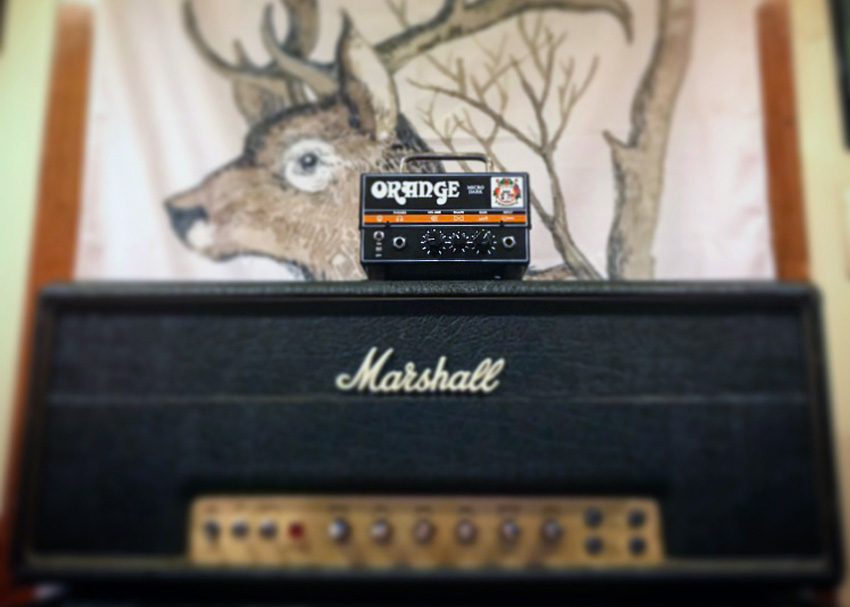 ---
Knowing a Kit inside and Out
While DW and Lombardi were climbing the ranks of drum hardware manufacturers, John Good was dedicating himself to developing experience as a drum technician on the road with acts like Frank Zappa and Earth, Wind and Fire.
Good explained this time in an interview for The DW Story: "Even though I wasn't a professional player, I always had an ear for drums and a knack for fixing them. I wound up on the road with bands like Earth, Wind and Fire and Frank Zappa. As I was out there tuning drums, I would find out what did and didn't work. I then came back and used that knowledge I was gaining to improve our products."
Good discovered during his time as a tech that each drum has a unique range where it sounds best for tuning. This eventually led him to create DW's Timbre Matching System, a staple even today with kits in nearly every DW family.
"I found out that everything about a drum's shell construction, shell size, bearing edges, heads, hardware, and finishing individually and collectively affects the quality of a drum's sound," he said.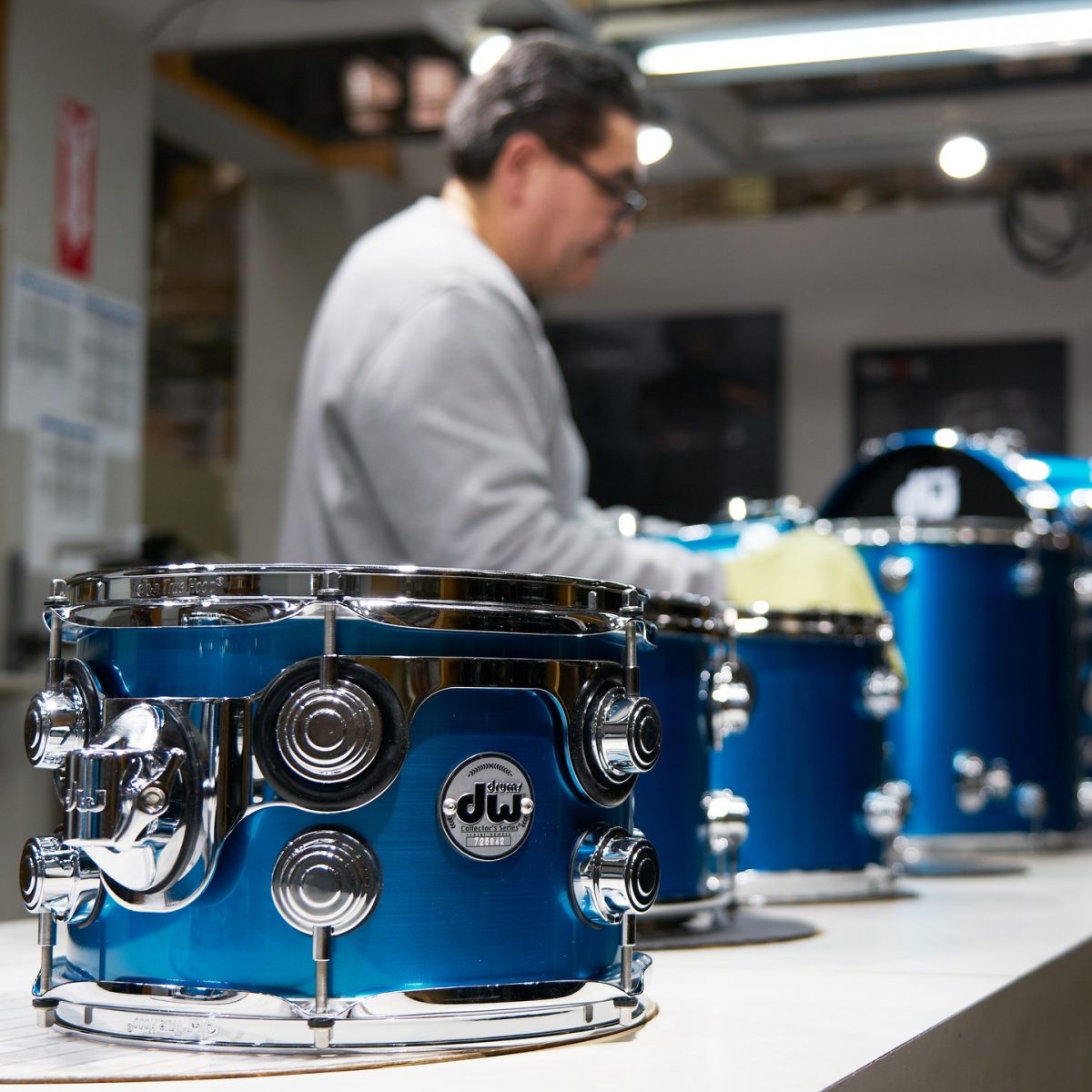 Lombardi began crafting handmade drum kits around 1982 with a handful of kits designed and manufactured by DW each year. With music in the '80s heating up around the ability to craft rhythms with both feet, DW's sturdy hardware and new handcrafted drums were starting to appear on the radar of some of the decade's top artists.
"One of the things that helped convince me that we might have a chance with the drums was when Tommy Lee (Motley Crue) came into the shop to have his pedals tuned up. While he was waiting, he sat down at the set of drums John had in his office. He started playing and wouldn't stop; he was amazed at how the drums sounded. A light then went on in my head that Tommy Lee represented a generation of drummers who hadn't experienced handcrafted drums." Lombardi explained in The DW Story.
A short time later, Tommy bought a kit from us. That was March 7, 1989. I remember the date because it was such a big event that I made a photocopy of the check, which I still have to this day. He was endorsing another company at the time, but within a year, he became an official DW Drum endorser."
To keep up with demand, Lombardi doubled DW's manufacturing space by moving the company into a space in Newbury Park, California. This is when Lombardi knew he needed his partner John Good back from the road.
"I remember being on the road with Jonathan Moffett and Madonna in 1987 and calling the shop to check in," Good recalled in an interview for The DW Story. "Don said, 'You need to come home. If we're going to make this thing happen, it needs to be right now.' When you hear that in someone's voice, you basically pack up and follow your heart."
NAMM and Beyond
By 1990, DW had amassed an artist roster including Tommy Lee, Jim Keltner, Chad Wackerman, Larrie Londin, and more high-profile players. Lombardi produced their first serious drum catalog and attended that year's National Association of Music Merchants (NAMM) show, hoping to garner interest and possibly get DW into the doors of some of the top hardware dealers in the world. It wasn't long before orders started pouring in for their incredible, handcrafted drum kits. Lombardi knew that DW was onto something.
"At the end of the first day of the show, my son and sales manager, Chris, pulled John and me aside and told us that we had a real problem," Lombardi explained. "Chris had taken orders for 60 sets and it was only the first day of the show. We spent the rest of the year trying to catch up on orders before the next NAMM show."
Leading into the late '90s and early 2000s, DW added incredible talent such as Sheila E., Terry Bozzio, and Neil Peart. They once again had to move facilities to keep up with demand and in 2000 began building kits and hardware in Oxnard, California. In 2002, Lombardi established a DW-run factory out of Ensenada, Mexico that would begin creating DW-inspired kits and hardware under the name Pacific Drums and Percussion or PDP. Pacific Drums continues to be a gateway into the world of handcrafted DW kits with professional-level concepts inspired by Lombardi's DW drum kits.
Today Drum Workshop continues to innovate while still crafting some of the finest drum kits and sturdiest hardware on the planet. DW is celebrated around the world by the drummers that continue to inspire the brand itself.
The DW Story made this overview possible; all photos were used with permission from DW or are under a Creative Commons usage license.