Kali Audio IN-5 and IN-8 coaxial studio monitors are getting great reviews, especially for their full bass response and detailed stereo imaging. In this article we'll look at why the IN-5 is an excellent choice for most home studio mix rooms as well as for home theater use. We'll also look at the new IN-5-C model, which is acoustically the same speaker with a mounting bracket on the back for wall or ceiling installation.
What's Different About the IN-5?
Compared to the 2-way speakers usually found at this price point, Kali Audio IN-5 monitors are actually 3-way speakers with a coaxial design. This design uses a 5-inch driver for bass (280 Hz and below), and a 4-inch driver specifically for midrange (280 – 2800 Hz) with a "coincident" tweeter/midrange placement, meaning the tweeter is mounted at the center of the midrange driver. This in effect makes the IN-5 a "point source" speaker, since all audio above 280 Hz radiates from the same point. Interestingly, the mid driver also acts as the waveguide for the tweeter, shaping the directivity and frequency response of the high end. Coaxial speakers have very little off-axis lobing, which gives you a clear, lifelike stereo image across a much wider listening area.
What is off-axis lobing? A phase-cancellation effect common to non-coaxial speakers, where different frequencies arrive at your ears at slightly different times, because they are coming from different locations (the tweeter and the woofer, which are not coincidentally placed).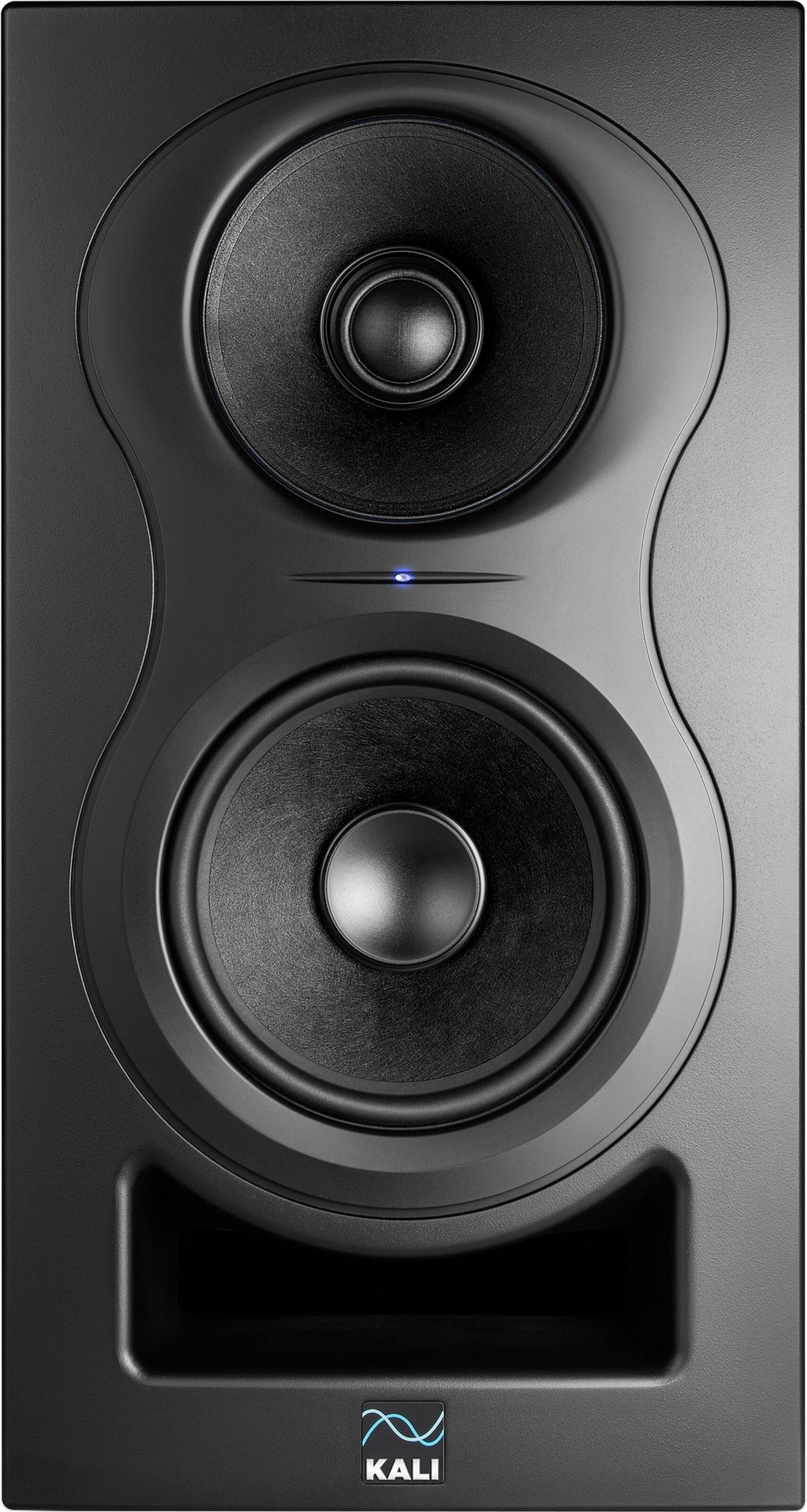 The closer phase alignment of frequencies gives a clarity to the midrange and treble that is impossible to get with 2-way monitors in the same price range — the mids and highs sound clean and tight in a way that's exciting to listen to, yet not fatiguing over hours-long sessions. If you can't shell out for prohibitively expensive top-shelf studio monitors, Kali Audio IN-5s are a great way to get a clear window into the midrange of your tracks at a reasonable price, which helps you make better mix decisions.
But the advantages of this unique 3-way monitor design doesn't stop there — IN-5s also put out a very impressive amount of low end for their size, pumping out much fuller, deeper bass than a lot of larger speakers in this range.
---
Get an in-depth look into how coaxial studio monitors remedy the problems inherent to traditional multi-way speakers. | Read »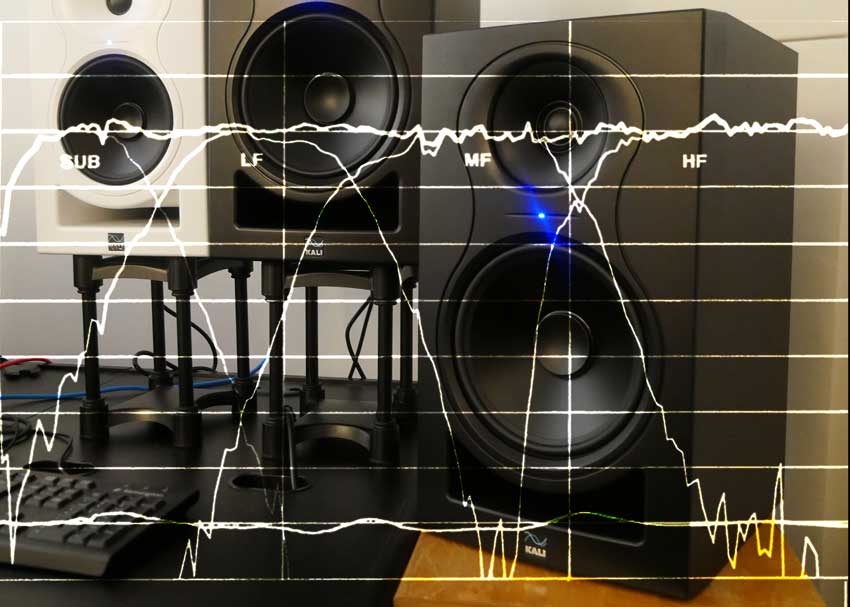 ---
Home Studio Advantages
These characteristics are arguably even more useful in a home studio recording/mixing setup than in a pro studio, due to some of the limitations that home recordists face. There are a lot of acoustic room treatment options available these days, but the reality is that most home mixing rooms are not specially designed for audio, and are usually more "live" than a pro studio mix room, with flutter echo, bass issues, and other acoustic problems.
Since the IN-5 functions as an audio point source, even the audio that doesn't go directly from the speakers to your ears (i.e. audio that's bouncing off walls, the floor and ceiling, etc.) is also more phase-aligned than it would be in a conventional 2-way speaker, contributing to overall sonic clarity. I've found that this is noticeable even when listening to the IN-5s from a different room than the speakers are located in — everything sounds a bit clearer than it would with a standard, non-coaxial speaker in this price range.
Home Listening Advantages
This unique design makes Kali IN-5s great for mixing and production, but they also really shine as home audio speakers for casual music listening, watching movies, etc. — especially when paired with a sub, such as the Kali Audio WS-12. The coincident woofer-tweeter placement creates a wider "sweet spot" which is perfect for home theater use.
The newly released IN-5-C model, which is identical to the original IN-5 but adds a backplate for convenient wall-mounting, makes it even easier to use IN-5s in a home theater for stereo or surround use. You could even use seven IN-5-Cs and a WS-12 subwoofer to build a Dolby Atmos 7.1.2 system for mixing or home listening — a 1000-watt sub really helps you feel the bass!