Kali Audio's "Project Independence" IN-8 and IN-5 studio monitor speakers are notable for their three-way architecture, with the midrange driver and tweeter nested together in a coaxial, or coincident, design. We're taking a close look at coaxial studio monitors — and how they can help solve the real-world problems of phase cancellation and off-axis lobing that are inherent to traditional multi-way speakers.
Two-Way vs. Three-Way Speakers
When we picture a studio monitor, most of us think of a two-way speaker. These speakers use two separate transducers for the highs and lows — the "tweeter" and "woofer," to use the familiar hi-fi parlance. With the notable exception of the classic Auratone Sound Cubes, Avantone MixCubes, and their ilk (which use a single transducer), the majority of popular full-range studio monitors on the market are 2-way speakers.
Three-way speakers add a third transducer — a midrange driver that's dedicated to reproducing that critical section of the audible spectrum that's home to the fundamental pitches of most voices and instruments. A 3-way speaker can be more accurate and efficient than a 2-way speaker, since it splits up the workload of reproducing audio, unburdening the woofer and tweeter from all the heavy lifting, and freeing them up to do what they do best: reproducing lows and highs.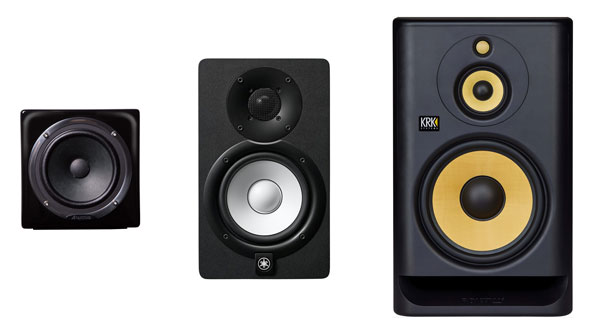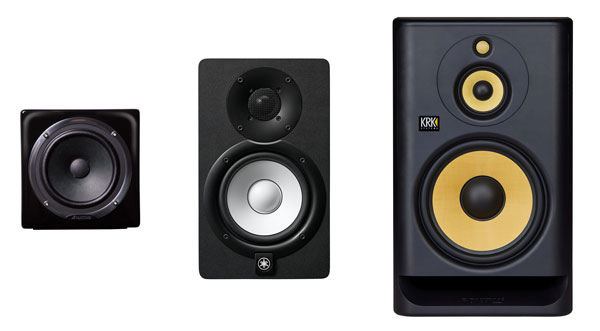 When you feed a signal to your speaker, an electronic device called a crossover processes the signal, using a network of low-pass and high-pass filters to split it into highs, mids, and lows, and sending the appropriate band of the frequency range to its proper transducer. However, due to the nature of these filters, there's some necessary overlap between which frequencies are passed along to which transducer. For example, in a two-way system where the crossover frequency is set at 2 kHz, the woofer may be fed frequencies all the way up to 3 kHz, while the tweeter may receive frequencies as low as 1.5 kHz.
If that tweeter and woofer are spaced a few inches apart, you'll end up with two transducers reproducing some of the same frequencies, but from two physically separate locations. This means your system is subject to the dreaded…
Phase Cancellation, Off-Axis Lobing Effects, and Crossover Coloration
Let's say you've got a system with a total of 4 physically separate transducers: the tweeter, midrange, and woofer in a 3-way top speaker, plus a subwoofer. The sum of the outputs from these 4 transducers can deliver a smooth, phase-coherent response when you're in front of the speaker, at the primary listening direction — also known as the acoustical axis.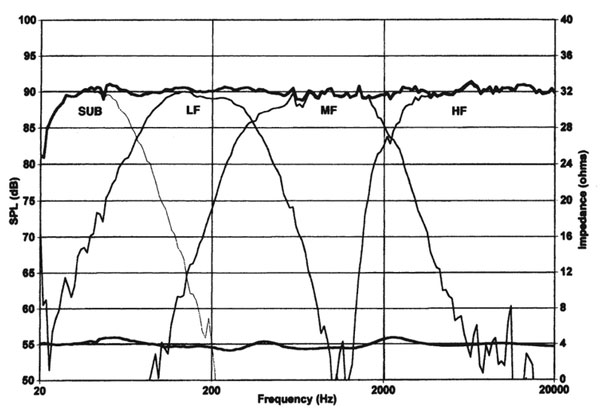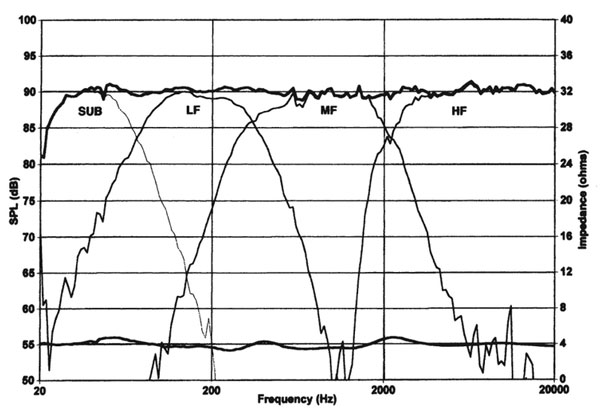 The combined frequency response of these 4 transducers can be made quite flat — as long as the listener is on-axis. But since the 4 transducers are physically spaced apart, with each playing back a portion of the frequency range that overlaps at the crossover points, the outputs from each transducer will interact with its neighbors' outputs, causing phase cancellation around those crossover points, which can cause unwanted peaks and dips in the speaker's total response.
As Nate Baglyos of Kali Audio explains, "When a listener is directly on-axis, those phase cancellations might be completely insignificant. But off-axis, those phase cancellations mean that your total sound power in the room is not necessarily accurate."
As the listener moves off-axis — off to one side, or up and down within the listening space — the outputs from those multiple transducers drift out of phase with each other. As you move out of your monitors' "sweet spot," the outputs of that speaker's physically separate drivers are "time-smeared." The time-of-arrival differences between different transducers can generate audible tonal changes at the crossover frequencies. This is known as crossover coloration, which creates off-axis lobing within your listening space — and it limits the listener to a narrow, restricted listening angle in order to experience the smooth, flat response you need from your monitors.
"As you move through your studio space, the frequency response changes drastically, inch to inch. Which means that if you're not in just the right spot, you don't know what you're listening to," says Baglyos.
Coaxial Studio Monitors to the Rescue?
It's a fact that traditional loudspeakers with physically separate, displaced drivers are susceptible to unwanted coloration off-axis, constraining the critical listener to sit at a specific spot, not moving their head.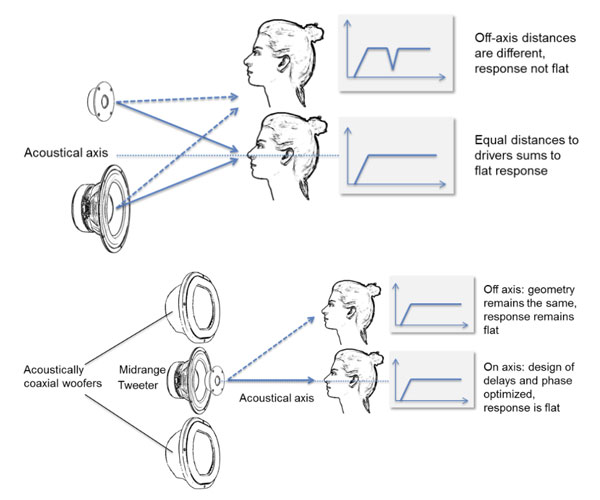 Coaxial speaker designs — in which multiple transducers are placed concentrically on the same acoustical axis — aren't vulnerable to this problem. With coaxial studio monitors, as the listener moves off-axis in any direction, the geometry of the transducers' distances to the listening location remains consistent.
"Having concentric speakers means you don't get those off-axis phase cancellations. You get a much stronger stereo image, and you can hear much more detail," says Baglyos.
Oscillating Waveguides: The Trouble with Concentric Woofers
Coaxially placed transducers can reduce or eliminate the crossover coloration that's inherent to most multi-way systems with physically displaced transducers. That's why point source systems, where all sound emanates from a single point, have long been a "holy grail" of studio monitor design.
However, when you nest a high-frequency driver inside a large low-frequency driver, you can run into another problem.
"The larger driver is acting as the waveguide for the smaller driver. If that larger driver is responsible for handling frequencies down as low as a woofer is capable of playing, that larger driver is going to have quite a bit of excursion — it'll be moving back and forth to a substantial degree. That means your waveguide is oscillating. So now you get an effect called air distortion, where the signal from the tweeter is sucked back as the woofer moves back, and then propelled forward as the woofer moves forward," Baglyos explained. "You'd be hard-pressed to mix high-end on a system like that."
The engineers behind the Kali Audio IN-8 and IN-5 avoided that pitfall by keeping the woofer separate, while nesting the midrange driver and tweeter coaxially with each other.
"With this 3-way design, the midrange driver only moves 1 millimeter peak to peak," Baglyos said. "So acoustically, it is essentially not moving. By doing that, you get those phase and spatial benefits of having a concentric system, but you don't have that major drawback of an oscillating waveguide."
Using a Concentric Midrange and Tweeter in the Real World
Since coaxial studio monitor speakers are less susceptible to phase cancellation and crossover distortion, Baglyos says, "Everywhere in the room is going to be more accurate…You move around the room, and it sounds the same. There's still a sweet spot — a best place to be sitting — but you don't hear drastic changes as you shift."
And whether or not a listener happens to be sitting in the sweet spot, Baglyos explains, "When you're listening in a room, you're not just hearing direct sound. You're hearing the total sound of the mass of air in the room moving. And if that's accurate, you can be very sure that it's going to translate well…you can go to the car, headphones, a small Bluetooth speaker, and it's going to sound good."
According to Baglyos, coaxial studio monitors like the Kali IN-8 and Kali IN-5 can help listeners make mix decisions. "Because the stereo image is so nice…it means that you have a physical reference point in space for every element of your mix. Which means that when you're mixing, your brain has to do far less work to pick out what you're looking for as you're making changes. And you can hear all of the changes that you make immediately, and have a much more powerful sense of not only how those changes are affecting individual tracks, but how changes to individual tracks are affecting the mix as a whole. That instantaneous, real-time feedback just makes it so much easier to make a mix, and to feel good about the mix you've created."