You can't mix the low end if you can't hear it — so why do so many home studio owners go without a subwoofer? A decent sub is a good investment for anyone who's serious about mixing audio for music, video projects, or films. These days even portable speakers put out an impressive amount of low end, so you need to make sure the bass is right in your mixes.
The Kali Audio WS-12 is an affordable option for those looking to add a sub to their setup, and since it's so reasonably priced (and also because I've been using one for a couple of months), I'll take a look at why this might be the sub for you — even if you don't need the huge amount of power it offers.
First Look
The WS-12 is built with a wooden enclosure, which is better for sound quality and projection than plastic, and nice to see at this relatively low price point. The cabinet features port holes that are designed to reduce port chuffing, which creates bass distortion.
The WS-12 is larger than most studio subwoofers, but not quite as large as most PA subwoofers. According to Kali they designed the WS-12 to be able to fit in small passenger cars, for musicians who want to use it for gigs, typical of their practical-use-focused ethic.
On the back panel you have dipswitches for controlling the crossover frequency, polarity, and gain, with custom crossover points for use with Kali's LP or IN series monitors.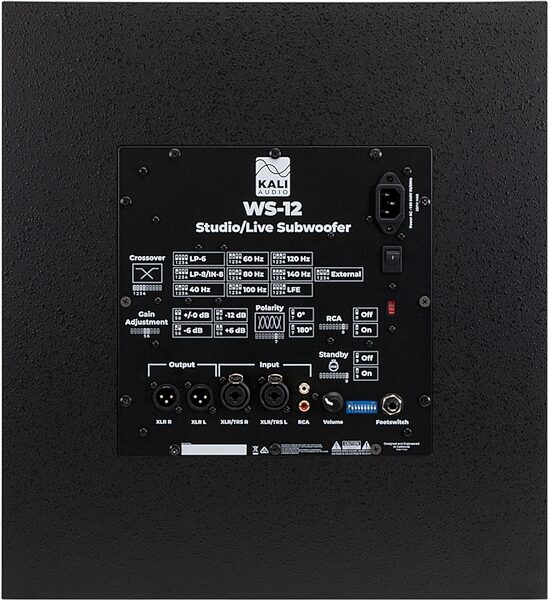 According to Kali Audio, the WS-12 gives you an impressive frequency extension down to 23 Hz (at -10 dB) with a max SPL of 123 dB. This makes it loud enough for use with a live sound PA system, including suitcase-style PAs like the Fender Passport, or line array column systems like Bose L1 or LD Systems Maui.
Accurate and Powerful
When you add a subwoofer to your monitoring setup, you want it to feel like a natural extension of the frequency response, not over-hyped boominess being added to everything.
For mixing, you want a sub that goes as low as possible, as accurately as possible. The WS-12 gives an impressively natural sound, and it can put out some very low tones without choking. Another nice thing about the WS-12 is its high wattage. With that much headroom, you never feel like you're pushing the sub to its limits. I've turned the WS-12 up to rather high volumes with very deep sub-bass and not heard any noticeable distortion (and according to the user manual, if you turn it up loud enough to engage the built-in limiter you'll get "plainly audible distortion").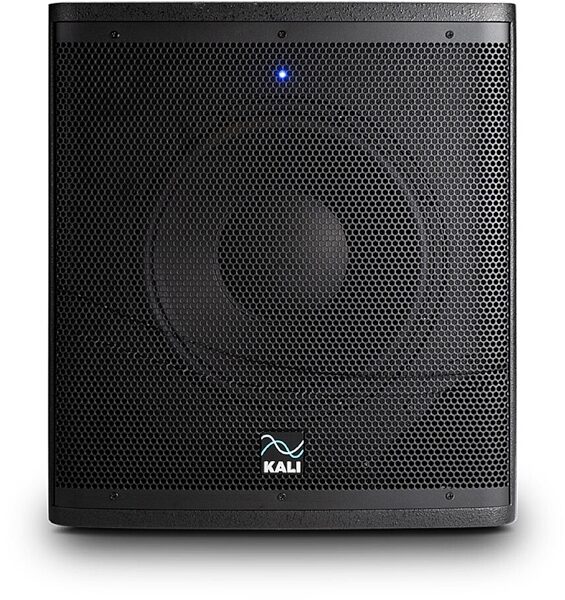 When I switched out the small, 8-inch subwoofer I was previously using for the Kali WS-12 in my mixing room the difference was huge. The 8-inch sub had struggled to keep up with very low frequencies (below about 65 Hz), while the Kali WS-12 shakes the whole house when turned up — it tends to ruthlessly expose any extra bass or muddiness in mixes, and I've found that a few tracks I thought were finished are actually in need of some serious work in the low frequencies.
If you're mixing on small speakers or headphones, it's easy to accidentally end up with too much sub-bass on certain tracks, reducing your headroom and giving your mix a "muddy" sound. Having a sub that can show what's really going on down there is invaluable for creating mixes that can compete with professional tracks in terms of volume, clarity, and low-end punch.
---
So, what does that "phase" switch on your studio monitor sub do exactly? | Read »
---
Let's Talk About Watts
As I mentioned earlier, the WS-12 is capable of doubling as a live sound sub thanks to its huge 1000-watt output (normal for a PA subwoofer, but basically "overpowered" for a studio sub). I find that having plenty of extra power in the sub makes it great for mixing. One reason is that sometimes you want to turn up a track really loud, to see how it feels at that volume and if any harsh frequencies are sticking out. If your sub is maxing out and distorting then you're not getting a good idea of what's really happening in your mix. The same goes for listening. If you like to listen to music on the speakers you mix with for reference, like I do, it's great to be able to really feel the low end — this way you know how much bass is too much, or too little.
Now a lot of studio subwoofers from top-shelf brands like Genelec and Neumann are compact, and often 150-200 watts — however, on the high-end of the price scale these are some truly incredible speaker designs and they perform down to very low frequencies with amazing accuracy. A budget-priced studio sub isn't going to be able to compete with that, obviously (hence the much smaller price tag), so you may find that affordable subs with lower wattage can't keep up with full-volume playback, especially on bass-heavy music.
In summary, here are 3 benefits that the WS-12 offers which make it worth considering:
Plenty of wattage: With 1000W of Class D power, you don't have to worry about the WS-12 being able to keep up at normal-to-loud mixing volumes — it can.
Reasonable price: With the WS-12 you don't have to break the bank to get accurate low-end monitoring, and you don't have to worry about getting a sub that's too small or underpowered to deliver the bass extension you need.
Doubles as a PA sub: Planning on playing live shows at all? In a live setting, a subwoofer can make a huge difference — and now you don't have to choose between buying a studio sub or a live sound sub, the WS-12 does both.
---
The WS-12 continues Kali Audio's so-far-impressive track record of innovative speaker designs that help bring pro-level monitoring within reach of home studio owners.