Every drummer wants their kit to sound fat and fantastic in a mix. There's just something about an immaculately miked, mixed, and tuned drum kit that elevates any recording instantly. Unfortunately, many drummers miss out on this bliss after disregarding the very first steps when preparing for recording. Today we'll take a look at the tom tuning cheat code that you'll want in your repertoire for your next session to achieve fat, resonant-sounding toms!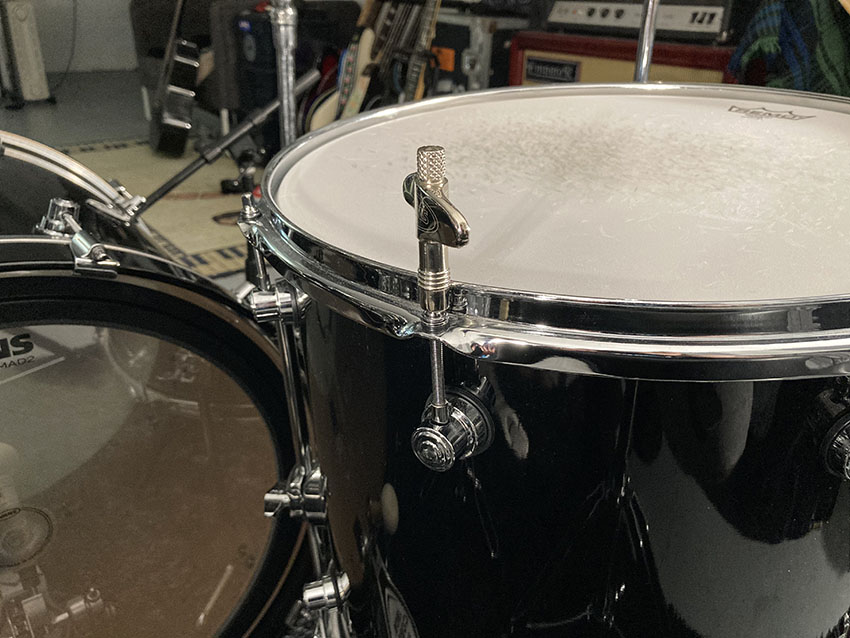 Tuning your toms should always be the first step when you begin tracking. No matter what amazing microphone you use, room you're playing in, or who's drumming behind the kit, your mix will sound sloppy if your drums are not properly tuned. But what if you're not even sure how to do that? Matching tension, tuning to a note…is it all necessary? Well that depends….
The Tom Tuning Cheat Code
For most pop, rock, country, etc. there's a really great catch-all "cheat code" for making your toms sing on a recording, and it comes courtesy of Rob "Beatdown" Brown, the resident no-nonsense drummer and educator.
In Brown's Tom Tuning Workshop, he seeks to "de-mystify" tom drum tuning with his fast, easy method for crafting an incredibly fat tone. This method will work on any sized tom.
It starts by completely loosening the tension rods on your tom so that the head you're working on (this method works for both batter and resonant heads) is completely dead. Then, finger-tighten each rod as much as you can. Pressing down on the rim near both sides of the rod and then twisting with your finger can help get you closer to total finger-tightness.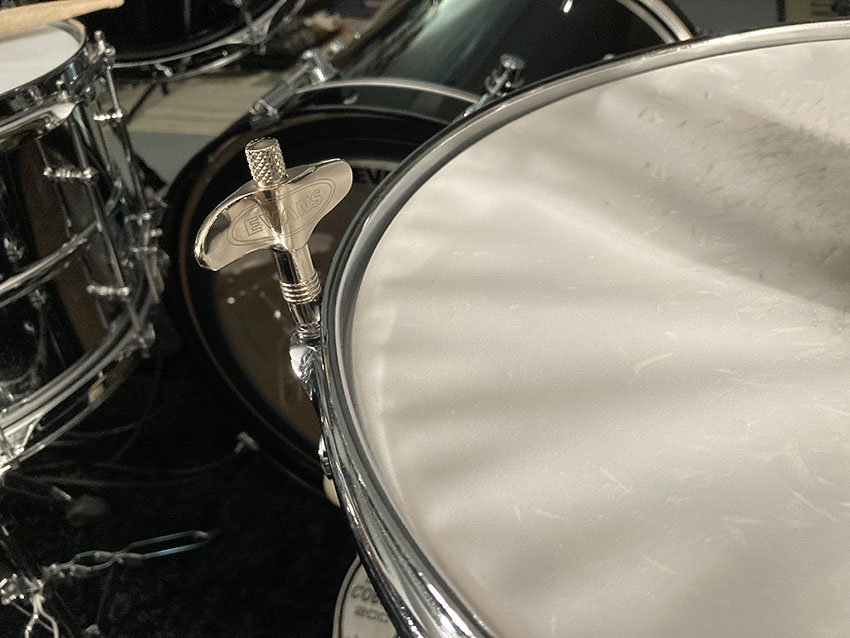 Now that your drum head is finger-tight, use the palm of your nondominant hand to press down in the center of the head with moderate pressure. Once you apply pressure you should see wrinkles all the way around where your hand is pressing. If you don't, simply apply more pressure or make sure your head is truly only on finger-tight. Now select a tension rod you'd like to start with and turn the rod until the wrinkles in its vicinity disappear. One trick for ensuring even tension at this part is to over-tighten the rod and then back it up just enough so the tension is right at the point where the wrinkle disappears. Now, using whatever method you'd like, make your way around the drum adjusting each tension rod while keeping direct pressure on the head with your hand.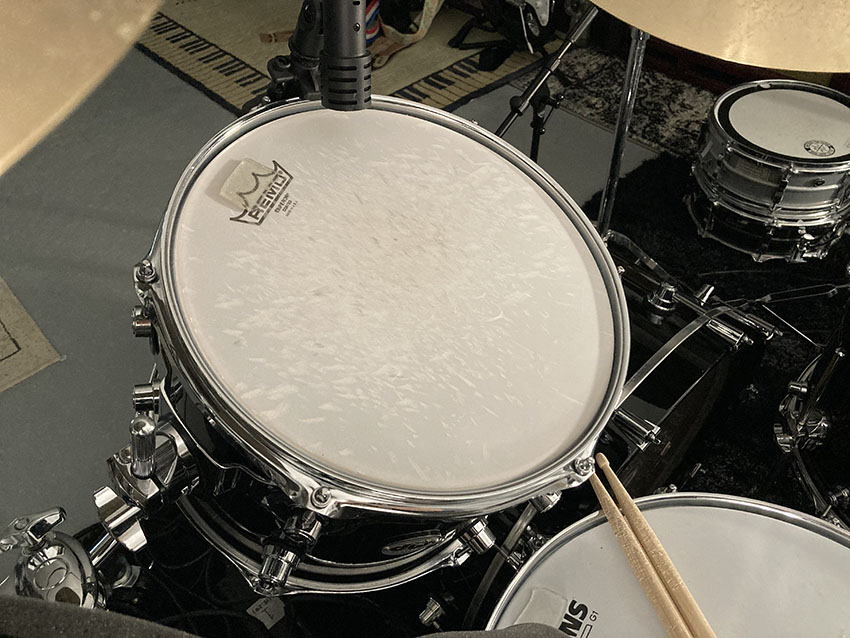 Before you start playing your tom, move to the opposite side head and do the same. This will ensure even tension between both batter and resonant heads so there are no colliding frequencies thinning out your tone. After that, you're done! Your tom should be right at the low tuning edge and will sound fat and in-tune with itself.
But what if you're after a higher or lower pitch? Easy — simply select a single tension rod on the batter head and tune it up to your desired pitch. Give it a quarter-turn at a time and then adjust the corresponding tension rod on the resonant head. Using this single tension rod on both the batter and resonant heads will increase or decrease enough of the tension to allow for more precise tuning up or down. Obviously, you can take this a step further by fine tuning each tension rod, and even matching a note. But for a quick and easy method, just getting this base foundation will achieve fat, resonant toms for any recording application.
Keep in mind, the amount of pressure you put on your drum head is directly related to the tuning range you achieve. More pressure equals a higher tuning, while moderate pressure will lead to a lower, fatter-sounding tuning. So keep experimenting, using different pressures, heads, and tuning ranges, and you'll nestle into your perfect fit. Now that you've found your ideal tuning, you can move on to tracking and monitoring those fat, warm, and resonant toms.
---
Since the dawn of popular music, fat snare drum tones have been highly sought-after. From thunderous John Bonham drums on Zeppelin records to R&B, neo-soul, and hip-hop tracks from today, that thick, fat, '70s-esque snare tone can elevate an entire song. | Read »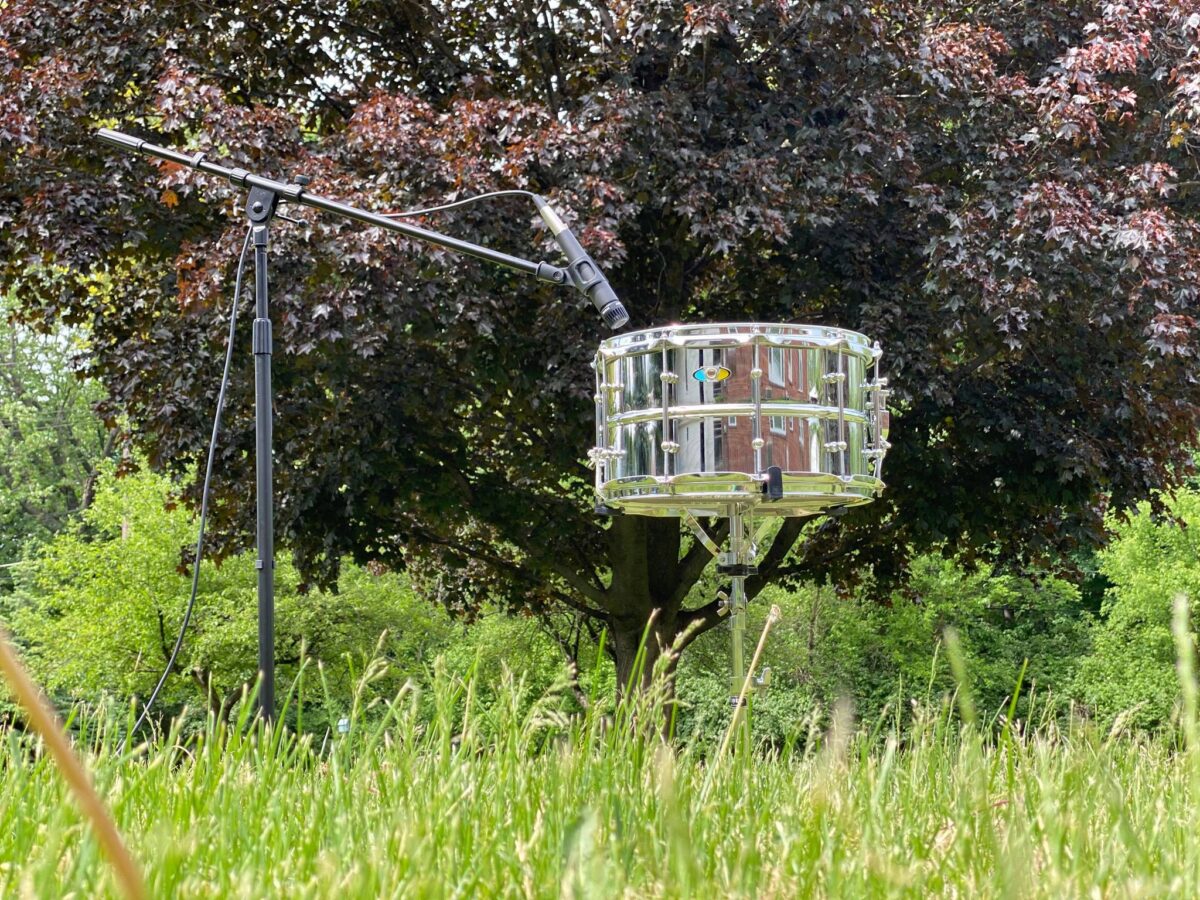 ---