The prevalence of digital guitar amp and effects processors has exploded over the last few years. Although the technology is not brand new, it's clear that manufacturers have really locked in on the quality and sound that professional musicians require in both live and studio settings. Like many guitarists, I recently found myself at the digital crossroads. After playing Marshall tube amps my whole career, I felt very wary about abandoning my trusty JCM900 sidekick for something sleeker and less tangible. There are a ton of great amp profilers and digital processors out there: Kemper, Fractal and HeadRush all make exceptional products that have been embraced by the professional music community. For the purpose of this article, I will be focusing on my personal experience with the Line 6 Helix LT.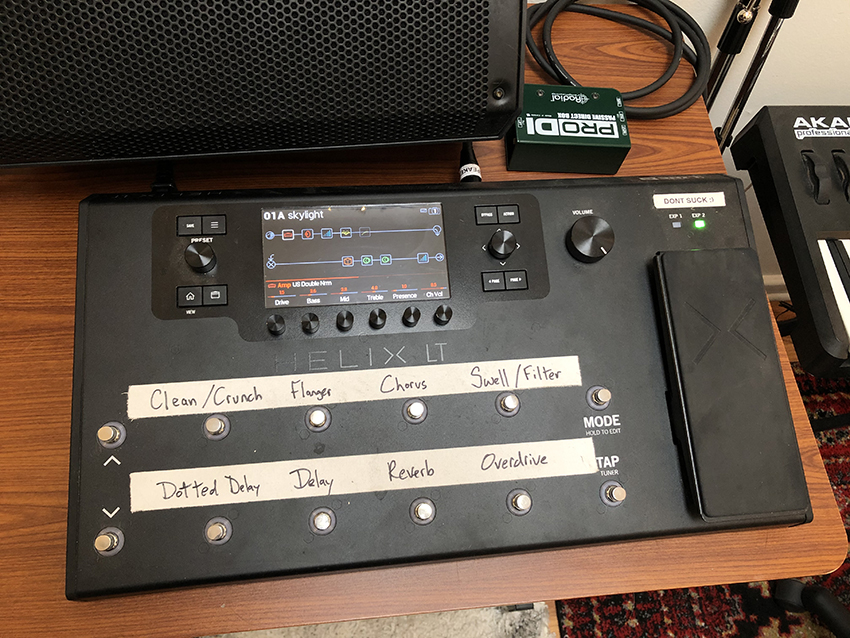 Tone Zone
The number 1 issue that concerns most musicians when switching from analog to digital (and rightfully so) is tone. For me, there is truly something special about playing a Gibson Les Paul through a Marshall; the warmth from the tubes compliments the thick, humbucker-driven tone in a way that is like butter to my eardrums. Before embarking on a month long (pre-Covid) headline tour, my band decided to go fully digital with Line 6 products for both guitars and bass. My biggest concern was tone. Almost immediately, I was blown away at how quickly and easily I was able to dial in a setting on my Helix LT that reflected the sound I desired. I am as skeptical as they come when embracing such massive changes to my rig, but my fears were quickly calmed. To start off, the sheer quantity of amp and cab model options is incredible. My LT model currently includes 62 amps and 37 cab options that can be combined for a nearly-endless amount of combinations (this doesn't even include the 16 different microphones that can customize your tone even farther). The engineers at Line 6 have accounted for every detail that affects tone, including the nerdy stuff like "power supply ripple, individual tube sag, and control over B+ voltages" (I'm not going to pretend like I know what all of that means, but their attention to detail is a marvel). With some minor tweaks, I was able to quickly dial in a tone that rivaled my tube amp.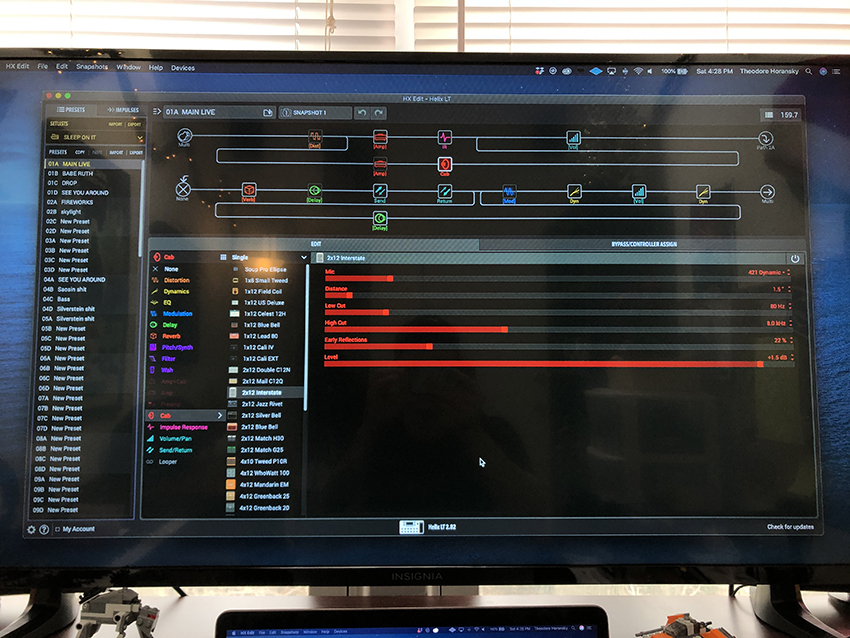 You Can Truly Have it Your Way
Customization is a huge selling point for digital amp processors. It provides a level of control that simply isn't possible with more traditional analog methods. This goes for both amp modeling and effects. I was genuinely impressed by the ease of use with Helix Edit, the free software that allows you to edit your presets and upload impulse responses (IRs.) While on tour, it's incredibly simple to change out an effects pedal "block" on the physical interface itself, but Helix Edit allowed me to easily build a whole signal chain on my laptop. I was able to simply drag and drop the reverbs, delays and other modulation effects that I used to use with my analog pedal board. With a few clicks, I could dial in the correct effects parameters for nearly every song on our setlist. My favorite pedal in the world is the Line 6 DL4, so it was truly a breeze to incorporate all of the same delay effects (and they often sounded even cleaner on the Helix). If you're unsure where to start when building your own presets, check out the Official Line 6 Marketplace, which has custom presets and impulse responses for sale from brands and artists such as Celestion, Eric Broadbent and Ryan "Fluff" Bruce.
How Convenient
One of my favorite aspects about the Helix is the pure convenience of use. It's 2 AM and the family is sleeping? No problem. Just plug your headphones directly into the board and you're good to go (without sacrificing the quality of tone). Considering how thin the walls are in my apartment, this has made writing and recording much more convenient for me. Chronic back pain? Well, this won't fix that, but my spine was a lot happier that I only had to carry a pedal board into the venue instead of hulking amp head and 4×12 cab every day. After years and years of playing in front of a blaring Mesa cab, it took a few shows to get used to playing without one. It was honestly a strange feeling and is maybe not for everyone, but I loved the ease of setup after a few shows. Granted, we were all using in-ear monitors and didn't necessarily need stage volume, but I still brought a powered Headrush speaker so that I could have a little stage volume if I took an ear out. As a tour companion, I never had to worry about blowing a tube. Not only did I have endless amp options, but I didn't have to worry about fixing them while on the road either.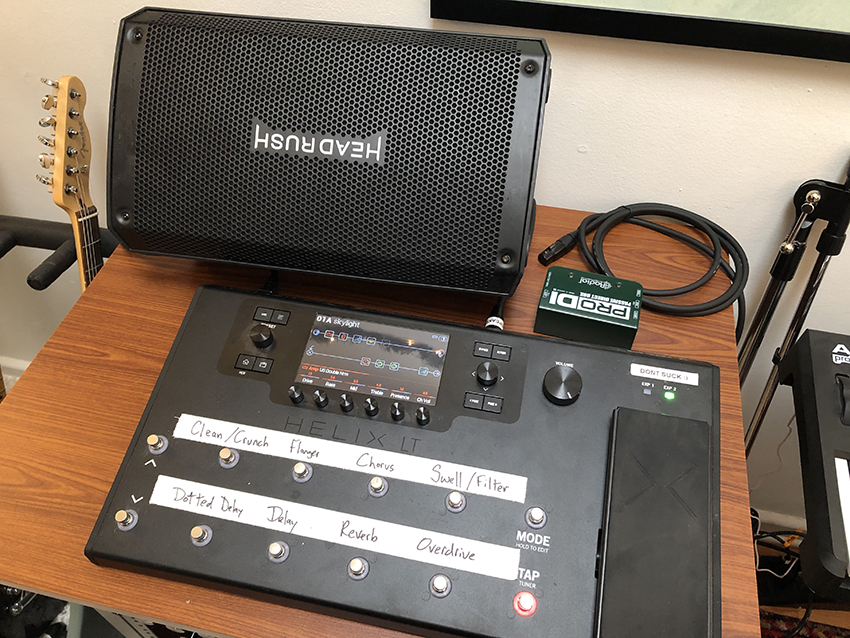 So What's The Catch?
I think no matter the quality of your amp processor/profiler, musicians will always find minor grievances with the tone and output compared to an analog piece of gear. Some of the grievances are valid; there are obvious limitations when modeling a digital signal after an analog source. It may never be possible to 100% exactly replicate the true tone of a Marshall JCM 900, Ibanez TS808 Tube Screamer or Vox AC30. There is also a learning curve when starting out, which may be frustrating to some users. Some of the default amp tones need a little tweaking to bring out their true sparkle and shine. However, in my own personal experience, the quality of tone and ease of use with my Helix has been worth the investment. I've been able to dial in guitar and bass tones that I feel comfortable recording with in my studio. Digital modelers will never totally replace the x-factor we feel when playing analog gear (I mean, modeling wouldn't exist without great gear to begin with). As digital processing and modeling technology continues to improve however, now might be just the right time to expand your arsenal.
Top Image Photo Credit: Haley Mewborn