Iron Maiden isn't your average metal band – it's a state of mind.
It's that perfect blend of attitude, bravado, and expressiveness that coalesce into one behemoth sound. And what a sound it is! It's immediately recognizable, infinitely singable, and so good that it's nearly impossible not to whip out your air guitar and shred along.
Iron Maiden's music is guitar perfection.
What better artist to do a Top 5 feature for zZounds than these trailblazers of metal? None, I say.
My blossoming romance with Iron Maiden all started in my early teenage years (no surprise there). As a young guitarist with aspirations of future face-melting, those blistering Maiden leads never failed to plaster the dopiest smile across my face. After all, what rock guitarist didn't want to plug in, crank up, and let one of those riffs rip? It's almost a rite of passage.
Fact is, their music still manages to have this same effect on me even after all of these years and countless listens. I truly struggled with choosing my top five favorite harmonies — only five? Impossible! Can I do 25 instead? That still seems low.
While there's no shortage of amazing harmonies in Iron Maiden's still-growing catalog, here are my personal favorite Top 5 harmonies:
5. "The Loneliness of the Long Distance Runner" (1986)
This one is pretty special, almost always springing to mind as a favorite. The harmonies are really in charge here, driving the band forward with absolute intent. These arrive early on and just don't ever let up.
Adrian Smith
To get the tone, I used the Jackson X Series Signature Adrian Smith SDX guitar fed through a 20-watt Marshall Studio Classic JCM800 amp head. For Dave Murray's tone, I reached for a Fender Player Strat HSS Floyd Rose guitar into a Victory Sheriff 22 amp head, and used the EarthQuaker Devices Plumes overdrive pedal to kick the drive and saturation level up a bit to get the leads to really sing.
Dave Murray
Something was missing though: the chorus effect (hello 1980s)! A Boss CE-2W Waza Craft Chorus pedal was just what I needed to open up the depth of the harmonies and get them to sound "right."
However, no Iron Maiden song is quite Maiden without principal songwriter Steve Harris' absolutely crushing bass work. His parts on this song proved most challenging to play, but I got the tone with just a few simple choices of gear. For starters, I grabbed a Fender Player Precision Bass, and recorded it with a DSM Simplifier Bass Station preamp set to simulate an old Ampeg SVT circuit. The pedal's tone was incredibly helpful to get that characteristic SVT snarl and snap and really made the bass parts pop. The treble and mids were accentuated a bit until it sat just right in my mix.
Steve Harris:
4. "Seventh Son of a Seventh Son" (1988)
1988's Seventh Son of a Seventh Son has faithfully stood the test of time and easily earns a place on my list. Musically, the band was moving toward a new sound that relied more heavily on keyboards. It was truly controversial for a metal act to do this at the time, but it was used to great effect.
"Seventh Son's" faster tempo creates such an effective sense of urgency. Add in the more unusual harmonic choices of the guitar leads and you've got one hell of a part. It feels like classic Maiden, but something new entirely. BONUS: the machine-gun harmonies at the end are a real treat. It goes out with a bang!
For my recording, I used the same rigs that were previously mentioned but upped the preamp gain of both amplifiers, and reduced the mid frequencies a touch to give it a more 80's Maiden sound. Lastly, I fed the bussed tracks into a Walrus Audio Mako Series D1 Delay Pedal mixed very low to give it that subtle cavernous sound heard on the record. That's really all that there was to it!
The keyboard part was a no-brainer: I used a Waldorf Streichfett String Synthesizer and the Walrus Audio Mako Delay Pedal yet again here to replicate the ghostly keyboard part. Without it the song didn't quite sound the same — no wonder they decided to add synths to their music!
3. Rime of the Ancient Mariner (1984)
As most Maiden fans can agree, this classic song from 1984's Powerslave is among some of their very best work, and for good reason: It's got every ingredient for the perfect metal song. Chugging riffs? Check. Ripping solos? Check. Triumphant lyrics about fantastical lore? Check aaaand check. The song was inspired by and based on Samuel Taylor Coleridge's 1797 poem of the same name. Clocking in at a whopping 13:45 seconds, it's well worth the auditory journey.
I wish I could have covered all of the harmony parts found in it but alas, there are just too many. What a great problem to have! I personally felt the harmony before the last verse stands out as its best. It's a wonderful 3-part guitar lead that starts out quite melodic but quickly shifts into a percussive, palm-muted flurry of notes by its end. The metal icing on the cake, if you will.
---
We countdown and recreate our favorite Alex Lifeson guitar solos | Watch »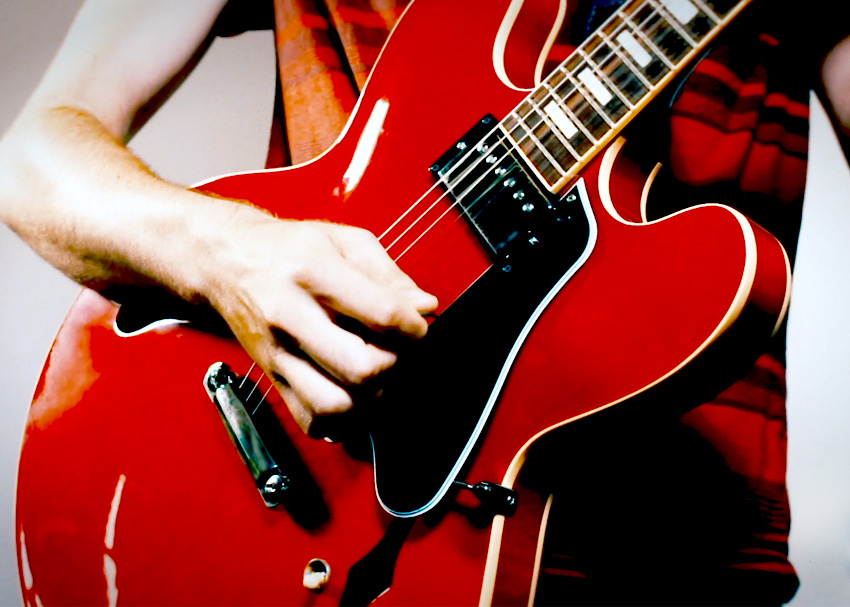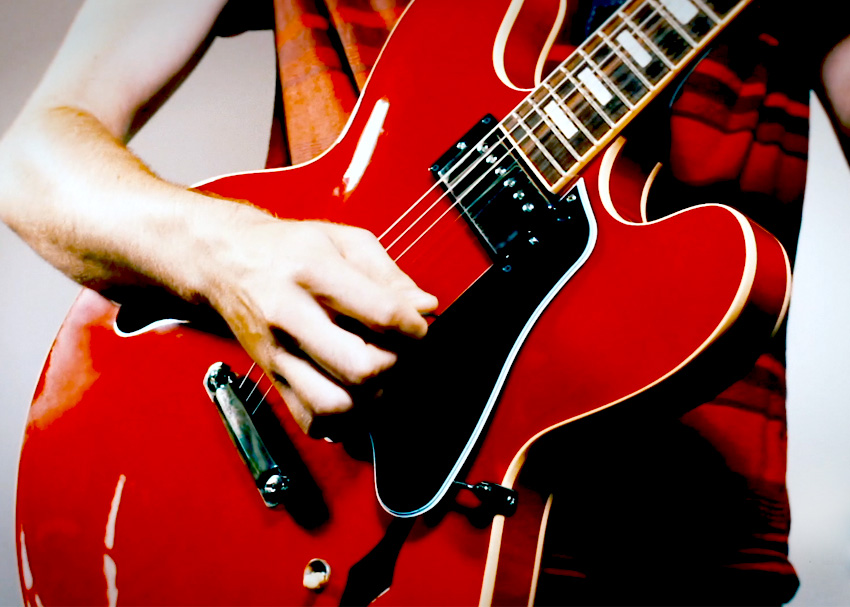 ---
2. Revelations (1983)
1983's Piece of Mind added new drummer Nicko McBrain to the mix with great results. His presence and technical abilities added a distinct sense of excitement to this album's material and it really shows here. The harmonies were bigger and even more epic than before, and the lyrical content began to expand considerably as Bruce Dickinson settled into his role as both singer and songwriter of several songs on the album.
"Revelations" is one of the finest songs of the first side almost exclusively due to the stellar guitar leads on display. It's very Rush circa 1976, but once the characteristic leads crash in, it's all Maiden, baby.
While recording this tune, I adjusted the mid and treble settings of the Marshall Studio 800 head and the Sheriff 22 amp a little lower to help the palm muted rhythm guitar parts lay nicely in the background. The leads were a blend of higher gain settings and more treble for extra cut.
The EarthQuaker Devices Plumes pedal was featured here again for extra grit and texture. Overall I find this harmony to be supremely catchy, and it gets stuck in my head long after the album ends, a real testament to its greatness. The wall-of-sound guitar tracks and harmony parts pay off beautifully here.
1. Hallowed Be Thy Name (1982)
Yes, yes I know – I'm not reinventing the wheel with this top choice, but can you really blame me? We all know and love this song – it's widely still considered Maiden's finest overall tune. The harmonies are burned so far into even the most casual metal fan's brains that they are simply unforgettable, bar none.
There is a sort of deep groove to it all that ties everything together in a way that I can't quite accurately portray in words. It has a confidence, as if self-aware of its own greatness, knowing that it would eventually become one of the most famous metal songs of all time.
It is what guitar harmonies are all about.