I have always been curious about the software-only side of DJjing: no turntables, CDJs, DVS interfaces, or physical music. I personally have always used either a controller, a CDJ setup, or a combination of both. These are the basic setups that everyone uses, but others are pushing the envelope and have been for years. Artists like Richie Hawtin, Deadmau5, Flying Lotus, Dubfire, Magda, and Kink all have "unconventional" setups that allow for immense levels of customization or even live remixing/production.
Essential Hardware
Your first question might be, "How is a DJ able to beatmatch songs without physical platters?" Here, we get to talk about the dirty "S" word: sync.
This technique is made possible by using the preset grid that is determined while your DJ software analyzes a song, or when you're making sure every song is warped to the same BPM in Ableton. With all the songs locked to a grid and a set BPM, looping, layering songs, layering drums, other musical elements, and even live production with external synths or drum machines is a breeze.
Your second question might be, "Can I use a conventional DJ mixer with a setup like this?"
The short answer is "yes," and we will break that down more with each setup that I cover. Control surfaces like the Xone K2 feature a sound card, but the majority of control surfaces I am going to talk about are just that: MIDI controllers with no audio cards.
These are the two options: either use an audio interface to send your audio out or use a DJ mixer with a USB interface. In the case of the Xone K2, it perfectly connects via an ethernet cable connected to the Allen and Heath Xone:43C Professional DJ Mixer. The mixer then allows both to be connected by a single USB plug to your computer, making setup easier.
The combinations of control surfaces and software are endless, so I am going to break down a few different examples of setups that can be easily recreated. Let's look at DJing with Ableton using the Push 2, the Novation Launchpad, and the Xone K2. We will then take a look at DJing with Traktor using the same control surfaces. Finally, I am going to look at DJing with Traktor using Native Instruments controllers
Ableton Live
I have been producing music with Ableton for about four years. Before that, I had used programs like Fruity Loops, Cakewalk, and (dating myself here) originally Cool Edit Pro. It wasn't until about two years ago that I really dove into the world of using a MIDI control surface with Ableton live when I bought a Push 2.
To DJ with Ableton is a similar process to performing a live song by launching clips in its session view. Each song could be loaded into clips that can be launched using a control surface as if there were loops.
This also allows you to access your full library of VSTs to be used as effects, which is one of my favorite things about DJing with Ableton. Another wonderful thing about Ableton is the MIDI Learn mode. This allows you to map any parameter to any knob, button, slider, or programmable control on your control surface. In some cases, there are MIDI maps to download which are already preassigned, so no programming is needed on your end. This can be easily done with each of the three previously mentioned control surfaces.
Traktor Pro 3
Traktor Pro 3 is DJ software, so it should feel more conventionally familiar, but some of its features are far from that. Traktor has some of my favorite effects of any DJ software and has been at the forefront for years with the ability to remix and fire off stems on the fly. Just like in Ableton, Traktor has a list of controllable parameters that can be assigned to any MIDI control surface. This is helpful when adding other controllers to a traditional setup, but it is even more helpful when using a MIDI controller to control your entire DJ setup.
When assigning the commands, you can determine what each button will do, and you can set the interaction mode. If you push a button down and hold, what does that do? What happens if you press and release? These can all be assigned in the Traktor software. It's easy to assign play/pause, cue, perform other transport controls, effects, etc.
Using Traktor with Native Instruments controllers allows for operation that's similar to a general MIDI control surface. The only difference is that each Native Instruments controller comes with pre-programmed MIDI mapping. Of course, the preset mapping is still is able to be edited, allowing for complete customization to your DJ style and your performance needs.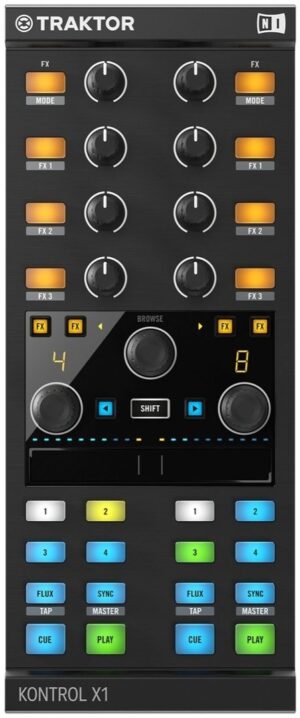 Take the Unconventional Path
None of these ideas are new to the DJ world. Artists have been redefining computer-based DJing for years, and we are only scratching the surface in this post about a few ways to get started.