Editor's Note: This post covers the origins of FM synthesis through a historic and technical lens. For more on the video above, please see the section labeled "Notes From Our FM Synthesis Video."
Black. Queer. Transgressive. In 1986, in some deep backwoods of Huntsville, Ontario, appearing right on the cabin doorstep of a young Beverly Glenn-Copeland — almost if destined to be there, was a brand new Yamaha DX7, this now legendary digital FM synthesizer just introduced three years earlier, and the subject of our focus today.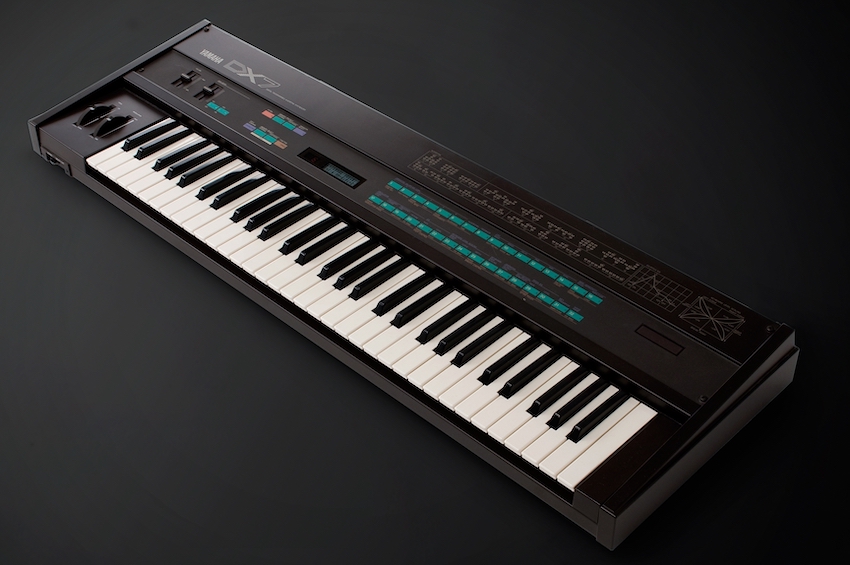 Incomprehensible to many, but easily understood by Beverly as an instrument for a new world, this digital FM synthesizer took him out of self-imposed exile. Underneath its plastic membrane lay a whole orchestra of instruments (both real and imagined) that could be used to make all sorts of "keyboard fantasies."
The original cassette cover to Keyboard Fantasies is crystalline, wooden, and smooth, much like Beverly's DX7 absorbing itself into the forest greenery. It's that blend of natural and "unnatural" acoustic-like sounds, that could only be generated on FM synths, which created this music that could only have been organically made from such inorganic technology.
The Yamaha DX7 was a gift from Beverly's increasingly impatient manager trying to coax this one-time folk singer-songwriter turned children's TV actor back into making music. The DX7 tapped into a blend of sci-fi and technology, something Beverly had become infatuated with in between stints shoveling snow and trying to understanding yet another gift: an Atari ST computer. Together, that combo of computer and this digital synthesizer, turned someone who once self-described herself as a "musical monk" into a totally self-made, self-recording, self-releasing artist pointing to a new direction in music production (even if this music would take decades to be acknowledged).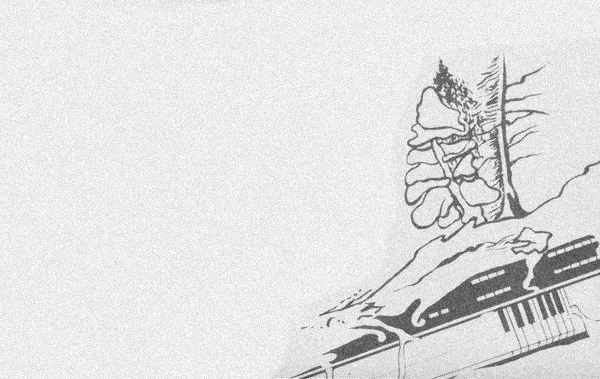 In the end, it was this masterful meditative music made from a perfect palette of presets found in Yamaha's DX7 FM synthesizer that would take other forms through the ears and hands of other musicians who found their own way to find the ghost inside this machine. You see, before the countless hits created by this instrument, much like this in their shared sound, there was a shared history behind it all that goes back to its discoverer, John Chowning.
The Story of John Chowning and FM Synthesis
If the story of FM synthesis and history of digital synthesis has a creation nexus point, surely it must be this one. In 1963, Stanford grad student and percussionist John Chowning riffled through his pant pockets and came out with a ripped page from an article in Science magazine simply titled "The Digital Computer as a Musical Instrument."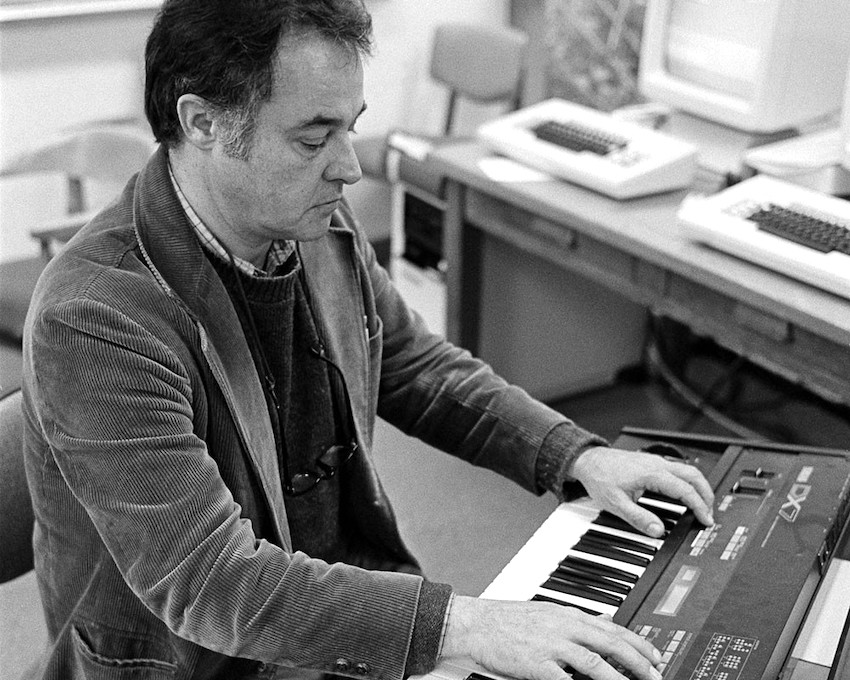 Just years before, John received a free college education in a small liberal arts school in Ohio through the GI bill (something that seemed more probable then) following his stint serving in the Korean War. John seemed on the path to the American dream, working hard as a percussionist, self-teaching himself in the ways of contemporary composers like Stravinsky, Bartok, and others, mustering the courage and conviction to apply to become a student with the renowned French composer/teacher, Nadia Boulanger. As unlikely as it seemed in 1959, this once small-town kid from Delaware was accepted, and found himself (with wife in tow) on his way to Paris, closer to the source of his early inspiration.
For the next two years, in between "classical" studies with Nadia, John would do his own musical exploration. In Paris's Théatre Marigny, John would attend a series of avant-garde concerts by experimental composers like Karlheinz Stockhausen and Pierre Boulez. Stockhausen's electronic spatial works using various loudspeakers intrigued John. As the classically-trained, traditional French musicians booed and jeered this piece after it was over, the gears were turning inside John's head. There was something powerful in "loudspeaker music."
Receiving encouragement from Nadia to pursue this line of work, John quickly realized at that moment, the high technology necessary to create such music would be untenable for someone like him. As John returned back to Stanford to pursue a more traditional doctoral degree in music composition, on some fateful day, he pulled out that page and actually read it. There he saw this:
"There are no theoretical limitations to the performance of the computer as a source of musical sounds, in contrast to the performance of ordinary instruments."
Written in 1963 by a young Bell Laboratories scientist Max Mathews, this article planted the seed of knowledge that John could use computers to generate those numbers, that data, that could be fed to a digital analog converter, pumping out voltage to those speakers. The barrier to entry was gone.
Humanizing Computers
By his own admission a complete technological neophyte with rudimentary Algebra skills, John, regardless, buried himself in mathematical ideas, enrolling in Stanford's programming classes, seeking to somehow gain access to the university's (then) most advanced computers. When John, armed with more accrued knowledge, ventured to New Jersey to meet Max, Max gave John a series of punch cards used to create basic waveforms — sinusoida, triangular, etc. — and others to connect and modulate their frequencies within Max's Music 4 program.
An Early Computer Music Piece – Max Mathews' "Masqueradas"
Rather than being greeted back with open arms, in Stanford, John was greeted with indifference and scorn. Colleagues told him he was "dehumanizing music" while John thought he was "humanizing computers." Only one member of their music department, Leland Smith, a professor of music composition, encouraged his study. A year later, in need of a change in scenery, John returned to Paris.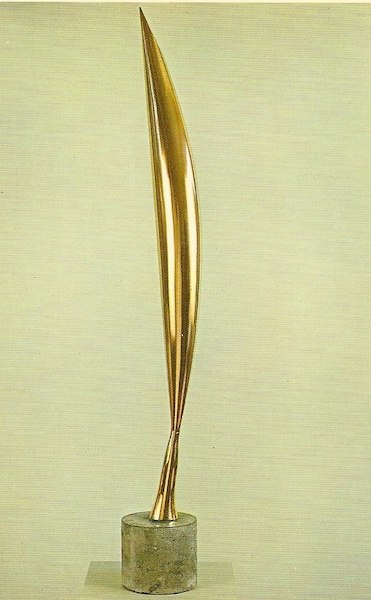 In Paris, John chanced upon a sculpture, Birds In Space, by modernist Romanian artist Constantin Brâncuși. "Simple, elegant, but complicated," John saw in its line something that he thought could translate into sound: spatial illusions. He wanted to create sounds that moved this way. At that moment, no one really studied or understood the way sounds moved in space. John, once again, dove deep into another world, this time it was the world of psychoacoustics, spatialization, and audio engineering.
The Ear Discovery
Two years later, in 1966, as John transitioned from Ph.D student to a Stanford assistant music professor, time finally opened for him. Working completely by himself in the fall of 1967, John had uncovered something he couldn't quite understand. One day, while using the computers at Stanford's artificial intelligence lab, he took an experiment with vibrato (a rapid change of pitch) into a realm unheard of then. Rather than go slow and identifiable, he went very fast and deep. There, out in the academic wilderness, as the sinusoidal waves increased in speed and depth, John realized he could no longer discern pitch and time.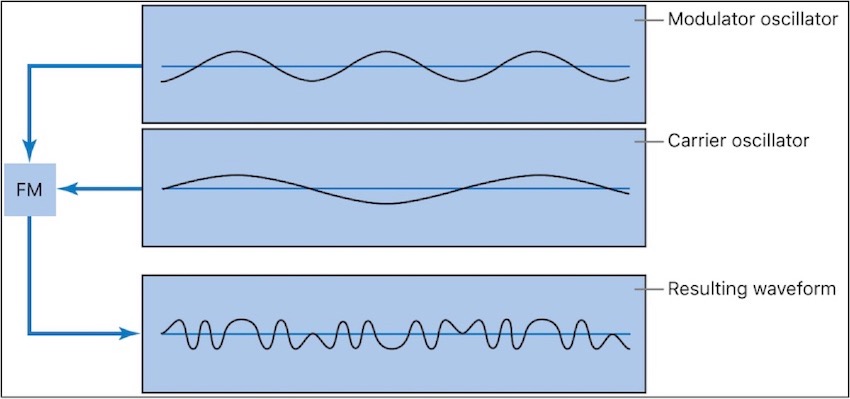 John found that by using two simple waveforms — one, as the audible "carrier", whose frequency would be modulated by the other — he could create harmonic or inharmonic tones using very rapid vibrato, based on the frequencies of these waveforms and the depth of the modulation. Right away, John understood this effect was humanly impossible to recreate. No violinist, guitarist, or voltage-controlled analog sound device, could ever create vibrato this rapidly.
This "frequency modulation synthesis" that he was hearing, that he inadvertently created, sounded "musical" — and yet it only could be fashioned by a computer. Somehow, he just bore witness to being the first human to hear such a sound — "at least [the first] on this planet."
I knew nothing about the synthesizers that were in use at that time, in 1964, although Moog and a few others had their first commercial analog synthesizer model out that year. My world was that of contemporary classical music, the classical tradition, and I was interested in electronic music. I saw the usefulness of FM synthesis. It was economically appealing, because it was a simple equation. You did need a computer, though, a powerful computer capable of processing and producing signals. Powerful for the day, that is to say! I knew this would be of musical interest, so over the next years, I pursued this.

It was a wonderful moment, of course. I realized this was a great gift of nature. I should point out that this was linear synthesis. It is not modulated in the logarithmic frequency space but in the linear frequency space.

– Dr. John Chowning to Elektron's Elektronauts
FM synthesis was entirely an ear discovery. John couldn't explain the math behind it, but as a musician he heard its potential. As he dedicated the next four years to studying math and learning the mechanics behind it, he heard in it the possibilities it could present to other musicians as this "customization" tool to create their own sounds. All sounds of the universe, in theory, were made up of partials of sine waves, and this form of synthesis unlocked them all.
The Beginnings of FM Music
In the early '70s, during the heyday of analog synths, John had begun creating basic sounds like drums, brass, and vocalizations using his FM synthesis technology. Max Mathews, aware of John's studies, tried to convince him to patent his work. John, rather than deal with myriad legal and financial headaches, wanted to focus on his musical career and decided to leave that aspect to someone else. That someone else, became Stanford itself, whose Office of Technology Licensing became the entity to which he signed over the patent to FM synthesis. They'd be the ones to bear the monetary risk to license the tech, while John could retain some involvement in the process, and a small amount of income as the inventor.
Music For FM Computers – John Chowning "Stria"
For the small fee of $1, John turned over the FM Synthesis patent to Stanford, and turned his eyes towards music, using his discoveries to create compositions like "Sabelithe", "Turenas", and "Stria" going straight from computer to tape. In his music you can appreciate how FM synthesis differed from analog, subtractive or additive synthesis. Compositions like "Sabelithe" transformed seemingly percussive sounds into brass-like tones. "Turenas" created the illusion of sounds moving in a 360-degree space without the use of an orchestra, chamber quarter, or else, just a musician, his computer and speakers.
Despite his trailblazing work, John would eventually find himself out of a job at Stanford University. Stanford couldn't see why paying someone to develop a computer music system could add anything of appreciable value to their music department. As instrument companies like Hammond, Lowry, and Wurlitzer came around to ask about FM Synthesis, they'd have a listen, like the sound and leave, unable to understand it. Stanford struggled mightily to find anyone who was interested in leasing John's patent.
Yamaha's Future Music
By the mid '70s, rapid globalization and industrial revitalization had made Japan a first-world economy ready to compete in various commercial markets. In America, Japanese guitar brands like Teisco, Aria, and others had introduced wildly popular cut-rate versions of increasingly expensive American models, much like Zenith, Panasonic, and other Japanese brands rivaled in quality and price, the production of other consumer goods. In the keyboard realm, as much they tried, no Japanese brand, neither Korg, Roland, or Technics, had ever made as wild a leap into the world of the studio musician.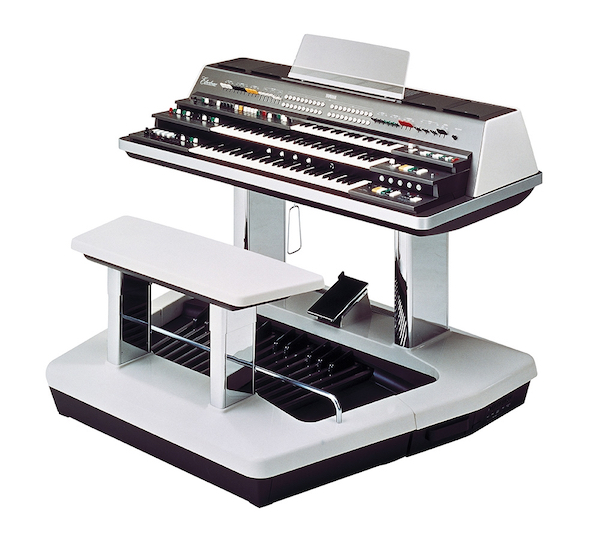 Sometime in that same period, Yamaha, a Japanese company better known for their high-end pianos and motorcycles, sent a young engineer from Japan to visit Stanford to investigate this FM synthesis technology. Where others failed to comprehend, this engineer understood it and its implications instantly. Yamaha's first attempt at a completely digital synth, the GX-1, was far too expensive and out of reach for most consumers.
Looking forward to a digital future, Yamaha saw potential in FM synthesis — enough to lease it for a year for commercial use. Now that Stanford saw a renewed interest in John's work, John was invited back and he remade the music department founding CCRMA (Center for Computer Research in Music and Acoustics), bringing to life what was only a distant vision when he started.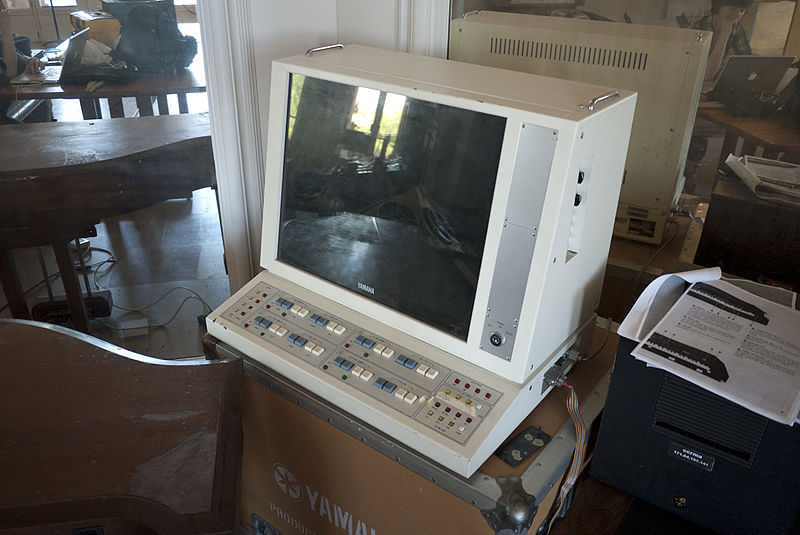 In 1974, John began working closely with Yamaha to create the first working prototype of an FM synthesizer. MAD, as it was called, moved away from the limitations of analog synthesizers. No longer monophonic and temperamental in sound, using semiconductor technology it could be used to shrink down and digitize ideas — amplitude, modulation, pitch — into something the size of an inexpensive chip. Rather than establish a rule that only a particular oscillator could function as a carrier or modulator, they rechristened them operators, letting them be either. Rounding out its sonic capabilities were a digitally-controlled amplifier and envelope generator to sculpt the contours of its timbres.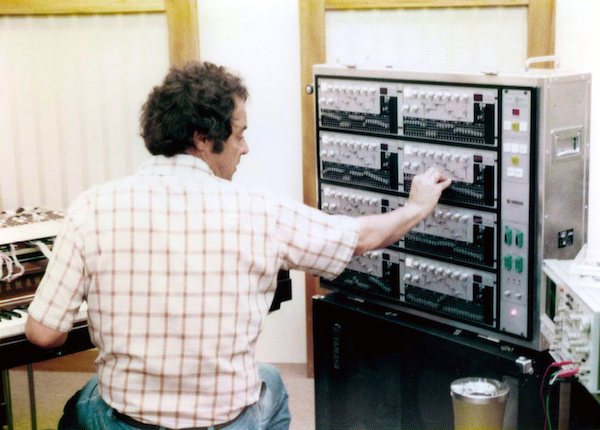 A close relationship with Yamaha's engineers yielded sonic advances that translated into technology that was coming closer and closer into appearing on a commercial model. Yamaha was slowly mutating from a company selling simply unaffordable quasi-digital dream synths like the GX1 and CS80 into a fully digital company.
Music For FM Synthesizers – Toto "Africa" (on Yamaha GS-1)
When Yamaha finally came up in 1977 with their first fully digital synthesizer, they fully invested in Stanford's FM synthesis patent, securing rights to it for the next 17 years. It would be worth millions in future royalties for the university…if they got the tech right. For the next 3 or so years, Yamaha stumbled in getting their first fully FM synthesizer out the gate. Somewhere, in that time spanse, Vermont-based company New England Digital Corporation released the wildly priced Synclavier, the first wholly commercial truly digital synth, incorporating FM synthesis. Stanford quickly sued and received recompense for every Synclavier sold. Yamaha swiftly picked up the design pace.
In The Danger Zone
First came two FM synths, which by Yamaha's own standards, were prohibitively costly. Yamaha's GS-1 and GS-2, released in 1981, were bought and sent to some of the world's most famous musicians — all 100 hundred of them who could afford them. Chowning, though, realized that if Yamaha made something more accessible with that same tech they could "turn the world upside down." That synth would come two years later: Yamaha's DX7.
Francis Monkman Demonstrates the Yamaha DX7
Rather than emulate any existing instrument, Yamaha's DX7 was aesthetically and sonically an instrument for a new era. Priced more appropriately at $1395 and featuring 16-note polyphony, the barrier to entry was gone for most musicians used to Yamaha's high-end niche market. Gone were the upfront knobs, modules, and controls of existing heavy, metal-machined analog synthesizers. In came the plastic slider, button membrane, and lightweight polycarbonate enclosures. Rather than inundate you with hundreds of oscillators, patch points, and controls (which in essence, its 6 operators all offered), it elegantly provided 32 pre-configured algorithms to choose from to create your own tones.
Prefabricated Music For Mass Markets
As the DX7 was snatched up by the greater mass market, everyone began to discover and make use of its included 32 preset sounds (down from the original 128 preset patches created in 4 days by the CS-80 team). Beginning from [1 BRASS 1] and ending on [32 TAKE OFF], you too could play the same sounds Elton John, Chick Corea, and countless others used to build off to create their own sounds and used in making their own hits. Now whether most ever bothered to go beyond those first patches and really wrap their heads around the deep synthesis offered in, its arguably byzantine data entry system would be beside the point. Now you could buy preset cards to instantly load up other cool sounds.
Music For FM Synthesizers – Howard Jones "What Is Love?"
By itself the Yamaha DX7 was pioneering, but sporting MIDI technology, it became revolutionary. Paired with any self-respecting personal computer — perhaps an Atari ST, Apple IIe, or Commodore 64, any musician now had the power to create an infinite amount of unique tones, sequence what seemed a limitless amount of songs, and commit to memory all those sounds. Add an outboard digital effects unit and suddenly those supposedly "sterile" sounds gained a life unlike anything else.
Music For FM Synthesizers – Paul Hertzog "On My Own" from the Bloodsport OST
From 1983-1989, the time of its run, Yamaha's DX7 was ubiquitous and inescapable. You heard [15 BASS 1], its first bass preset, pumping through Kenny Loggins "Danger Zone" and a year earlier on a-Ha's "Take On Me." Whitney Houston couldn't have sung it any better if she didn't have [11 E.PIANO 1], the DX7's first electric piano patch, backing her in "Saving All My Love." That same patch would serenade a different kind of love when it was used to introduce David Lynch's Twin Peaks.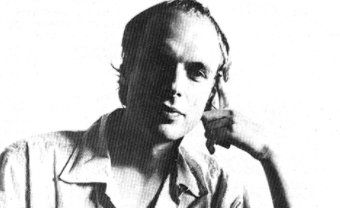 The reason why I enjoy the DX7 so much is because it teaches me so much about sound. Compared to samplers, for example, it is a new concept in sound-making. Samplers are fine and dandy, but not conceptually different from a tape recorder or a Mellotron. The DX7, on the other hand, is a quite new way of generating sound.

— Brian Eno to Keyboard Magazine
---
In Yamaha's native Japan, Hiroshi Yoshimura and his trio of FM synths — the DX7, TX7, and FB01 — bothered to decipher the manual, creating "interior music" for those living in prefabricated houses, with music that seemed far more organic and outward looking.
Music For FM Synthesizers – Hiroshi Yoshimura "FEEL"
Then, somewhere else in England, one of Yoshimura's musical influences, Brian Eno, took hazy memories of old American country music radio drifting through his childhood and transplanted it to tones, atmospheres, and songs fashioned on the DX7, rendering these bits of nostalgia into otherworldly musical bytes that he could easily share through spreadsheet printouts for Keyboard Magazine.
Music For FM Synthesizers – Brian Eno (with Daniel Lanois & Roger Eno) "Deep Blue Day"
As Yamaha sold ever more DX7s, the instrument became more ubiquitous and inexpensive. Yamaha's FM synthesis technology was on the same trajectory, begetting ever smaller and more cost-conscious instruments. This trend continued until Yamaha could produce all this FM technology onto the size of a chip that they could license.
Licensees like Sega, who would use a softened version of it, the 4-operator YM2612, to soundtrack music of a different kind, for a different medium, made by composers like Yuzo Koshiro, Spencer Nilsen, and Masato Nakamura, heard on games like Streets Of Rage, ECCO the Dolphin, and Sonic the Hedgehog.
Music For FM Soundchips – "Space Walk" from Thunder Force IV composed by Toshiharu Yamanishi, Takeshi Yoshida, and Tomomi Ootani
And how did they do this? Well, it all began on that fateful day when John actually stood still and really listened to the sound coming from those computing machines.
In our video, as we go through a few of the iconic hits created with the trademark-quality sounds found on the original DX7, albeit done with Elektron's wonderful reimagining of FM synthesis for our generation, try to think of where else you can take these sounds found in others driven by its technological spirit.
The tracks for this video aren't meant to be 100% exact recreations, but each segment features tones that are eerily similar to those used in each song, using primarily Elektron's Digitone and Model:Cycles. Here, for the most part, Elektron's Digitone is doing all the heavy lifting (due to its wider depth of controls and flexibility). Elektron's Overbridge software really opened up the sound design features found in Digitone's FM engine.
Although the Model:Cycles is more limited control-wise, it's also more beginner-friendly, making it easier to get good sounds fast and much more difficult to mess things up quickly. Model:Cycles was used mostly as a drum machine to replicate the crunchy rhythms of that era.
While both have built in sequencers, we opted to sequence certain parts from this session through Apple's Logic X over USB MIDI and used the Arturia Keystep Pro for most keyboard and performance functions.
Finally, our recording chain, consisted of a Neve RNDI Stereo DI box going straight into an Apollo Twin X.