I've spent the past three months with the Pioneer XDJ-RX2 and I've really grown a liking to the unit. So far, I have performed with it on five Twitch streams, recorded multiple sets, and practiced with it for hours. I have come to understand its strengths, its features that I love, and its quirks.
The XDJ-RX2 falls in line as the successor to the XDJ-RX. The RX2 really expanded on a pivotal all-in-one DJ unit. Best of all, the RX2 has the same feature that allows you to save your specific deck preferences just like you can on CDJ units.
Best Update: The Touchscreen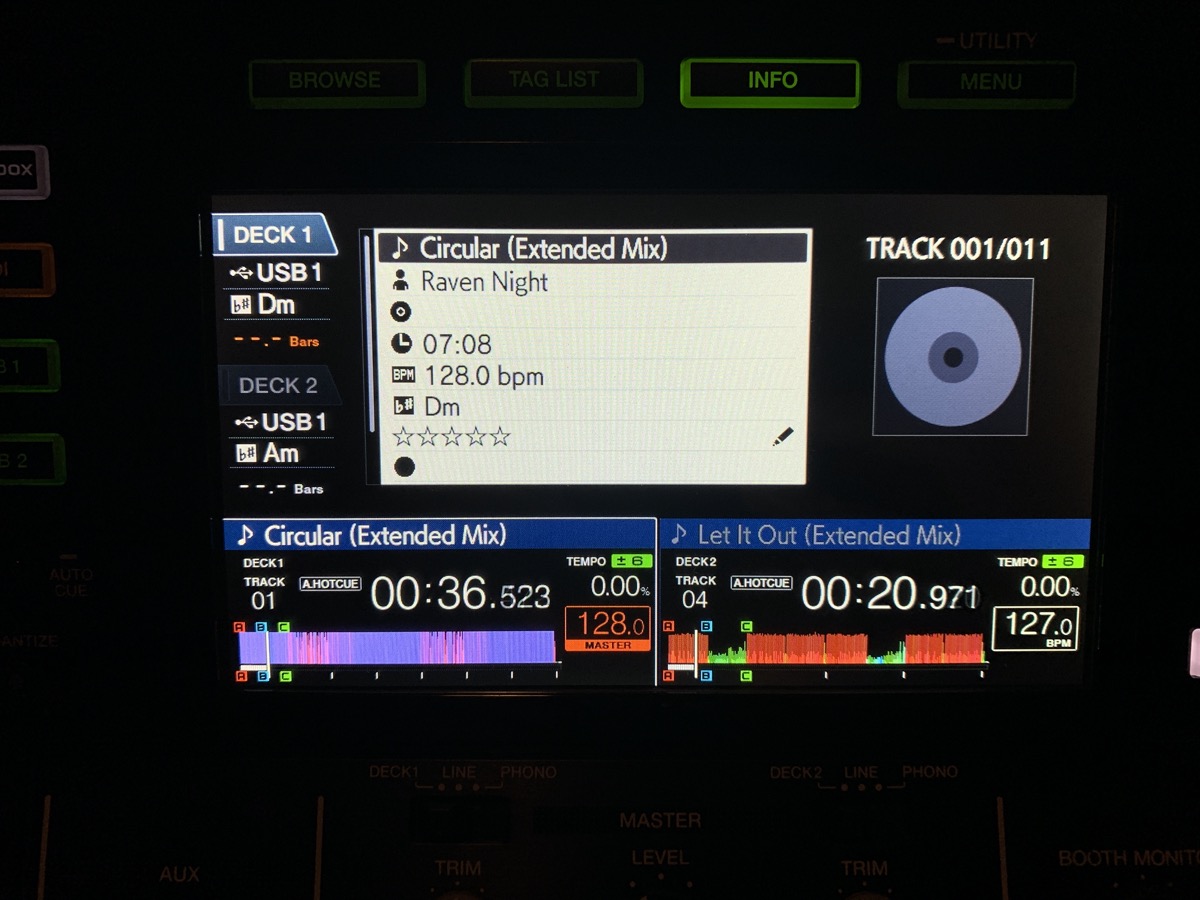 Two of my favorite updated features of the RX2 are its touchscreen and the 16 performance pads that line the bottom of the unit.
The touchscreen allows for easier navigation through the unit, especially when using its keyboard to search for songs. This also allows for easy sorting and tagging of songs you might be getting ready to play in your mix. The performance pads not only work for hot cues, but they also work with beat loops, beat jumps, and slip loops. All of these are really fun for creative mixing from song to song. This works as a standalone unit, which is mainly how I have been using it, or as a MIDI controller for DJ software, like rekordbox.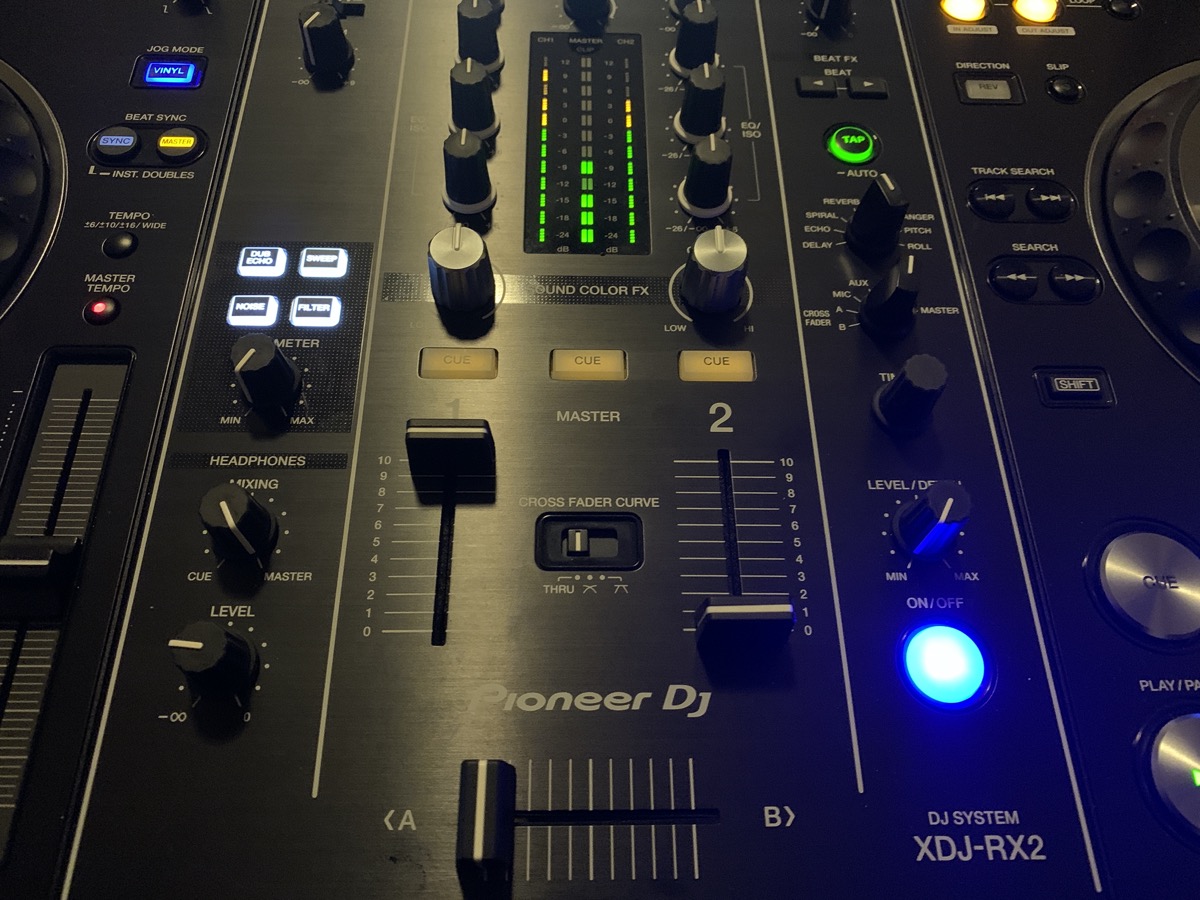 The mixer can be used as a standalone mixer with external turntables or with CDJs. There's a switch on top of each channel that lets you pick between line, phono, and the internal deck. The mixer section has 4 color effects for each channel, Dub Echo, Sweep, Noise, and your standard filter. The mixer also features a standard group of mixer effects. The inputs and outputs feature a pair of XLR, a pair of RCA, and a pair of 1/4″ booth outputs.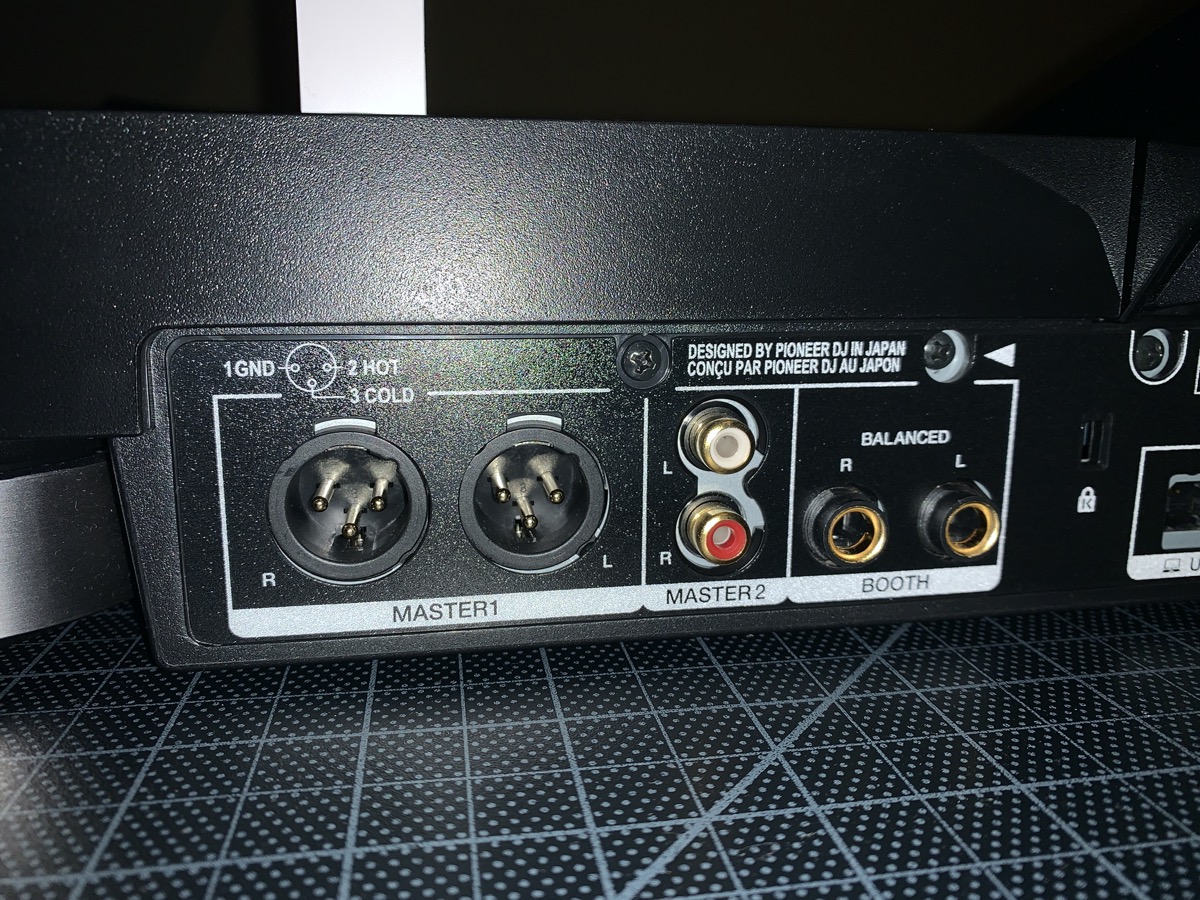 Excellent for Recording
Pioneer DJ has made it very easy to record your performances on this unit. The XDJ-RX2 has two USB ports. To record the sets, I would use the first USB port as a music flash drive and the second as for a blank flash drive for recording my sets. This is a very nice onboard solution to capture your performance!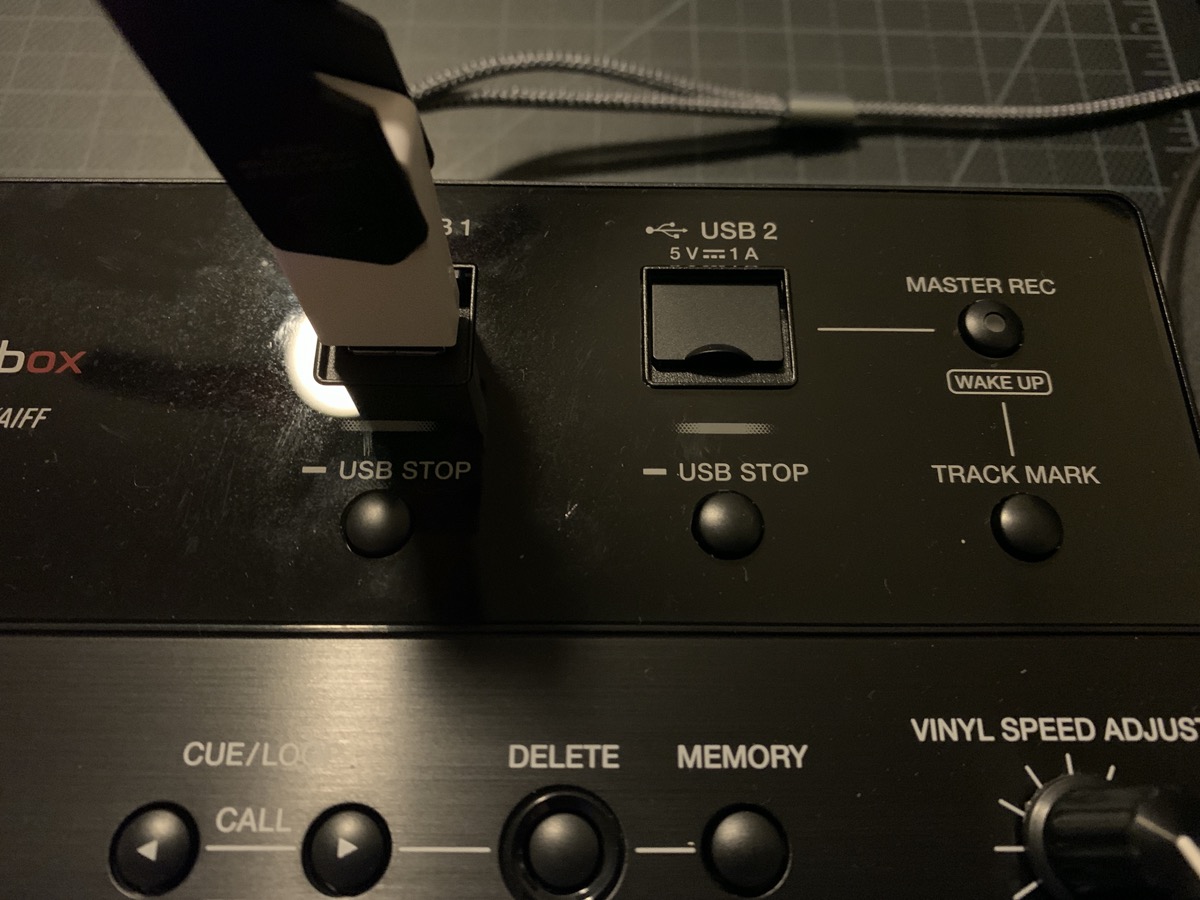 Drawbacks
The only thing the unit doesn't have are full-size platters or a jog weight adjust. I am coming from mainly using the Pioneer DDJ-1000, which has a 4-channel mix, with both jog weight adjustment and full-size platters. For several sets, I used the unit in standalone mode with an extra XDJ-700 plugged into the line input on channel two of the RX2. It was nice to be able to cue up 3 songs for a set. This was fun to perform with, although a dedicated mixer channel would be nice to have.
It's worth noting that there is a four-channel standalone version of this unit: the XDJ-XZ. That model also features a pair of full-size jog platters. For the price of the RX2, however, you can't beat the portability and the features it offers. It's rare to see a unit that is good for both veterans and new DJs alike.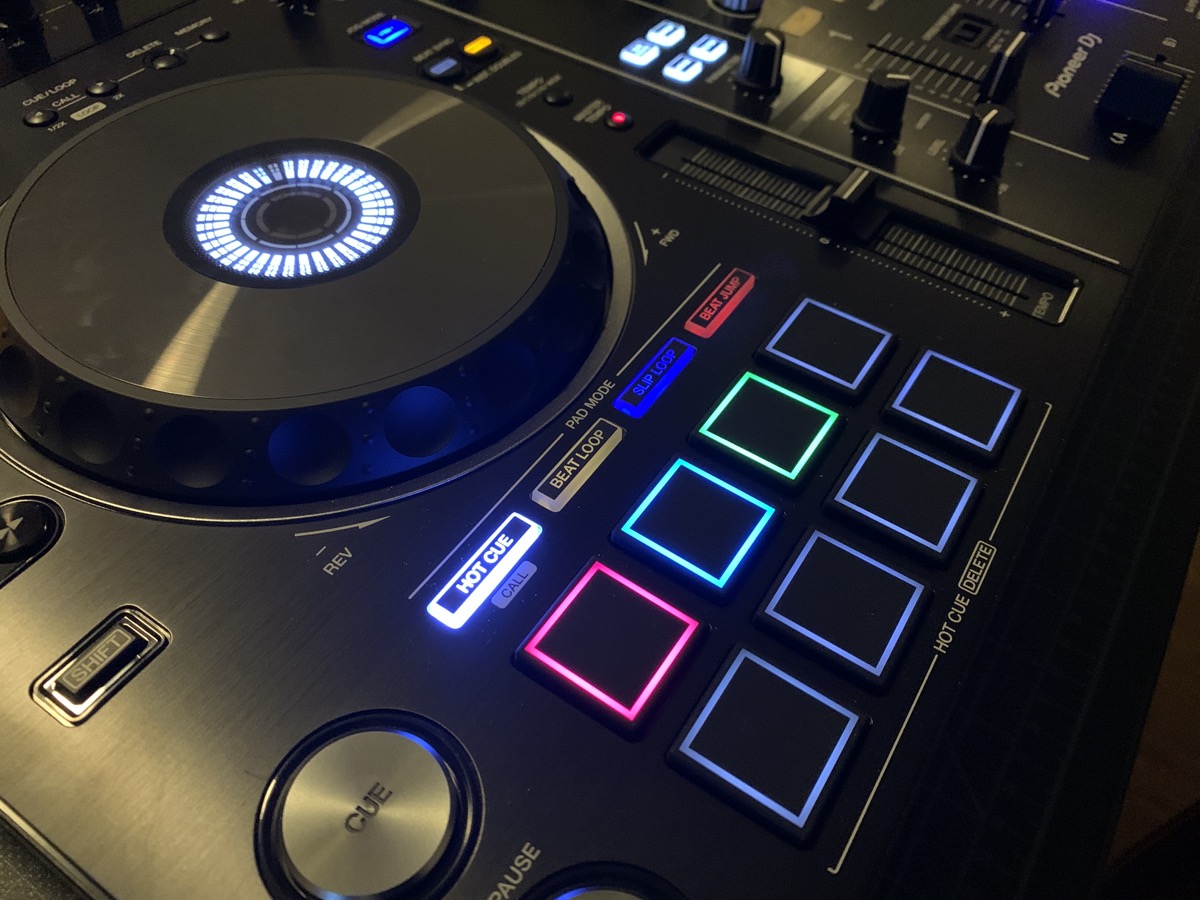 Final Thoughts
I think my favorite thing about this unit is that it is the closely resembles performing with Pioneer's club-standard CDJs and mixers. Besides practicing for a club set, the all-in-one unit really has its advantages. I wish I had one when I was a mobile DJ because this unit looks very professional and is in a compact package.
I think the biggest selling point for the XDJ-RX2 is that multiple sources can be used for music. I can think of a couple of gigs, one being a wedding, where my laptop crashed and I had no alternative for music. The XDJ-RX2 solves that problem. If I had it then, I could have changed over to a backup of my library on a flash drive.