The pedal industry has exploded over the past decade, and most guitarists have a few extra pedals lying around. Today we're going to take a look at some other uses for your pedal collection!
Makeshift Attenuator
There's no denying it, guitarists like things loud. Nothing compares to the sound of an overdriven tube amp, but our family and neighbors may not always be ready to rock.
Attenuators, like the Universal Audio Ox Box and the Boss Waza Tube Amp Expander are a great way to preserve tone at low volumes, but there are other ways to do this without the thousand dollar price tag.
Putting a volume pedal in your amp's effects loop essentially adds a master volume to your amp. This way, you still get all the great saturation and breakup of a tube amp, but at a much lower volume.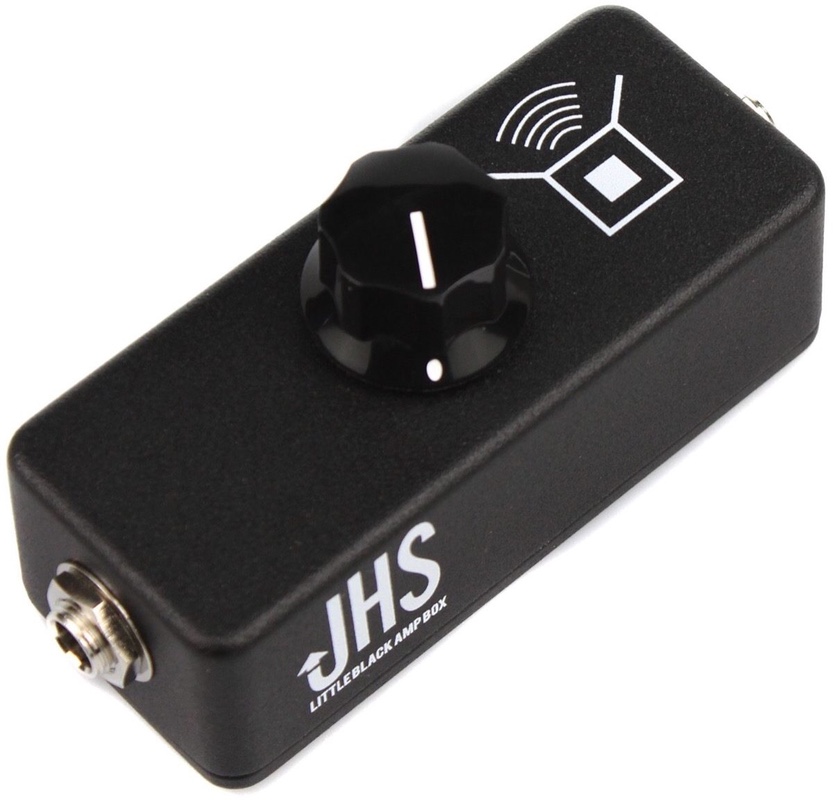 JHS also makes a pedal with this exact use in mind: The Little Black Amp Box Passive Amp Attenuator. Just plug this into your amp's effects loop and set the volume wherever it is best for everyone!
IMPORTANT DISCLAIMER: Make sure that you ONLY use this method with your amp's effect's loop. Putting these pedals between your amplifier and speaker can cause damage to the amp, speaker, and pedals.
Tremolo as a Boost
A lot of tremolo pedals these days offer controls for rate, depth, and also output level. While the intention was to provide balance between clean and effected signals, it can also be used as a clean boost. Simply turn the depth knob all the way down and then use the level knob to boost as you please.
Since most players tend to put tremolo toward the end of the chain, this can be a great way to boost your signal a little more before it hits the front of your amp. Below, I've recorded a few samples using my EarthQuaker Devices Hummingbird as a clean boost, and boosting the signal before and after an overdrive for comparison.
Overdrive for Clean Tones
In the age of digital effects and amp emulators, it can be pretty easy to forget about one of the most basic controls in guitar history: the volume knob! With the right overdrive pedal, you can turn a clean amp into a two-channel amp you can control right from the guitar itself.
By rolling off the volume, you can clean up the tone of a distorted guitar, and when it's time to shred, just pull it back up for the fully overdriven sound. Using a drive pedal for your clean tone can help to add some character to an otherwise sterile sound. This technique also works great with a naturally overdriven tube amp.
In the samples below I'll be testing this out with my G&L Tribute Series S-500 and my PRS SE Custom 22 Semi-Hollow to compare how this works with humbucker and single-coil pickup-equipped guitars. As always, I'll be using my Fender '65 Princeton Reverb Reissue, and an Ibanez TS808 Tube Screamer for the overdrive.
These first two audio clips feature both guitars 100% clean with no overdrive engaged for comparison.
These next two clips have the TS808 engaged. For the first half, I have the volume rolled down to get my "clean" tone, and in the second half I pull the volume back up for playing the lead lines.
Pedals as Outboard Gear
In one of my previous blog posts, I explored re-amping various signals through guitar effects and amplifiers. With all of the boutique pedals out there today, and many ready to handle line level signals, it is pretty easy to use pedals as outboard gear.
From adding distortion or a phaser on keys, to delay and reverb on vocals, the possibilities are endless. It can be a great way to add a unique sound to your recordings and utilize old pedals.
Just for fun, I tried running an old vocal track through my Earthquaker Devices Avalanche Run. For the first 20 seconds, the track is still playing while I twiddled some knobs. Everything after that is just pure soundscape created by the delay artifacts and changing parameters on the delay.
Well that's all for today folks! Hopefully this gave you some ideas on how to make use of any pedals you haven't used in a while! I'd love to hear your ideas, so feel free to drop a comment below!