At this year's Summer NAMM show, Stan Cotey, Fender's Vice President of Product Development, looked at 21 pedals lined up in a neat row inside the Fender booth and smiled. None of these existed about 20 months prior, and designing them was a labor of love.
Fender wanted a new line of pedals that set itself apart in tone, features and premium build quality, but at a price that working musicians could afford. A strong emphasis was placed on originality, and creating pedals that had a unique reason to exist.
"One of the places we were coming from was trying to get back to how Leo [Fender] would solve problems and how he would approach things," Cotey said.
A perfect example is the first pedal realized for the line, the Level Set Buffer. Cotey came up with the idea years earlier while living in Nashville. He had begun using multiple guitars to play with various acts, and developed the buffer as a way to keep consistent tone and volume while switching instruments on stage.
"Some [pedal] ideas will come from our CEO, some will come from customer service people that we have that are great — they're like the unsung heroes of stuff a lot of times," Cotey said. "Ideas come in from all over the place."
The pedal line has also opened the doors collaboratively with luminaries in the field like Alex Aguilar, current Fender designer and formerly of the Aguilar bass amplification company. Aguilar helped in developing the Santa Ana Overdrive and the all-in-one Downtown Express Bass compressor/overdrive/EQ pedal. Amp guru Bruce Egnater also worked closely with Stan on the MTG Tube Overdrive and MTG:LA pedals.
"You can get most sounds from [the MTG Tube Overdrive] pedal," Cotey said. "Dynamically, it feels very much like a tube amp. That was meant to be the general practitioner of the two distortion pedals.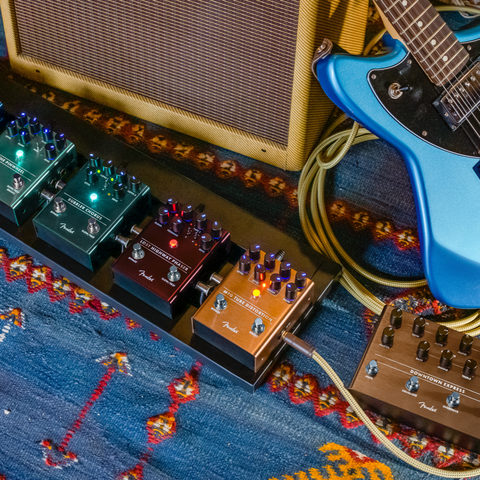 When we did the LA version, the feature set is slightly different. Voicing-wise, the LA version was a little more inspired by what was happening in LA in the late '80s and early '90s. It's punchier in the low end and low mids. The top end and texture of the distortion is different. It's more of a rock thing."
When asked which pedal seems to be the most popular of the line, Cotey named The Pugilist. The unique distortion brings together two uniquely voiced gain circuits you can blend together for just the right amount of articulation or stack in series for searing distortion.
"I was trying to not be polarizing," Cotey said of The Pugilist. "I was trying to make it very flexible and open-ended."
Another standout in the line has been the Marine Layer Reverb, which offers players several high-quality digital reverbs that are each very usable, at a fair price.
Lately, Cotey says he has become enamored with dynamic sensitivity in pedals that allow players to change an effects sound with how hard or softly they play. This has been incorporated into designs like The Pinwheel rotary speaker emulator, Bubbler Chorus, and Lost Highway Phaser.
With handfuls of pedals being released each Winter and Summer NAMM show for the past couple of years, Cotey and the engineers have no plans of slowing down. The summer NAMM 2019 class saw the release of the Smolder, designed to nail the tricky-to-get-right acoustic overdrive, so, as Cotey notes, the spirit of innovation is alive and well.
"I want to continue to push us to do new things that you won't find anywhere else."