Getting a signature model is a dream for many musicians. Creating something to your exact specs, tastes and sonic preferences is definitely a sign you've made it. We asked zZounds staffers what their dream signature gear would look like and we got a range of cool ideas. Check them out below and let us know about yours in the comments!
Vegan Jazz Bass
I have simple taste when it comes to my bass. I prefer a White Fender Jazz Bass with Fender Noiseless Jazz Bass pickups. One thing I would make sure of if I was designing my dream custom bass is that it would be free from all animal products. The fact that many full-production instruments use animal products is an unfortunate compromise I often have to make. My signature model from Fender would replace any hide glue, real bone nut, pearl inlays or clear coat shellac/paint with animal-free alternatives. Additionally, condensing my control harness down to just 1 single volume pot (with tones hardwired to be dimed) would make for a simple and effective vegan Jazz Bass.
-Hannah, zZounds Credit Team
Ambidextrous Keytar
The world needs a left-handed keytar! All commercially available keytars are designed so you can play leads with your right hand, and work the effects controllers (modulation bar, pitch-bend slider, etc.) with your left. I generally play keys with both hands, but when I do need a hand to control effects, I'd rather keep the bass going with my left hand, and have my right free. If you want a keytar like this, you currently need to make a custom hack-job instrument.
Sure, a left-handed keytar may seem like a niche market, but since '80s-inspired synths are hot right now, it's time someone steps up to manufacture a lefty instrument en masse.
My signature instrument would be a "modular" keytar where you can detach and flip the effects controller section from one side of the instrument to the other, ROLI Blocks style, so you can play left or right. Rad, right?
To go along with this fictional dream-world keytar, I'd want a wireless sustain/damper pedal for playing piano and EP sounds. Most keytars have a TS jack for a standard-issue wired sustain pedal, but it's hard to run around on stage with a wired pedal plugged into your board.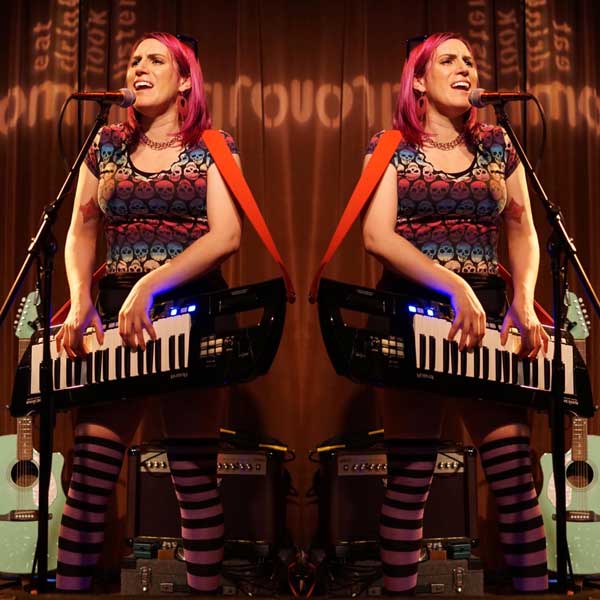 Right now, I solve this problem by mapping an AirTurn footswitch to MIDI CC 64 (sustain), and sending wireless MIDI to a laptop. The laptop is hosting virtual instruments controlled by a Yamaha MD-BT01 wireless MIDI adapter plugged into my keytar's MIDI out. This is way too much gear for such a simple result.
So, my signature pedal would send MIDI control data wirelessly to the Yamaha MD-BT01 to control the keytar's on-board sounds. You could configure it as a sustain, volume, or expression pedal, and you wouldn't need a computer to host it. I'd gladly put my name on that.
-Maya, zZounds Content Manager
One-Of-A-Kind Tele
I've always been partial to the Fender Telecaster. A loyal follower, I've seen my axe collection grow and shrink based upon my pursuit of the perfect Tele. Now sitting at a half-dozen guitars, I am without a solid humbucker-equipped guitar. Though my heart still yearns for the screech and buzz of an Ash body and Vintage '52 single-coil pickups, I feel like adding a Shawbucker in the bridge with a push-pull split-coil switch would make my rig a bit more versatile.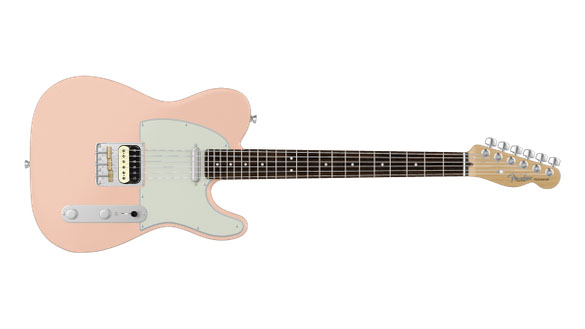 Since this guitar most definitely already exists, I would add another push-pull knob that controls an on-board Earthquaker Devices Hoof Fuzz, with most settings set around noon. Along with the internals, I'd like it to be a "trans-shell pink" finish (so you can still see the swamp ash grain underneath,) a full rosewood satin-finished neck, with one of those bigger "C" neck profiles, like on the '70s Fender Strats. Sort of simple, sort of unique, but still a Telecaster. Honestly, Leo got it right the first time.
-Nick, zZounds Drum Merchandiser
King Chorus/Stegosaurus
The chorus effect is hands-down my favorite effect on guitar. I think it started with my love for Nirvana in high school and stuck with me as I obsessed over the guitar tones of Mac Demarco and King Gizzard. Over the years, I have found that I like to combine my chorus effect with a gentle bit of overdrive. Currently, I use the JHS Moonshine Overdrive into a BYOC Analog Chorus Pedal that I built. My ideal pedal would combine these two effects in one pedal.
The layout of the pedal would be similar to the Earthquaker Devices Gray Channel, but the right side would have an overdrive and the left would have a chorus effect. The chorus effect would be similar to that of the Boss Dimension C Chorus and the overdrive would have a dry/wet option like the Moonshine. It would also have an expression pedal input. The pedal would have a 3-position switch that allows you to select the parameter that the pedal changes. Position 1 would assign the expression pedal to the chorus section's depth, Position 2 would assign the expression pedal to control gain, and Position 3 would do BOTH! I have no reasoning for this expression pedal idea, I just think it would sound sick to ramp both of those up at once for an intense King Gizzard-style bridge section. To pay respects to King Gizzard and the Lizard Wizard, the pedal would be called The King Chorus and the Stegosaurus. The art on the pedal would be a Stegosaurus wearing a crown.
– John, zZounds Gear Expert
Jazzblaster
My signature guitar would be the guitar I built myself this past year to play in my band, The Burst and Bloom with a few changes…..
A Fender Jazzblaster, in black nitrocellulose paint, with a black pickguard, Fender Wide-Range humbuckers, block inlays and binding on the neck, with a matching black headstock. My current guitar started life as a Fender 60th Anniversary Classic Jazzmaster in black. Then I bought a set of the Mojotone 72′ Clone Wide Range pickups, a custom pickguard from the fine folks at Decoboom, and a Mastery bridge.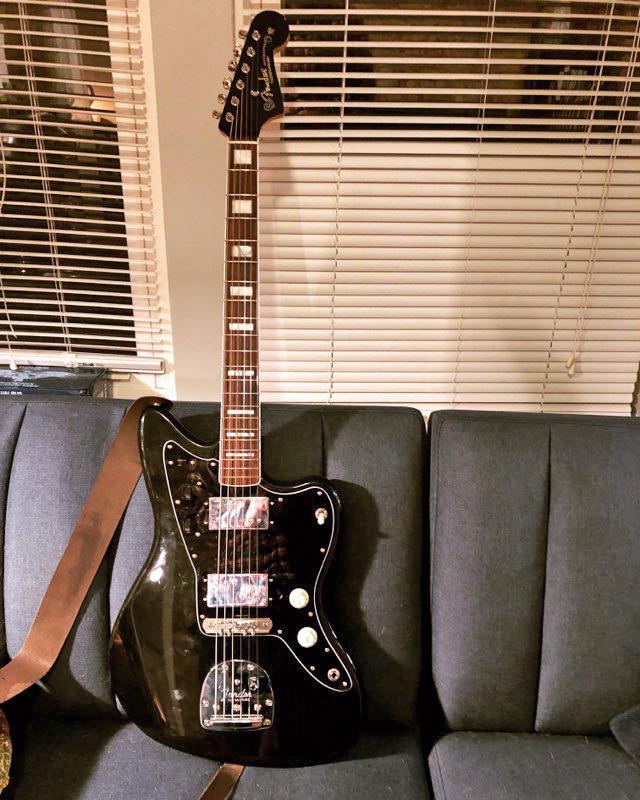 The Jazzmaster shape and layout always feels like home for me. But often the vintage threaded saddles and bridge leave a lot to be desired for the way I play, so in my build, I went for the Mastery bridge. Johnny Marr and Troy Van Leeuwen opt for Mustang-style bridges on their signature offsets, and my signature would share that same feature. The perfect version of this guitar would also have the perfect neck: a '62-style neck shape, rosewood fretboard with a 7.25 radius, block inlays and binding, and vintage-sized 6230 frets.

And If they want to throw in a 65′ bandmaster reissue signature amp head, I'd be cool with that too!
-Vince, zZounds Chat Team
J.J. Cale Harmony Special Acoustic-Electric Guitar
In a perfect world, someone would have the courage to recreate J.J. Cale's lovingly modified Harmony acoustic guitar. The old $50 Harmony (as heard in wonderful albums like Okie, Naturally, and others) was a dirt-cheap acoustic guitar bought in J.J.'s home base of Tulsa, OK. Jury-rigged with all sorts of electronics and structural things, it was meant to stand in for something he couldn't afford: a solid body electric guitar.
Much like the great masters — DaVinci, Bartok, Renoir, etc. — J.J. Cale's guitar never remained a work in situ, but a work in flux, with J.J. constantly imagining new things to add on to it, like microphone jacks, synth triggers, etc. This rendered the guitar, with all its markings, a never-finished masterpiece: errant hole openings, reckless drill holes, improvised hardware accoutrements and inspired situational pickup placements, stamping that fact. Countless outputs allowed him to send a mixed bag of audio signals to mystified FOH sound guys. It's a guitar that could only be fashioned in his head and out of necessity due to his lack of money. It's what made the tone of those early records impossible to replicate — Clapton, himself, included.
Gutted enough to never be bothered to keep a backside, J.J. Cale's guitar, presciently had a glowing red light installed almost asking you to stop and take notice. Now, if someone had the guts to do it, somewhere up high and down here, there'd be both a chuckle and a pair of wide eyes waiting to greet its timely resurrection.
-Diego, zZounds Keyboards & DJ Merchandiser
A No-Compromise Partsmaster
If I ever got a signature guitar, it would be very similar to a Partsmaster I once had made, just done right. In a nutshell, mine would be far more playable and of higher quality components. I'd go with a mahogany body, roasted maple neck and bound rosewood fretboard. Higher output Jazzmaster pickups and a Mastery bridge would round out my requirements.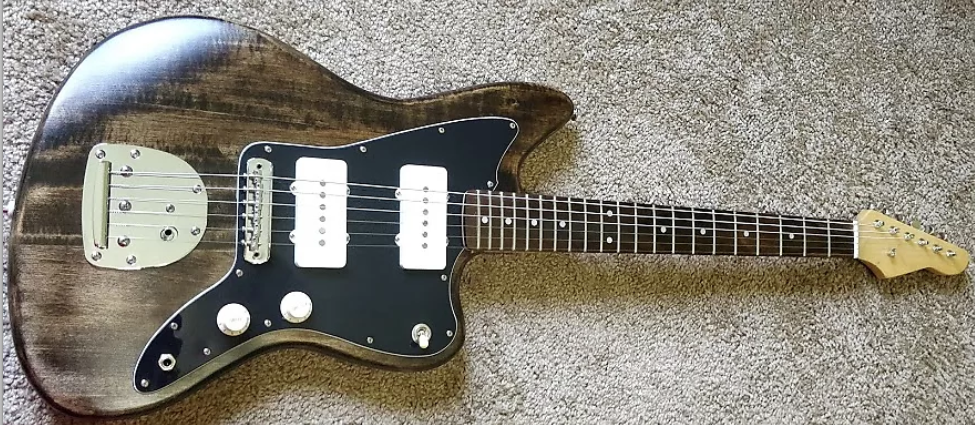 The guitar I did own was of dubious build quality and featured lackluster pickups, pots etc. The rep from the site that made these was vague on where they sourced parts from. I found out only after (finally) getting the guitar that he bought them from a supplier known for hit-or-miss quality.
I could never get the action right and the high E string, like Aerosmith's Steven Tyler, was "Livin' on the Edge" and would routinely roll off the end. The pickups were weak, and the pots did nothing until turned past 7. Eventually I lost patience and sold the thing.
What that guitar did get right was the walnut stain finish, which came out pretty much exactly how I wanted. My signature model would definitely have that same look.
-Mason, zZounds Blog Manager, Accessories Merchandiser