Endorsements are a huge sales driver in any industry. It's why young basketball stars are wooed to sign shoe deals with brands like Nike and Adidas. Or former NBA stars like Shaq, who get courted by brands like Icy Hot and Gold Bond.
Music gear is no different, with a history of artist endorsements going back at least as far as Chet Atkins and Les Paul. But even if an artist's name isn't on the gear, they can still influence plenty of fans to buy an item to get their sound. In this edition of Talking Shop, we ask:
What artists or bands have influenced one of your gear purchases?
Jonny Greenwood of Radiohead
I am a bonafide Electro-Harmonix Small Stone addict, and I blame it all on Jonny Greenwood of Radiohead. For the longest time, OK Computer was one of my top favorite albums. It's still up there, but I mean, I used to listen to this album non-stop back in the day. I've played guitar since I was pretty much a kid, but I had mostly just plugged straight into the amp. I bought a crappy plastic distortion pedal back then, but it wasn't really doing much in terms of good tones. In college, I started experimenting with effects a lot more, and introduced myself to the wonderful world of modulation.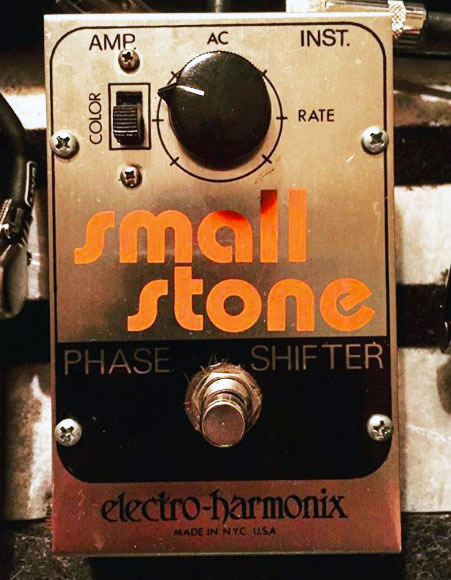 Like I said before, I love OK Computer, and I had to have whatever made the guitar sound so warbly in the verse sections. The early internet led me to believe it was the Small Stone, so I went out and bought one. I was hooked immediately. The tone was so lush and warm, and of course I did that thing where you get a cool new pedal and use it on every song. I mean, I learned to be a little more conservative with its use over time, but sometimes you just can't help yourself at first.
Adding to the first one, I've picked up two more Small Stones. The first was a Version 4 from the early 2000s and saw hundreds of shows and countless tours, so it got rocked pretty hard. The poor little thing finally gave out around 2012, so it enjoys a nice retirement on a shelf in my home studio. The next one was a Version 3 from 1979. The most recent one I picked up a few years ago is the Version 2 from 1977 or 78. Might as well try to find a V1 to complete the family. Damn you for this GAS, Greenwood.
-Sergio, zZounds Guitar Merchandiser
Joey BadA$$ & J Dilla
My taste in hip-hop was very much shaped by my obsession with one specific mixtape growing up, Joey BadA$$'s "1999." Still, to this day, I am blown away by the statements that he made on this mixtape at the age of 17. My favorite track on this project, "World Domination," was produced by the legendary and mysterious MF Doom. My discovery of MF Doom eventually led me to one of the most legendary producers in this genre, J Dilla.
As many of us know, J Dilla changed the game with his incredibly creative sampling and rhythmic patterns that are slightly behind the beat. He achieved this sound with a lot of devices, but he is most well-known for his mastery of the MPC 3000.
I used to produce beats in Logic, and still sometimes do, but my love of Joey BasA$$ and J Dilla convinced me to buy the Akai MPC Live. Now, I often find myself recording vinyl samples of jazz greats like Chet Baker and chopping them up to make my favorite style of hip-hop jams.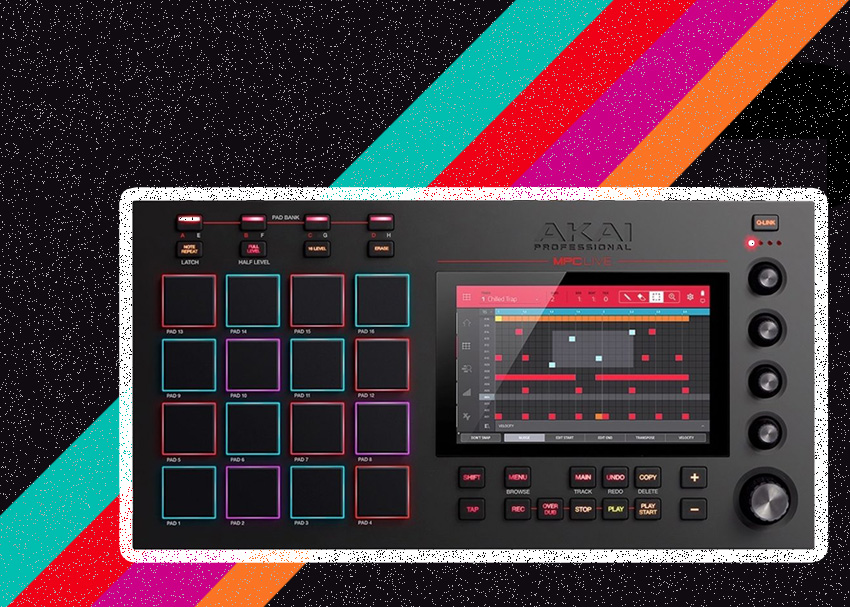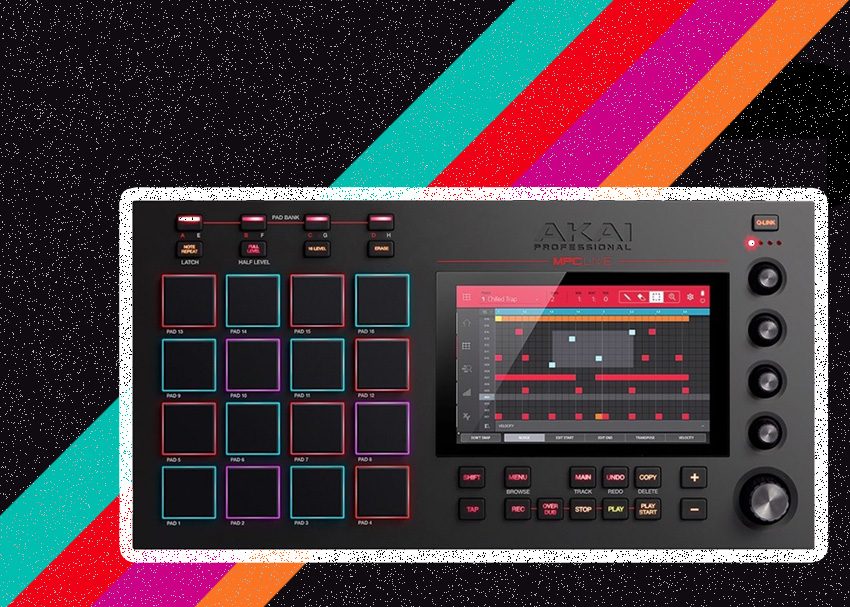 The MPC has truly taken over my creative process because I even use it to write rock music when I'm in the mood to write that genre instead. I know I'm not the first to buy an MPC out of my obsession with Dilla and I definitely won't be the last, but I am glad that his music introduced me to a device that is so fun to use.
-John, zZounds Gear Expert
Deb DeMure of Drab Majesty
I was done buying pedals and feeling pretty confident in my board until I made the mistake of Googling "what kind of chorus pedal does Deb DeMure use?" I have always been a bit of a junkie for chorus pedals, to the point where I consider it less of a momentary effect and more so something that makes up my core sound. For this reason I was pretty enraptured when I first heard Drab Majesty at the Empty Bottle last December, who encapsulates the sounds of some of my favorite '80s and '90s bands like Depeche Mode, The Cure, etc., while using the genre as a platform to grow. I quickly came to realize that amongst the drum samples, synths and sunglasses was a glorious chorus sound that they too use as a key element of their core sound.
My Google search led me to a recent interview where Deb confirmed that a big part of Drab Majesty's sound is the Boss CE-2 chorus. On the purchasing front, this came to me as a bit of relief as its near cousin, the Boss CE-5, has been a staple on my board for several years, to the point that the sound of it to me almost feels like home. I have recently returned from a year or so long crusade away from this pedal in pursuit of the "holy grail" of boutique chorus goodness, only to find that this was truly the pedal that I had always been looking for.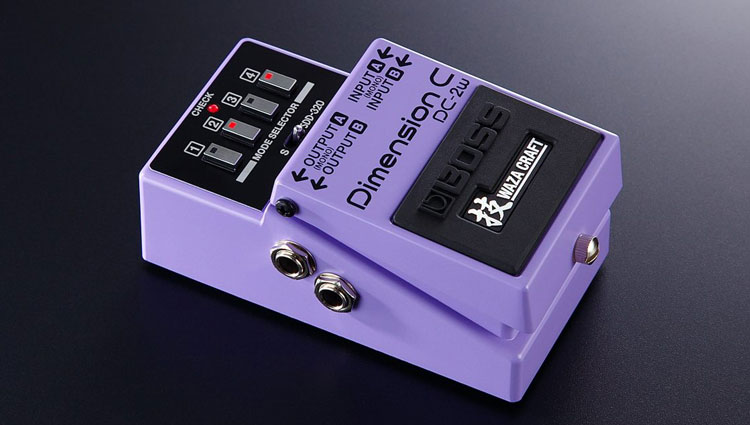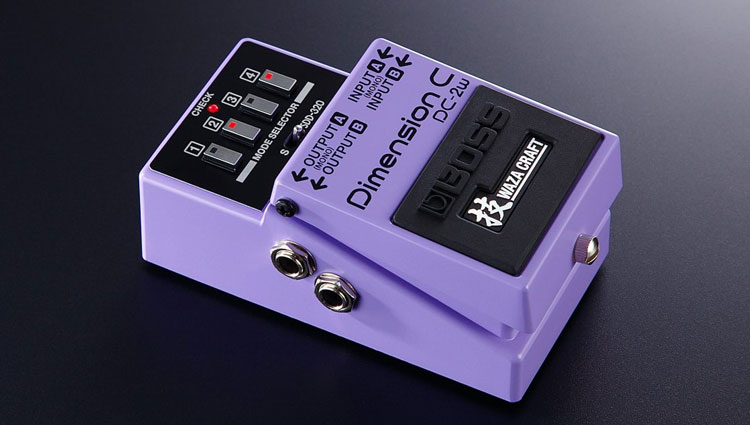 The second part of Deb's answer about chorus pedals led me to the Boss DC-2W. Needless to say, a brand-new one had arrived at my door a few days after reading. This faithful reproduction of the original DC-2 pedal also offers versions of the sounds from the Roland SDD-320 at the flick of a switch. A little playing time in and I'm thinking that both the DC-2W and CE-5 are going to have to live on my board from here on. In other words, "score two for the original Boss box."
-David, zZounds QC Specialist
Joe Goldman of Code Orange
I'm a sucker for some dirty bass. Growing up listening to a lot of metal and hardcore, I was exposed to bass tones that ranged from beautifully distorted to awfully flat and fuzzy. But no performance moved me quite like Joe Goldman's on Code Orange's album Love is Love//Return to Dust.
Upon first listen, I was immediately thrilled to hear a bass tone that was equally comprised of sludge, punch, and clarity. Listening to this record in excess permanently ingrained Goldman's tone into my brain. I was soon compelled to learn how he created such a perfect balance of brightness and grit. Interviews with the bassist expose his preference for a setup that was simultaneously low maintenance and dynamic. Goldman expressed an enthusiasm for Orange Amps that really caught my attention and was undeniably a big influence in my decision when I picked up my first bass amp.
After scooping a lightly used OB1-500 head, dialing in my own aggressive tone has never been easier. The amp's flexible gain controls are useful when I'm trying to balance the right amount of overdrive while incorporating other effect pedals into the mix. To this day, I'm still floored by the amp's ability to offer such power and precision in one package.
-Jack, zZounds Customer Service Representative
Brian Eno, Terry Riley, and others
Here I am looking at, and vaguely reminiscing, about my Casio CZ-1000 keyboard. The origin story is quite nondescript: found it and bought it from someone at a garage sale, saving it from its consigned-to-dumpster bin legacy, over a decade ago. At first, I couldn't make heads and tails of it. From its seemingly unending LCD menu diving to it's decidedly vague operating architecture, I was (admittedly) lost. Now, after many years of piecing together its operating manual and exploring its wonderfully quirky synthesis structure, I am sold, religiously backing up (in the modern world) every unimaginable creation I've done with it.

In that supposedly "outdated", phase-distortion synthesizer stands some of the latest/greatest technology, of the '80s, all dressed in budget clothing. I used to hate it. I used to picture it as not "real" enough. After really listening to the music of Brian Eno, Terry Riley, Kate Bush, and Hiroshi Yoshimura, and realizing they did some of their (and possibly some of the) best work on a Yamaha DX7 (its closest, sonic brethren), I've come to peace that all I really need in my electronic life can be found in my CZ. After a while, all these modular and analog synth rack wants, and their assorted effect doohickeys, have revealed themselves to being what they always were: noisy lust.
Digital synthesis forces you to accept how important it is to realize that what you're doing is sculpting something new out of the unseeable waveforms found in the very unlikely, human combo of math and circuitry. There's something liberating about that, I argue. Now, I don't buy anything unless it moves me to make actual, better music. I'll leave the aimless meandering with sonic toys to other boys.
-Diego, zZounds DJ and Keyboards Merchandiser
Nicholaus Arson of The Hives
My perennial "favorite band" has always been the Hives. Something about discovering the treble-filled tones of guitarist Nicholaus Arson and raw vocals of Pelle Almqvist in middle school just changes a kid. I was that kid. Flash back to seventh grade, mid-2000s: my best friend Max and I are assigned to create a mock-radio station over the course of the semester in our "Industrial Tech" class.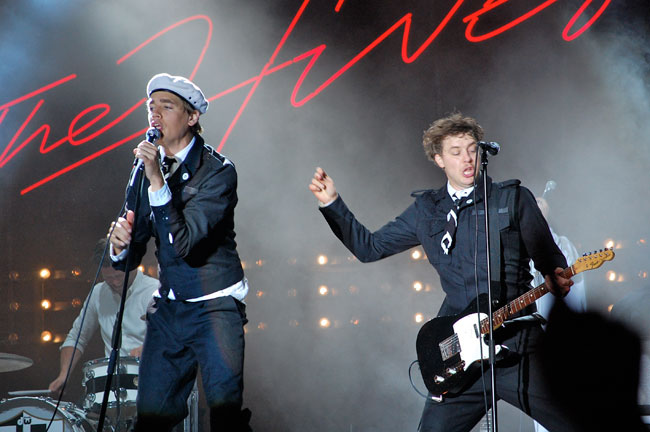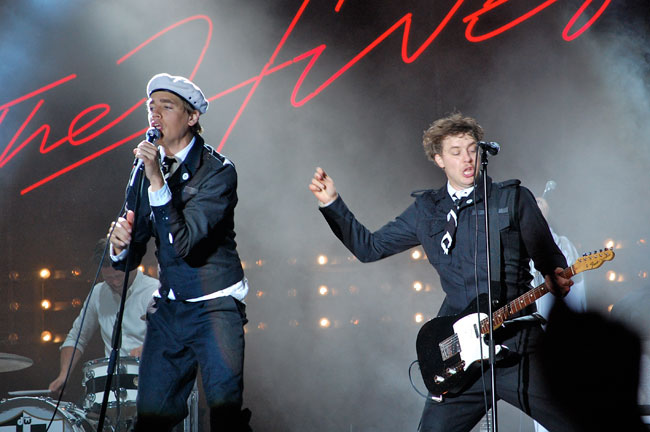 Since Max was a bonafide "sk8r boi," he was in charge of curating the music we would play. He brought in a binder full of silver CD-Rs with Sharpie marker all over them. The Sex Pistols, Goldfinger, the Clash, CKY, Slayer and of course, the Hives. He played "Supply and Demand" off the Hives "Veni Vidi Vicious" and it was over. My mind was made up and this is what I wanted to listen to and sound like for the rest of my days. Since then I have always used a Telecaster paired with single channel amps, just like Nicholaus Arson to get that sweet, screechy sound of early-2000s punk.
-Nick, zZounds Drum Merchandiser
Evan Patterson of Young Widows & Jaye Jayle
I don't know that he directly influenced any specific gear purchases I've made, but Evan Patterson of the bands Young Widows and Jaye Jayle has always been someone whose tone I consciously and subconsciously emulate.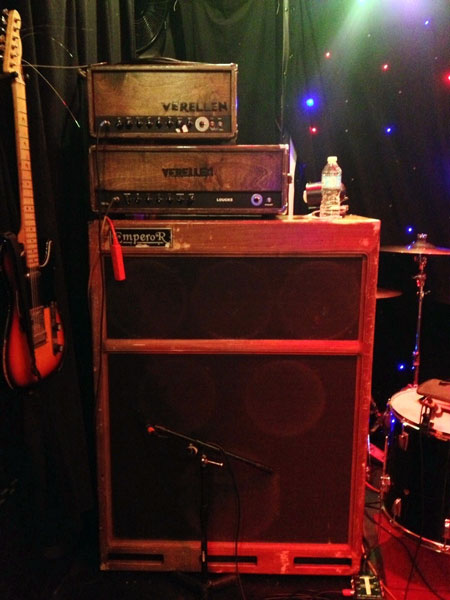 Early in Young Widows' career, he used these custom, oversized Emperor cabs with two Verellen tube heads, one running dark and clean at 100 watts and the other running dirty at a lower wattage.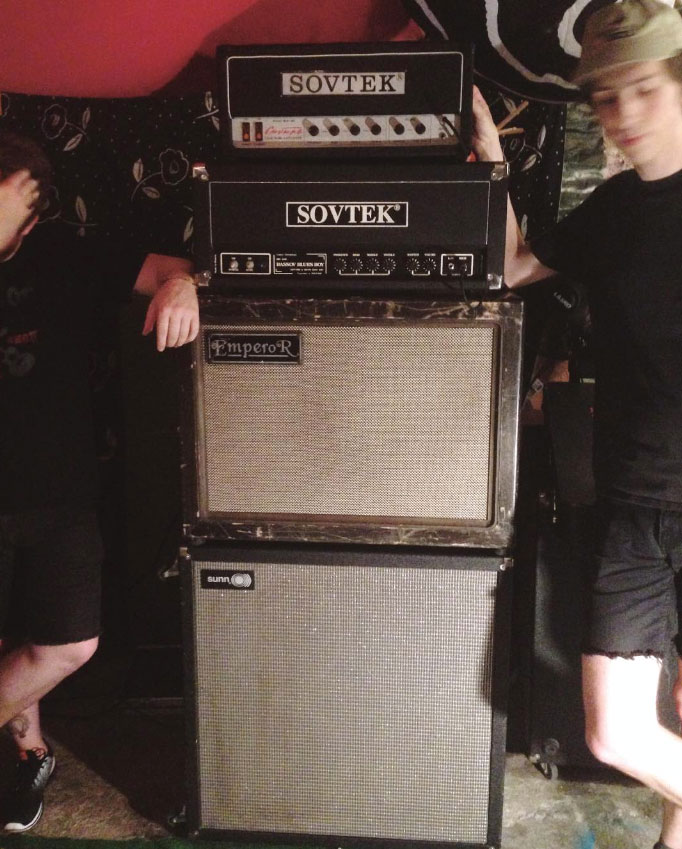 That super wide guitar spread, paired with reverb and a jangly, borderline sloppy playing style really struck a chord with me (pun intended). First and foremost, it got me into Emperor cabs, which have become a big part of my rig for the past decade. Secondly, though he obviously is far from the first person to do it, it opened my mind to using two amps. My favorite Evan Patterson-inspired rig, though I may not have known it at the time, was a Sunn 412 cab and an Emperor 212 cab with a 100W Sovtek MIG 100 Bassov Blues Boy running clean through the 412 and a 60W Sovtek MIG 60 running dirty through the 212.
– Dan, zZounds Guitar Merchandiser
Blake Schwarzenbach of Jawbreaker
A highly influential band for me is the '90s Bay Area punk band Jawbreaker. Some time in middle school I stumbled across them being referenced somewhere online by someone I considered a "legit punk." So I fired up Kazaa/Limewire/Soul Seek/BearShare/etc and downloaded a few tracks. I was already getting into punk via the gateway drug of Epitaph Punk-o-Rama CDs, but hearing the raw and bleak sound of Jawbreaker and Blake Schwarzenbach's gravely 4-packs-a-day voice, I knew I was onto something real.
In footage from every live show I watched, Blake was playing a left-handed White Gibson Les Paul Custom — A guitar I recognized from another one of my guitar heroes, Randy Rhoads. When I finally decided to ditch the off-brand Strat I got from a local music store, I knew what I wanted. Obviously a Gibson of any kind was unthinkably far out of my price range, but I knew I could scrap up enough cash (along with a my dad covering the rest as a birthday gift) to get the Epiphone version.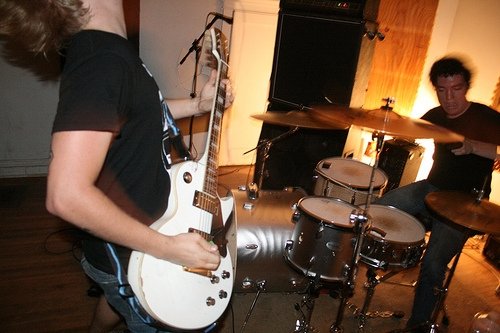 That guitar got me through an innumerable amount of terrible gigs, DIY tours, basement shows, etc and has earned plenty of scars along the way. Eventually I got nicer gear, and it was regulated to life as a backup guitar. I do still have the guitar now, it's far too beaten up to sell and it's a bit to much of a sentimental piece to part with. Plus it goes with the Jawbreaker tattoo I got when I was 19.