Welcome to Beat Connection, a series dedicated to promoting modern and vintage dance styles the only way we know how…by providing you a musical starting point to help you create that beat. In our previous posts, we took an in-depth look at all the tools available to help you create a beat and we've begun taking you on a journey to what I'd dub "foundational beats." These foundational beats are standard rock, pop, funk, R&B, and dance beats that every producer should know the ins and outs of. In our previous post, we took a little sojourn to discover the rhythms of an early, influential drum machine: the Roland CR-78. Today, it's time to drop another one, and make it reggae (we'll get to dubbing it in the next one)…
Repetition is a form of change.

Brian Eno, from Oblique Strategies
Reggae has a long history that's far too vast for one to cover here. Reggae, though, just on feeling, feels like the combination of many genres, stripped of their excesses. Imagine combining the groove of soul music with the laid-back feeling of country music. Then, imagine mixing into this musical stew the legacy and history, of the tropical African diaspora in one country who had been through English colonialism, then through independence, and then self-reliance. From the hypnotic drums of West African Vodun ceremonies to the chants of local Nyabinghi gatherings, only Jamaica could birth such a creation.
If one ventures to into reggae, one must know the groove stands tall as its totemic symbol: the One-Drop. Compositionally simple, it's been heard in countless variations, on many iconic reggae tracks. Accenting the backbeat of a steady 4-beat bar, the one drop, literally drops one kick and one snare sidestick hit on the third beat of the count. It's quite literally the perfect beat to lay off the more traditional first beat found commonly in rock or Pop music. Today, you'll get to create three variations on the same beat. With these three riddims (the common Jamaican patois word for rhythms) you'll have a foundation to create these three styles: reggae, rockers (a compromise for those who grew up before reggae with rocksteady, itself a mix of ska and rock music), and steppers (the more modern, dancefloor-friendly offbeat creation perfect for dub or dancehall music).
Just a refresher, in case you haven't gone back to the Beat Connection archives, what we're going to use to help you create beats is something called Grid Notation. If you don't know what Grid Notation is, be sure to check out the first post in this series which you can find by following this link.
By understanding and sequencing the following three drum patterns (A, B, and C) you should be able to expand upon each by adding additional parts, removing hits, or layering other instrumental grooves over them. Straightforward and very musical, you can almost hear the sound of a roaring guitar getting ready to wail over them. As always, the A section will correspond with the main pattern which normally the verses or main melodies play over. The B section will correspond with the groove you'd normally hear playing during the chorus or pre-chorus of a song. Finally, the C section will always correspond with the break in a song. C sections are perfect for building bridges between song sections or to break up the monotony of any other sections.
If you need any refresher on what A, B, and C sections mean (and how songs are built using patterns) be sure to check out this previous Beat Connection post explaining the ins and outs of Song Structure.
REGGAE RHYTHM – ONE DROP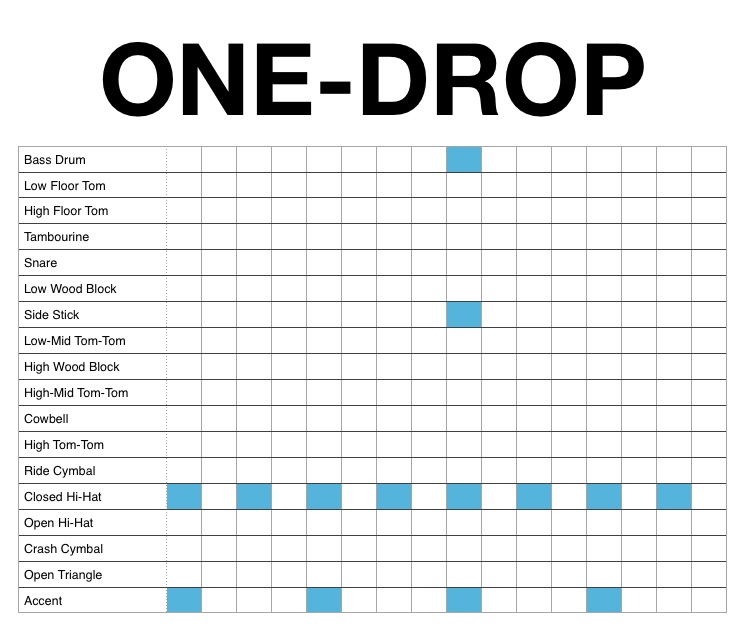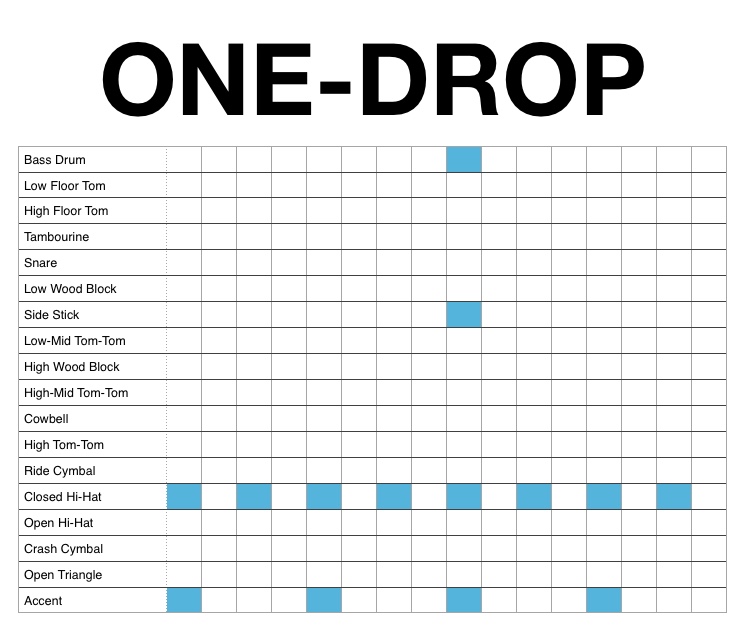 Here's the beginning. Reggae is derived from early Jamaican musicians hearing the music of America and England. They heard the soul music of urban America, and the rock music of elsewhere, and tried to reach a compromise that spoke to their own culture. Nyabinghi, mento, burro, and kumina music, the roots music heard in the hills of Jamaica, had a certain call and response that showed a way to do this. This music had a pulling, see-saw groove, where percussion would play a swinging 16th-note rhythm that their own chants would fall through — right on the crack of a musical bar. Inspired, these musicians would go on to replace akete drum percussion like funde, baandu, and repeaters with rimshots, kick drums, and cymbals, to get to the rhythm you see above. Carlton Barrett of the Wailers may have set the standard for this riddim in tracks like "Soul Rebel" but the roots had been there ages before him.
If anyone ever asks you what a reggae beat is, let them know its this: a simple eighth note hi-hat pattern with a kick and rim shot in the third beat. Unfortunately, though, one of the worst things about drum machines and DAWs in general, is that using a drum roll or step sequencer makes it hard to impart the swing real-life drummer impart on all these patterns. If you can, play each part yourself — using as little quantization as possible. If you can't, try to add some "swing," a feature you'll find in Ableton by navigating and applying swing to clips from the Groove Pool.
NOTE: the tempo in reggae music tends hover around 105-140 BPM. Samples above are set at 110 BPM.
REGGAE RHYTHM – ROCKERS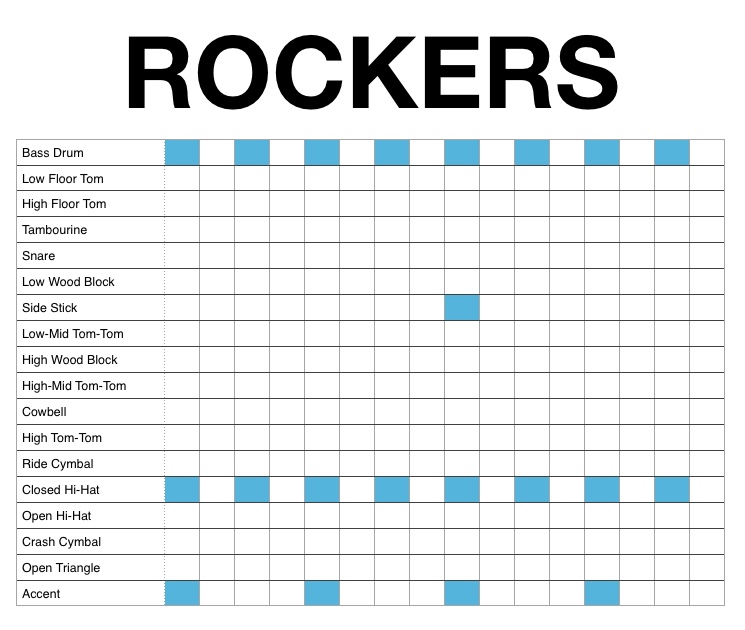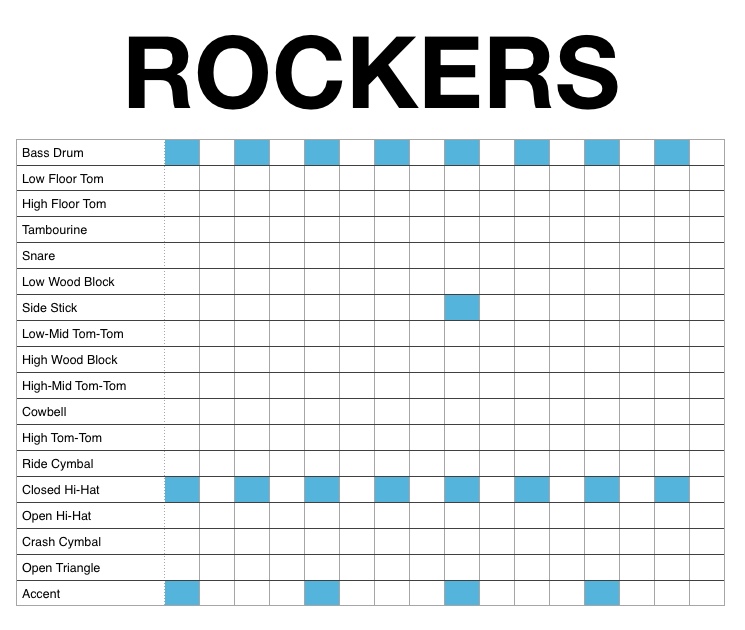 The "rockers" riddim was a groove popularized by members of Channel One Studios session duo Sly and Robbie. Attempting to add some more heat and propulsion to the laid-back feel of Reggae roots music and make it more danceable, they took inspiration from soul and R&B music and added a steady bass drum on every eighth note. Even though this beat became less relaxed and irie, accentuated back beats allowed them to keep emphasizing on the offbeat rhythm inherent in reggae music. Give or take a certain sidestick here and there, and voila — you had a rockers riddim.
NOTE: Rockers usually run slower in tempo, around 60-90 BPM.
REGGAE RHYTHM – STEPPERS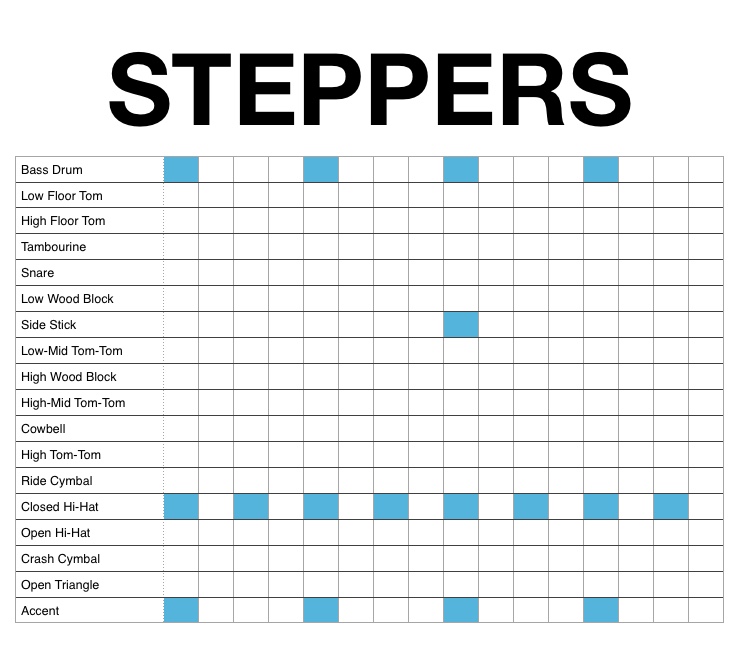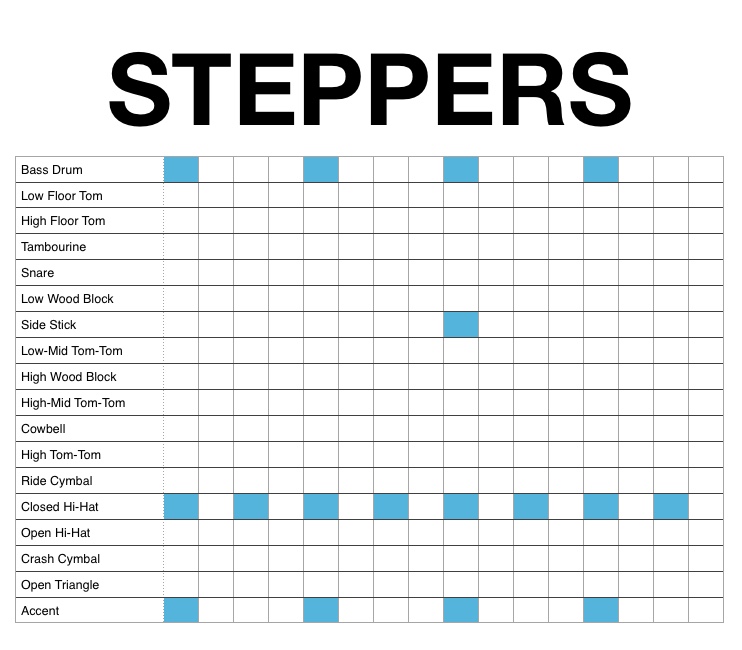 A steppers riddim took the transformation a step forward, by taking two steps backwards. Arguably, another Sly and Robbie creation, this time around they tried to match the incoming flux of disco and funk dance music infiltrating the island, by making reggae that was less "swingy" and more adamant, forceful, if you can infer some meaning from what I just wrote. This riddim, although compositionally far more conventional due to its four-on-the-floor pattern, reinforces the "crack". If you need something that can give your music the feel of reggae without completely losing your own take on something else, this is the riddim for you.
NOTE: Steppers usually run slightly higher than mid-tempo, hovering around 110-140 BPM.
REGGAE RHYTHMS – IN ACTION
As always, here's where I leave you with an example of what you can do with these foundational rhythms. Using the same patterns, I've created an Ableton Live session which you can download below, that uses the Gen Purpose Kit 1 drum rack found in Ableton's Drum Booth Pack (available as a free download in the full version of Ableton Live) to create an actual song. This kit is a generic drum set capturing the acoustic drums originally used in early roots reggae. On this track I slowed the BPM down to 90 to better encapsulate the languid vibe in classic reggae tracks. Normally, in most reggae songs only one riddim is employed throughout the song. On this track, to show the nuances of the different riddims, although the bass line (my take on a more "jungle"-influenced tone) remains constant, different riddims are cycled through, and leads come in and out. What better way to prepare you for the next post where we'll transform this track via dub techniques (of which you'll get a chance to create and use yourself)?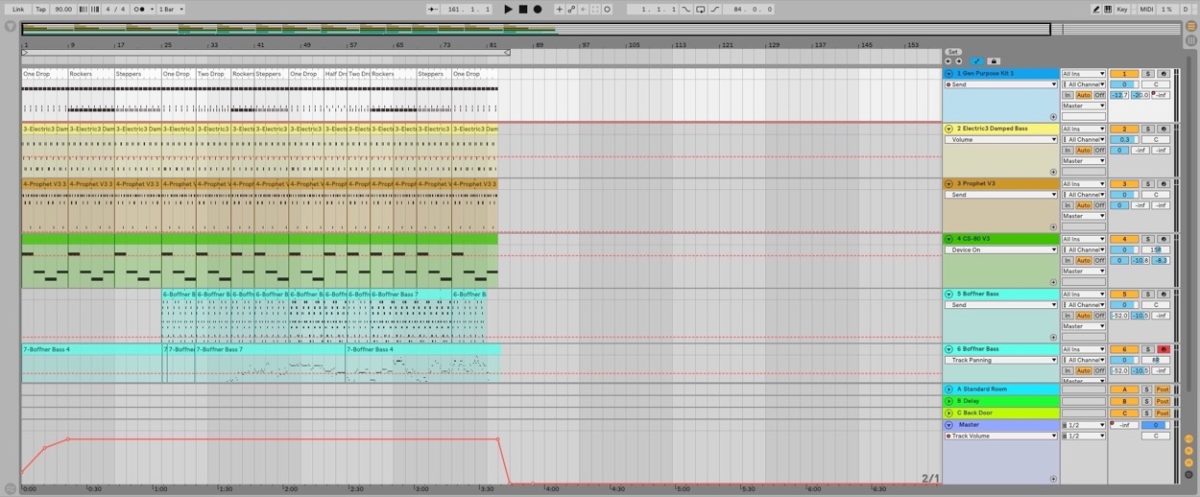 DOWNLOAD ABLETON LIVE PROJECT FILE – REGGAE DRUMS
All images and sound samples by author.