Welcome to Beat Connection, a series dedicated to promoting modern and vintage dance styles the only way we know how…by providing you a musical starting point to help you create that beat. In our previous posts, we took an in-depth look at all the tools available to help you create a beat and we've begun taking you on a journey to what I'd dub "foundational beats." These foundational beats are standard rock, pop, funk, R&B, and dance beats that every producer should know the ins and outs of.
In our previous post, we showed you what it takes to make a disco beat. Today, let's take a detour. Today, let's dive deep into a classic drum machine and discover all the rhythms that made it tick. For now, let's begin with the Roland CR-78.
Define an area as 'safe' and use it as an anchor

Brian Eno, from Oblique Strategies
Have you ever stopped and wondered why drum machines have certain preset patterns? I wonder about that all the time. In this era of post-everything, do we really need presets for styles like the waltz, foxtrot, or cha-cha? Who even dances the beguine anymore? Setting aside those styles, something as amorphous as "Rock 1, 2, 3, etc." "Shuffle" or "Swing" really makes you think: why are these rhythms even necessary anymore in a modern drum machine? This post won't try to dissuade you from questioning the appearances of these styles but to rethink them as crucial rhythmic starting points. To do so, let's take apart the rhythms found in Roland's CR-78 drum machine — one of the earliest programmable drum machines — and dissect why such patterns exist.
Understanding the Roland CR-78
For many musicians, the Roland CR-78 CompuRhythm drum machine was their gateway entry into the world of electronic rhythms. To understand this is to understand how this machine worked.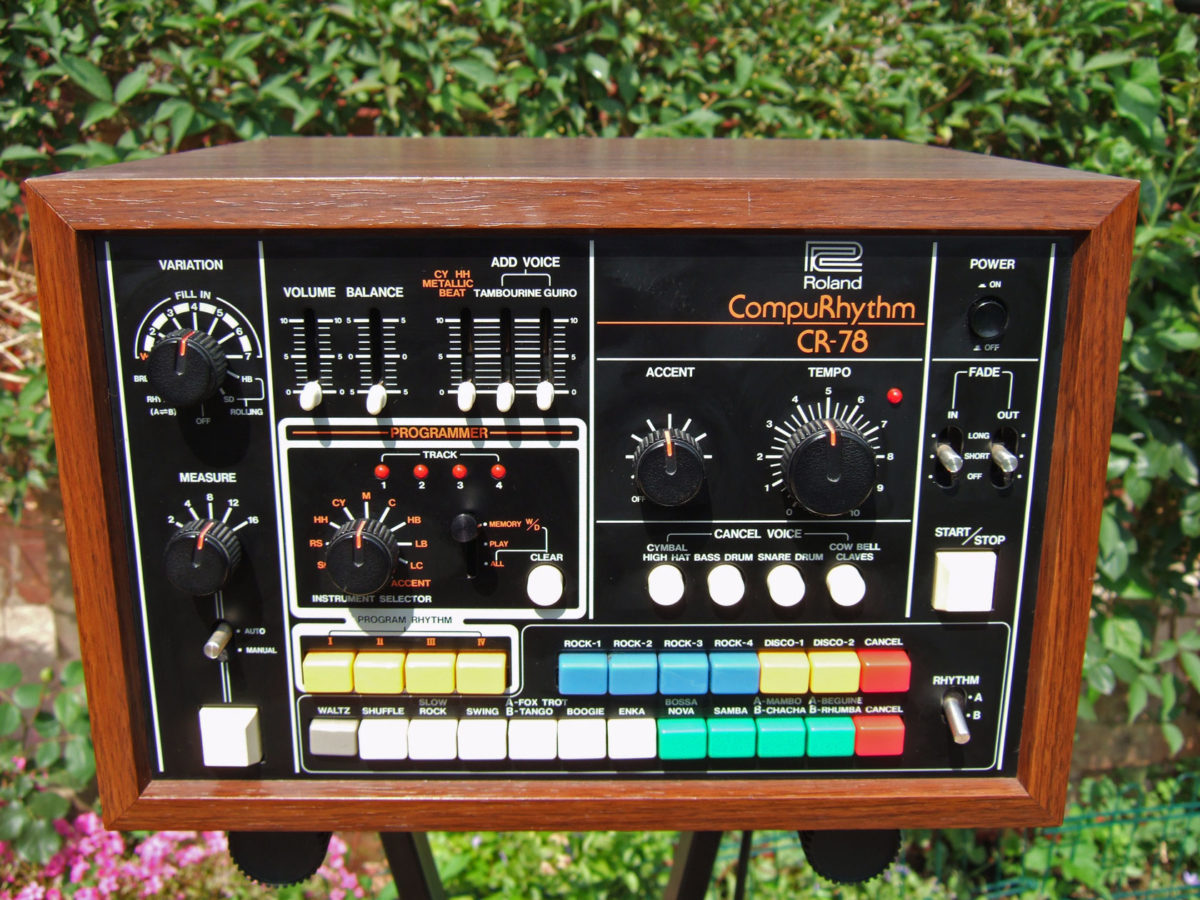 Rhythm Section
Beginning at the bottom, you'll notice two color-coded rows of "Rhythm" patterns. From left to right, buttons give you access to all sorts of rhythm. In order of rhythmic complexity, Waltz taps out the simplest rhythm pattern while the green button, that houses both Beguine and Rhumba patterns, taps out the most rhythmically busy patterns. While the bottom row gives you classic lounge rhythms, the top row of the CR-78 granted you access to more "contemporary" grooves — a must for early users of this machine. Rather than leaving you stuck with just these patterns, Roland afforded you the ability to stack patterns together. The intro to Blondie's "Heart of Glass" is a perfect example of pushing the Mambo and Beguine buttons at the same time.
Then, as you look left of all these patterns, you'll notice a metal switch titled Rhythm giving you two options: A and B. Affecting all preset patterns, this switch provides two distinct flavors of the same rhythm, with one selectable toggle. This switch, in the case of the Fox Trot, Mambo, and Beguine presets, also affords a similar, but distinct rhythm style within the same button.
Tempo and Volume Section
Going up counter-clockwise, notice the huge Start/Stop button letting you begin or pause a groove. Likewise, notice a Fade section that lets you affect the way a drum pattern fades in and out of volume when triggered to play or stop.
Moving to the left, Accent and Tempo controls are available, allowing you to set both the overall tempo of the machine and also the rhythmic accent found within each pattern. If you want to mute a certain voice within the preset, here you'll notice you can cancel out the bass drum, snare, cow bell/clave, and either all the cymbals or hi-hats.
Additional Voice Section
Moving to the left of the top preset row, notice a section which shows five slider controls: Volume, Balance, CY/HH Metallic Beat, and ADD Voice (Tambourine and Guiro). Located right above the Programmer section, these controls allowed you to control the overall volume of the drum machine, while also dictating how much to emphasize the higher frequency or lower frequency instruments found within the drum pattern.
Slide the Balance fader up and you get snappier hi-hats, cymbals, and maracas. Slide it down and you get a heavier bass or tom sound. The CY/HH Metallic Beat slider gives you the ability to add a metallic-type of tone or resonance that plays along to the whatever cymbal or hi-hat pattern is found, on a given, playing preset rhythm pattern. ADD Voice ends this section by allow you to control how much of a preset, steady stream of tambourine or guiro hits you can add to any given, playing preset rhythm pattern. Famously, John Foxx dedicated a whole song to this feature: "Metal Beat".
Variation Section
One more time, going one last time counter-clockwise, at the far left you'll notice a knob for something called Variation. Variation allows any CR-78 user to inject drum fills, of seven different kind, between pattern repetitions. Other selections, within the same control, allow you to insert a note break between patterns, or rolling high bongos or snare drums within the preset patterns (to function as pseudo-fills). Then a "rhythm" selector allows the drum machine to automatically toggle from A to B and vice versa for you — a must for any one-man band.
We're almost done. Venture just a bit down and notice a Measure control with "Auto" and "Manual" options plus a "Manual" button. This Measure control allows you to specify exactly when you want the fill or variation in pattern to kick in. From every "2" measures all the way up to every 16 measures, when set at "16." The "Manual" option switch lets you specify that you want to use that big button to manually press in a variation. That variation will take fold at the start of the following measure.
Programmer Section
Finally, lets round the circle, and come back to the Programmer section. This section was revolutionary for its era. Here you had four patterns, found in the "Program Rhythm" section, to dial and punch in your own grooves. First, you would begin by selecting a pattern (let's say Pattern I) and then press the [Clear All] button to clear all the drum hits entered in that preset pattern. Then, you would use an optional Roland TS-1 or WS-1 Trigger Switch to select how many steps this new pattern would be — from 8 to 48 steps in total. Using those optional switches you would select a drum hit, BD for bass drum as an example, and manually press one of two buttons dictating whether it will either take one beat or one rest in the noted pattern.
If you needed a 16-step pattern of four on the floor kicks, you would enter one BD beat followed by three rest button presses. Gradually, as you progressed all the way through all the steps, you'd cycle through all the hits you'd like to reside in your pattern. In the end, this would let you program a groove using just this machine. A painstaking process to say the least. It was the Roland CR-78 programmer's saving grace that it did in fact present this whole idea of what a step sequencer can do — one small victory for those who managed to do it right and hear their beat played back to them.
So now that we've reached full circle, let's get back into the groove. Understanding the importance and the way Roland CR-78 functions will allow us to discover how to make these same grooves found on the machine itself. All the while, you'll also get to discover tracks that took great inspiration/liberties from these same patterns.
Note:
Just some advice, in case you haven't gone back to the Beat Connection archives, what we're going to use to help you create beats is something called grid notation. If you don't know what grid notation is, be sure to check out the first post in this series which you can find by following this link.
By understanding and sequencing the following three drum patterns (A, B, and C) you should be able to expand upon each by adding additional parts, removing hits, or layering other instrumental grooves over them. Straightforward and very musical, you can almost hear the sound of a roaring guitar getting ready to wail over them. As always, the A section will correspond with the main pattern which normally the verses or main melodies play over. The B section will correspond with the groove you'd normally hear playing during the chorus or pre-chorus of a song. Finally, the C section will always correspond with the break in a song. C sections are perfect for building bridges between song sections or to break up the monotony of any other sections.
If you need any refresher on what A, B, and C sections mean (and how songs are built using patterns) be sure to check out this previous Beat Connection post explaining the ins and outs of Song Structure.
Waltz Rhythms
It all begins in Waltz time. Perfect for minimal or ambient arrangements, the two Waltz rhythms on the CR-78 gave off the small bit of syncopation found in a classic waltz by backloading the rhythmic pattern.
Shuffle Rhythms
Perfectly heard in Iggy Pop's "Nightclubbing", the CR-78's Shuffle – A rhythm fleshes out patterns found on the prior Waltz rhythms by adding additional cymbals to further pronounce the off-beat accents. You couldn't find a more perfect rhythm to mangle via reverb or delay effects. For this groove, you'll have to switch to Ableton Live's sixteenth note triplet mode to enter the groove precisely, as heard on the CR-78.
Slow Rock Rhythms
Slow Rock rhythms are two more patterns that take advantage of triplet beats. Meant to be played along slower, singer-songwriter ballads or Country-lilting tracks, Slow Rock offsets its steady, metronomic, hi-hat beat and alternating kick-snare pattern by shuffling just either just a bit in the middle, or just a bit near the end (depending on the rhythm you select).
Swing Rhythms
With a name like Swing you'd expect a busier pattern, right? The CR-78's Swing grooves are perfect for building complex melodic arrangements around. Another triplet groove, meant to serve more are as a pulse for arrangements than the focal point, Swing is a perfect pattern to use to trigger other synthesizers or to base bass lines upon. In the end, the more you add to this groove, the better it actually sounds.
Foxtrot Rhythm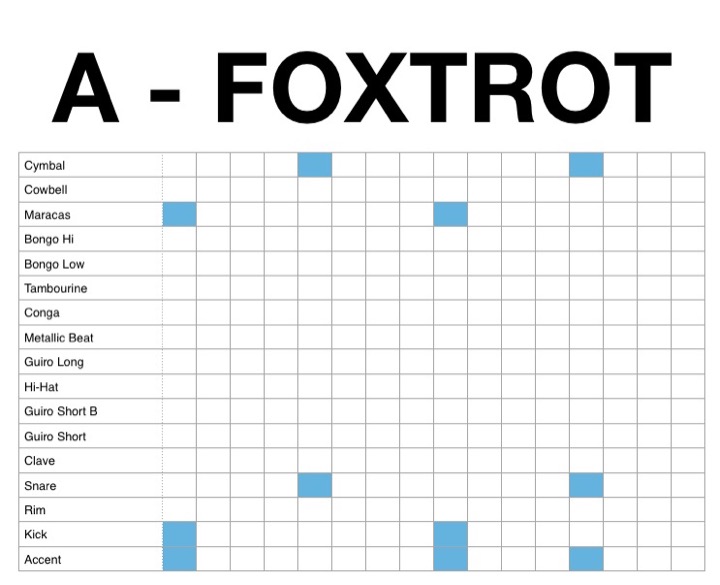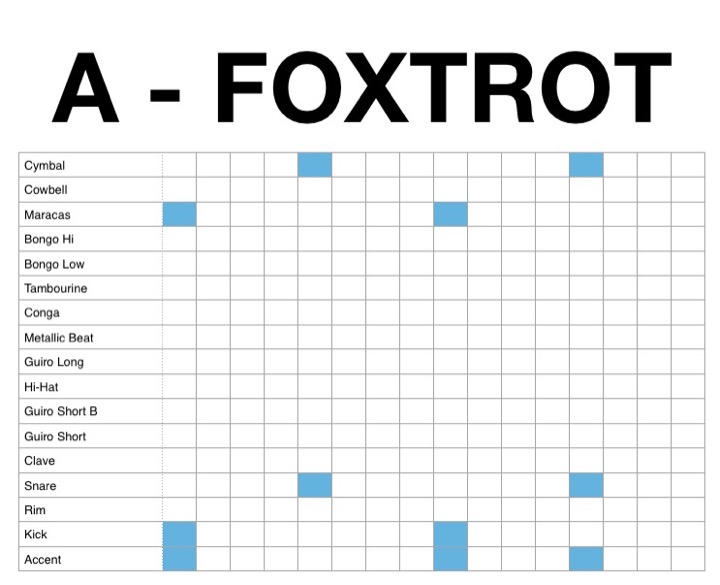 Slightly sped-up and triggering another synthesizer, Soft Cell ingeniously used the Roland CR-78's Foxtrot pattern to affect a decadent sound that would propel "Tainted Love" to the top of the charts. A variation on the Tango, a Foxtrot groove is heavier than most because of the impressive emphasis it places on the two bass drum hits. Perfectly benign to be clapped to, its straight enough to dance to but askew enough to force melodic arrangements around it to deviate from the norm, only to come back to a steady beginning.
Tango Rhythm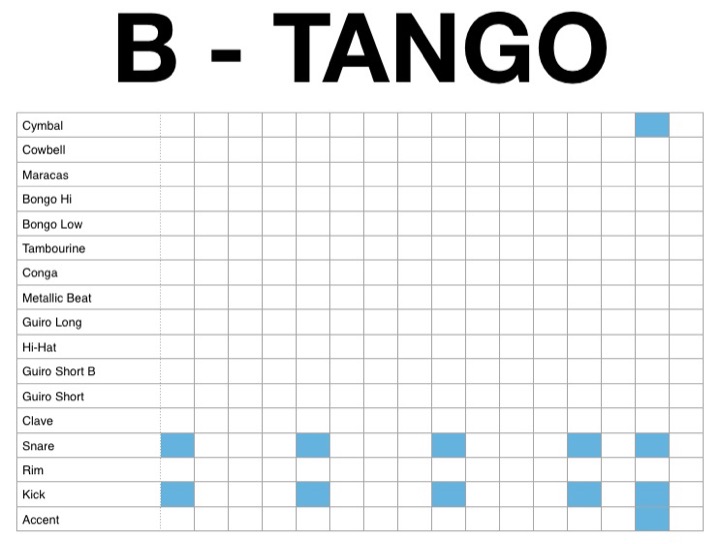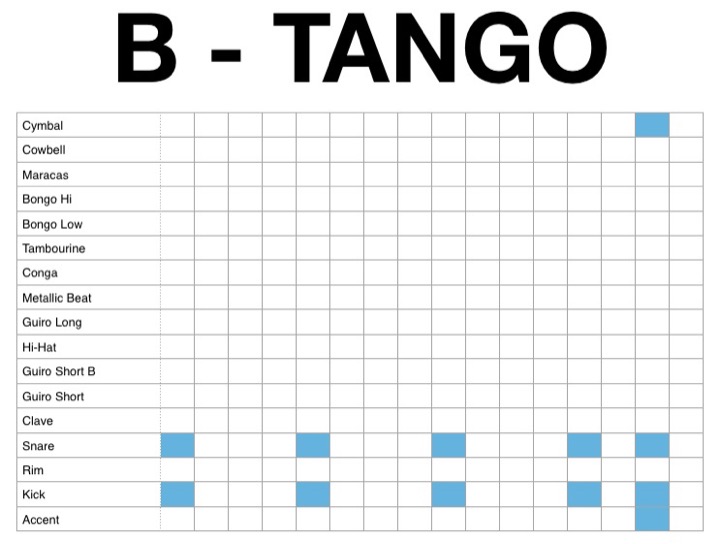 Tango will never be anyone's favorite rhythm to use. No other rhythm forces you to actually affect or make a song in that style. But if tango, in all its forms (electronic and acoustic), is your bag the CR-78's Tango pattern gives you that standard "tango" rhythm. A steady groove to a fault, the snare and kick join together to mimic the clapping accompaniment usually heard in contemporary tango music.
Boogie Rhythms
Anything calling itself Boogie shouldn't be much of a boogie, right? Well, the Roland CR-78's Boogie patterns give you hints of a generic funk and R&B groove. A triplet pattern, Boogie gives you a perfectly serviceable, laid-back groove to jam along to.
Enka Rhythms
Perhaps the most puzzling groove found on the Roland CR-78 but one that makes the most sense is its Enka patterns. As a nod to its Japanese roots, Ikutaro Kakehashi had Roland include patterns that could affect a rhythm one would use to sing the highly sentimental balladry that's always been en vogue in Japanese music. A very distant cousin (in sound) to American blues or Portuguese fado, Enka has a wilting rhythm that drips with melancholia. Is it any wonder this groove was slowed down and made into a hit by Mr. "Lady In Red?" Get those synth pads and fretless bass guitars out for this one.
Bossa Nova Rhythms
Quietly some of the best rhythms found on the CR-78, either of the Bossa Nova grooves perfectly percolate in ways conducive to making really fine electronic Pop music. The Bossa Nova – B groove, as heard in New Musik's "Areas", simplifies the intricate dynamism of samba music by mixing it with the lightness of cool Jazz music. Very musical even without a melody line, Bossa Nova patterns add a dash of minimalism, experimentalism, and melancholia to any person who tries to do something with this groove.
Samba Rhythms
Perhaps the busiest, compositionally, of all the musical patterns, Samba really shines when you are able to cancel out voices from the two rhythms that are afforded to you. On the CR-78, various instruments try to play the role of typical Brazilian instruments you would hear perform a samba. In this case, the main musical movers are maracas, bongos, and hi-hats that produce the hypnotic, high-energy, Afro-Brazilian wave of sound typically heard in samba processions.
Mambo Rhythm
If you've noticed a recurring theme by now, it's that all of the rhythms found in this section of the CR-78 are "Latin" rhythms. Rather than try to catch all the popular latin music grooves of the time, Roland went very macro and stuck to their very roots. Mambo makes its case for inclusion for this reason only: with a few subtractions or embellishments you can create other "latin"-style grooves from it. Speed it up, and add more percussion, to get salsa music. Take it down a notch, and remove a few drum hits, to get close to bachata or even African Pop music. The versatility of the Mambo should easily make it one of your own go-to grooves.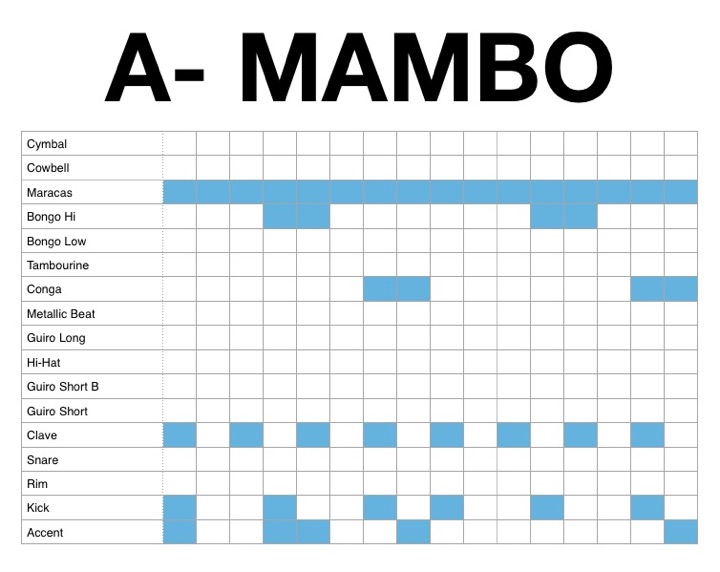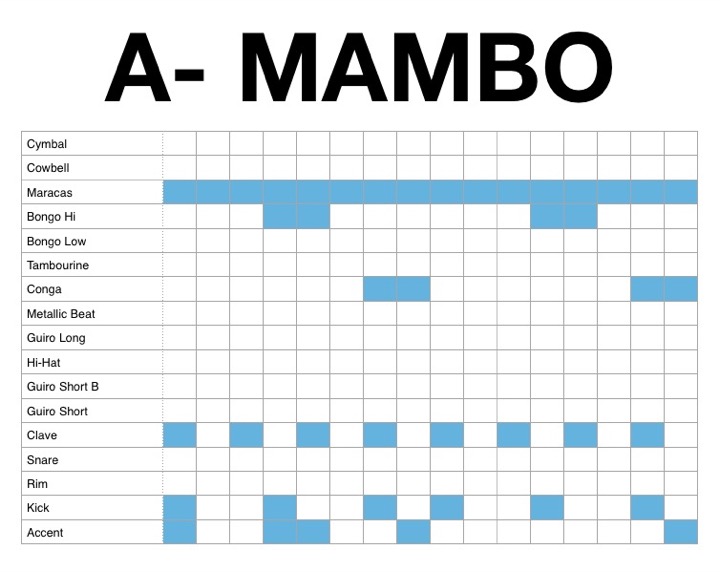 Cha-Cha Rhythm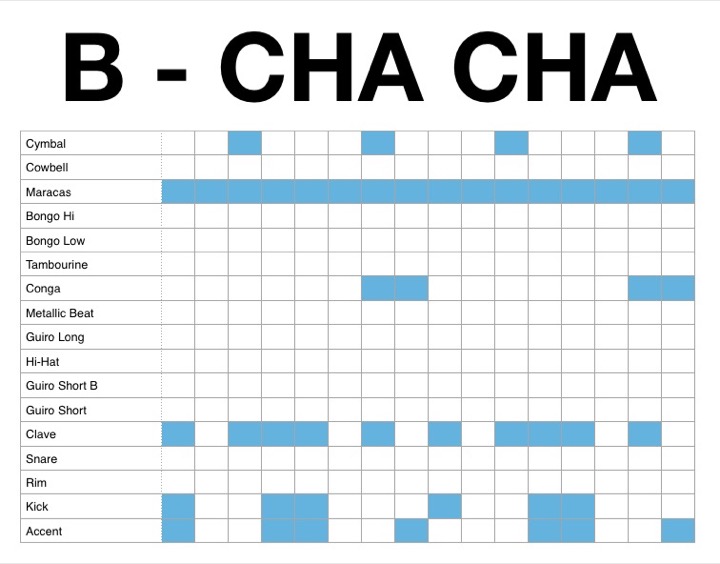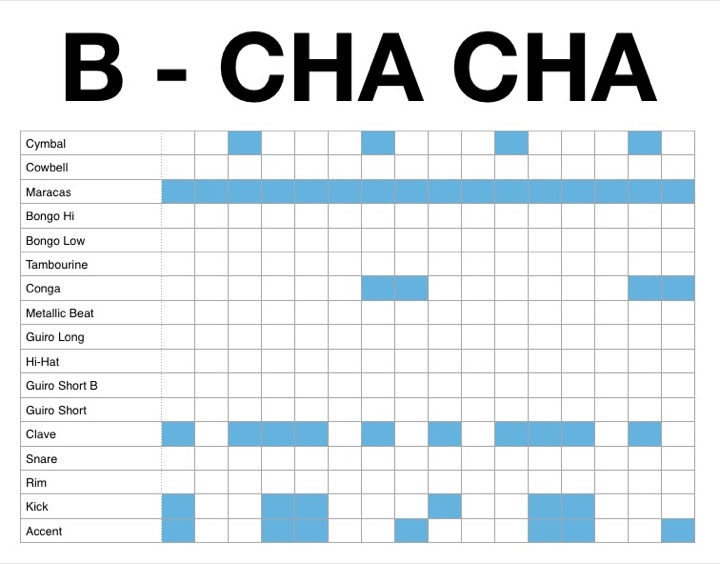 Paul McCartney really shows you how to use the strength of a Cha Cha rhythm. Amplifying and owning the rollicking, upbeat groove inherent in the Cha Cha, it was his take on this CR-78 rhythm that makes the best use of the inborn dance groove. Removing a few of the hits and replacing them with real claves/shakers made a lively groove become even more alive. Another strong contender for groove to keep in your arsenal, as all 3-3-2 grooves should be, it just might allow you to forget this abomination.
Beguine Rhythm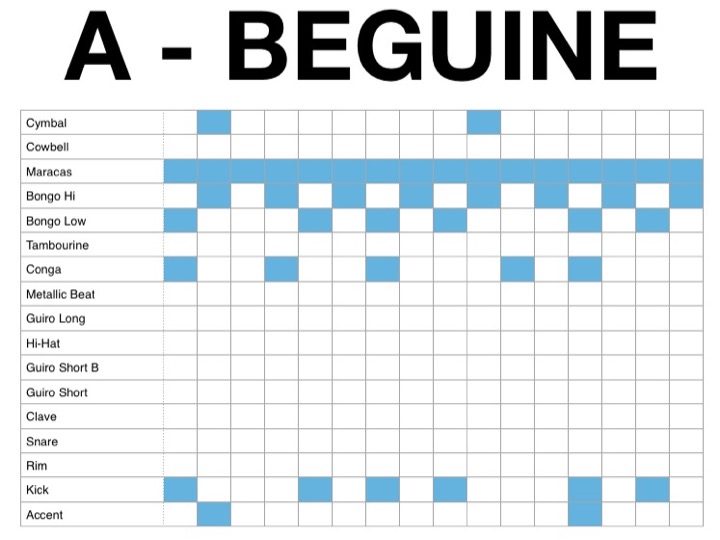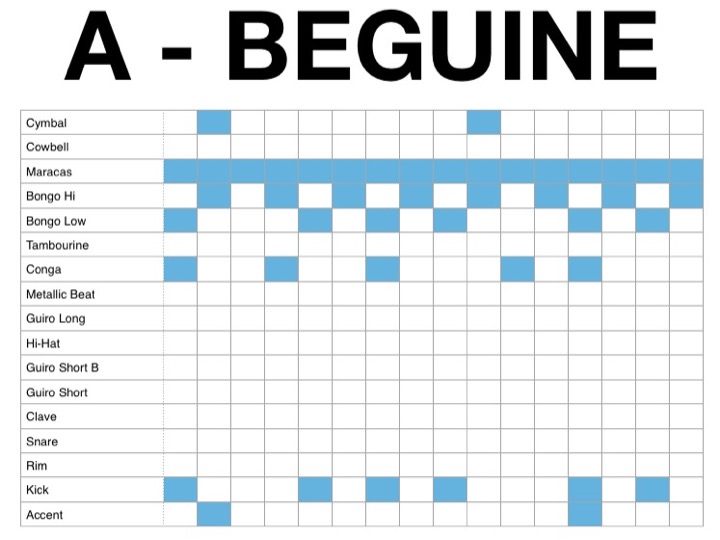 Begin the Beguine. You'll hardly ever encounter such an exotic groove nowadays without placeholders having to explain what it is. The Beguine is one of earliest "fusion" grooves. A mix of rumba-style rhythms and French-inspired ballroom dance, it somehow made the more lively rumba "sexier" by slowing it down and emphasizing the up-close and personal, musical sway it had laying in it. For those who want a perfect starting point to make Balearic, Reggaeton, or other Tropical Pop music, you can't find a better entry point as the Beguine a fact perfectly emphasized by Roxy Music's wonderful reimagining of it in the "Same Old Scene".
Rumba Rhythm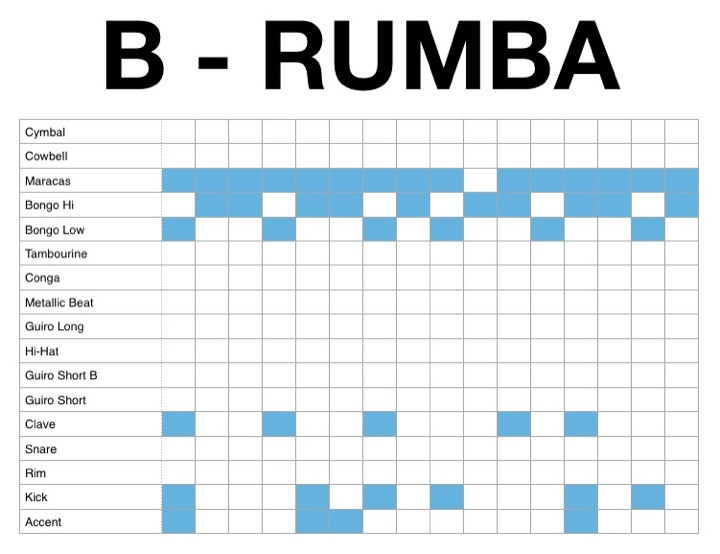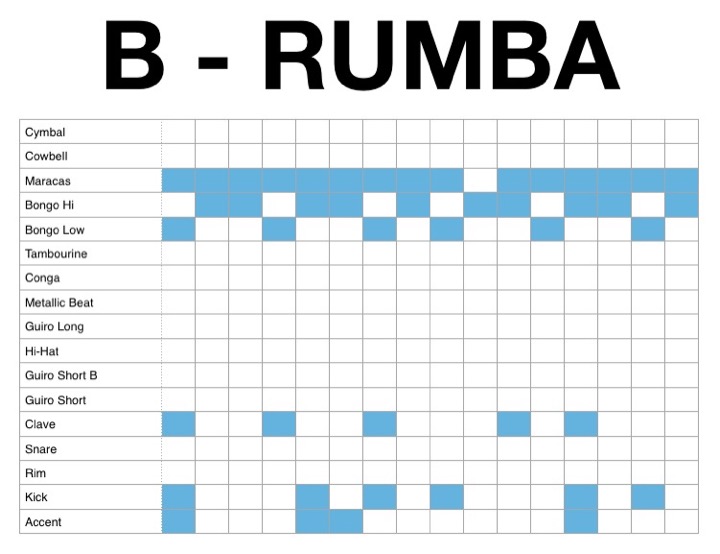 An essential rhythm that any good producer should know: the Rumba. On the CR-78, you'll find a single Rhumba pattern. Defiantly so, the classic Cuban groove is so dense compositionally already that it's the perfect groove to either subtract from or to combine with other patterns. Up top, you can hear Lee "Scratch" Perry take the perfectly serviceable original pattern and send it into the stratosphere by adding all sorts of echo and overdubbing techniques to it in The Congos's "Congoman".
Rock 1 Rhythms
Purists beware, the Philly Soul-influenced New Wave sound of Hall & Oates had a very simple beginning. Rather than begin with a killer rhythm section to bang out all sorts of hits, Darryl Hall and John Oates used the lowly Roland CR-78 to sketch most of the hits they'd go on to pen. On "I Can't Go For That", the light swing of a CR-78's Rock 1 – A pattern provides the heavy, motorik-like groove that finds their niche between American blue-eyed soul and European-style electronic Pop.
Rock 2 Rhythms
Rock 3 Rhythms
Rock 4 Rhythms
We skip to the final Rock rhythm (Rock Rhythm 4) to emphasize how the CR-78 manages to variate a standard groove by simply shifting the focus of a pattern. All prior Rock grooves were variations on how to accentuate a steady four-on-the floor rhythm. The sly Rock Rhythm 4 deviates from that by placing strategic cymbal hits that add a decidedly funky edge to the pattern. Remove all the maraca hits, as Ultravox was wont to do in "Vienna", and you've got something approximating the teutonic sounds of Kraftwerk and other icy, machine-like, industrial music.
Disco 1 Rhythms
What began as a nod to the musical tastes of the time, yielded much more creativity than imagined for those with a CR-78. The first set of disco rhythms was supposed to affect the sound of a lively disco rhythm section. What it really sounded like was closer to the robotic disco music found in European discos. In the hands of musicians like John Foxx, they would transform the Disco 1 – A rhythm to the pulsating, robot dance groove hidden underneath the soul of the machine. Truth be told, even the two rhythms themselves do their best to keep their beat metronomic. The only difference from A to B is whether you want the accent at the beginning or at the end. For techno and house producers, these set of rhythms perfectly suit as a compositional starting point.
Disco 2 Rhythms
We end on a fascinating note. No one would have thought someone as gifted of a drummer as Phil Collins would have relied on a drum machine to make their own music. Yet when Phil decided to go solo, the CR-78 afforded him the ability to effectively mess with time and treat the drum machine as an essential instrument that could be used as something that could supply something than mere accompaniment. Slowing down the Disco 2 – A pattern to a crawl, Phil proceeded to treat it with all sorts of studio effects to approximate something closer to inhuman drumming. Gated reverb and compression added after the fact, a technique he uncovered while helping old pal Peter Gabriel create his "Intruder", allowed Phil to create a track where the drumming machines were at the forefront of a darkly brooding ballad — a far cry from the disco dance floors, for sure.
Machine Rhythms In Action: Roland CR-78
Here's where you can take these same rhythms to your own level. I've included all the rhythms you'd find on the Roland CR-78 in this Ableton Project file. Included with the project file are the additional rhythms — fills, variations, and additional voices — that were found on the CR-78 to embellish the set presets. You'll also find in this project file a duplicate column of rhythm patterns. With this duplicate column you can combine patterns at will, just like in the old CR-78. Make sure to download the Ableton Live's "Drum Machines" sample pack if you want to get as close to the original CR-78's sound via its Kit-C78 preset.
DOWNLOAD ABLETON LIVE – ROLAND CR-78 PATTERNS
All images and sound samples by author.