Update: This mystery guitar was unveiled some months after publication to be the Gibson Modern DC, produced by the Gibson Custom Shop. One cool feature we didn't realize at the time is that the Modern DC features a neck volute — this technically not-so-modern feature helps prevent the headstock from snapping off the neck.
Still, even with the mystery solved, we never actually confirmed why three of these guitars made an appearance at a consumer electronics show of all places with no explanation, while nothing was revealed at that year's NAMM or Summer NAMM shows in 2017. Guerrilla marketing tactic or someone's goof? We'll let you decide, but you know we're gonna be checking out what Gibson Brands has on tap for this year's CES show!
---
Gibson Brands had a big showing at the 2017 Consumer Electronics Show (CES) in Las Vegas. There was a whole lot of spectacle going on inside Gibson's standalone hangar/tent, including live performances, a fashion show, and a replica of the Iron Throne from the popular series Game of Thrones, made from guitars and basses. The consumer show was a natural fit for many of Gibson's brands like Philips, Onkyo and Neat Microphones, but their 2017 lineup of guitars and basses was also prominently featured, and one in particular has piqued our interest: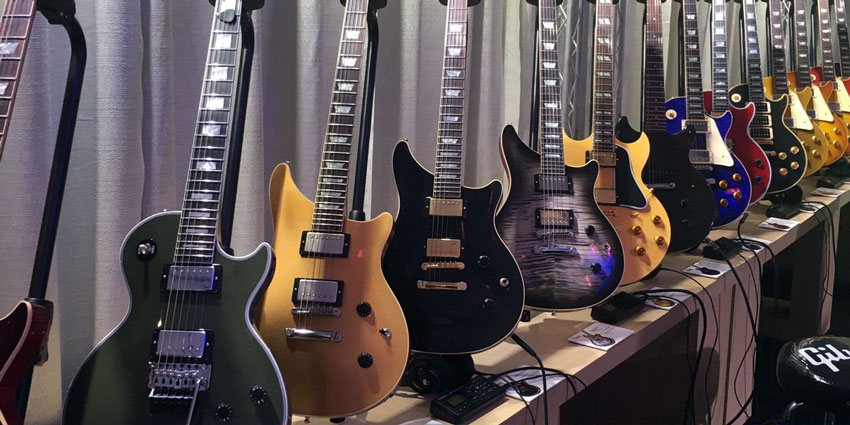 Looks-wise, the model is not too far a stretch from the Les Paul shape, but that elongated left cutaway evokes the Epiphone EM. The guitar also sports 24 frets, and the added length seems to put the pickups a bit closer together than on most Gibsons. Judging from the picture above (taken by Twitter user @friveradigital), it comes in at least three finishes: gold top, ebony and a sort of silverburst with flame maple top. Otherwise, the model seems to be in keeping with traditional Gibson appointments: two humbuckers, two knobs, (what I'd assume to be master volume and tone), a 3-way pickup selector switch and Tune-o-Matic bridge.
There's a product card sitting just below each guitar, but we can't make anything out on it. We're expecting to see more of this new model at Gibson's booth in our 2017 NAMM coverage, so stay tuned to the zZounds Blog to find out more. And if we do discover anything in the meantime, we'll be sure to keep you posted!