With NAMM fast approaching, the rumor mill and teaser train are running at full speed and musicians are buzzing about what might get shown at NAMM and what already has been announced. We've compiled all that we've found out so far into this handy guide, organized alphabetically for your convenience. Check it out and be sure to check back with us starting Thursday, January 19, for live NAMM 2017 coverage here on the blog!
ARP
Full-size ARP Odyssey
Two years ago, ARP brought back the legendary Odyssey synthesizer and fans have been clamoring for a full-size version ever since. Well, it looks like you'll have your chance to grab one this year!
Catalinbread
New Belle Epoch Pedals
Catalinbread's Belle Epoch Tape Echo is a favorite around these parts, so we're excited to hear about three new models slated for this year. From the looks of it, we'll perhaps get an updated version of the original, one strictly based on the EP-3's preamp section (with a buffer) and a third "Deluxe" model — perhaps a large-format, multi-function pedal? We can dream…
Digitech/DOD
Digitech Freqout & DOD Rubberneck
Digitech is teasing something called Freqout. We're not sure what it does, but we'd put our money on a pitch shifter, ring mod, or auto-wah (we're covering all the bases). Sister brand DOD also showed off a closeup of a new pedal, called Rubberneck. We have even less intel on this one, but that rate knob hints at some sort of modulation (I know, not much help.)
EarthQuaker Devices
Something…spacey?
EQD always crushes it with their teasers, and their latest is no exception. Not a lot in the way of clues, but given the context, we're anticipating some sort of reverb.
https://www.facebook.com/EarthQuakerDevices/videos/1228592027178675/
Gibson
The mystery model
The internet has been abuzz over a new Gibson guitar that appeared at the CES Show in Las Vegas earlier this month. Gibson has been mum on the issue ever since, but we shared some ideas when we covered it earlier this week.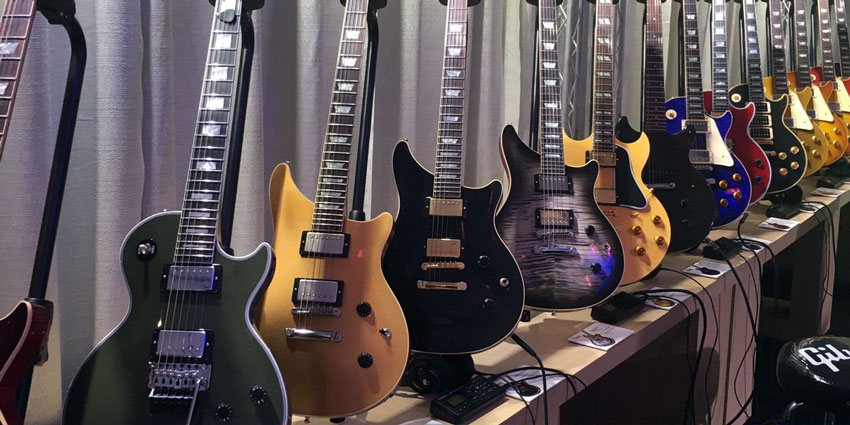 Gretsch
A new take on the White Falcon?
Some are speculating that this will be a double cutaway version of the venerable White Falcon. Only time will tell.
Jackson
New Soloist/Dinky finishes and V model?
Jackson is leaving a lot to the imagination with their teaser shots. The first looks to be a King V shape, given the shadow. Looking a little closer, the shadow seems oversized for the guitar…maybe this is a Minion version? The second photo seems to show three different finishes of "superstrat" style guitars. Give us more, Jackson!
Korg
New colors
Korg has announced new colors on several favorites: a white MS-20 Mini, a platinum Krome and gold Kronos.
Orange
Hmmm…
Orange has revealed little more than these hieroglyphics to tease their latest gear. Let's see here: a flame, the volume symbol from their amps going in opposite directions, a…power cable jack? and a clamp. Your guess is as good as ours, internet.
Paul Reed Smith
Sonzera amps
The Sonzera amp line is less of a tease and more of an announcement. Still, we can't wait to see the 20-watt combo and 50-watt head in person.
Pedaltrain
Spark power supply
Pedaltrain has a way of making simple products very, very well. If the Spark can do all they claim in this tweet, we expect it to be a game-changer.
Can the new Pedaltrain Spark fit under a Nano? Of course. Can it power a Pedaltrain Pro? You bet! pic.twitter.com/5hGPJYbrXT

— Pedaltrain.com (@Pedaltrain) January 6, 2017
Reverend
New Bass Model (s)
Reverend is showing off some intriguing pics of what looks to be a new bass (or basses?) There's both a four-and-five string pictured, so we'll have to get the scoop at NAMM. Either way, we're digging the nautical theme.
T-Rex
Return of the Binson Echorec
The Danish pedal purveyors caused a stir when they filed for the "Binson Echorec" trademark in 2015. Well, now we know why, and can't wait to see what this thing can do!
Vox
New colors
Vox is celebrating their 60th birthday and they'll have a stable of new gear and new finishes to show off at this year's NAMM.Their venerable AC line of amps looks great in White Bronco, and the new MV50 mini amps look to be a solid practice option.
Way Huge
Conquistador Fuzzstortion
As a sucker for ripping Velcro fuzz tones, I'm picking up what Way Huge is putting down with the Conquistador, especially if it is as versatile as a distortion-and-fuzz-in-one sounds.