Welcome to zZounds Beat Connection. Beat Connection is a series dedicated to promoting modern and vintage dance styles the only way we know how. We do so by providing you a musical starting point to get you going in that direction. Today we focus on a style unique to our fair city of Chicago: Footwork.
What exactly is Footwork? The main source has always been Chicago's house parties. It's in those parties artists like Traxman, DJ Rashad, and other Footwork luminaries made a heavier kind of house party music. More indebted to early Chicago House and Hip-Hop, these DJs tried to provide a heavily syncopated form of song that could match the rapidly increasing movement of their audience.
R.P. BOO | "BANGIN' ON KING DRIVE" VIDEO.
Circles would form in forgotten inner city neighborhoods where dance crews would try to one up each other in combining intricate pretzel-like movement. Juke, that original style which would later spring this offshoot, introduced a few of the concepts that Footwork would stick with in part. Imagine music that hovers around 160 or 170 BPM. Within this range in quick (and sometimes dirty) succession, kicks, hi-hats, Hardcore Rap samples, synth stabs, and more would play out. This music fulfilled two main things.
TRAXMAN "BUDDHA MUSIC"
If you were a legit juke dancer, the first challenge was to try and keep your movement up with the pace. Second, Juke dance battles were more wars of attrition waged in resistance against the music, with the victor being the person who could keep up the best with such increasingly complex music. Juke producers tried to see who can juggle the most beats in the least amount of time without much care given to the dancer. With time, Footwork would change all of this.
HOW TO FOOTWORK DANCE TUTORIAL
You see this change in some of the genre's main producers. Artists like R.P. Boo who were once juke dancers reveal as much in their music. Forget about shaking your hips, Footwork was about slowing the tempo down a bit, providing some air between melodies or beats, and in the end working with the movement rather than against it. First and foremost, the main focus of this kind of music would be on the legs and feet. Feeding off each other, the music maker would try to match beats tying them together with dancer. As the footwork gets more intricate and complex, it appears modern Footwork producers are providing enough moments of reflection and soul that allow the dancer to stitch another bit of movement together. Our task today is to make that initial connection.
Footwork Beat Blueprint
The way I picture sonic movement coincides with the agility of the audience. This means we have to lay the kicks exactly where a dancer would start to accelerate into more eccentric or faster movement. Kicks or bass drums are where the dancer would lift their feet. Fitting all of this initial thought into a small measure, in my case a two bar beat rather than the common four, adds a nice off-balance feeling that makes it ripe for pivoting.
My initial selection of sounds [Black Club Eighties] brings to mind the classic sounds of E-MU SP-12s. That notorious thump when placed a few beats from the beginning aids in giving the dancer time (what little there is) to think of which maneuver to pull. It may be off-kilter but there is a steady pattern for them to know when to switch to something else.
Aiming for where a dancer would land their feet, that's where I would place the well-placed, out-of-time rapid hits.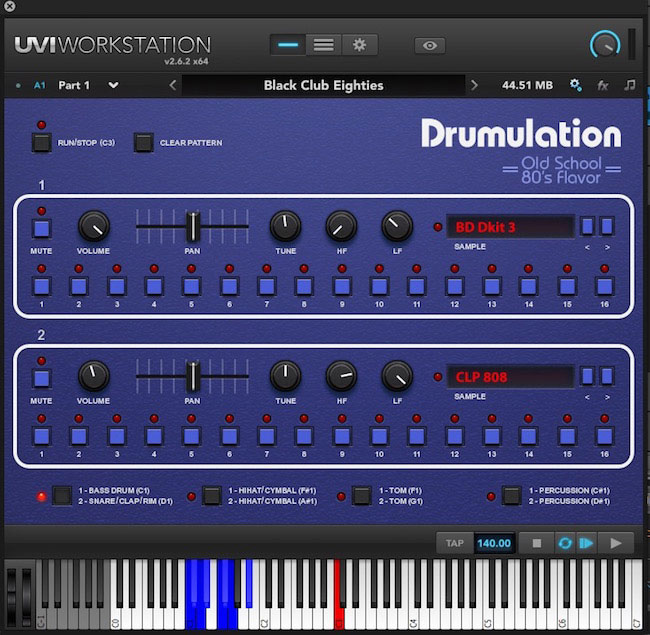 This is where it starts to get interesting. Here's where you pick the drum that would play the role of torquer. Its basically the drum you want to act as push and pull for the arrangement. In Footwork the tension of this drum can be measured in threads quicker than eighth or sixteenth notes. Akai MPC samplers have a feature called Note Repeat which is the secret weapon of Footwork producers.
Basically, what Note Repeat does is swiftly and discreetly ramp up or down the number of times a specific sample is triggered. You can apply swing to make the repeats less machine-like, but with a simple push you can take a steady beat into rapid-fire territory. If anything, swing tends to negate the brilliance of this effect. These segments are exactly where the turbine-like feel of Footwork excels at and is what I tried to mimic below by switching to a 1/32-note grid to enter Clap hits (my drum of choice for applying sonic tension).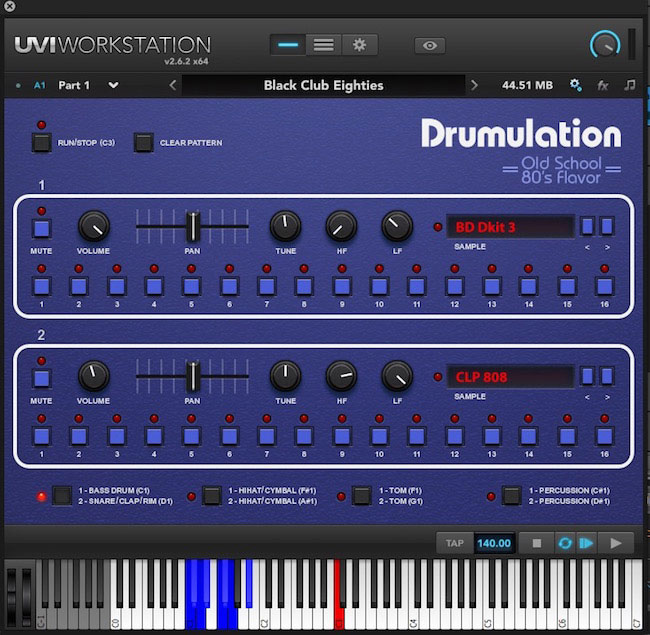 The following step adds the sophistication and subtlety that you'd be a fool not to recognize in Footwork. Well placed Snaps mimic the actual emphasis you want to add to this push/pull movement. You don't want to place it on the static push…so what do you do? You highlight the areas where the rhythm is busiest.
It seems counterintuitive at first glance. However, as I've said, we're working with the dancer, not against them. As the movement gets more blistering, we need the audience to come in rhythm with the feeling expressed by the dancer. Soul isn't about two snaps, its about two snaps and a shake. We're working this back into a sixteenth note grid.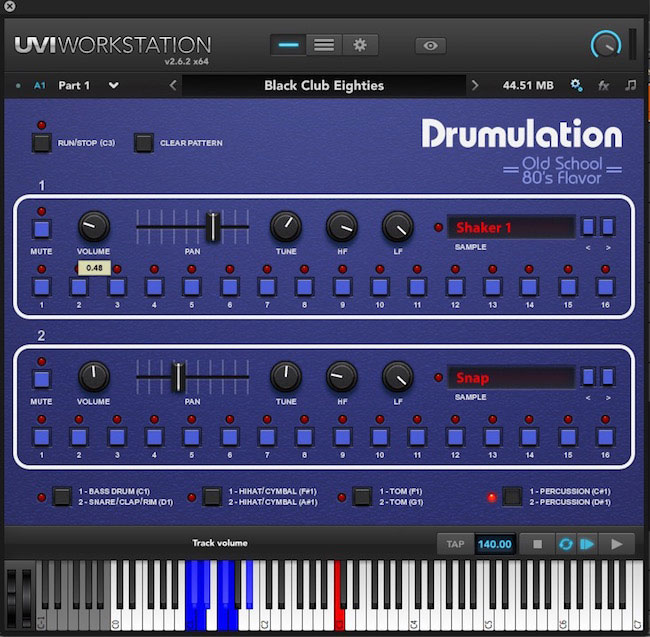 I can't stress how important this step is. A lot of bad dance music tends to focus on the wiggle and forget the waggle. This step is all about the waggle. I'm purposely isolating them sans kick and clap so you can appreciate how they add a certain swing to the arrangement. In the moments of thumping and bumping, you need that in between sounds that forces those hanging feet to do something other than just hang.
Playing bits of reinforcement for the Snare and pointing at bits of the pull from the Clap, the introduction of this clav-like Tom drum to the arrangement makes the sonic pendulum easier to feel and react to.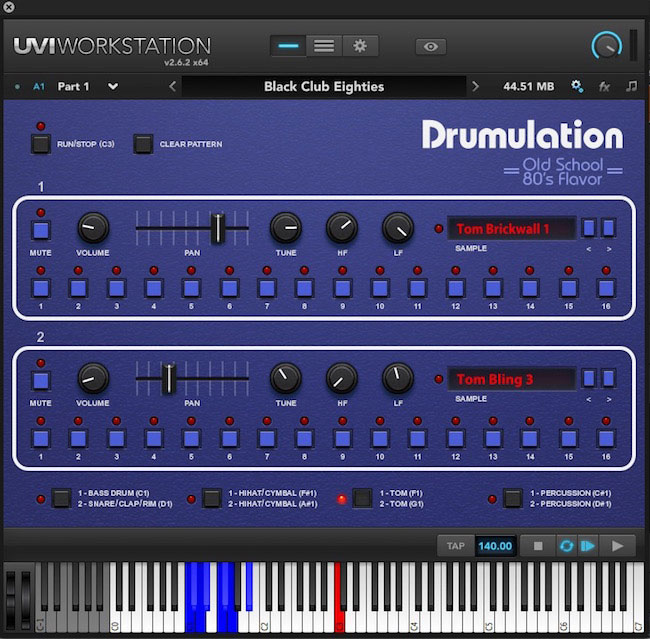 These are the finishing touches we can add to spruce up and capture the environment this beat would play in. Since no swing and delay were added to the mix, we can go ahead and let beats linger, and blur into each other a bit. How should we transform this?
First, I selected all the notes and applied a velocity of 100. We need the hits to come at you on the same level. Then began this bit of sonic enhancing, all courtesy of Bitwig Studio's built-in effects units. First thing was to make sure the drum sounds had definition. I did so by using Transient Control and my settings can be seen below. In a nutshell, I made the attack punchier and the sustain less pronounced. All of this equates to the sound being tighter (at least to my ears).
This final bit may be according to one's taste, but I always like a bit of Reverb when I believe the music or beat lends itself to go there. There's headphone dance music and then there's Dance music. Adding something that replicates that sound, bouncing off those dance floor walls, can't help but put you at least partly there right? That's where we can end this lesson on Beat Connection.
—
Our Final Footwork Beat:
zZounds Beat Connection: Footwork How-To Video