Metal snare drums are alive and well. Lately they've been popping up more and more, with custom companies like Q Drums building some beautiful examples. So, what's the reason for this revival? It's all in the versatility. If you're like most drummers and you long for a crunchy, high-pitched crack from your snare, then a metal snare might be something to consider. At the same time, if you like a fat, full-bodied sound (perhaps you're trying to lock down the ever-enticing sound of John Bohnam) then a metal snare will get you right where you need to be. That's why drummers love these things: they can give you any sound you want.
When it comes to building a metal snare, there are quite a few metals to work with, from bronze and steel to brass and copper. Metal snares were made popular back in the '70s and '80s due to their massive power and cut. Ludwig was most famous for implementing these within their arsenal. They came out with tons of metal snares, such as the beautiful LM Series, and of course the Black Beauty (one of the most recorded snare drums in history). Back then, projecting sound for live bands was more crucial. Drum companies were changing how their drums were being constructed in an effort to offer maximum volume for live shows. As a result, metal became a popular choice among most drummers. Metal snares, while versatile, can help project a bright/crisp sound that can really cut through the mix, which was key in the days of minimal PA systems. Metal construction also allows for an extremely penetrating rim shot (I mean, come on, who plays drums and doesn't love driving your stick into the rim of the snare as hard as you possibly can?).
Searching for the perfect snare doesn't have to be so hard. A lot of drummers get caught up on the details, and some think they have to drop a bunch of money on a snare to sound good. There are always easier options when it comes to achieving the drum sound you want — you just have to know what to look for. Check out three of my top metal snare picks that are great options for the budget-conscious drummer.
1. Mapex Armory Daisy Cutter
The state of the drum industry today makes many think they have to go out and drop $600-$800 on a custom snare that takes months to make. If you can afford that, I'm not trying to stop you. However, if you're like me, a purchase like that will leave you with nothing but a snare to your name until next paycheck. There are much cheaper options out there that offer the same killer sounds. For example, if you're looking for something on the budget-friendly side, pick yourself up a Mapex Daisy Cutter. This snare consists of a 1mm hammered steel shell and will cut through anything you put it up against.
The first thing I noticed when I played this was how loud it was. I was pleasantly frightened at first, because I didn't expect such a piercing volume to come out of this thing. This snare reaches decibels that will scare off your neighbors. Don't worry though, you can play lightly and still get a lot of articulation from it. Another feature I love is the hand-hammered shell. Besides looking super mean, the hammering approach allows you to get a dryer tonality out of the drum. The idea is to be able to get that tight pop without having to slap on a Moongel or rings. If you are a hip-hop artist, you need to get your hands on this. This snare will give you that crisp, robust feel that will power your beats through multifaceted tracks. And don't even get me started on the rim shots you can get out of this thing! This snare just rips.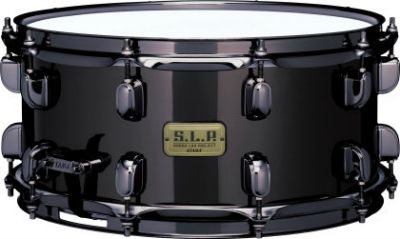 2. Tama SLP Black Brass
If you're looking for a snare that's more balanced, check out the the Tama SLP Black Brass snare drum. Tama has constructed an all-brass shell that offers a nice beefy/wet snare response. This snare gives you the best of both worlds because you can also get a good crack when it's tuned high. They also threw on a 42-strand carbon steel Snappy Snare, letting the sensitivity of this drum shine. I love the warm resonance you get from this snare, too. Brass has a unique flavor compared to most metals. It has to be my favorite material to use because when tuned correctly, you can get a sort of natural earthy wood sound out of it. This snare excels in high volume, intense playing.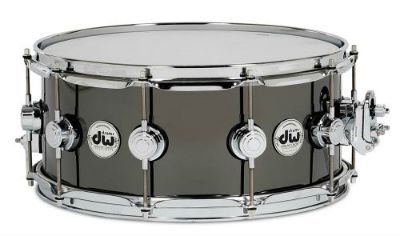 3. Drum Workshop Collector Series Nickel Over Brass
Still haven't found a metal snare you want? Drum Workshop has built a real treat that'll exceed your expectations. The DW Nickel Over Brass snare is a true animal. This 6.5″x14″ shell (also offered in a massive 8″x14″ size) will take the heaviest of beatings. I have one of these and I can guarantee you won't be disappointed. This snare brings a thunderous crack, and a volume that'll make you start wanting to wear ear plugs. The depth of this snare also allows for a good deal of body, while the nickel/brass configuration gives plenty of attack. I love using this when I'm demolishing drums in my power violence side project because of its amplitude.
At first when you receive this snare, it has a clean-cut, shiny finish. It's a refreshing change that just looks gorgeous straight out of the box. However, after a while, it starts to age with you as you put it through countless hours of jamming and delightful abuse. Now, you can prevent this by keeping it neat and tidy on a shelf — but I personally like to watch it get beat up so that it has more of a bite. Bottom line is this: when you are trying to push the limits of what a snare can do, the Nickel Over Brass is the one you want. This is my go-to because it sounds amazing in the studio, cutting through with ease, and I have no problem getting volume and torque out of it when playing live. Take this bad boy into the studio and your engineer will be thanking you. I highly recommend this guy.