The original Bose S1 Pro has long been a top choice of performers and presenters in need of a compact, battery-powered personal PA system. An easy-to-carry unit with two mic/instrument inputs, a Bluetooth receiver, and a smart tilt-back design, the S1 Pro became a hit with artists, spawning numerous competitors since its launch at the 2018 NAMM Show. Now, Bose is back with the S1 Pro Plus — an updated, upgraded S1 Pro speaker. Read on to learn what Bose added in their "Plus" version of their super-popular portable PA system!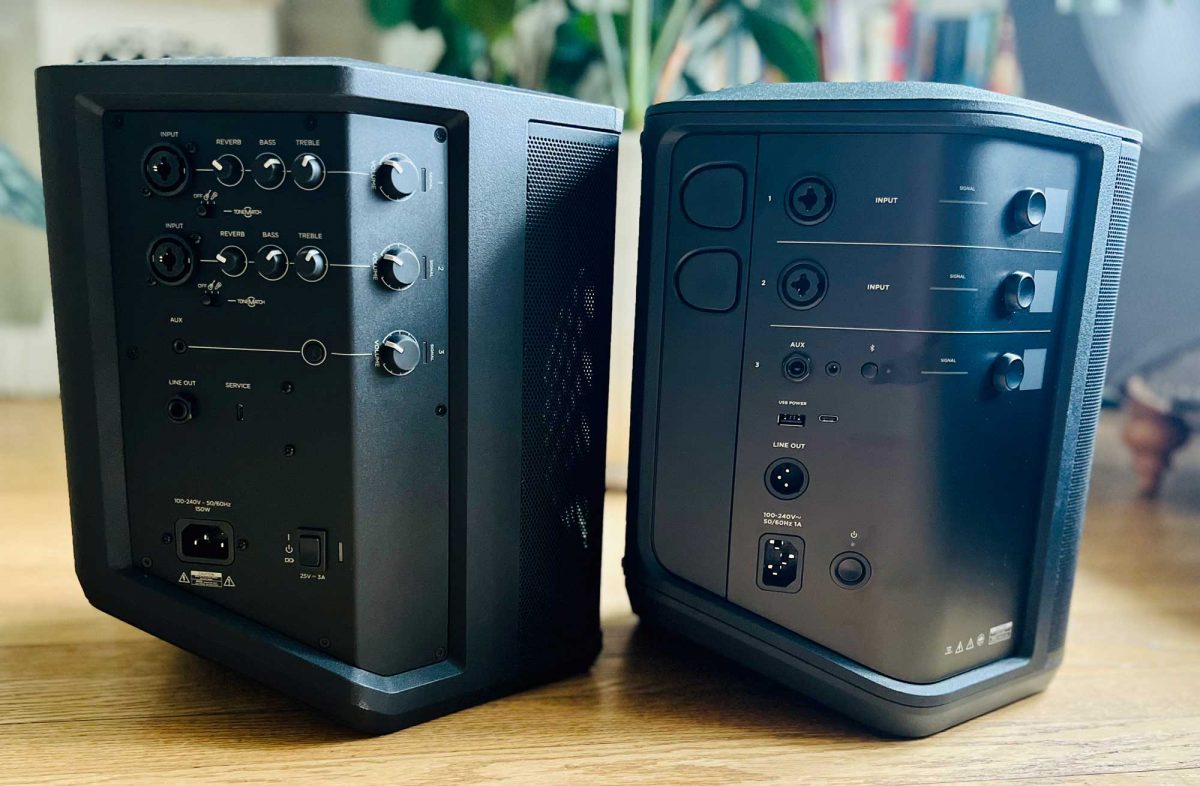 New to the S1 Pro Plus: Built-in Wireless
With the original Bose S1 Pro, going wireless required using a separate wireless mic system or wireless instrument system. The Bose S1 Pro Plus enables a much more streamlined setup, thanks to its built-in two-channel 2.4 GHz wireless receiver. Add one or two of Bose's optional plug-on WT-INST and WT-XLR wireless transmitters to complete your system. The wireless system's 30-foot range is a great fit for performers who don't want to be tied down to their S1 Pro.
The S1 Pro Plus has two built-in charging bays for storing, pairing, and charging the transmitters when you're not performing. When it's time to play, all you have to do is pop your transmitter out of its bay and plug it into your instrument or microphone. Each transmitter offers about 4 hours of battery life with their internal rechargeable batteries. (Of course, if you already own an external wireless system you know and love, you may connect its receiver to the S1 Pro Plus's wired input channels.)
Bose's Wireless Transmitter Accessories
Bose's WT-INST wireless instrument transmitter is a "plug-on" style with a similar form factor to units like the Xvive U2, Line 6 Relay G10, and Boss WL-20. If you're planning to play guitar through your Bose S1 Pro Plus (or bass, ukulele, or any other instrument with a mono 1/4″ output jack), this wireless transmitter is a fantastic upgrade.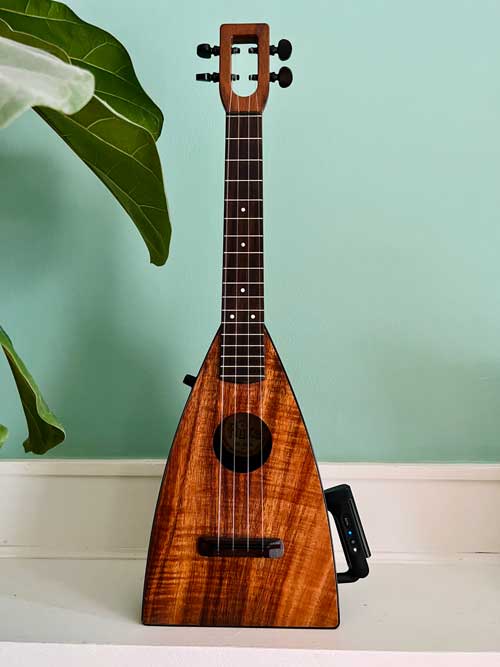 Then there's Bose's WT-XLR wireless microphone transmitter, which turns any XLR dynamic mic into a wireless mic for the S1 Pro Plus. The Bose WT-XLR has an elegant form factor that's the same size or even smaller than transmitters from other plug-on wireless XLR systems such as the Xvive U3 or U3C, Mackie EleMent Wave XLR, Sennheiser XSW-D and ew100 models, and so on. It's important to note that the Bose WT-XLR wireless transmitter works with dynamic microphones like the Shure SM58 or SM57, sE Electronics V7, Sennheiser e835/e845/e935, and the like. It does not work with phantom-powered condenser microphones such as the Shure Beta 87A.
Not just for microphones, the Bose WT-XLR also works for line-level XLR sources. Want to run a wireless feed from a mixing board's line-level XLR output to your S1 Pro Plus? This transmitter can do it! You can even plug a pair of WT-XLR transmitters in Line Level mode into the stereo outputs of your mixer, to wirelessly feed audio to a pair of S1 Pro Plus speakers up to 30 feet away. Or set up a dual-mono PA system with two S1 Pro Plus units via wireless daisy chain: plug a single WT-XLR transmitter into your S1 Pro Plus's Line Out jack, and receive its signal on the second S1 Pro Plus.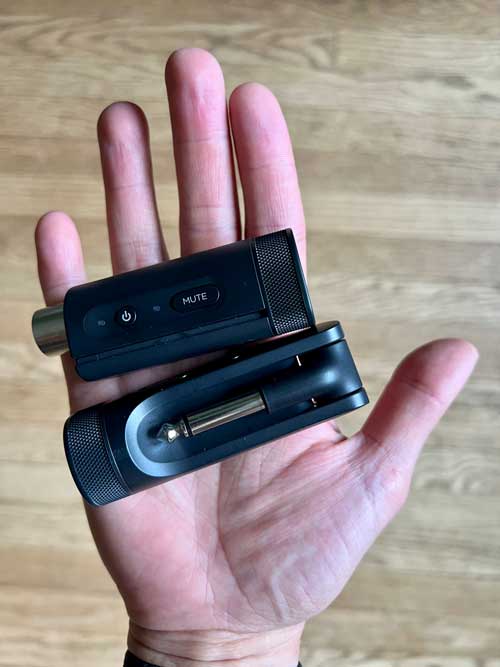 Channel Inserts for Wireless Sources
When you're using one of Bose's wireless transmitters as your audio source for the Bose S1 Pro Plus, you can use that channel's wired 1/4″ input as an effects insert — a great solution if you play live through a pedalboard, or use a pedal tuner. You'll need an insert cable (1/4″ TRS to dual 1/4″ TS) to connect an external effects unit to the Bose S1 Pro Plus's channel insert. Bose explains how to do it in a two-minute video:
New to the S1 Pro Plus: OLED Displays
Like the original S1 Pro, the S1 Pro Plus gives you three independent channels: two XLR-1/4″ combi inputs, and one Aux/Bluetooth input. In addition to Signal/Clip indicator LEDs like the S1 Pro had, the Plus version adds detailed OLED displays on each channel to help you see and control your settings — making the Bose S1 Pro Plus easier to use than its predecessor!
The S1 Pro Plus's battery charge level is clearly displayed with an icon, like the battery indicator on a laptop or phone. This comes as a welcome improvement on the original S1 Pro, which required users to "double-click" the Bluetooth Pair button and wait for the single power LED to flash one, two, three, or four times to indicate the battery charge level — a system that turned out to be so cryptic that Bose had to include a sticker in the box you could slap on the back of your S1 Pro to remind you exactly how to decode the blinking lights.
The OLED displays include status icons to show you channel and system settings. You'll be able to see at a glance whether a custom or default ToneMatch preset is applied to a channel, whether a wireless transmitter is connected, and whether Live Stream mode is enabled.
The three OLED displays automatically rotate with the S1 Pro Plus's orientation, so they're very easy to read whether you've got your S1 Pro Plus upright, or on its side like a monitor wedge.
Lighter Weight, Slightly Smaller Shape
"Plus" does not mean plus-size! The Bose S1 Pro Plus is actually lighter in weight than the original S1 Pro, weighing in at 14.4 lbs vs. the Bose S1 Pro's 15.7 lbs. Size-wise, the S1 Pro Plus fits the same footprint as the original S1 Pro, with HxWxD dimensions of 13.1″ x 9.4″ x 11″, but it appears a hair smaller due to its more rounded corners and softer edges — which Bose calls "visual refinements for a cleaner and more elegant look." Bose also slimmed down the carry handle to make the S1 Pro Plus a bit more ergonomic. You'll find that the S1 Pro Plus still fits nicely into Bose's official S1 Pro Backpack, and under the S1 Pro Slip Cover with just a bit of room to spare.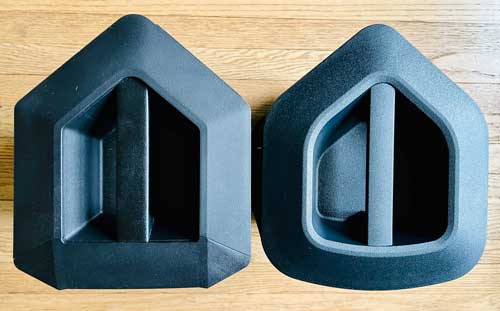 Remote-Control Your S1 Pro Plus with the Bose Music App
The free Bose Music app lets you easily remote-control all your S1 Pro Plus's settings from your smart device. It's worth noting that you don't need to use a smart device to rock an S1 Pro Plus — you can access almost all of its features via the OLED displays on the back panel. But the app is great for controlling music playback levels from across the room. Volume, EQ, reverb, and Bose's entire collection of ToneMatch EQ presets are at your fingertips with this simple-to-use app.
Expanded ToneMatch Capabilities
Bose's original S1 Pro had limited ToneMatch capabilities: it let you select "Microphone" or "Instrument" ToneMatch presets to optimize Channels 1 and 2 for a dynamic handheld mic or a steel-string acoustic guitar with piezo pickups. The Plus model gives you quick access to those settings, and also adds a great deal more flexibility, thanks to the Bose Music app. Fire up the app on your smart device to select from Bose's lengthy library of ToneMatch presets for specific mic and instrument models, or apply generic EQ filters. Once you've set them, your custom presets persist on your S1 Pro Plus. To bypass all ToneMatch processing, select OFF on the back-panel menu or in the Bose Music app.
Dual Wireless Streaming
The Bose Music app also gives you access to another feature new to the Bose S1 Pro Plus: dual wireless streaming. This feature, which you can enable/disable in the Settings menu of the Bose Music app, lets you play Bluetooth audio from both your S1 Pro Plus and another compatible Bose system at the same time, in either dual mono or stereo. If you have a second S1 Pro Plus, or Bose L1 Pro column system, this is a great way to cover a wide area with music.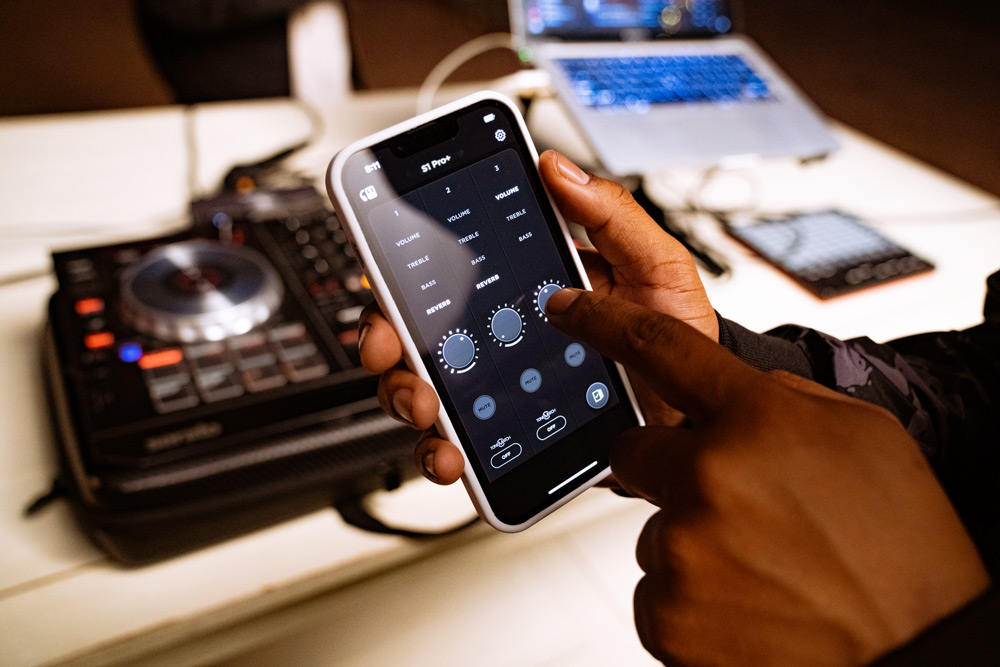 New to the S1 Pro Plus: Sub EQ Setting
Let's say you're a mobile DJ, and you want to run a dedicated external subwoofer while running your Bose S1 Pro Plus as a "top box." Bose has added a "Sub EQ" setting that optimizes the system's crossover EQ for just this scenario. Connect your external powered sub to the S1 Pro Plus's Line Out port, and enable Sub EQ using the S1 Pro Plus's back panel (or the Bose Music app). This Sub EQ mode means the S1 Pro Plus can make more efficient use of its available wattage, since it's no longer responsible for reproducing the sub-bass frequencies on its own. (You can use this mode with any external powered subwoofer, but Bose recommends their own Sub1 or Sub2.)
New to the S1 Pro Plus: Live Stream Mode
Another feature new to the Bose S1 Pro Plus is Live Stream mode, which allows the system to be recognized as an audio interface when you connect it to your computer using a USB-C cable. This lets you perform live for an online audience or record audio directly to your computer's digital audio workstation (DAW) — while monitoring yourself through your S1 Pro Plus.
When Live Stream mode is enabled, the system passes a dual mono mix of Channels 1, 2, and 3 to a connected computer. In this mode, the channel volume controls behave like faders on a mixer. When you adjust the channel controls on the back of the S1 Pro Plus or Bose Music app, you'll adjust the level of that channel within the mix being sent to your computer. A monitor volume control also appears on Channel 3, allowing you to adjust the master volume of the system speakers without affecting the computer mix.
New to the S1 Pro Plus: USB Charging Port
Another addition to the Bose S1 Pro Plus is a USB-A charging port for your smart devices. Bose really thought of everything!
How Does It Sound?
Bose took the opportunity to make some tweaks to the voicing of the S1 Pro Plus compared to its predecessor. You'll notice improved clarity, a more prominent vocal range, and improved low-end definition. It sounds like a well frequency-balanced full-range PA. And like the original, the S1 Pro Plus gets high marks for wide horizontal dispersion, which means just one speaker can fill a performance space.
S1 Pro Plus: A Worthy Successor to the S1 Pro
The Bose S1 Pro has a worthy successor in the S1 Pro Plus. Though Bose packed the S1 Pro Plus with flashy new features — most notably the built-in wireless receivers — they didn't change what performers loved about the original S1 Pro: its battery-powered convenience. Just like the OG model, the S1 Pro Plus's rechargeable lithium-ion battery provides up to 11 hours of play time per charge. You can remove and replace the battery by removing just two screws on the bottom of your S1 Pro Plus.
If you've been on the fence about investing in an Bose S1 Pro, your wait has been rewarded — the Plus model is now here with upgrades galore.