Known for their popular iLoud MTM monitors, IK Multimedia is stepping into the high-end monitor market with their iLoud Precision line.
At this price point, high-quality materials and cutting-edge design are to be expected, but the iLoud Precision monitors also boast a very modern set of features, including in-speaker ARC room correction, customizable EQ settings, and even the ability to model the frequency and phase response of other popular monitors, such as the ubiquitous Yamaha NS-10s — all of which runs on the speaker itself, not with a plug-in that you have to run in your DAW. In this post we'll take a look at what these speakers are all about, including setup and real-world use with the included X-MONITOR control software, plus whether they're a good option for home studio owners.
Three Flavors
The iLoud Precisions come in three models, the Precision 5 (with a 5-inch woofer), the Precision 6 (with a 6.5 inch woofer), and the Precision MTM (with two 5-inch woofers). While the 5-inch and 6.5-inch models are laid out in a standard tweeter-above-woofer style, the MTM model uses a woofer-tweeter-woofer design that creates a point source and reduces the vertical dispersion of audio from the speaker, in turn reducing room reverb for a more clinical, detailed sound. If you want ultra-precise representation of the source audio, the MTM may be the model for you, whereas the 5-inch and 6.5-inch models tend to sound a bit more comfortable/natural.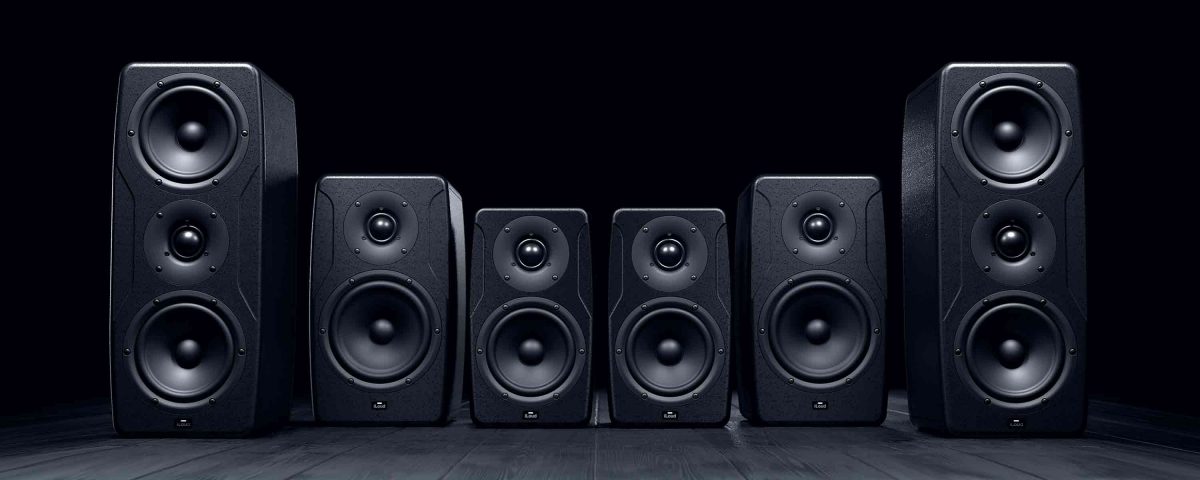 For this review, IK Multimedia sent me a pair of the Precision 6 monitors, and a beta copy of the X-MONITOR software.
iLoud Precision 6: At a Glance
In the box you get the speaker, the isolation pods that fit on the bottom to reduce vibration, an ARC room measurement mic, a four-button remote control, and a cable to connect the two speakers for use with ARC and X-MONITOR.
On the back of the speaker you have buttons with LED indicators allowing you to select low-end cutoff, low and high frequency levels, a calibration/preset function that can be set to Desk, Flat, or Cal (ARC-calibrated mode), auto standby, a +/- 5dB level knob, control in/out jacks, a combi input jack, the ARC mic input jack, and a power switch and power cable jack. Note that these are back-ported speakers, and while placement close to a wall or in a corner is not recommended, ARC calibration and X-MONITOR settings may help balance the response if you need to set these up in a tight space.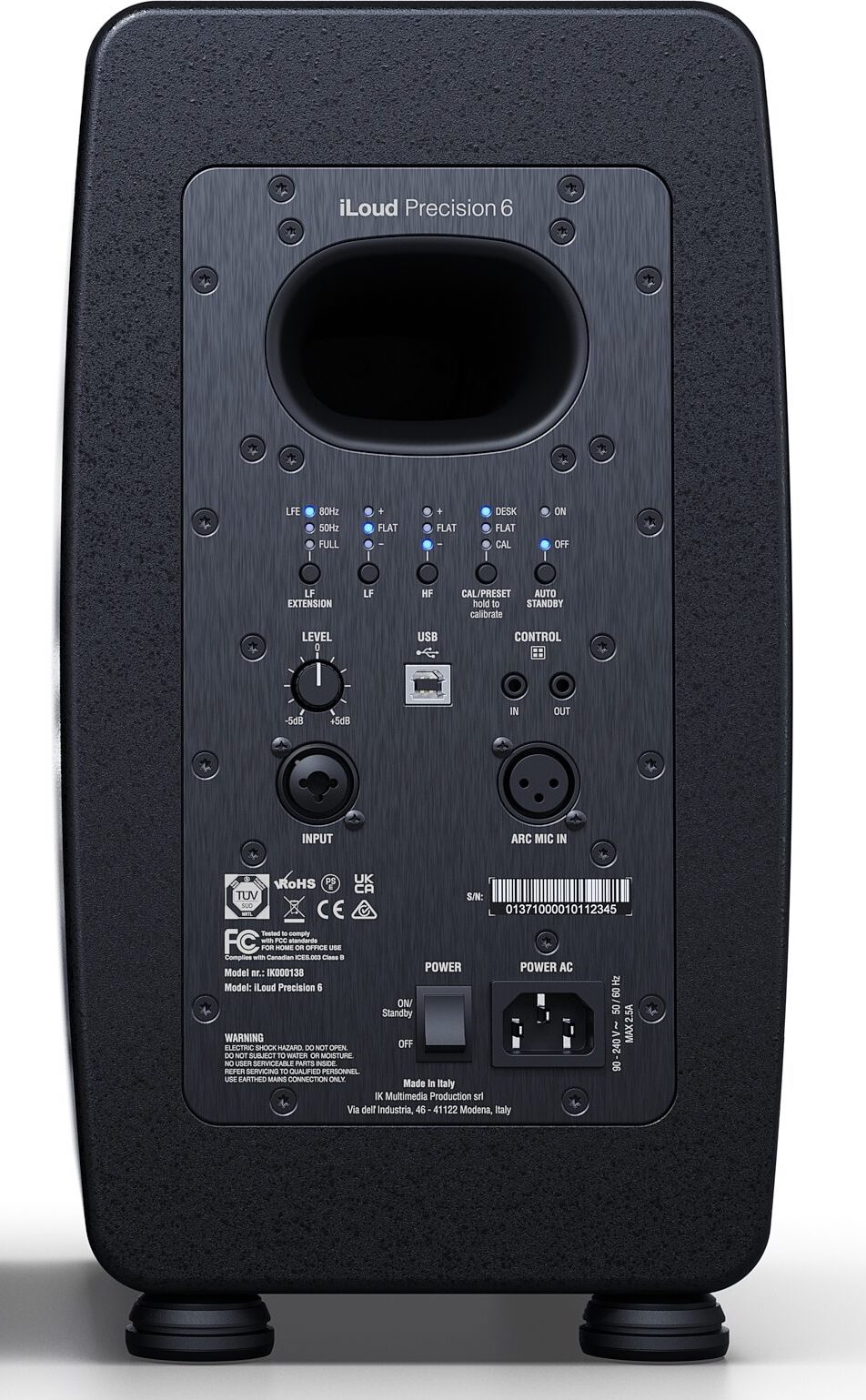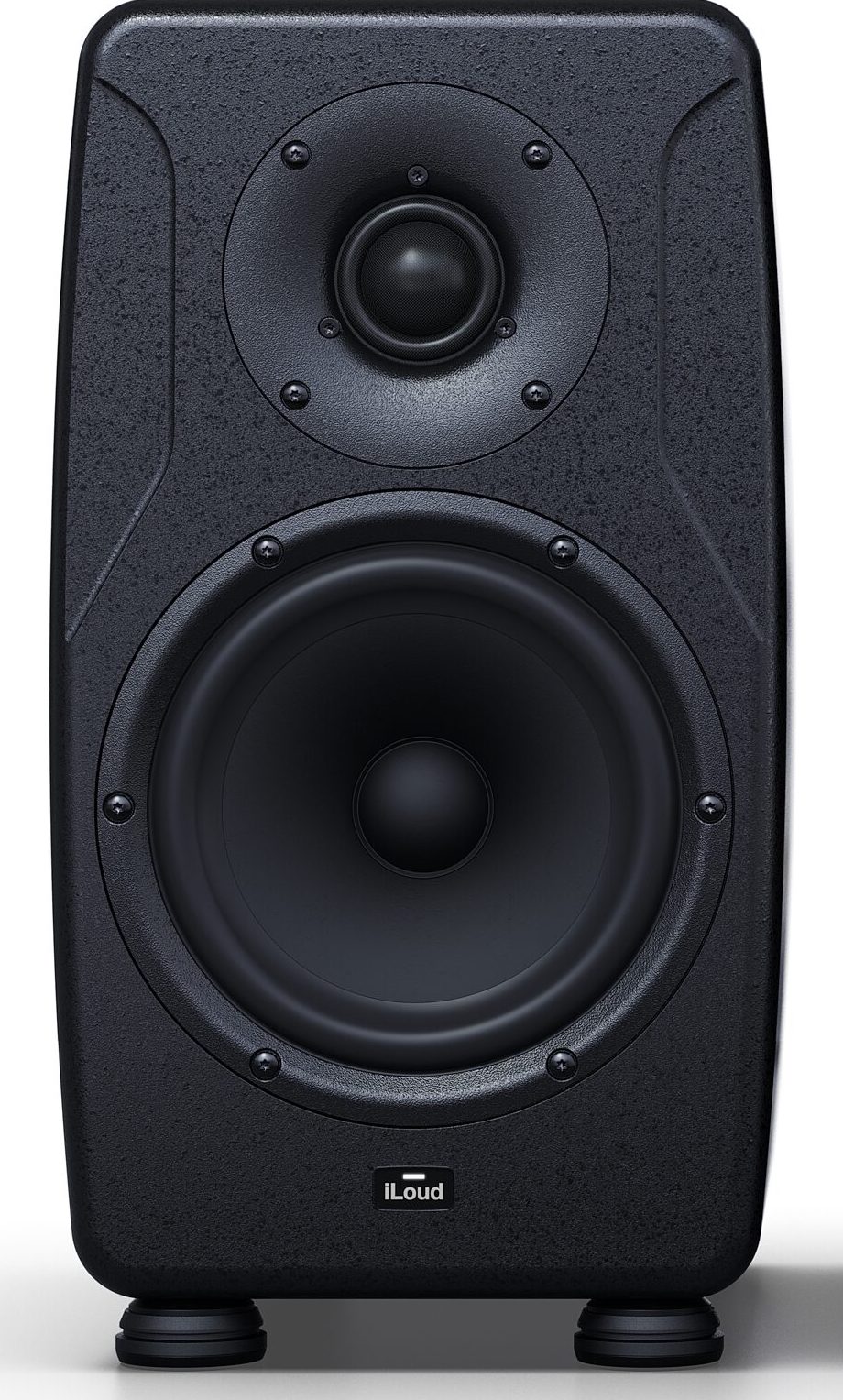 The front of the speaker is a very utilitarian all-black design with a white LED that changes to blue when you have any speaker mode other than "Precision" engaged.
Taking a Listen
Immediately out of the box, on the standard "Precision" setting, the iLoud Precision 6s are very impressive. That high-end monitor sound is apparent, with extremely detailed and smooth treble response, crystal-clear midrange, and very full low-mid and bass response considering the speaker size. The bass performance in particular is something IK Multimedia is making a point to emphasize, and with good reason. The bass and low-mids really jump out at you in a way that doesn't happen with budget studio monitors.
But where the iLoud Precisions really set themselves apart is the built-in ARC room correction, plus EQ adjustments and simulated response of other monitor models, without having to constantly run audio processing software on your computer. This all works rather seamless with the included ARC mic and X-MONITOR control software.
ARC It Up
Setting up the monitors with the ARC room correction is pretty easy as long as you have a mic stand. IK Multimedia specifies four positions to place the mic: (see picture below)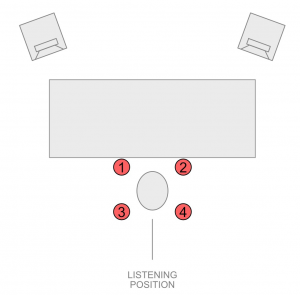 After connecting the mic and placing it on a stand, you simply put it in each of the positions, pressing the corresponding number on the remote (1 through 4), and the speaker plays a frequency sweep a couple of times. The whole process for all four positions takes about five minutes. After this is complete, the ARC-corrected frequency response is saved into the speaker, and is selectable using the four-button remote.
One thing that IK Multimedia mentions is that ARC corrects the phase for the listening position, but a side effect is that it actually creates poorer phase response in off-axis positions. This means the audio that's reflected in the room and back to your ears is actually less neutral than before, so it's worth listening with and without ARC in any particular room before deciding which way to go. Having a remote control to instantly switch between modes without moving from the listening position makes this easy.
X-MONITOR
The X-MONITOR control software allows for a much more detailed level of customization than what's available on the four-button remote. To adjust the settings and set the speaker up how you want, you first need to plug in each iLoud Precision monitor to your computer with a separate USB-A to USB-B cable (printer cable). After customizing the settings, they remain saved in the speakers.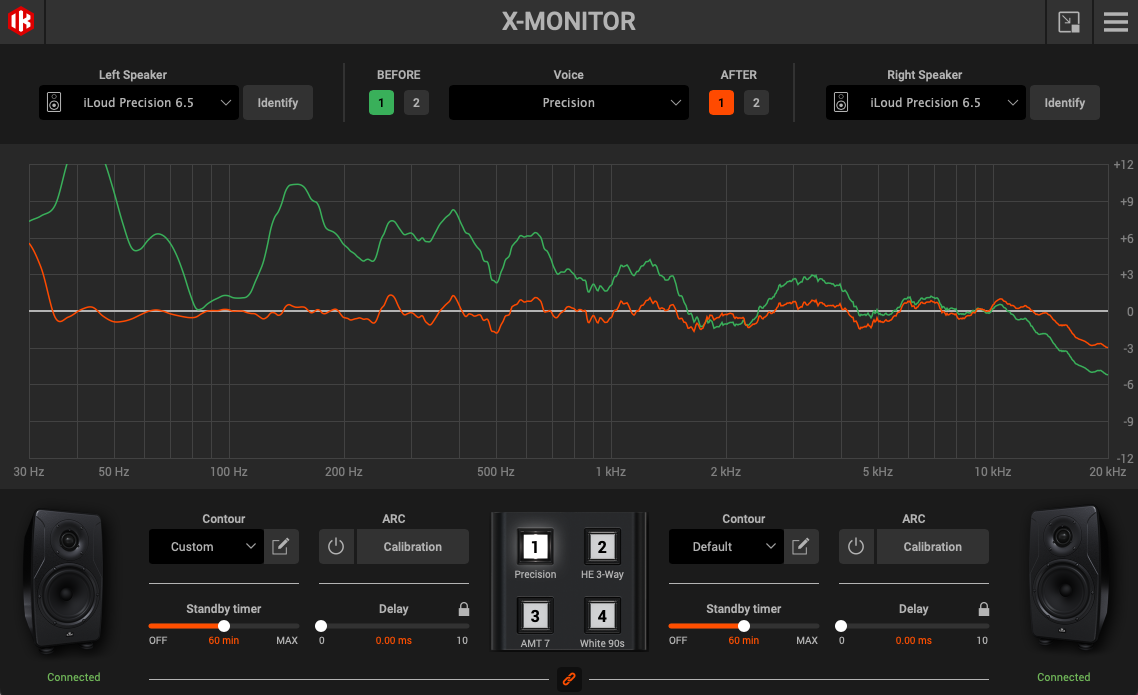 Upon opening X-MONITOR, you're greeted with the above display window. At the top under the heading "Voice", the four standard voicings are listed (these are the ones that come pre-installed, accessible by the remote, before you install X-MONITOR). They are Precision, Comfort, HF Presence, and Wide Dispersion. Precision is a completely flat EQ, Comfort accentuates low-mids and brings down the hi-mids a bit, HF Presence boosts the treble, and Wide Dispersion widens the tweeter dispersion area, which is great if you have a few people listening in on a mix (or if you're using the speakers for home theater or casual listening purposes).
Now here's where we get into modeling specific studio monitors. Under the "Studio Monitors" menu, you have a list of about twenty models:

According to IK Multimedia, these are more than just EQ settings and actually include phase response modeling, for a very versatile range of possible sounds. Running through the different models (without all the original speakers physically on hand to compare, obviously), I found the modeling to be pretty impressive. The three that are set up as presets by default (Classic AMT 7, Hi-End 3-Way, and White 90s) sound to me like they would be useful to mix into, or at least compare mixes with. Also I happen to own the model that "Modern White 5" is based on and the sonic similarity is striking.
I was a little less impressed with the three home-stereo-type models under the "Hi-Fi" menu (your mileage may vary), but I think the three settings under the "Multimedia" tab are going to prove useful to mix engineers. They are "49-inch TV", "Portable BT [Bluetooth] Speaker", and "Smartphone". These settings sound convincingly like the speaker types they're trying to evoke, with all the inherent flaws of these speaker types (the Portable BT Speaker mode has the signature low-end bump that these speakers usually exhibit). If you wanted to regularly check mixes using the Smartphone setting, you can easily load that into one of the 4 remote easy-access settings, and do that immediately at the push of a button. Settings are saved as remote-control-accessible presets by right-clicking on the remote button you want to change in X-MONITOR and assigning the desired preset.

In the lower section of the window you can see the ARC on/off setting, standby timer, time delay, and "Contour." "Contour" provides you with EQ settings to make up for the speaker placement (i.e. if your speakers are near a wall, on a desk, etc.):

Here you have more options than are typically available on the back-of-speaker settings on most monitors. Another nice thing about the IK X-MONITOR system is that you can audition these contour settings while sitting in the mix position. I don't know about you, but for me that makes all the difference. By the time I've walked over to the monitors, fiddled with the controls on the back, and gotten back to my chair, I've usually lost the mental picture of how the sound was, as compared to the sound post-adjustment. This is of course true for all the settings that you can access via X-MONITOR — it's just better to do so while sitting in the listening position, with a sonic change that you can immediately hear.
Do You Need These?
Although not as affordable as models in the more popular $100-$300 price range, iLoud Precisions may still make sense in a home/project studio situation. Consider the ARC room correction alone, which can help many a home studio owner overcome crippling room acoustics and room treatment issues. Similarly, the ability to adjust the EQ curve of the speaker and save it into the speaker without running additional software can be great for those who need to tweak the frequency response to adapt to their room, but don't want the CPU hit and latency of running extra audio processing software. And of course, the ability to model different monitor models accurately can be hugely helpful for making sure your mix will translate in different environments, a process that usually requires a couple different sets of speakers.
If you're looking for studio monitors that can deliver pro results, especially in a less-than-ideal acoustic environment, iLoud Precision monitors are definitely worth a close look.