When music lovers want to give an unforgettable gift for a special someone, or commemorate an event like a wedding or anniversary, they turn to Songfinch — a unique service that creates personalized, custom-made original songs. Songfinch's team of artists rises to the occasion, producing made-to-order material in their home studios in 7 days or less. How do they do it? With lots of creativity, well-honed musical chops, and a few must-have pieces of gear.
We talked to Songfinch's Senior Music Supervisor, Ryan Tedder, to compile this cheat sheet of gear that Songfinch artists — and you — can use to achieve pro-quality tracks at home. Sharing Songfinch's secret-weapon gear picks isn't tough for Tedder: "Gatekeeping is not something I'm a fan of…This is stuff to be shared," he explains. "I don't feel like there's any purpose to keeping studio secrets. I'm a fan of inspiring creativity wherever it can be found."
---
Microphone Pick: Shure SM7B
Tedder's top home studio mic recommendation is a time-tested workhorse dynamic: the Shure SM7B. This venerable beast can pull its weight on vocals, guitar amps, horns, drums, and more. "In terms of using it for a home studio, it doesn't pick up any background noise — you've got a pickup pattern that's like a basketball in front of it. You can record with people doing construction outside, and it gets a really nice sound. It may not be the most colorful sound in the world, but I think it's absolutely great for getting a clean recording that can translate an idea. At home with my SM7B, I've done everything from full horn sections to huge vocal choruses."
Is a standalone mic preamp necessary with a low-output dynamic like the SM7B? Tedder says it's not a must-have, if your interface has built-in preamps with a decent amount of gain on tap. "A lot of people will use in-line preamps like a Cloudlifter or sE Electronics Dynamite…I just crank my gain knob up on my Steinberg interface. I don't really have a signal-to-noise issue with it."
Some acoustic instruments are better served by a condenser mic than a dynamic, Tedder points out. So if you're recording acoustic guitar or an acoustic piano in your home studio, an entry-level condenser like an MXL 770 or Audio-Technica AT2020 is a good place to start.
---
Audio Interface Pick: Focusrite Scarlett 2i2
Your audio interface is the heart of your home studio recording setup — the magic box that connects your instruments and microphones to your computer. "Most Songfinch artists that I speak to get a Focusrite Scarlett 2-channel interface, and they're getting great results from those. It's not expensive, and it's high-fidelity. Personally, I have a Steinberg UR22 that I love. There's so many brands that have little 2-channel interfaces, and they all work relatively the same," Tedder says.
When it comes to choosing a computer for making music, Tedder is a bit more brand-loyal. "I am a Mac guy. I'm a huge fan of the new M1 Macs — they're so cheap. For a home recording setup, for $800 bucks, you've got a machine that's able to handle anything you need."
---
Headphones Pick: Beyerdynamic DT 770 PRO (80 Ohms)
When he's not not monitoring through his JBL 308P MKII studio monitors, Tedder reaches for his trusty set of Beyerdynamic DT 770 PRO headphones, which are available in a choice of 32-ohm, 80-ohm, and 250-ohm impedance ratings. "I'd recommend the 80-ohm. Sometimes people will accidentally get the 250-ohm, and they're super quiet, unless you've got some huge amp that can really push audio through it. So 80 ohms is a great middle-of-the-road rating."
---
Keyboard Controller Picks: Akai MPK249 and Casio Privia
For a do-it-all MIDI keyboard for the home studio or live use, Tedder recommends the Akai MPK249. "If you're doing electronic music, it's really an ideal MIDI controller. It's got everything you need. It's my number one favorite waterfall-keyboard MIDI controller. I bought the MPK249 because I like the MPC-style light-up drum pads. On the original MPK49, the pads had a sensitivity issue. But on the MPK249, out of the box, immediately, it was touch-sensitive and just responded properly."
If you don't envision yourself using drum pads while tickling the ivories, Tedder suggests setting up a Casio Privia digital piano as a MIDI controller. "If you've got the budget, I think the key action on Nord keyboards is unparalleled. But when it comes down to it, I'd recommend a Casio Privia 88-key weighted piano for anybody who uses MIDI. They're inexpensive, the weighted action allows you to be dynamic and expressive, and you can record via MIDI or direct audio out."
Tedder says he always recommends using MIDI for capturing keyboard parts. But if you'd prefer to capture your keyboard's audio output via a DI box, he has a pick for that, too: "I've got a Radial KeyLargo that I track my keys with. That thing really colors the sound beautifully."
---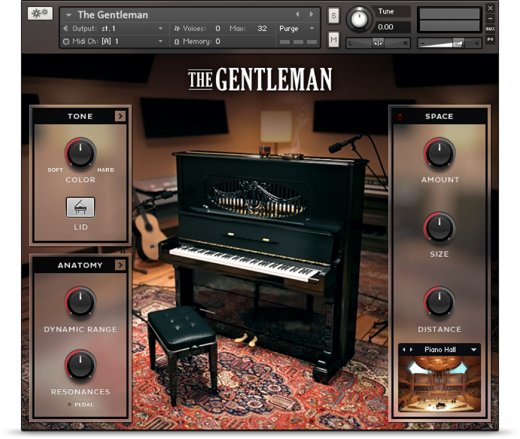 Virtual Instrument Pick: Native Instruments KOMPLETE
Once you've got your MIDI controller set up, you'll need a few good software instruments to trigger with it. One popular option that gets the Songfinch stamp of approval is Native Instruments KOMPLETE, which is packed with software synths and emulated instruments of all kinds. Tedder's especially a fan of NI's "The Gentleman" piano: "It can do that kind of muffled, warm console piano that you hear in a lot of pop music, with those big wide chords," he explains.
---
Vocal Processing Plug-in Pick: iZotope Nectar
For Songfinch artists tasked with turning around a track on a tight deadline, Tedder recommends iZotope plug-ins as a quick, easy shortcut to achieving a very high-quality sound in your home studio.
"I used to use all kinds of things, from Soundtoys to Waves plug-ins, but I'm 100% on the iZotope bus now. Ozone for mastering, Nectar is the go-to vocal plug-in, and Neutron I use from time to time to make a track pop in the mix," says Tedder. "My goal is always to not let the technical get in the way of the creative, and iZotope has a one-click process that gets you 99% of the way there, and then you can just season to taste. It'll bring out your vocals and make them crisp and airy, and it'll notch a space in your backing track for the vocals," he explains.
Pro tip: If you're interested in more than one iZotope plug-in, you'll save money by picking up one of iZotope's bundles.
---
Is That All?
Connoisseurs of high-end recording gear may notice that many of Tedder's picks are decidedly on the "budget" end of the spectrum. "You've got to walk before you can run," says Tedder. "If you're going to make something that's going to be on a world stage, then go to a professional studio and use all the fancy gear. But you can get 80% of the way there for like $600 bucks. And that's what sites like zZounds are for! You've got all the stuff artists need at home to eliminate the technical roadblocks. These are inexpensive recommendations that have been tested, and they work. Get simple gear that works! If you have the gear you need at home to track and create a really high-quality demo, that's all you need."