This is not hyperbole: every recording engineer prizes their large-diaphragm condensers. Why, you ask? When you've found "the one," you use it on almost everything.
In comes Lauten Audio. Whether it's a cream-of-the-crop professional model, or an extremely affordable budget mic, Lauten specializes in high-quality microphones. The Lauten Audio LA-220 occupies the "Goldilocks zone" between those realms — a sweet spot of quality and price. It's an ultra-low-noise FET condenser with a cardioid polar pattern, independent 120 Hz low-cut and 12 kHz high-cut filters, and a transformer balanced output.
Does it hold up under extreme scrutiny? Will it maintain its honor under duress? To see just how versatile this mic could be, we put it to the test using a variety of sound sources and equipment.
Check out the audio samples below to hear it in action!
Electric Guitar
While setting up the recording session it became immediately apparent that this was a sturdy, robust mic with a good "weight" to it. I had no concerns over its reliability, which is important, especially when a mic will be traveling to other recording locations or used out in the field for live shows.
It was time to see how the mic sounded on recorded electric guitar, which can sometimes sound a little thin and lack "heft" depending on what kind of EQ curves your microphone may impart on its sound. This specific LA-220 microphone had a nice bump in the low register (see photo below) around 50-150 Hz that provided a wonderful thickness to clean electric guitar tracks, requiring no additional boosting of the lows or low mids to get a fat sound.
Here's a diagram of my mic's frequency response: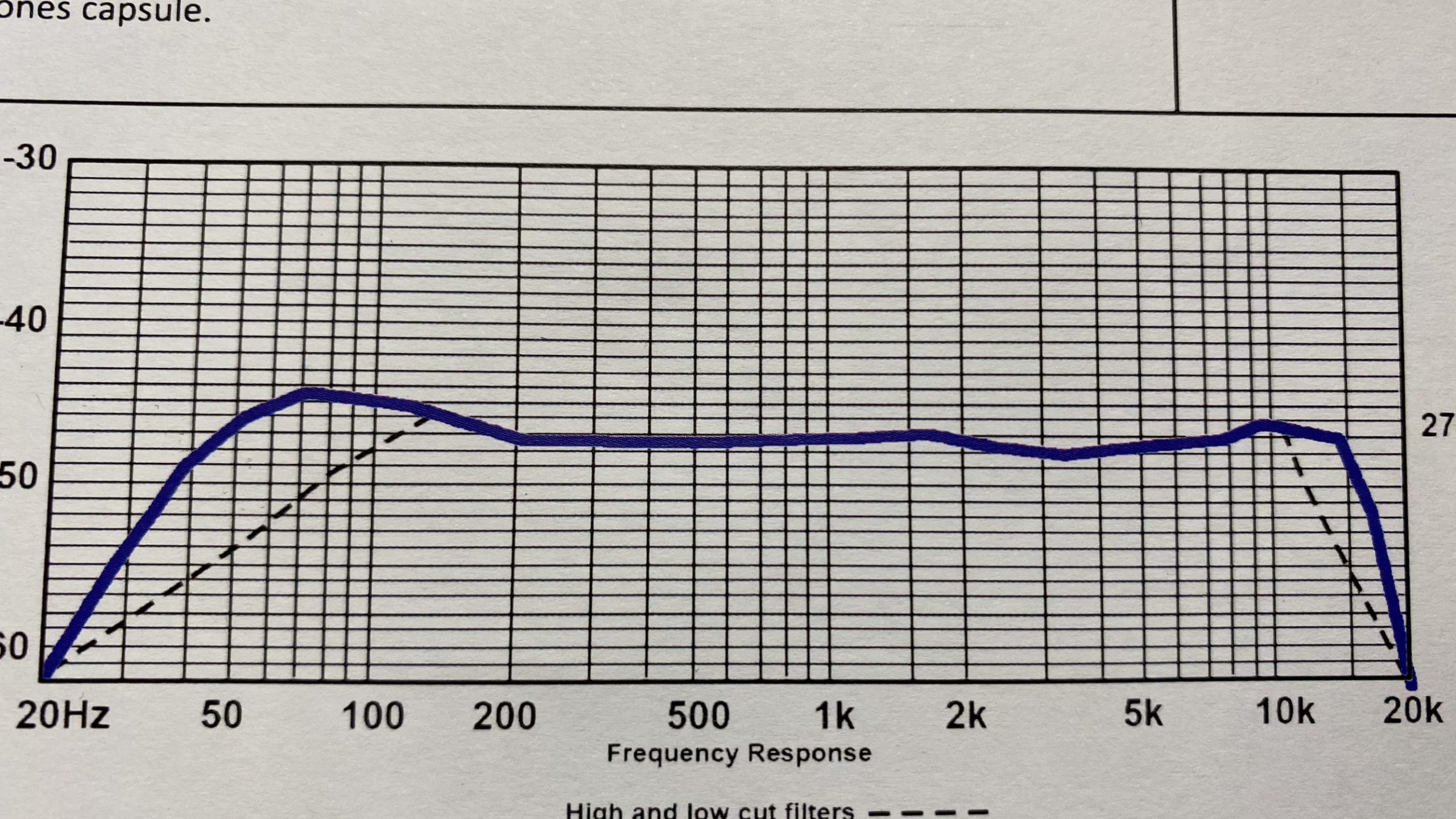 For my dirty electric guitar tracks, the hope was that the mic would give clarity without being fatiguing on the ears. As it turns out, the high-frequency detail was articulate, but not overbearing or harsh. This made it a snap to find the right mic placement just off the center of the speaker cone, and about 5-8 inches back off of the cab.
---
Mic placement is a process in which fractions of an inch can dramatically change your overall sound. Get some key tips from this post! | Read »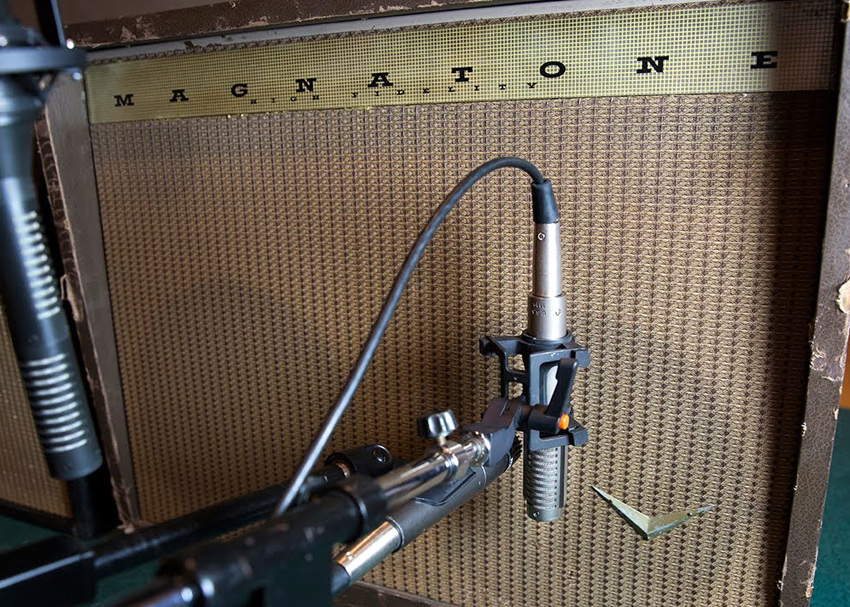 ---
That being said, the extra smooth character of the mic allowed me to experiment by driving my API preamp a bit harder, which usually gets a little spiky in the 4-5 kHz register. The LA-220 handled it like a champ. Even when pushed it was clear and pleasant – I was impressed. It was a welcome departure from the almost habitual guitar EQ cuts in that region, with no dreaded 5 kHz spikiness!
Check out the samples below to hear how the detail sounded in the full mix, and isolated.
Acoustic Guitar
The LA-220 has a proclivity for flattering its sources, so it's no shock this translated well to acoustic guitar recordings too. Acoustics move a lot of air in the low register though, so as long as the microphone was placed at an appropriate distance to eradicate the boomy "proximity effect" it fared beautifully and was easy to mix. Notice how even this mono recorded 6-string acoustic guitar had a great depth to it that really made the drop tuning pop.
Next up was a recording of my 12-string acoustic guitar. Personally, the main and only goal when recording 12-string guitar is capturing as much harmonic character as possible to accentuate the richness of the extra strings. When aiming a little below the 12th fret, the string shimmer and pick attack were clear, though admittedly I did have to attenuate the upper midrange from 1-3 kHz a bit to get it to smooth out. My personal motto: it's better to have too much treble that needs to be removed, than having to boost more in afterwards.
Vocals
Need that polished, larger-than-life studio vocal sound? Grab a large diaphragm mic. It just works. It's no secret that a good large diaphragm condenser microphone is practically made for vocals – they have that magic quality of flattering every source that's thrown at them.
Since vocals are not a strong suit of mine, this portion of the testing got really interesting. Could the 220 flatter even my voice? I plugged into my Chandler TG-2 preamp, and a Universal Audio 1176 FET Compressor and got to work. While a single recorded vocal track would have sufficed to show how the LA-220 handled vocals, a better test was to layer multiple harmonies on top of each other. In my experience, this really shows the true "character" of a microphone when multiple tracks are layered. The same applies to preamps, and reverbs too. Stack more, hear more of its actual color.
To test it out, the vocals were recorded over a neo-soul track that was lacking a foundation mix-wise. Oftentimes that genre revolves around the vocals as the centerpiece, with less forward focused instruments occupying the rest of the space in the mix (Ex. the Fender Rhodes electric piano).
Voilà! The recorded vocals sounded present, thanks in part to the LA-220's nice bump in the 8-10 kHz frequency range pictured above. That "air" is great for vocals, especially if you are recording a singer with a breathy or wispy voice and need to capture that high-end detail.
Pro Tip: Don't be afraid to use a pair of these bad boys on drum overheads — that upper treble is magic on cymbals and hi-hats.
It was really surprising how the LA-220 handled stacking with no mud and no buildup. In order to get the vocals to sit well in the mix, the 200-400 Hz range was notched out a bit to make room for the bass guitar and kick drum in the mix, but this is standard operating procedure for any good mix. Nevertheless, a good mic makes a good workflow!
Final Thoughts on the LA-220
The Lauten Audio LA-220 was versatile, flattering, affordable, durable, and dependable. There are no doubts about reaching for this microphone on future sessions, and that speaks volumes. Besides all that was covered here, there are countless other recording applications for this microphone (percussion, orchestral strings, horns, drum overheads). If given a chance, this mic will easily become a workhorse of your mic collection. Get one.