A high-quality preamp gives you a lot more than clean, low-noise gain. A preamp is the window through which your recorded audio passes, and the preamp you decide to use will impart its character to everything you record with it.
If you think about your mix like a building, then you can see why having bad-sounding recordings as the foundation is a bad idea. Even if your music is mainly electronic and you're only putting vocals on top, your preamp of choice will have a huge impact on the sound of the finished track — a good preamp can capture so much detail and musicality in a performance (vocal or otherwise), that it can seem like it's adding some kind of magic, making the sonic difference between a home demo and a polished studio recording.
In this post I'll make the case that the Focusrite ISA One is a perfect choice as your "centerpiece" preamp for vocals, live (miked) instruments, and DI instruments (guitar, bass, synths).
Dial in your sound
With its perfect balance between warmth and transparency, the ISA One provides a great foundation for your mic sound — rich, detailed, low-noise, and very EQ-able. The adjustable impedance settings are perfect for dynamic microphones, including ribbon mics, opening up a new range of tones. Try the ISA One on an SM57 or SM58 and hear the difference that quality circuitry and variable impedance make to the sound.
Based on years of innovation dating back to the vintage ISA 110 module preamp, the ISA One uses the same circuitry as the original model including a Lundahl L1538 transformer for a thick, rich tone. Its variable impedance settings let you adjust your tone to be warmer or brighter to your taste, whether you're using the DI or mic input (or both simultaneously!).
The variable impedance can really be a lifesaver in certain scenarios, as I found out when I used it to record audio for an interview. The interview was conducted in a very "live" room that had a lot of reverb, so I used a Beyerdynamic M160 to mike the interview subject. Its hypercardioid pickup pattern and focused, not-overly-bright sound helped to attenuate some of the room reverb, but I was worried about a lack of clarity, due to the mic's dark tonal character. In this situation the adjustable impedance on the ISA One was perfect for bringing forward the midrange for a very clear, intelligible recording.
Capturing detail is obviously important with vocals, and this extends to string instruments as well. A good preamp is key for picking up transients and harmonic detail in a way that's pleasant to listen to. Plus, if your recording is noisy then you're going to be limited in how much EQ work you can do.
A versatile DI for instrument- and line-level signals
The ISA One excels in DI applications, giving you a bright, full tone (with its own, separate gain control) that you can dial in using the 4 selectable impedance options. You can also record a DI and microphone input at the same time, with a separate output for each. This is perfect for miking an amplifier and recording a clean DI signal simultaneously, without requiring an additional preamp!
The all-around studio workhorse
To a home studio owner $699 for one channel may seem steep, but having one great preamp channel in your studio is invaluable. The ISA One delivers a clear, high-impact sound without too much coloring of the sound.
The ISA One offers you what cheaper, "character" preamps can't — versatility. It's great to have a couple of character preamps when you're looking for a saturated or especially dark, vintage type of tonality, but most of the time you just need a mic (or DI) to sound good. The ISA One provides gain that's clean, but not too clean! Drive it a bit and you can get a very nice saturation, but operate it at normal levels and the ISA One delivers a tonality that's warm and musical without any loss of high-end detail. And while it's easy to add saturation and color later, you can only capture a clean, high-quality recording at the source — once it's degraded, you can't go back!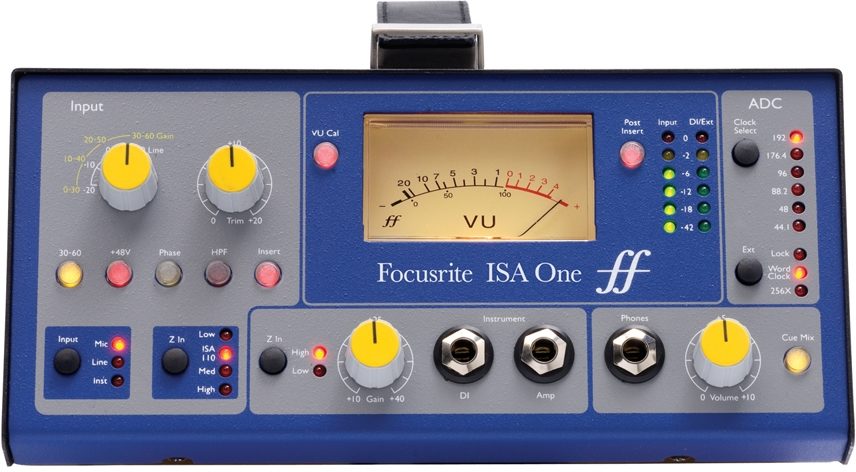 With its even balance between transparency and warmth, the ISA One provides exactly what you need from your main workhorse preamp — and it may be the most versatile option available for under $1000.
Plus, check out the Focusrite ADN2 A-D card to add digital outputs to the ISA One (S/PDIF, ADAT, AES3, and Dante) for even better sound quality and more expandability options!