One of the best things about being a guitar player is that our rigs can be great tools for creativity. Whether it's with larger-than-life amps, or large, complex pedal boards, the possibilities are truly endless! But sometimes, even the gear addicts among us like sitting down to play without having to hook up the entire rig. Introducing the little amp with big surprises: The Roland Micro Cube GX!
The Specs
To start, the specs for the Micro Cube GX really make it special. This little amp has only 3 watts of power pushing a 5-inch speaker — but don't let the size fool you. If you push this amp, you can legitimately busk with it! Additionally, it features AUX/headphone inputs for play-along/silent performance and an onboard tuner.
The Micro Cube comes with more tones and FX than the average mini amp. Starting with the tones, we have Acoustic simulator, JC clean, Black Panel, Brit Combo, Classic Stack, R-Fier Stack, Extreme, and a Mic option that allows you to perform with a microphone through the amp. Without going into detail about the characteristics of each tone option, I will say that these options cover the standard variety of amp tones very well. It goes smoothly from clear and robust cleans, to midrange with true character, to heavy rock and metal tones. Three of my favorites are JC Clean, Classic Stack, and R-Fier. Below are soundbites of these tones:
The FX on the Micro Cube GX include your standard Chorus, Flanger, Phaser, Tremolo, Delay, and Reverb. This is a fairly expansive amount of options for a mini amp, and they are all performance-quality! Below are examples of these FX in action:
Why the Micro Cube GX?
So…why did I buy this amp? I'm a traveling guitar teacher in the city of Chicago, and for my teaching, I have traveled on buses, trains, and bikes…all with gear! For a while, I was carrying bulky amps onto buses for lessons. But after a while, it just became too much. Thus began the search for an amp I could use for travel teaching — one with real speaker power, real tone selections, and totally portable.
One of my favorite things that this amp includes has nothing to do with tone of speaker power. It's actually the carrying strap that comes included. This was a huge selling point for me because it allowed me to strap the amp onto the handle bars of my bike or around the back of my case for travel mobility.
The Micro Cube GX as a Teaching Tool
As a teaching tool, the Micro Cube GX allows me to demonstrate real amp tone and FX in a compact package. When teaching one of my students "Welcome to Paradise" by Green Day, I was able to use the modeling settings and the responsive EQ to demonstrate how to get as close as possible to genuine Green Day tone. It is important to me as a guitar teacher to be able to demonstrate to my students how to get the tones they are hearing in the songs they are playing, and the Micro Cube GX allows me to do that. Below is the tone setting one of my students and I worked out for "Welcome to Paradise":
The Micro Cube GX allowed me to demonstrate how to add flavors to solos with both a variety of tone and effects. For instance, I used the diversity of the tone options to demonstrate laid back solos with the "Classic Stack," a midranged gain setting, or heavier solos with the "R-Fier Stack" setting with a touch of the reverb setting. My main point here is that it would be easier for most players to have a large modeling amp or an FX chain with a bigger rig to spread out all of these options, but while there are other mini amp options that can perform in this realm, none that I have seen can do it like the Micro Cube GX.
Another feature of this amp that works as a great teaching tool is the aux input. I use this for play along, and with the amount of speaker power this amp has, it really works to give my students a nice and loud play-along experience.
On-the-Go Creation
Aside from teaching, the Micro Cube GX also works as a great practice and creative tool. As fun as it is to do, I do not always want to plug into my main rig just to practice or write. Sometimes I would like to practice and be creative in places where my stationary rig would not normally allow me to play. This is another area where this amp shines. The Micro Cube GX can be powered by 6 AA batteries, meaning I can take it virtually anywhere. Recently, I brought the amp with me on a trip to Michigan so that I could still practice through a legitimate amp without having to sacrifice any tone or FX. Being able to match the tones and FX of the songs I practice through has to be one of the amp's best features.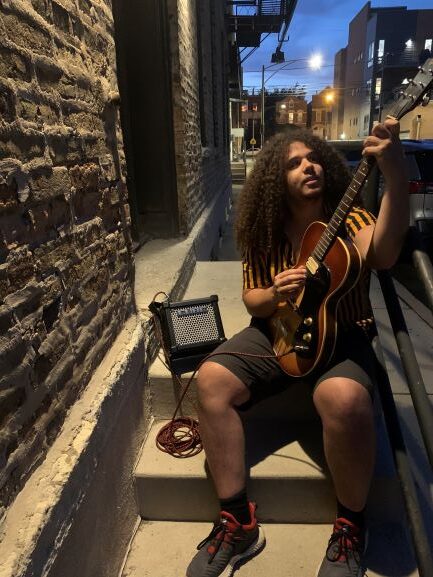 As a creative tool, it really bridges the gap between having to be stationary with a rig, and sacrificing the use of your tools in exchange for mobility. Perhaps you will find inspiration out in nature. Or maybe you hear ideas in your head with certain tones and FX intertwined with what you are experiencing. The reverbs, delay, phaser, chorus, and flanger options are as good as any standard effect pedal respectively.
I also found that this amp provides you the advantage of being able to work out ideas in real time. It's like a writer carrying a notepad everywhere in case inspiration strikes so they can be ready to write down their ideas. The Micro Cube GX can be brought anywhere a notepad can!
The Wrap Up
Now, as great as this amp is, there are a few things to consider before buying. For instance, you cannot stack tones or FX (for the most part). With the FX, the delay and reverb are on a separate channel from the rest. The remaining options cannot be stacked on top of each other, so you can only use one effect at a time. Additionally, this amp is not foot-switchable. Mini amps usually would not come with this option, but the GX has more to work with than what is typical for an amp of this size or purpose. However, each setting for both the tones and FX have clear indicators to make it easy to switch while playing.
The Micro Cube GX is truly a small amp with big surprises. It's loud enough to busk with, has the tone and FX options to allow for true performance and creativity, and is the perfect size for complete mobility. The Micro Cube GX has been a great tool for teaching, as well as an authentic template for creativity.