Welcome to the third and final installment of "The Quarantined Musician." You don't need me to tell you that this is a difficult time to be a musician. It has ravaged many of us mentally, emotionally and financially. My goal with this series was to:
1. Let you know that you are not alone in feeling disillusioned or stuck creatively, and
2. Provide some practical, real world steps to becoming a smarter musician for when this quarantine finally ends. Because it will end.
As challenging as the current state of everything is, I think this is also an opportunity for artists to hit the reset button and get back in touch with their goals and integrity. It is unlikely that we will ever have an opportunity like this again, so use it wisely and be ready to come out swinging on the other side.
Set Your Goals
It might seem silly, but simply writing down my short-term and long-term goals has always helped me contextualize my own path. Sometimes we think we know what we want to do, but forcing ourselves to actually spell it out gives it a certain gravitas in our brains. Often, it focuses our vision and helps us realize necessary steps that we did not conceive of before. Anyone in the world can say "I want to be a successful musician and make money from my passion," but very few people are willing to plan out the necessary short-term goals and follow through with them. I have a cork board and a dry erase board that sit on the wall next to me in my home studio. I write out my goals, to-do lists and inspiration on these boards. It forces me to actually absorb the words I have written, and encourages me to act on them every single day. Cliche aside, Thomas Edison might have been on to something when he remarked "genius is one percent inspiration and ninety-nine percent perspiration."
---
COVID-19 hit. Live music ended. Now what? TJ offers advice for musicians looking to cope. | Read »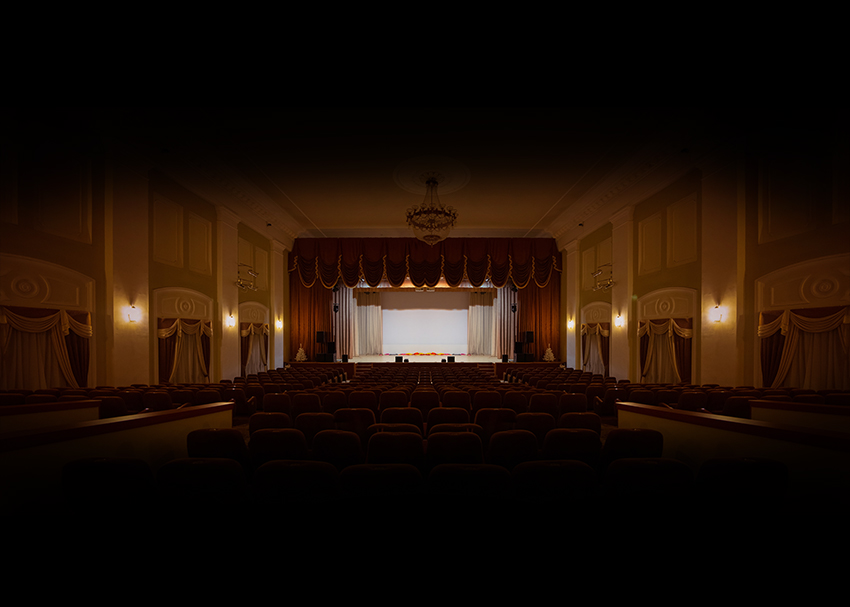 ---
The Right Stuff
The section will be an elementary review for some, but having the right equipment can make all the difference when you start recording and producing from home. First and foremost is your computer or laptop. I am a loyal Apple product user, but a PC with the proper amount of CPU, memory and storage works fine. There is no hardline answer for the minimum specifications necessary for recording music, but if you are using a DAW such as Pro Tools or Logic Pro, it is recommended that you have an Intel Core i series CPU, at least 4GB of memory and 500GB of storage. If you plan on using lots of plug-ins and software instruments, it might be a good idea to go above the minimum.
The next step is choosing the right DAW (Digital Audio Workstation). Avid's Pro Tools is an industry standard that can be seen in the majority of professional studios across the world. While there are definite pros and cons with every DAW, I think it is much more important to pick the one that you are most comfortable with, because at the end of the day, they help you achieve the same goal. I use Logic Pro X to record and mix all of my projects. After using GarageBand for years to write and demo, it was a very natural transition; the interface is quite similar and comfortable for that reason. Unfortunately, Logic is only compatible with Apple products, but virtually all other DAWs are compatible with both Apple and PC. Whichever workstation you choose, I would also recommend investing in the paid "full version", versus the cheap (or free) "limited version" that many companies offer. Budgets vary, and so do the costs of DAWs. Some are more tailored for certain genres, or even live applications. With a little research and homework, you can definitely find the right program for you!
Next up is hardware. The basic equipment that I recommend getting is an interface, microphone, mic cable, mic stand, closed back headphones and studio monitors. There are literally hundreds of options for each piece of equipment. For the sake of brevity, I will recommend some items that a beginner on a budget should consider.
-Interface: Focusrite Scarlett 2i2. One of the most common budget interfaces in the world. This is a simple, 2-input interface with built in preamps that connects to your Mac or PC via USB. The Scarlett 2i2 is easily transportable and designed to be brought on the road. This has been my go-to interface for writing and demoing on tour for nearly 3 years. Focusrite also offers a 2i2 recording bundle that includes the interface, condenser mic, mic cable and closed-back headphones.
-Microphone: Shure SM57. One of the most common microphones in the world. The SM57 is a dynamic cardioid mic, which essentially means it is highly durable and rejects most unwanted off-axis noise when recording. For less than $100, you will be hard-pressed to find more bang for your buck. It is ideal for simply writing and demoing. However, if you are looking to record mix-ready vocals, it would be worth investing a bit more in a large-diaphragm condenser mic such as the Rode NT1 or AKG C214.
-Closed-back headphones: there are a lot of options within the same price range, but I have been using Audio Technica's ATH-M50x for a few years and really enjoy them. Whichever brand you choose, make sure they are closed-back. This essentially means that the headphone is sealed around the back, so that they block out external noise. This also gives greater clarity to sound that your ears perceive while listening.
-Audio monitors: PreSonus Eris 3.5. For the home producer just starting out, these speakers provide a very decent level of power and clarity for only $100. Of course there are better speakers out there, but if you live in an apartment with thin walls or an easily-peeved partner, these speakers should suffice nicely.
-Mic cable and stands: Any standard microphone cable would do just fine for home recording purposes. If you like to have your mic on the other side of the room, make sure you buy one long enough! As far as mic stands, I recommend a boom stand that is tall enough for you to stand in front of. This will allow you to use it for recording acoustic guitar, as well as vocals. However, if you are using a large diaphragm condenser, I would recommend a sturdier straight stand because condenser mics are more susceptible to movement.
There are endless options for setting up a recording space at home, (and I'm sure other musicians will have different opinions on what to start with) but the most important thing is finding the right software and hardware that allows you to feel comfortable and focus on what really matters: the music!
Stay In Touch
The music industry is built on relationships. The same could be said for most industries, but I think networking and maintaining positive relationships take on even more weight in this case. Concerts and live events were obviously huge opportunities for reaching potential fans and meeting like-minded people before the pandemic, so how do we continue to grow our network while stuck at home? I believe good things come to those who take action.
First, create a website or platform to showcase your work, experience and creative goals. It does not have to be fancy or super detailed, just something clean that communicates what you are all about. A common saying I often like to tell myself is "Everything Communicates." Your voice is your brand, so make sure to put some thought into how you portray yourself.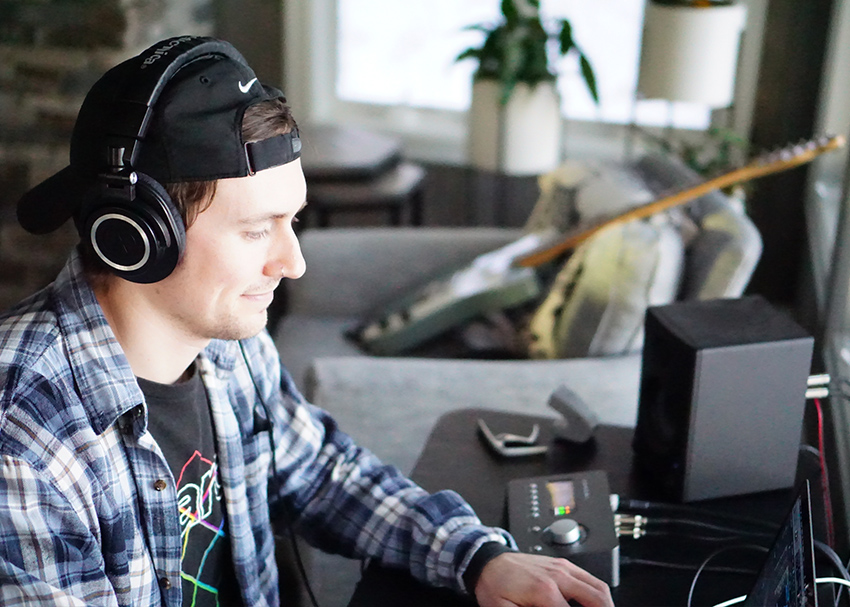 Secondly, utilize public platforms such as Facebook, Twitter and Discord to find potential collaborators. Be succinct when posting about what type of music you want to make and who you would like to collaborate with. It is quickly becoming easier and easier to collaborate remotely. For my own personal Music Workshop, I have utilized Zoom to collaborate and give lessons to my clients. Sharing projects with Logic, for example, is simply a matter of compressing the session and uploading to iCloud drive or Splice (tutorial here). The important thing here is branching out of your comfort zone and challenging yourself through others. Neither fans, A&R reps, nor potential clients want to hear about all of your "big upcoming plans." This quarantine can be the perfect opportunity to put those plans into action and create the content that satisfies you as an artist. Actions speak louder than words. Opportunity comes to those who don't wait for it to knock. Lastly, don't be afraid to reach out to musicians or producers you respect. Sure, you won't always be able to get a reply, but many artists and producers are happy to answer genuine questions regarding career advice. Oftentimes, you can find a contact email on a producer or artist's website or Facebook page. On that same token, don't be that guy who is shameless when incessantly pushing their own content on others.
Carry On
There is no easy answer as to where things go from here. There is so much that is out of our control (except wearing a mask, which you should definitely be doing). What we can control, however, are the choices and plans we make during quarantine. What kind of musician do you want to be? What do you want to achieve both personally and professionally? What kind of impact do you want to have on people? There is no substitute for great songwriting and hard work. Take a step back and analyze what your faults and shortcomings as a musician were before the pandemic. Put in the time and improve your skills. This is truly an opportunity to approach your career differently, so make the most of it! Just keep making music.