The biggest difference between acoustic and electronic drums is often the feel — sometimes even more so than the actual sound. Alesis has redefined what an electronic kit can feel like with their Strike Pro Special Edition. A 20-inch bass drum rounds out the realistic look and feel of this powerful electronic drum kit. Up on stage, you really think this could be a monster acoustic drum kit with a rack full of cymbals — it's an incredible accomplishment.
Real-Feel Mesh, Multi-Zone Cymbals and Wood Shells
The latest generation of mesh heads from Alesis mount on fully adjustable drum hoops, just like a tunable acoustic head. Each snare and tom pad is dual-zone with layering available, so your kit can truly be unique to you. And just like the snare and toms, the 20″ kick is fully "tuneable," and with layering you can get the most studio-perfect kick tone.
The cymbal pads are also special in their zoning. Starting with the 16″ 3-zone Strike Pro Special Edition ride cymbal, having 3 zones makes the level of articulation on the ride stand out in your naturally expressive playing style. This results in a truly human drumming experience in ride-heavy genres like jazz and bell-heavy playing in choruses or accents. Alesis also prioritized feel in their movable hi-hat that mounts on a traditional hi-hat stand. Each of the 14″ crashes offer dual zones and tons of bounce.
Just like an acoustic drum shell, the Strike Pro SE lugs are attached directly to each hybrid-wood drum shell. Because of this attention to detail, the drums resonate and rebound just like acoustic drums you're accustomed to.
Create Your Own Kit
Because this is the same Strike module with updated Alesis firmware, creating your own unique user drum kit is simple! First things first, you'll need an SD card and to decide if your new kit is going to be "from scratch" or one that uses an Alesis preset as the template.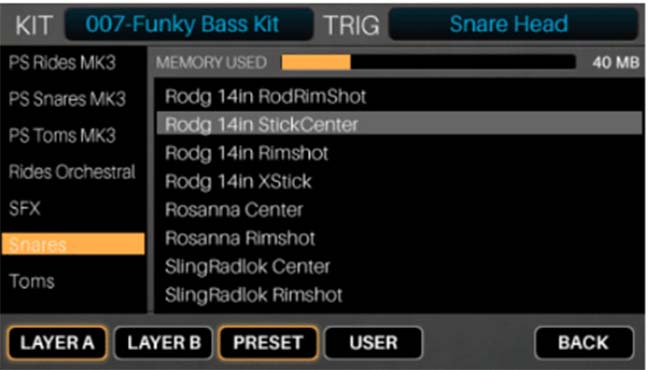 Using a preset kit as a template is essentially "editing" an Alesis kit with whatever changes you'd like. After selecting a kit sound, turn on the "Note Chase" button — this lets you strike the desired trigger and edit that zone (for example: editing a cymbal edge on a dual-zone cymbal pad.) After this, press "Voice" and select the layer you'd like to edit. Once your layer is selected, you can scroll through kit instruments that you can assign to this zone. Each kit can use up to 200 MB worth of sample data, and there is a "Memory Used" meter that updates after each sample is added.

Once you've assigned all the changes to your new user kit, hit SAVE and you'll have a chance to rename the user kit so it can be recalled anytime you hit USER and scroll to the kit.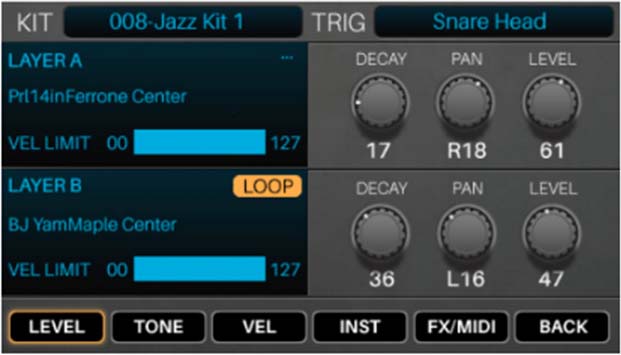 Module and Sound
The Alesis Strike Pro module delivers on the amazing versatility that made the Strike Pro kit a huge success. Starting with the selection of 136 custom preset kits made from 1800 instruments and 45,000 samples. Additionally, the module allows for 16GB of external card storage and USB/MIDI connectivity for using the Strike Pro in conjunction with your DAW or editor.
The Alesis Strike Pro Special Edition kit has been built on years of sound design, amazing feel and now looks the part of a robust, full drum kit on stage.