In the age of digital DJing, organizing a music library has never been easier. Not only can you fit a whole crate of records on a flash drive, the ability to create a playlist and organize songs into folders is much more intuitive than labeling physical media.
I am not trying to talk negatively about physical media — I'm just discussing the advantages of a digital music library. This is a bit of a subjective topic as everyone has their own organizational style, but these methods seem to work best for me.
I sort my music in two different ways. Before I import it into my DJ software, I separate it into a folder system. I generally DJ with a couple different programs and the folder system makes it easier to import new music and manage different libraries. The two main programs I use are Rekordbox and Virtual DJ.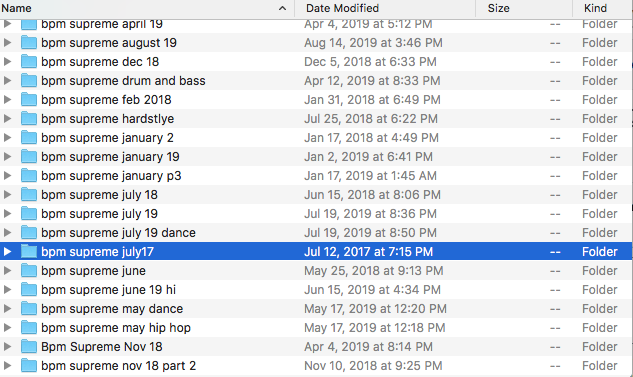 Get in the Pool
One of the best ways to get music these days is by joining a record Pool service. For a monthly service fee, a Pool service allows you to download a regularly updated selection of music from a server.
If there haven't been any super popular tunes released recently, I generally update my music once every 1-2 weeks. Once the songs have been downloaded from the Pool, I will then begin separating them into their respective folders. This comes down to personal preference, but I separate all the new tunes into folders based on the month of release and genre. From there, I can tag them and put them in playlists in both Virtual DJ and Rekordbox.
Organize For the Event
As a DJ who works private events, bars, and small clubs, I generally have to work around most major holidays. For example, any time I work a New Years Eve event, I will use specialized folders in addition to my normal organized folders. Folders like these doesn't necessarily correlate to an event, but they could relate to a vibe or a specialized need. I have both event folders and vibe folders.
A few of my go-to vibe folders are "Floor Fillers (dance)," "Drunk After Midnight" and "EasyCheesy." All of these contain songs that are mainstay hits I can reference quickly if I get stuck in a mix. For example, my New Years Eve folder contains two sub-folders, pictured below.
One is the "Countdowns/DJ Tools" folder which has the event-specific songs and a countdown till midnight and the other is "Staples," centered around a New Years Eve theme. I can easily use those every year and add to them as needed. This allows me more time to plan and organize my set for the night.
Event folders — in addition to my previously created vibe folders — really allow me to feel confident and prepared going into any gig. This all calls back to a previous blog post I wrote about programing songs for your mix.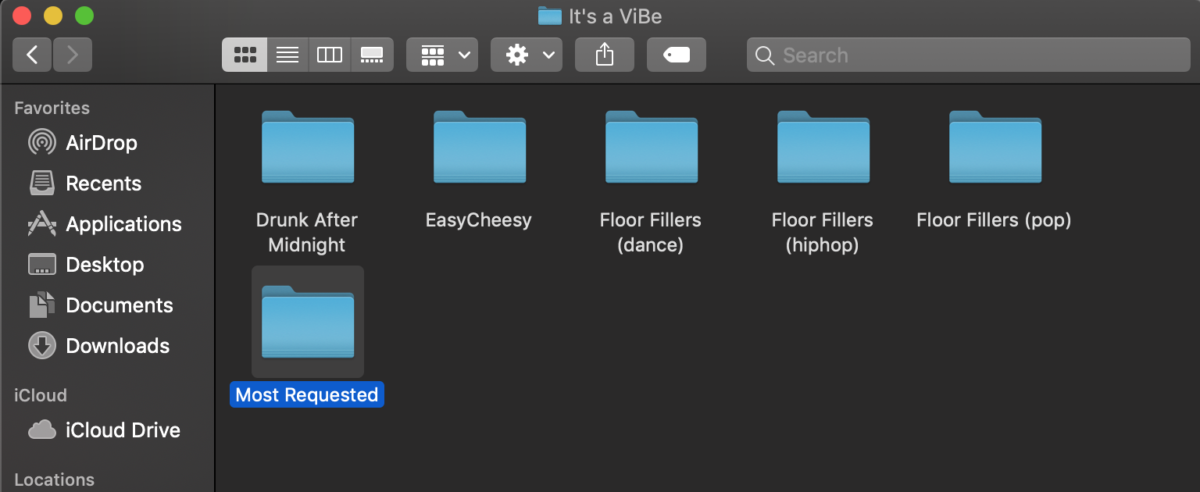 Once the folders have been imported into my master library, I will then break them up into themed playlists or smart playlists. A smart playlist can be used to sort songs that fit certain parameters set by the user. The best example I have is a Smart Playlist I made called Similar Songs. The basis of this folder is to sort and separate compatible songs according to key and BPM to the song that is currently playing. The other smart playlist I have is for songs of a certain genre imported in the last 30 days. This makes it easy for me to pull up "newer" songs in a very quick manner.

The main reason I emphasize these tips is to make it as easy as possible when it comes time to perform. The time put into organizing your library and music from the start is time saved later. It's easier to start it right than to fix something that is broken. In complete honesty, I didn't follow these guidelines from the start, and have really only implemented them in the last 4-5 years. But ever since I did, it has made gigging so much easier.
Top Photo Credit: DJ Quietstorm via Flickr