The modern cymbal brings life, complexity or even darkness to a composition like nothing else. From the fast and fiery splash cymbal, to booming and ominous oversized ride cymbals, each has unique characteristics and sound.
But some of the best and most prestigious-sounding cymbals from brands like Zildjian and Sabian are built the same way the Turkish built their cymbals in the 1600s: through casting. Casting is a process that has stood the test of time, but what goes into cast cymbal making and why have we done it this way since the first cymbals were made?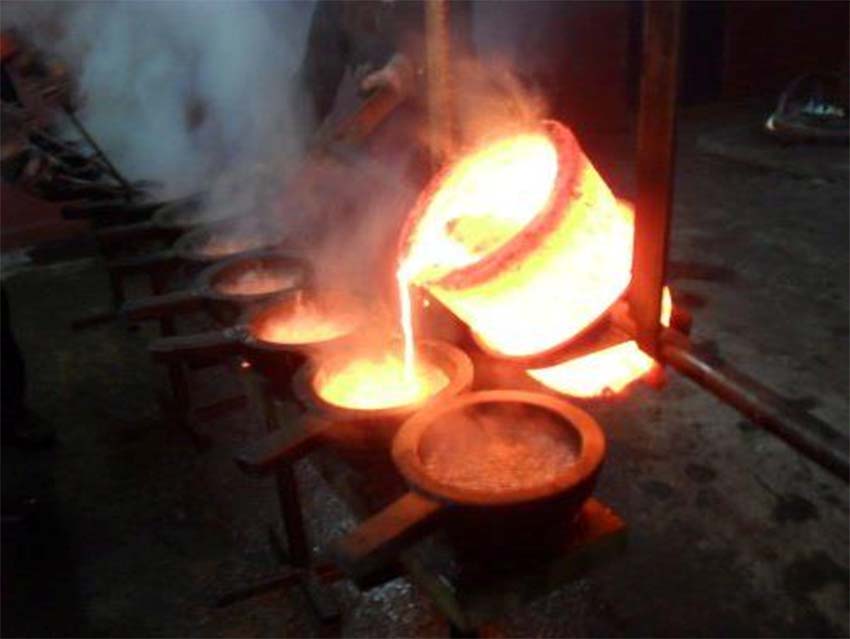 Casting and Cutting
The main objective of a cymbal maker is to create musical vibration from a mixture of metals. This primitive process is called "casting." Casting has been perfected over hundreds of years and the brands that do it best often use their own "secret formula" when it comes to mixture ratios. For instance, a B20 formula includes 80% copper and 20% tin; the 20 in B20 represents the tin amount. This process can be so secretive that some brands even mix and cast their own metals in house.
Once the mix has been selected and a casting is done, they are moved to a rotary oven that heats each casting up until it's pliable. The process that follows is a mix of rolling each casting thinner and thinner between two large metal rolling cylinders and rotating the elongated casting until the desired circular shape appears.
The rolling process is entirely dependent upon what type of cymbal is being made, from thin to heavy weights. After repeated rolling and thinning is done, the actual granular structure of the cymbal's alloy is changed to be stronger when struck by a drumstick — this also helps in transferring sound wave vibration across the cymbal face.
Now that the alloy has been pressed out to a consistent size and circular shape, it's punched with a center hole and spun on a spindle that cuts excess metal around the rough shape of the cymbal. The metal now looks like a raw, rough cymbal shape.
Hammering and Lathing
Now that we've got a rough shape made, it's time for the first round of hammering. The process from here on out depends on the type of cast cymbal you're getting as well as the brand, but most are similar enough that it's worth mentioning each step.
Hammering typically begins from a hydraulic cylinder that's controlled by computer directions, much like a CNC machine making guitar bodies. Each hammer strike creates a dimple that deflects soundwaves as they come off the cymbal from each strike, bringing more complexity to each cymbal.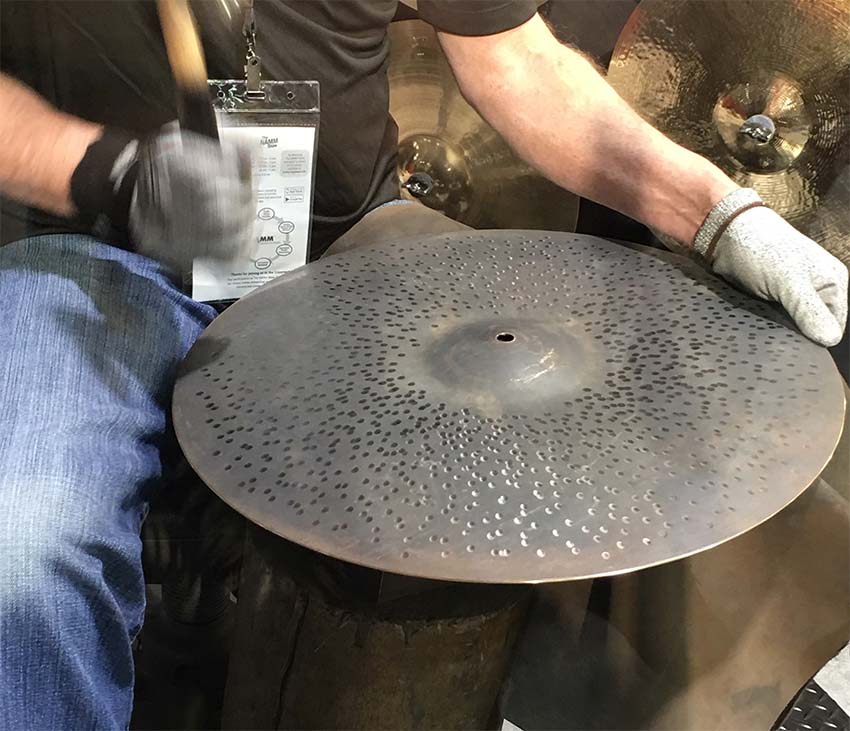 The now-hammered cymbal is then mounted from its center hole onto a machine called a lathe. A tech then hand-lathes out important sections like the bell while the cymbal spins on an axle, then switches to a machine-mounted arm for the outer sections of the cymbal. Lathing removes the outer "raw" layer of a cymbal and creates "tonal grooves" in the cymbal that result in better sound projection as well as complexity of tone. This process also depends on what type of cymbal you're buying — for example, the bell on a "raw bell" cymbal would skip this step.
After the cymbal is lathed it needs to be edged. Each cymbal up to this point has a rough edge that would cut a finger if touched and worse, deaden the tone of a perfectly good cymbal. So the cymbals are once again mounted by their center hole and spun while an edging machine takes off the rough edge with a cutting tool — this process is similar to lathing.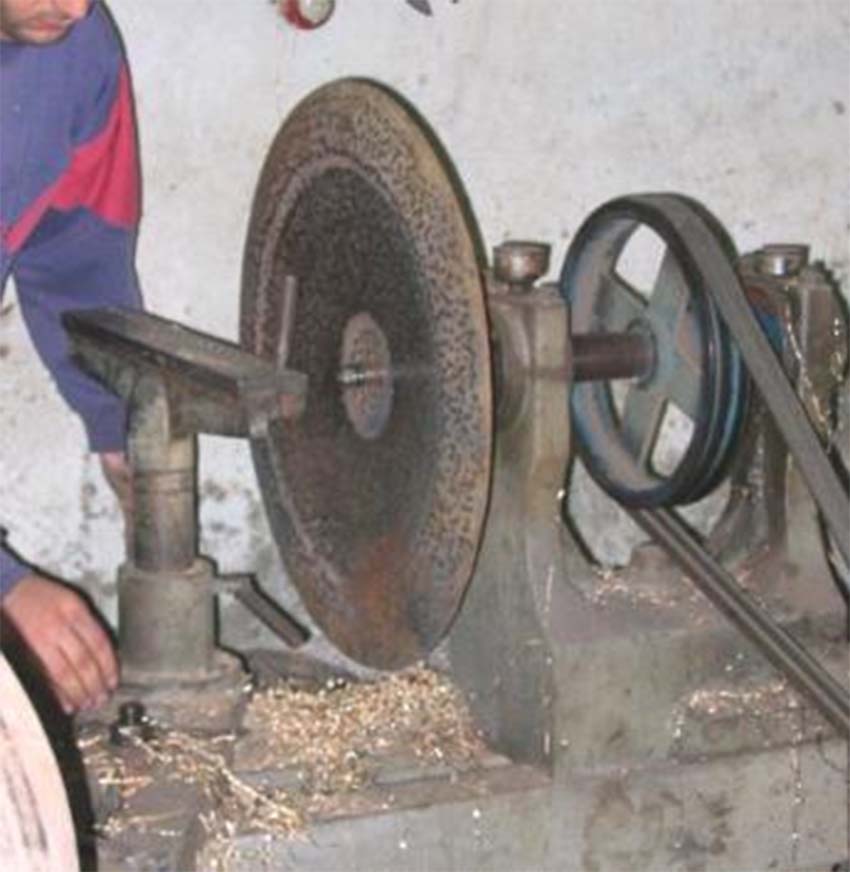 Testing and Final Appointments
At this point in the process it's all about the fine details, and this starts with testing each cymbal. Typically, a team of cymbal testers evaluates each batch of cymbals by striking and inspecting them individually. After the cymbal is deemed "good to go," each is given a laser-etched serial number that's unique to the cymbal. Finally, the company logo and cymbal line is stamped onto the face. Now the cymbal is complete and ready to be shipped across the globe!
The process of cast cymbal making hasn't changed much since the 1600s because it hasn't had to. Other than the addition of a few machines and presses to make things easier, the process as a whole looks a lot like it did back in Turkey before the United States was even a country. And now more than ever, professional players and hobbyists alike choose cast cymbals for their drum sets and orchestras because of their high-end, timeless tone.