Just like humans, the drum kit has evolved over the years. And just like humans, drum kits have made their biggest strides in technology and refinements in the last century.
The modern drum kit has only been around for about 100 years, but humans have been drumming forever, so why have the last 100 years been so significant for percussion? From the first bass drum pedal to Ludwig revolutionizing hardware and the rise of rock 'n' roll, this is how drum kits evolved into what we know today.
An Invention Drives Progress and Early Designs
Before the drum kit was a mainstay on stage, multiple drummers would need to supply percussion for a full band. This would include players for snare, bass drum, cymbals and any other percussion elements needed in a composition. But as percussion elements were added, orchestra pits got crowded, and a space-saving solution was needed.
In the 1890s, direct-drive bass drum pedals were invented to allow a single musician to "multi-task" by playing two drums at once (typically a snare and bass drum.) These early bass pedals set the ground work for future designs, but were in themselves very basic, not allowing the beater to be automatically returned to a resting position. Players of the day had to rock from heel to toe to play a resonant note on a kick drum. This problem received a solution from a giant in the drum industry today.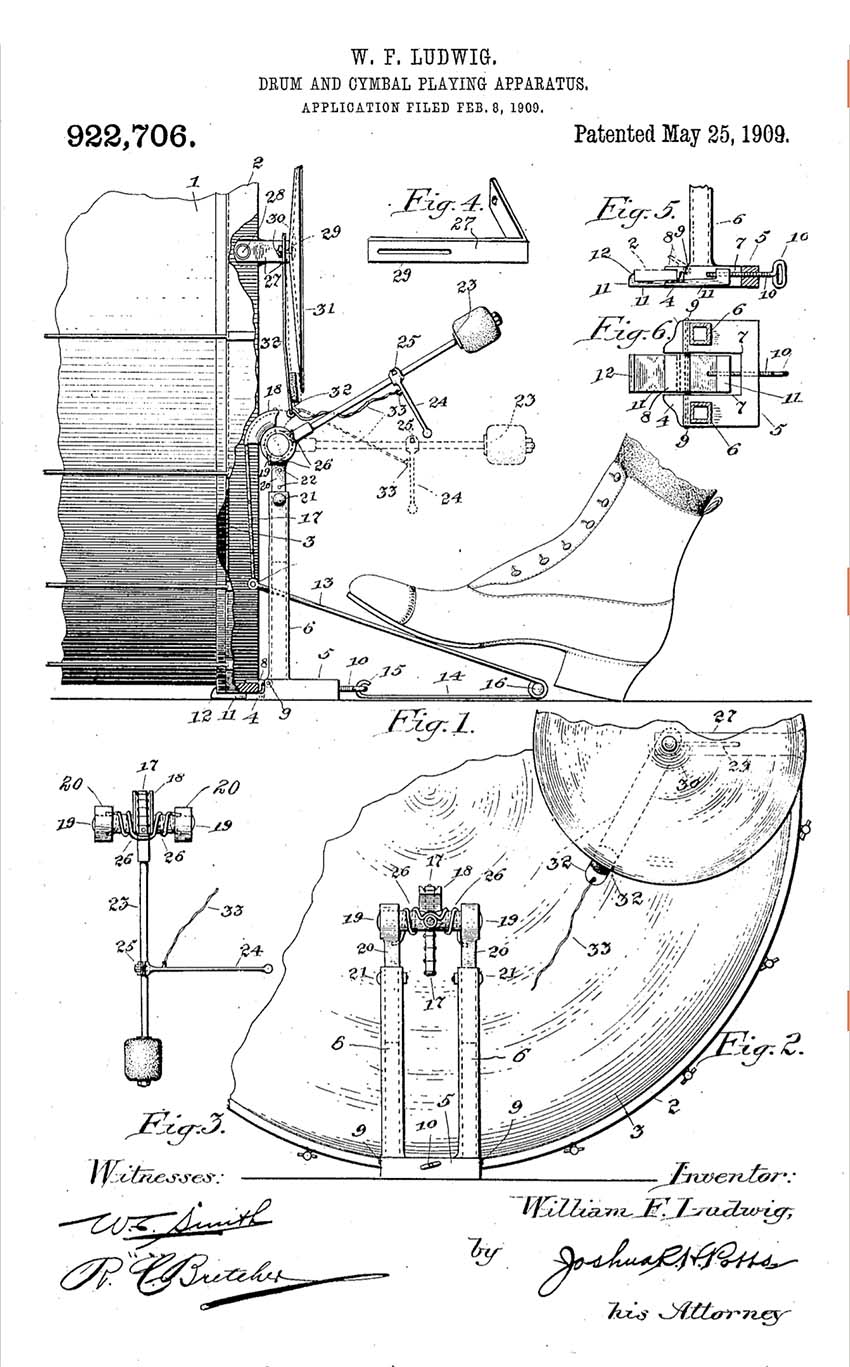 In 1909 William and Theobald Ludwig invented the first "spring-driven" bass drum pedal. This pedal automatically returned itself back to resting position, making for easier playing and more consistent bass drum strikes. After the success of this invention, Ludwig began marketing the first-ever production drum set.
The Ludwig "Jazz-er-up" consisted of a 12″ x 3″ snare, 24″ x 8″ bass drum, a Ludwig spring-driven bass pedal with "cymbal-striker," a suspended cymbal and hoop-mounted wood block. This set would evolve throughout the '20s into the '30s to have accessory options in the form of additional tone blocks, tunable toms, cowbells and even triangles. Though tuneable toms were offered in the 1930s, traditional "Chinese tom-toms" were the choice of most drummers at the time.
The 1930s really revolutionized the way the kit was played and looked. With the popularity of jazz, blues and the first real rumbling of rock 'n' roll, drummers needed more than just the single cymbal striker kick pedal and began to use an additional pedal complete with a spring-loaded hinge connected to two cymbals powered by a string and toe strap. This action made the two inverted cymbals strike each other in what became the first iteration of the modern "hi-hat." This design was later adapted and became the first production "Low-Boy" hi-hat stand offered by Leedy Luwig in 1928.
Snare Drums: Simple Yet Complicated
Although the modern snare drum isn't so different from snares that kept the beat on the battlefields of the American Revolution and Civil War, each small change was a massive step for percussion as a whole. When you think about a modern snare, some defining features come to mind: 8-10 lugs, chrome hoops, tube lugs, metal snare wires and even a simple throw-off. But none of these features existed on snare drums before the 1880s. The earliest snare drums featured no more than 6 lugs, no throw-off, and snare wires made of animal guts that were "always on."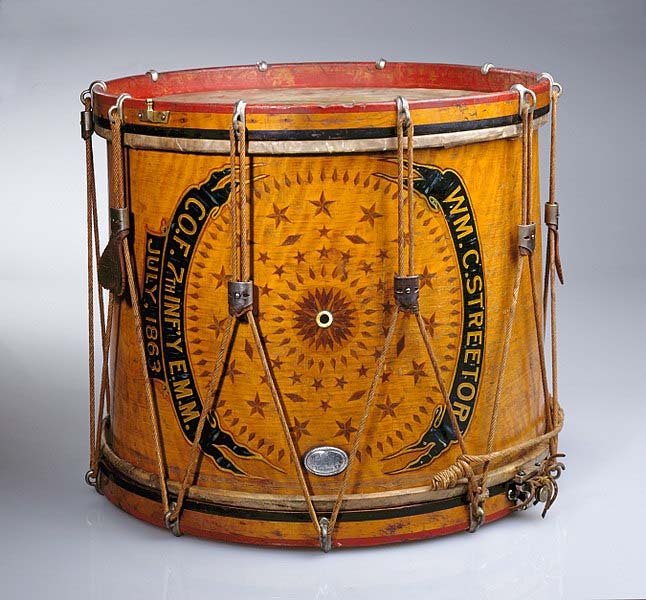 Fast-forward to the 1900s when drum manufacturers like Leedy, Ludwig, and Slingerland began crafting 13-17 inch drums out of maple, mahogany and walnut. Once America entered World War II in the 1940s, drum manufacturers realized that making snares out of plywood would be more economical: that's why many pre-war snare drums are so highly sought after today.
These snares ultimately began to feature the pressed-metal lug casings and swivel nuts after many iterations from Ludwig that were adopted by the industry. Drum manufacturers made cast-lug designs a "calling-card" for each themselves by casting a unique lug for each model of drum, or just making their lug unique from the rest of the competition. We can still see this as a practice that's used extensively in today's snare drums.
From the late '30s through '60s, other brands like Gretsch, Rogers and Premier started to pop up and elevate the drum kit and snare designs themselves. This included mounting systems like the Rogers "Swiv-O-Matic" line that held snare drums suspended from three points of pressure around the hoop — nearly identical to what you can find holding your snare on a modern drum kit.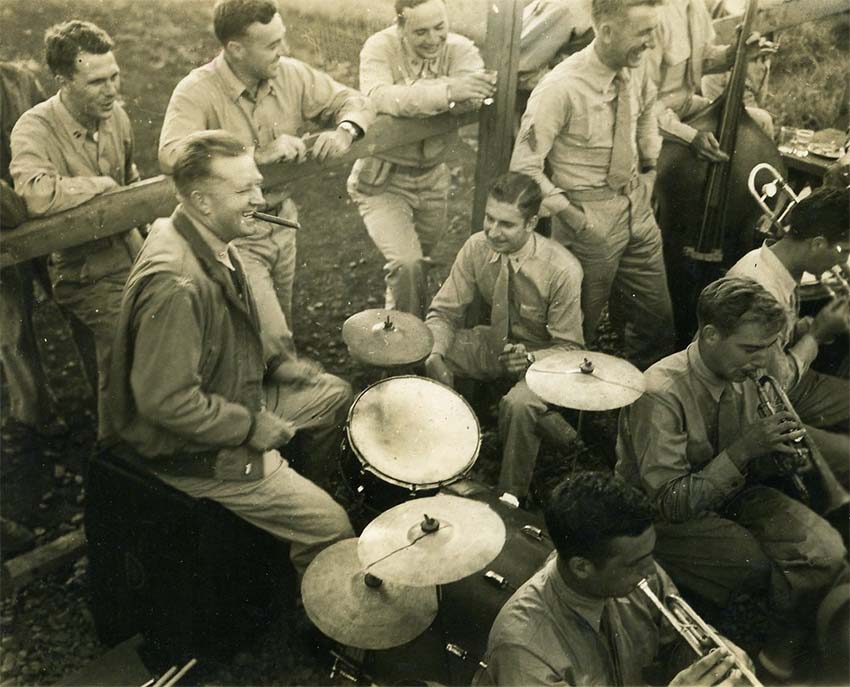 Tuneable Heads and a Taller Hat
In 1935, Slingerland exploded onto the market with the "Gene Krupa kit," a 4-piece kit complete with tuneable top and bottom headed toms. Krupa was a fantastic and electric drummer to watch, and he wanted a more "stripped down" version of a drum set. Krupa ditched the accessories — literal bells and whistles — and opted for this 4-piece that really doesn't look much different from the sets of today.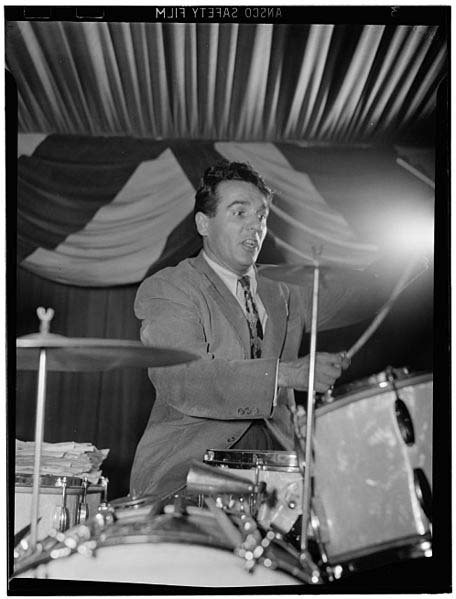 The tuneable head was in, and this Slingerland kit would set the stage for traditional "Chinese tom-toms" to be phased out in favor of a more flexible option in tuneable toms. These new kits also included a more modern, full-sized hi-hat stand. These stands also become an industry standard, as they showcased the truly flamboyant style of Gene Krupa.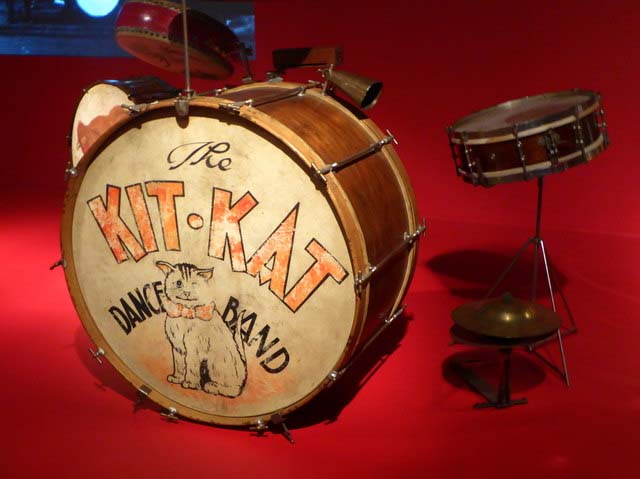 Drums have been around since humans realized hitting stuff can sound pretty good and keep the beat too. But it wasn't until some cats in Chicago got into the game that the modern drum kit took real shape. As rock 'n' roll began to dominate American airwaves in the wake of WWI, drums got bigger, more pronounced, and became forever enshrined into music history as a staple of any song or production worth its salt.
The modern drum kit might look awfully similar to those on stage with Gene Krupa in the '40s, but every year drummers make history with new designs and play styles and we wouldn't have it any other way.