Another Summer NAMM is in the books, and we're still thinking about all the cool gear, events and honky tonkery from Nashville. Check out our top picks from the show, and let us know what gear caught your eye in the comments below!
Gibson NAMM Jam ft. Jason Isbell, Chris Isaak and More + An Interview with Gibson CEO J.C. Curleigh
What do you get when you combine Chris Isaak, Jason Isbell, a super tight house band and a stage full of Gibson guitars? Well, something that is even more badass than the sum of its parts, apparently.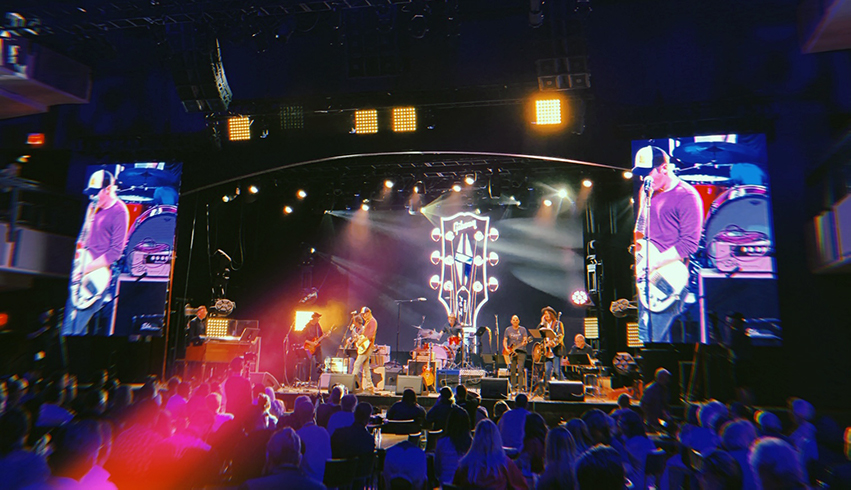 I never would have thought that I would see Chris Isaak live — let alone enjoy it as much as I did — but I was pleasantly surprised on Thursday night when the zZounds team attended the Gibson NAMM Jam event at Wildhorse Saloon in Nashville. The crooner smoothly rolled through his rendition of Roy Orbison's "Pretty Woman" right into his iconic hit "Wicked Game," and I'll tell you what, we DID want to fall in love with Mr. Isaak that night. Jason Isbell closed out the night by playing a mini set of Fleetwood Mac and Lynyrd Skynyrd songs, while playing a vintage Les Paul that had been owned by Skynyrd, bringing everything full circle.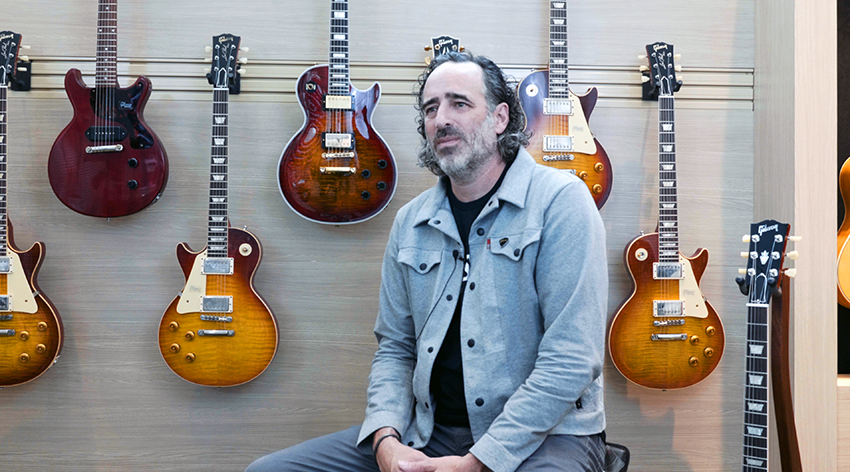 After leaving the event high on good Gibson vibes, we got the opportunity to sit down with new Gibson CEO J.C. Curleigh for an intimate interview about his background and vision for the future of Gibson guitars. It was awesome to see the new leader in his element, and to have some candid conversation as well as hear his chops on an acoustic guitar. Turns out, the dude knows more than denim. Keep an eye out for our interview with J.C. dropping soon.
-Dan, zZounds Guitar Merchandiser

Old Blood Noise Endeavors Maw Vocal Pedal
I've been a big fan of Old Blood Noise for a while now and was excited to see them introduce their first vocal pedal at this year's Summer NAMM show. Apparently I wasn't the only one, as their Maw pedal received the "Best In Show" award from the NAMM organization.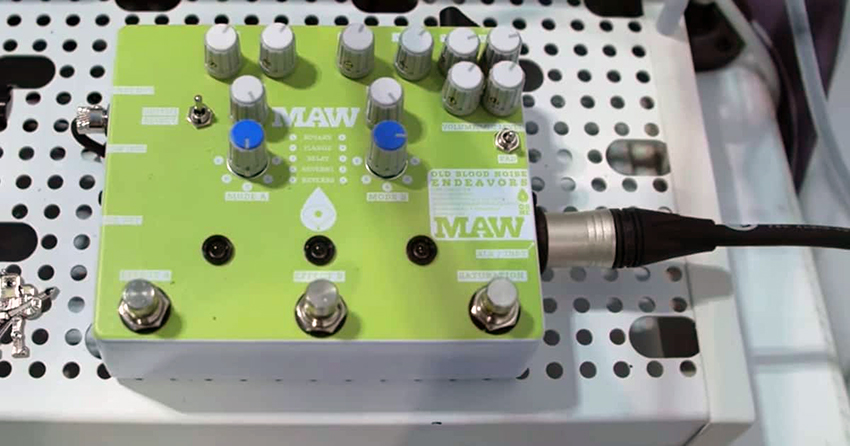 As a vocalist, I'm always looking for interesting vocal effects that are outside of the norm, so it's exciting to see a boutique builder like OBNE diving into this realm. The Maw is a large-format modulation and reverb effects pedal made for vocals and mic'd instruments that features two channels and five modes for rotary, flange, delay and reverb. With both XLR and instrument inputs, you can affect vocals, mic'd instruments or guitar and also handle extra-hot signals thanks to an on-board pad switch.
It's unclear when Maw will be available to the masses, but I'm excited to see OBNE further expand their lineup to include pedals like this after the success of some of their more utility-oriented pedals that have been released recently.
-Dan, zZounds Guitar Merchandiser

Gamechanger Audio Motor Synth
The coolest thing I saw at Summer NAMM was the Motor Synth by Gamechanger Audio. Summer NAMM in Nashville is smaller and more guitar-centric than the much larger winter NAMM show in Anaheim. Seeing the Gamechanger Audio booth in Nashville was an unexpected surprise and allowed me to spend a few minutes messing around with this strange mechanical synthesizer.
I first heard about Gamechanger about a year ago when they released the Plasma pedal, a distortion pedal that transforms your signal source into a series of high-voltage discharges within a xenon-filled tube. At first glance, it seemed like a gimmick to stand out from the continuously growing crowd of boutique effects pedals these days. In a world with blacklight activated, neon guitar strings and fretboards with embedded LED light shows, it can be easy to look at something like the plasma pedal and call it a gimmick. That was before I actually heard it.
I'm rarely excited by distortion pedals anymore. Most new pedals turn out to be a recreation of something that was invented decades ago, but with subtle changes like added controls, variations on the circuit, or a smaller enclosure. The plasma pedal turned out to be something completely unique. Seeing and hearing the electrical discharges crackling and spitting as a signal passes through was a brand new experience in a pedal. This wasn't just a flashy effect to look cool and stand out; it's the actual process by which the signal is being affected. While some products can be all sizzle and no steak, with the plasma pedal, the sizzle IS the steak. The Plasma pedal helped me understand the ethos of Gamechanger audio. It wasn't just about making flashy, eye-catching products. It was about developing new experimental methods for creating and manipulating sounds.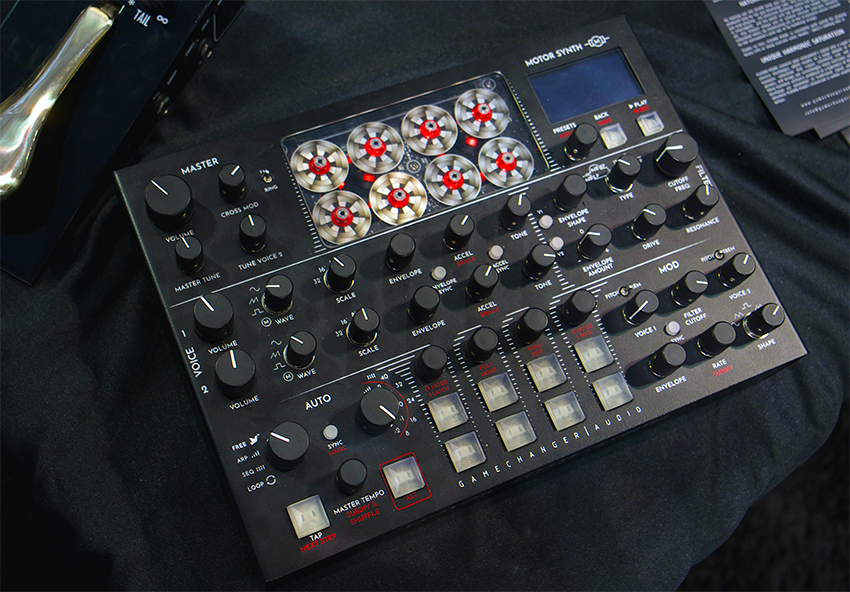 This brings us to Gamechanger's new and unusual Motor Synth – the world's first electro-mechanical desktop synthesizer. The Motor Synth is powered by eight spinning motors with the RPMS corresponding to pitch. These motors use magnetic pickups and specially designed reflective optical disks to produce sound. The optical disks contain graphical representations of three different audio wave shapes which are read by dedicated infrared sensors as the motors spin. From there, the functions of the Motor Synth should be familiar to most people with a basic understanding of synthesizers.
You have your standard wave shapes, filters, an arpeggiator, voice and filter envelopes and a modulation section. The visual feedback of the spinning motors is extremely satisfying as you're turning knobs and manipulating your sound. At the Gamechanger booth, they had The Motor Synth set up running into a pair of the full-sized Plasma Rack processors. It's a perfect combination for super-heavy industrial synth sounds and truly had me feeling like some kind of steampunk Dr. Frankenstein. If you're an aspiring mad scientist and you're unfamiliar with Gamechanger Audio, I highly recommend checking out both the Motor Synth and the Plasma effects lineup.
-Andrew, zZounds Videographer & Audio Engineer
Squier Starcaster Models
While not one of the most premier or high-end brands at NAMM, what really caught my eye was the small section of Starcaster guitars tucked into the Squier section at the Fender booth. While I usually lean toward solid-body guitars, the Starcaster has always been something that caught my eye. I'm a sucker for oversized Fender headstocks, (this one is giant) an offset body and a maple neck, and the Squier Starcasters deliver on all three fronts.
The new reissues are available in three different series, a $299.99 Affinity model for more beginner and budget minded players, a $399.99 Contemporary active pickup model for hollowbody shredders (weird flex but okay), and my personal favorite, the $399.99 Classic Vibe series.
Each model has different specs and finishes that reflect its price point and target audience, but the Classic Vibe hankers back the most to the Fender Starcaster of the '70s, which itself was never a "high-end" instrument. Picking the guitar up at the booth, the neck has a comfortable C-shaped neck profile with a thick, but not too heavy lacquer finish and solid feeling construction. Say what you will about guitars "made in the USA" but there are skilled craftsmen in every country, not just America, and Fender/Squire always do a good job of maintaining the quality control on instruments made overseas. This Indonesian made instrument is no exception. At $400 this is a budget model for sure, but you're definitely getting your money's worth.
I wasn't able to plug it in at the booth, so I can't speak to how the Fender Wide Range humbuckers sound in this guitar, but going off how these pickups sound in other instruments, I can imagine they're pretty solid. For me at least, stock pickups are never a deal breaker, as they're cheaply and easily replaceable.
Finally, I am a sucker for a good dark, natural finish on a guitar and the Walnut option (not pictured as they didn't have one at the booth) is super sharp looking. My personal philosophy is guitars are made of wood, so I would rather see that highlighted, than hidden under a candy coating or poly. I will for sure be picking one of these guitars up for myself.
-Corbin, zZounds Social Media Coordinator
Squier's Other Classic Vibe Models
Summer NAMM is the place to spot high-end, sexy guitars, from wacky custom shop one-offs, to relic'd models that look like they were dipped in battery acid, to bougie boutique models from brands you've never heard of.
Like Corbin above, I was stunned by the new Squier Starcasters, but the company's entire revamped Classic Vibe line left a strong impression on me too.
Back in my day, your Squier options were limited to a black Affinity Strat or maybe a blonde Tele, neither sporting much personality. But these Classic Vibe models truly capture the essence of Fender's most-loved vintage models. Want a double-bound Telecaster Custom? A '50s-style Strat in Fiesta Red? A Jazzmaster with the full control panel and floating vibrato? It's all in this line, and then some.
Even bassists, who historically have gotten the shaft in terms of choice, have a buffet of options, like the new '70s Precision Bass and '60s Mustang Bass.
Picking up a few of these, I can tell Squier is going for quality builds as well. The gap between these and entry-level Fender models seems to be closing every year. Between these inspiring models and the Fender Play program, young guitarists and bassists have it real good.
-Mason, zZounds Accessories Merchandiser
Supro Blues King 12
With so many awesome products shown at Summer NAMM, I'll admit it was hard to choose my favorite. But I've gotta say I do love amps, and it proved hard to overlook this killer little offering from Supro. Despite its diminutive size, the 15-watt Supro Blues King 12 packs a few supercharged features under the hood that you'd find in amps 2 to 3 times the price.
The preamp section uses just a single 12AX7 tube, which you can juice with the Volume control (and using the Master to control your overall volume/push the power section). If that's not enough gain for you, Supro included a few mods that'll kick your pre into high gear. First, a FET-powered boost pushes the preamp tube for a jolt of gain and muscle. Second, Supro added a gain switch that saturates your overall sound with a series of cascaded FET gain stages to produce a healthy dose of rich and smooth overdrive. These modes are also footswitchable with the amp's optional SF4 pedal to conveniently change sounds throughout your performance. Resulting in four different combinations, the preamp's distinct sounds offer enough versatility to cater to a wide range of situations.
No slouch itself, the Blues King's single-ended Class-A 6L6 power tube section harkens back to the nostalgic rock sounds of the '60s: tasty, raw overdrive that's easily tamed thanks to some primo touch-sensitive dynamics. The combo also houses a custom made 12″ speaker that easily, and musically, handled whatever the amp threw at it. Finished off with an effects loop and line out, I'd say the the Blues King 12 is a definite winner. And at just 600 bucks, adding one to the ol' amp collection sounds like a no-brainer.
-Sergio, zZounds Guitar Merchandiser
Ampeg 50th Anniversary SVT
The 50th Anniversary Ampeg SVT is all the hype plus a bit more. I plugged in a with 5 string Yamaha BB bass and a passive Fender-style '51 P Bass and in both cases was absolutely blown away. 300 watts of the familiar, all-tube warmth immediately filled the air through the immortal 810 cab. All the touch sensitivity is there and THEN I was able to blend both the '60s and '70s voiced channels (all while ultra low is deliciously engaged) and I got something different…dare I say better? That's a subjective mess-of-an-argument with purists I'm not sure I would like to debate.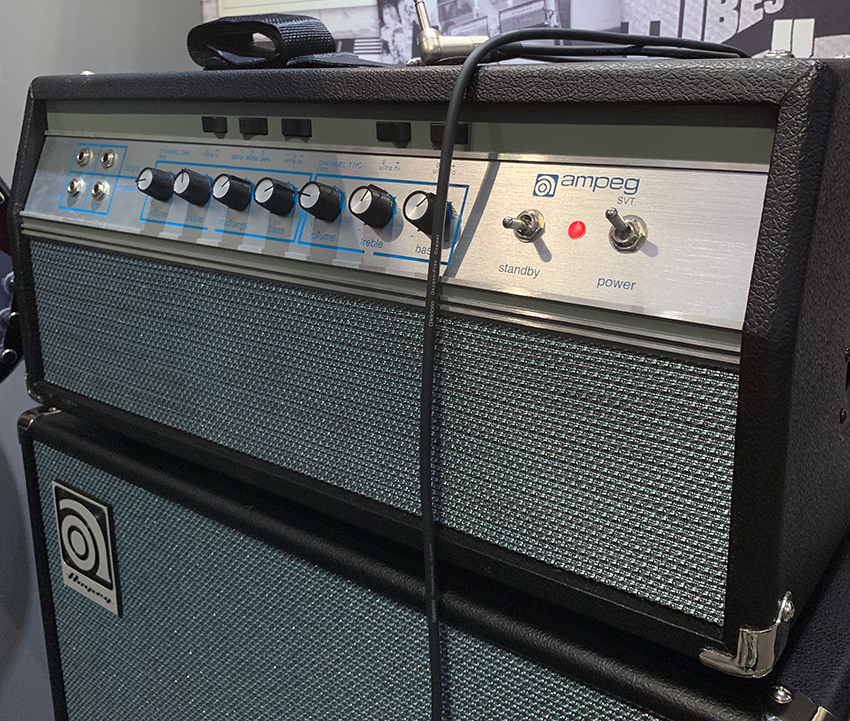 Folks, this is bass player bliss. Both voices represent tones that, in either case, will disembowel the first 10 rows on any shows you'd take this to, all while everyone is grinning in low-end delight. There's a wonderful thing about SVT, its history, mystery and desert island-type stature. If you're one of the lucky ones to actually consider taking this 50th Anniversary beast home, you'll have it forever…
Loved it. Made my show. SVT me ASAP.
-Billy, zZounds Strategic Partnerships
Crush Sublime Maple Kit
Summer NAMM is notoriously sparse for us drummers, but that doesn't mean we totally went without this year. I've always wanted to get up close and personal with a Crush Sublime maple kit ever since Art Cruz mentioned it being his first kit impression with the Crush brand. This was before his endorsement by the brand, so I knew it was something special.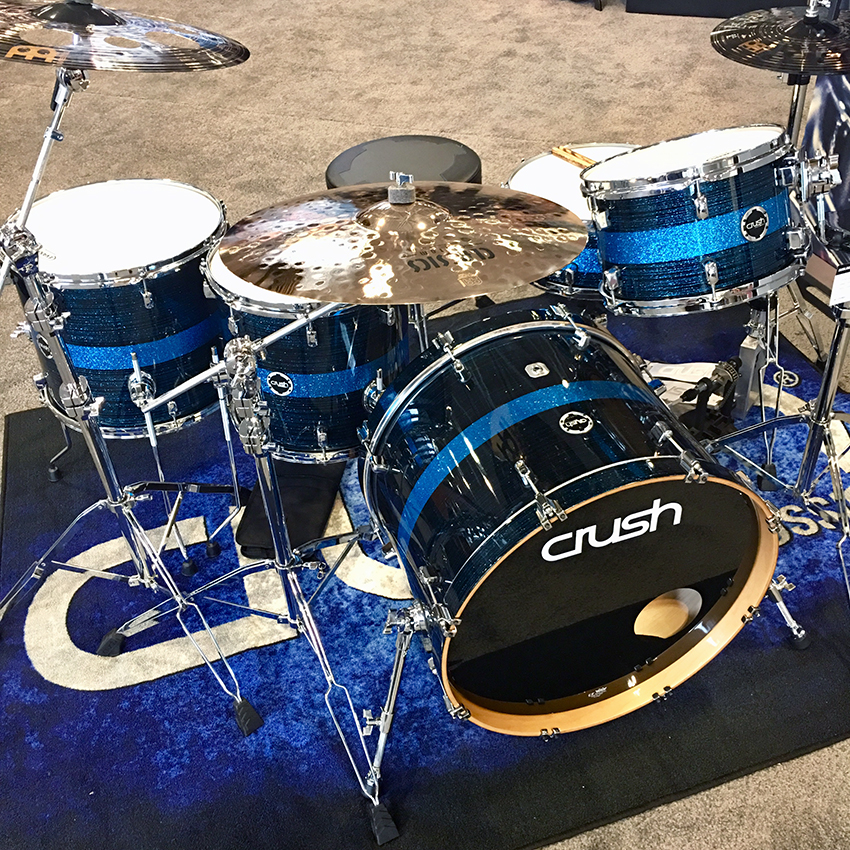 And sure enough, the Crush Sublime kit brought the heat! A snappy snare with a great amount of warm resonance that'll support the whole mix with deep, rich tom tones and of course a crushing kick. This was all rounded out by the always amazing Crush finish/wrap. A dark blue sparkle/pin-striping over deep black makes for a great looking kit.
I can highly vouch for this kit being a great gigging and studio workhorse now that I've experienced it in person, and if it works for Lamb of God's drummer Art Cruz, it'll work for anyone.
-Nick, zZounds Drum Merchandiser