The music gear world has descended upon Nashville, Tennessee for the Summer NAMM 2019 tradeshow! Join the zZounds crew on the show floor as we get our hands on the latest and greatest guitars, amps, and audio gear.
New from Ampeg: Heritage 50th Anniversary SVT Bass Amplifier Head
First released in 1969, the original Ampeg "Super Valve Technology" bass head was designed to go toe-to-toe with the screaming guitar stacks of the era — giving bassists 300 watts of tube power. And 50 years later, "SVT" is still synonymous with killer bass tone.
To celebrate this half-century milestone, Ampeg has released their Heritage 50th Anniversary SVT bass amplifier head at Summer NAMM 2019. Not a reissue, this new beast of a bass amp offers two preamp channels that revive the beloved tones of two legendary models: the 1969 "Blueline" SVT and the mid-'70s Magnavox SVT — plus the ability to jump both channels together for an even more aggressive, all-new sound!
We expect the 50th Anniversary SVT to ship in August 2019.
Shop now: Ampeg Heritage 50th Anniversary SVT on zZounds
---
New from Boss: SY-1 Synthesizer Pedal, RC-10R Rhythm Loop Station
Boss has already scored a home run with their SY-1 Synthesizer pedal, released ahead of Summer NAMM to great fanfare. A compact stompbox-sized version of the Boss SY-300 Guitar Synthesizer, the new SY-1 comes loaded with 121 sounds — that's 11 types and 11 variations — to spark your creativity — and make any guitar or bass sound like a full-fledged polyphonic synth.
There's no special pickup or programming needed — this plug-and-play pedal creates a vast variety of analog-style synthesizer sounds, with easily tweakable tone/rate and depth controls, along with independent level controls so you can blend your guitar and synth sounds. An expression/control pedal input gives you hands-free control in real time.
Also on display at the Boss booth at Summer NAMM 2019: the new RC-10R Rhythm Loop Station, a flexible looper with 6 hours of recording time — and 280 preset rhythm loops, complete with two unique song sections, intros/endings, and rhythm fills. Use it as a practice tool or live-performance powerhouse — this next-generation Loop Station is ready to play!
We expect the Boss SY-1 and RC-10R pedals to ship in August 2019.
Shop now: New gear from Boss on zZounds
---
New from Charvel: Pro-Mod DK24 HH 2PT and Limited Edition Super Stocks
Brand-new for Summer NAMM 2019, the Charvel Pro-Mod DK24 HH 2PT electric guitar offers performance-minded features like a two-way mini toggle switch for series and parallel, a scalloped lower back bout for easy fretboard access, glow-in-the-dark Luminlay side dots, and versatile Seymour Duncan pickups.
See all the Pro-Mod's new finish colors — including a beautiful Chlorine Burst quilt maple top — in Charvel's surprisingly jazzy demo video, featuring the chops of Thomas Griggs' trio:
Looking for a unique Charvel axe? The Super Stock Model 2 Skull and Bones meshes the original 1986-87 Model 2 with modern enhancements to create a killer limited-run axe, featuring an alder body, bolt-on maple neck with graphite reinforcement and scarf joint, 12″-16″ compound-radius ebony fretboard, a single Seymour Duncan TB-6 Distortion in the bridge, a Floyd Rose 1000 trem, and that Jackson-style headstock.
Also new for Summer NAMM: the weather-beaten Limited Edition Super Stock SC1, with a set of specs you won't find in any other guitar (unless you modded it yourself): an EVH Wolfgang humbucker in the bridge, a Seymour Duncan Li'l Screamin' Demon Strat SLSD-1N in the neck, a Floyd Rose 1000, heel-mount truss rod adjustment wheel, 12″-16″ compound-radius Pau Ferro fretboard, and cool 3-ply pickguard, all on a heavily relic'd alder body that looks like it's been through the wringer.
We expect these new Charvel models to ship in October 2019.
Shop now: New guitars from Charvel on zZounds
---
New from EarthQuaker Devices: Plumes Small Signal Shredder Overdrive Pedal
On display at Summer NAMM 2019's Delicious Audio Stompbox Exhibit is the EarthQuaker Devices Plumes, a new overdrive pedal that EQD has dubbed their "Small Signal Shredder." The Plumes is EarthQuaker's original take on the classic "green screamer" tube-like OD circuit, with the addition of a toggle switch for access to three distinct clipping modes.
Take a listen to zZounds' exclusive video to compare all three modes, and hear what Plumes has to offer. Mode 1 delivers symmetrical LED clipping for added crunch and compression. Mode 2 offers a wide-open op-amp drive with no clipping for a cleaner, more articulate boost, and Mode 3 gives you asymmetrical silicon diode clipping for more clarity and transparency with a loose feel.
We expect the EQD Plumes to ship in early August 2019.
Shop now: EarthQuaker Devices Plumes overdrive pedal on zZounds
---
New from EVH: 5150III EL34 Combos, Revamped 5150 Guitars, and Gold Top Wolfgang Standard
Mr. Eddie Van Halen (Edward to his friends) has a few new toys to show off at Summer NAMM 2019, starting with the reimagined 5150 Standard and Deluxe guitars. Available in a palette of understated colors (and stunning quilt maple tops on the Deluxe models) the new EVH 5150 Series guitars sport a Strat-style body shape and "hockey stick" headstock, just like the much-loved EVH Striped Series 5150 model. But unlike the striped original (which offered a single bridge pickup), the revamped 5150 Standard and Deluxe feature a pair of EVH Wolfgang humbuckers in the bridge and neck — along with a Floyd Rose bridge and EVH D-Tuna for instant switching from drop-D to standard tuning.
Also on display at the EVH booth at Summer NAMM: a pair of new 5150III 50-watt combo amps. A departure from the familiar 6L6 5150III combos, both new amp models are voiced with two EL34 power tubes to evoke a more modern "British" sound. Available in 1×12″ or 2×12″ configurations, each 5150III combo offers three channels to help you dial in tones from clean to mean.
And for fans of the EVH Wolfgang Standard, Summer NAMM 2019 brings a new Gold Top finish to this well-loved guitar.
Look for the new EVH 5150 guitars and 5150III EL34 amps to ship in October 2019.
Shop now: New EVH guitars and amps on zZounds
---
New from Fender: Britt Daniel Telecaster, Tone Master Amps & More
Fender's booth at the Summer NAMM 2019 show is bristling with brand-new guitars, basses, amps and pedals. Of particular note are several newly released limited-edition models from the Fender Rarities series, like this Quilt Maple Stratocaster, and a signature Thinline Telecaster from Britt Daniel, lead singer and guitarist of indie rock darlings Spoon. Fender has also dropped a slew of new effects pedals, from The Trapper Dual Fuzz to the knob-happy Reflecting Pool Delay/Reverb.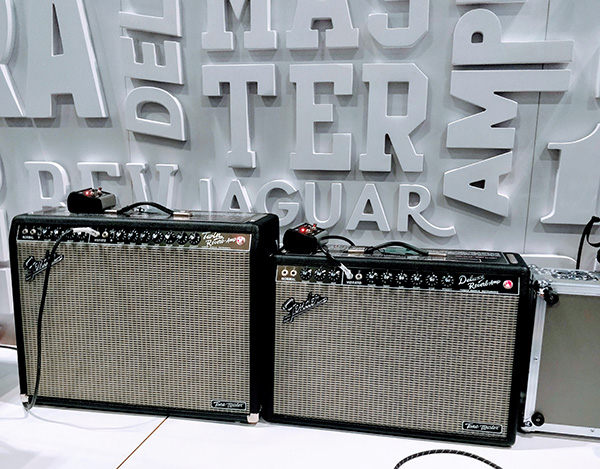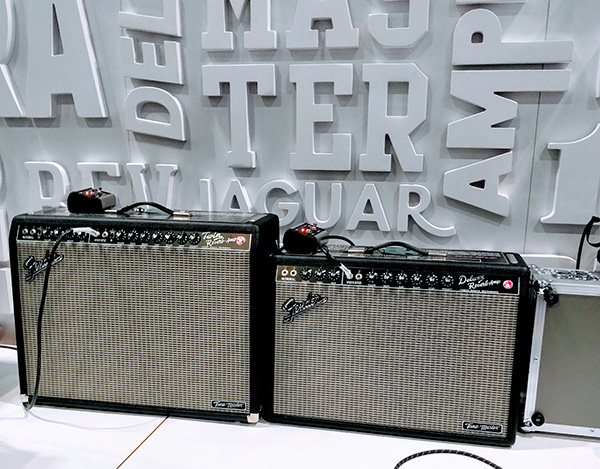 New for Summer NAMM are two modern Fender guitar amps: the Tone Master Twin Reverb 2×12″ and Tone Master Deluxe Reverb 1×12″. A first for Fender, these solid-state combo amps aim to faithfully model the tube tones, sparkle and clarity of the classic Twin Reverb and Deluxe Reverb tube amps they're named after — without the back-breaking weight.
Look for the new Fender Tone Master amps, new pedals, and Britt Daniel Tele to ship in late August and September 2019, with Fender's Rarities models shipping throughout the coming fall and winter.
Shop now: New gear from Fender on zZounds
---
New from Gretsch: Brian Setzer Signature Guitars, Limited Editions, and More
Brian Setzer fans at Summer NAMM 2019 have plenty to see at the Gretsch Guitars booth, with three new signature instruments created for the rockabilly and swing bandleader. The cream of this crop is the new Gretsch G6120T-BSSMK Brian Setzer Signature Nashville Hollow Body '59 "Smoke" — a painstaking recreation of Setzer's main gigging axe, adorned with a Bigsby vibrato tailpiece and Setzer's signature on the pickguard.
For a more modern take, feast your eyes on the G6120T-HR Brian Setzer Hot Rod. This beautiful hollowbody comes in four candy-colored finishes sure to stand out on stage.
Gretsch Guitars fans will delight in three new limited-edition models, including the G2622TG-P90 Streamliner loaded with P-90s for high-gain riffing, G5420TG Electromatic '50s single-cut hollowbody with a Bigsby tailpiece and authentic early-'50s details, and the Gretsch G5422TG Electromatic with a thinner, fully hollow double-cut body.
We're expecting the new Gretsch guitars to ship in September and October 2019.
Shop now: New guitars from Gretsch on zZounds
---
New from Jackson: David Ellefson and Adrian Smith Signature Axes, 2/3-Scale Minion Models, and More
Jackson Guitars' Summer NAMM 2019 booth is replete with new models for shredders of all sizes. Two new 2/3-sized JS Series guitar models — the double-cut Dinky Minion JS1XM and the V-shaped RR Minion JS1SM deliver serious Jackson sound and style in pint-size packages. There's a new short-scale bass, too — JS Series Concert Bass Minion JS1XM model. All three are on display at Summer NAMM in a brand-new Snow White finish with black hardware and a pointy headstock.
For more experienced axe-slingers, Jackson offers the new USA Adrian Smith San Dimas SDQM, a Strat-style stunner with an alder body and gorgeous quilt maple top in a Transparent Green Burst finish. Built for the Iron Maiden guitarist, this Smith signature model is loaded with a Seymour Duncan JB TB-4 in the bridge and Samarium Cobalt Noiseless single-coil Strat pickups in the middle and neck slots, along with a Floyd Rose Original double-locking tremolo.
Bassists visiting Jackson's booth at Summer NAMM: feast your ears on a formidable new Dave Ellefson artist model, available in 4-string and 5-string versions. The all-new X Series Signature David Ellefson Concert Bass is packed with personal touches from the Megadeth bassist himself, including a Jackson paddle headstock with the "Radiation" logo and Ellefson's signature on the truss rod cover, a new pickguard, and distinctive chrome hardware.
Look for these new Jackson models to ship in October and November 2019.
Shop now: New guitars and basses from Jackson on zZounds
---
New from Line 6: Spider V MkII Guitar Amps
First released in 1999, the original Spider I amps were on the front lines of the digital modeling revolution. Now, 20 years later, Line 6 continues to innovate with the powerful Spider V MkII series — now on display at the 2019 Summer NAMM show.
Featuring new presets, including Artist and Iconic Song collections, these new Spider amps help you spend more time playing guitar and less time tweaking knobs. Line 6 also makes practicing a lot more fun with the inclusion of an on-board tuner and metronome, as well as a host of drum loops to get your creative juices flowing. And with most models including an onboard wireless receiver, you can just plug a Relay G10T wireless transmitter into your guitar and start playing with more freedom to move around.
Available in multiple formats — from the practice-ready V 30 MkII combo amp, all the way to the heavy-duty V 240HC MkII head — the Spider V MkII amps put great tones within any player's reach.
Line 6 Spider V MkII amplifiers are now shipping!
Shop now: Line 6 Spider V MkII amps on zZounds
---
New from Martin Guitars: New Juniors and 16 Series Acoustic-Electrics
It wouldn't be Summer NAMM without a new crop of Martin acoustic guitars! At the Martin Guitars booth, NAMM-goers are getting their hands on the new Junior Series models — all-solid-wood Martins with slightly smaller bodies (and beginner-friendly price points.) The Auditorium-style 000 Junior 10 and 000C Junior 10E (Martin's first Junior model with a cutaway) offer sapele backs and sides with Sitka spruce tops, and a soft back edge and tapered neck for comfort and playability.
New to Martin's venerable 16 Series are the 000-16E Orchestra and 00-16E Grand Concert acoustic-electrics, featuring satin-finished granadillo backs and sides for prominent bass response and bell-like overtones, paired with a Sitka spruce gloss top. Also released at Summer NAMM 2019 are new editions of the well-known D-16E and OMC-16E models, now crafted with ovangkol tops, backs and sides with a sunburst finish for a unique look.
Look for these new Martin models to ship in August 2019.
Shop now: New gear from Martin Guitars on zZounds
---
New from PreSonus: Eris XT Powered Studio Monitors
Summer NAMM is traditionally a guitar-focused tradeshow, rather than a hotbed for high-end studio gear. But a few pro audio vendors do come out to Nashville to play, notably PreSonus Audio Electronics, with their slew of StudioLive mixers, FaderPort DAW control surfaces, Studio One music production software — and the brand-new Eris XT studio monitors.
PreSonus' original Eris monitors have long been go-to choices for musicians and engineers seeking accurate monitoring at an affordable price. An upgrade to the hit Eris design, the brand-new Eris XT models offer a new elliptical waveguide for superior high-frequency detail, and wider 100-degree horizontal dispersion for a broader "sweet spot."
The PreSonus Eris E5 XT and Eris E8 XT come in larger, ported enclosures, so they can reach significantly lower frequencies than the original E5 and E8 — all the way down to 35 Hz!
PreSonus Eris XT monitors are now in stock and shipping at zZounds!
Shop now: PreSonus Eris XT monitors on zZounds
---
New from Source Audio: One Series C4 Synth Pedal for Guitar and Bass
After a months-long flurry of Instagram videos showcasing the sounds of hand-painted pre-release prototypes, Source Audio has released their C4 Synth Pedal, which they're calling "essentially a modular synth in a box."
Inspired by Source Audio's chief sound engineer Bob Chidlaw's personal modular synth rig, the C4 pedal features an easy-to-use 4-knob interface and a choice of three synthesizer effects for guitar or bass.
However, the C4's true power is unlocked when you connect the pedal to Source Audio's Neuro Desktop Editor software (a free download for Mac or Windows) or Neuro Mobile App (free for iOS or Android), which allows you control over 4 synthesizer voices, each with three waveshapes, myriad modulating filters and effects, and even "programmable sequencing" (sounds like an arpeggiator.)
We expect the Source Audio C4 Synth to ship in late July 2019.
Shop now: Source Audio One Series C4 Synth on zZounds
---
New from Spector: Revamped Performer and Legend Series Basses
Spector's Summer NAMM 2019 offerings add to the venerable bass brand's budget-friendly Performer and Legend series, offering Spector style at prices any bassist can appreciate.
Newly upgraded for 2019, the Spector Legend 4 Standard and Legend 5 Standard are now crafted from ash with flame maple tops. Both 4- and 5-string models are outfitted with maple/padauk necks, new P/J pickups, and an improved high-mass bridge.
Also on display at Summer NAMM is the revamped Spector Performer Series 5-string designed specifically for beginner bassists with a nato body in the classic NS shape, a 3-piece bolt-on maple neck, 24-fret amara fretboard, 35″ scale length, and Spector's custom proprietary pickups.
The new Spector models are expected to ship in August 2019.
Shop now: New gear from Spector on zZounds
---
New from Squier: Classic Vibe Series Guitars and Basses
Squier has refreshed their popular Classic Vibe series with a selection of new models on display at Summer NAMM 2019. These '50s-, '60s-, and '70s-inspired guitars and basses honor the roots of the Stratocaster, Telecaster, Precision Bass, and Mustang Bass, complete with throwback headstock markings and vintage-tint gloss neck finishes.
As we've come to expect from Squier, these instruments will be available at prices any musician can afford. And the Classic Vibe '50s Tele and Classic Vibe '60s Strat are also available in left-handed models.
Also making a return to Squier for 2019 is the Starcaster. A bit of a cult-classic, this semi-hollowbody model is getting three iterations — an Affinity model, a Contemporary Active model, and a Classic Vibe. Each presents its own unique feature set, so be sure to check them all out and compare.
Look for these new Squier guitars to ship in late fall 2019.
Shop now: Squier Classic Vibe guitars & basses on zZounds
---
New from Walrus Audio: Kangra Filter Fuzz Pedal
A collaboration between Walrus Audio and Saturday Night Live guitarist (and known fuzz fanatic) Jared Scharff, the Kangra Filter Fuzz is an aggressive-sounding octave fuzz that doubles as a psychedelic filter. This hot new pedal is on display at the Delicious Audio stompbox exhibit at Summer NAMM 2019.
Two effects in one, the true-bypass Kangra delivers modern and vintage fuzz styles, along with a versatile filter that can run independently of the fuzz with Resonance, Sensitivity, Frequency and Envelope Filter controls.
The Walrus Audio Kangra is now shipping at zZounds!
Shop now: Walrus Audio Kangra Filter Fuzz on zZounds