At some of Chicago's more famous museums, patrons aren't supposed to touch the exhibits. But Synth House Chicago Museum is different. In this cozy co-working space in the West Town neighborhood, guests get their hands on an impressive collection of modern and vintage synthesizers curated by owner Marty Pelayo, who encourages museum visitors to bring their own recording gear and lay down the next big electronica hit.
A Chicago native who's done his share of traveling, Pelayo says Synth House was inspired by synth-enthusiast workspaces around the world. "There's a big movement of this type of place going on in other countries," says Pelayo, whose research led him to Australia's MESS: Melbourne Electronic Sound Studio. "At MESS, you can have a group of six people come in, set up their workstations…a collaborative classroom setup. That's what I had in mind."
Pelayo found further inspiration on a trip to Oakland, California's VSM (Vintage Synthesizer Museum). "They have a lot of vintage synths — specialty ones, like the EMS Synthi which was used by Pink Floyd. It was really cool to get my hands on that!"
No Stranger to Synthesizers
A guitarist and metal devotee since age 11, Pelayo began to gain an appreciation for synth-based music when he first heard Trent Reznor and Nine Inch Nails. "I'm around 12 years old, starting to look at what kind of instruments he's using, and I was like, 'What's that thing? I know how to play guitar, but what is that?'"
By 2007, Pelayo began to scratch the synth itch by playing the virtual instruments within Propellerhead Reason DAW software. "I got into Reason 4.0, which was very cool software, with patch points in and out. That's how I really learned about synthesis."
After some years experimenting with software synths, Pelayo's enthusiasm for vintage analog synthesizers was sparked by the '80s-infused sounds of one smash-hit Netflix original series. "The turning point to analog was definitely Stranger Things," Pelayo remembers. "It came out in July 2016, and I didn't watch it until around Halloween. I wasn't even five minutes in, at the scene where they're all riding the bikes together, when I heard that track called 'Kids,' and I was just like, 'What is this?' I literally had to stop the show and look up what band created this, and what sound that was."
Pelayo learned that the music for Stranger Things was the work of Michael Stein and Kyle Dixon of the electronica band Survive. After binging on the science-fiction horror series, he seized the opportunity to see the band live in Chicago. "I watched it at the end of October, and Survive was going to be at the Empty Bottle on November 6. I literally was able to watch Stranger Things, see the band perform, and then meet them, all within one month."
Pelayo recalls the Survive show — at one of Chicago's most venerable intimate venues — as a transformative experience: "When they played Empty Bottle, they were using all of their old gear: an ARP Odyssey, vintage Roland SH-5 and SH-101…Just being in that small space with that kind of gear, I felt the low end within my soul. It was so heavy."
Building a Synthesizer Collection
His soul sufficiently shaken, Pelayo soon began scraping together his own synth collection. "February 2017 is when I visited California to check out that VSM space. After that point, I knew this was what I needed to do, so that's when I stopped traveling, and started saving money. It took almost two years. I spent a lot of time waiting tables, bartending, and just penny-pinching everywhere I could."
Pelayo's purchases included an epic Moog rig — including a Grandmother, Mother-32, DFAM, Subsequent 37, Minimoog Model D, a Theremini, and an 8-voice Moog One — plus a Roland System-500, MIDI controllers like the Arturia KeyStep and BeatStep, and many more instruments.
The Moog Minimoog Model D reissue has proven to be Synth House Chicago Museum's most-in-demand offering, along with the vintage Roland Juno-106 and Juno-6 boards. The museum's more modern "exhibits" include hardware synths from such boutique manufacturers as Denmark's Tasty Chips and Moscow-based Soma Laboratories.
Pelayo is particularly enamored by Soma Laboratories' instruments. "I think this company is by far the most innovative right now," he says of Soma. "They stole the show at Superbooth this year — they're coming out with a new drum machine called the Pulsar 23. You know how with modular synths, you patch cables to other things? They're making an instrument where it has conductive pins as patch points, and you're using your fingers as patching for them. It's going through your body." Pelayo describes how this method saves time for synthesists who want to experiment with a sound, before making a more permanent patch with one of Soma's clamp-on cables. "They're almost like jumper cables — you clip them on. It looks very industrial. It doesn't even look like an instrument. Which I love, because I come from a Trent Reznor-type background, and I'm into those weird machines he uses."
The House is Open
With the gear inventory growing, Synth House needed a home. Buoyed by Pelayo's social media posts in late 2018, the fledgling museum attracted the attention of Music Garage, a popular rehearsal studio complex on Chicago's near west side. "Music Garage actually saw me online, and they scouted me out, saying, 'Hey, you need to get your room right away, because our rooms go fast.' So that was really cool." Soon thereafter, Synth House Chicago set up shop in one of Music Garage's engineering suites, repurposing the control room and live room into six workstations, each stocked with a rotating collection of gear.
Synth House Chicago Museum officially opened to the public on March 20, 2019. "I'm still kind of in the 'soft opening' phase," admits Pelayo. "I wanted it to be something small at first. But some people in the industry heard about it, so I felt like I needed to start going at it full throttle…I went from being a kid who was always in my room with these instruments, to having to network. Right away, I got thrown into it. It's kind of mind-blowing."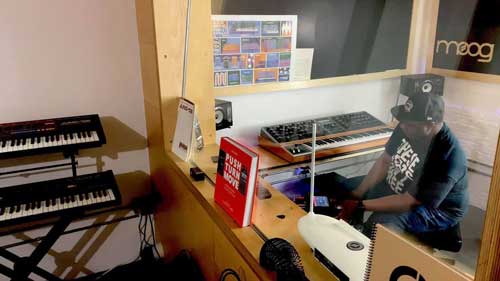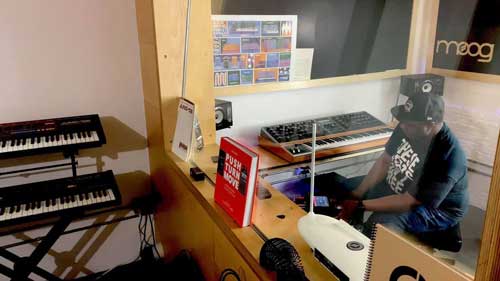 In its first few weeks of operation, Synth House Chicago Museum has garnered guests from hobbyists to hotshot producers. "The first visitor was someone who wanted to play the Minimoog through his pedals," recalls Pelayo. "And someone else visited twice already who does producing for a few groups, mostly using the Minimoog. He tried the Junos for the first time…he was like, 'I never actually touched this type of gear,' and he fell in love with those two. Then he came back to revisit the Moog One for some sampling."
Building a Co-working Space
Now that Synth House Chicago is up and running, Pelayo is seeking collaborators to help expand his nascent museum. "I want to branch out to people who are really good at what they do, to see what we can do with this place," says Pelayo, noting that he's interested in working with designers from the Chicago-based Threadless artist community on T-shirts and more Synth House swag.
"I really want to meet someone who wants to take this to the next level,"  explains Pelayo. "I see this as not only a museum, but also a co-working space. That's the vision I have for it — almost like a WeWork. You have all the stations set up, you have a café over there, and you can just hang out, book some time, write some music…I'm hoping eventually we can become some kind of label as well. There's all kinds of ideas for the museum. This is just a starting point."
Pelayo's vision includes a TV commercial he plans to produce soon: "We'll shoot someone using an iPad in a café, starting off a song, then putting it in their backpack and walking into the museum to start finishing the track with the actual analog synths."
"This is a resource for people to use"
As the curator of a synthesizer museum, Pelayo knows firsthand how the cost of high-end gear can be a roadblock for up-and-coming synthesists. That's a barrier he's keen on breaking down. "There's people out there that are just so talented, and they just don't have the resources yet," Pelayo points out. "If you put the right person behind a synth, they can do something with it that I can't do."
For guests of Synth House Chicago Museum, he says, "I'm trying to make it more affordable, so they can come here on the regular and just hang out. It's not really about the money…This is a resource for people to use."
For cash-strapped electronic musicians and sound designers, the growing category of reasonably priced analog synthesizers is a boon. "That's why the Korg Minilogues are very popular — it's a great price point," Pelayo asserts.
And as affordable home studio gear becomes ever more widely available, musicians are increasingly honing the skills they need to make DIY recordings. "Because of how accessible recording yourself is these days, especially with YouTube, and how you can learn online…people know how to record themselves now. They bring their own gear here…they get really creative with it, too. The person who was using the pedals wasn't using any computer; he was using his looper pedal as a multitrack recorder. He said he recorded a whole album's worth of material just in his time here. I'm like, 'Wow, man, I'm glad you got something out of it!' That's what the museum is here for."
---
Gear You Can Try at Synth House Chicago Museum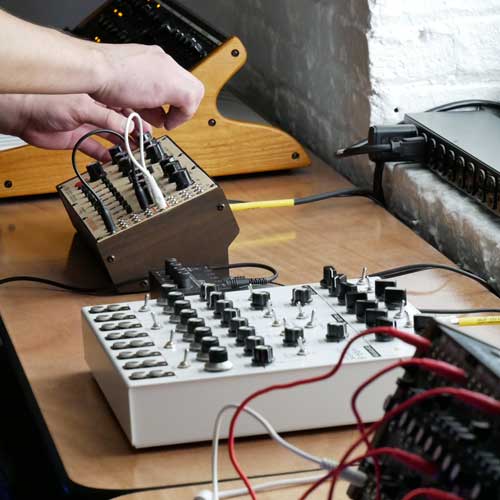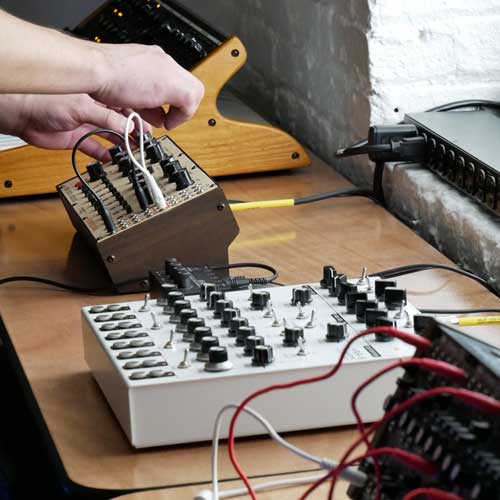 Moog DFAM + Soma Lyra-8
Of all the instruments at Synth House Chicago, Marty Pelayo's current go-to is "definitely the Moog DFAM. But not by itself." Next to the DFAM sits the SOMA Laboratories Lyra-8 Organismic Drone Synth. "These are my two favorites right now," Pelayo enthuses. He starts a bass-drum-and-snare sequence playing on the Moog DFAM, routes its output to the input of the Lyra, and dials in delay and distortion. "I like to use the Lyra-8 just as a droning texture in the background for the drums…It's a crazy machine, with eight voices that can all be used independently or at the same time."
---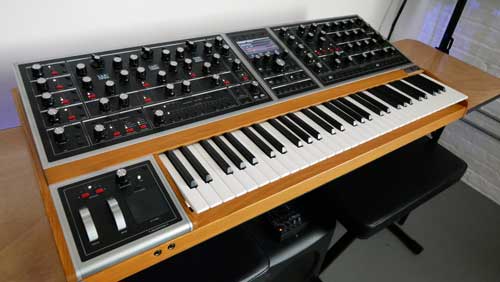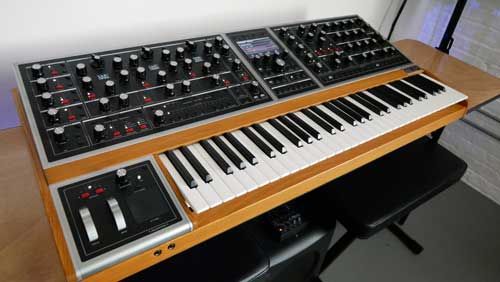 Moog One (8-Voice)
A centerpiece of Synth House Chicago's collection is the 8-voice Moog One. It's dense on features, Pelayo warns: "Most people spend four hours here, and they jump around between workstations. You could spend all four hours on the Moog One, and you still won't even learn half of what it can do." Pelayo points out how unusual it is to have so many digital effects on board a Moog analog synth, complete with presets created by Eventide. "You're able to patch in other instruments to the effects here, so I can literally take my guitar and run it into the effects."
---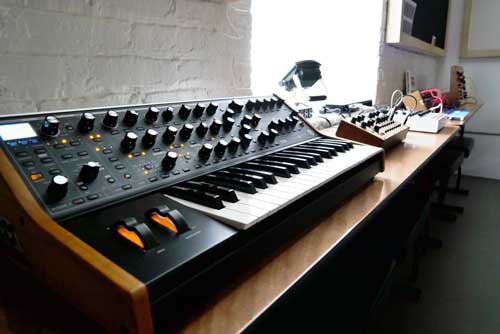 Moog Subsequent 37
One of Moog's most sought-after synthesizers is the Subsequent 37, successor to the Sub 37 Tribute Edition. "This is used quite often on stage. I've seen so many bands use one," says Pelayo of the Subsequent 37, pointing out the instrument's distinctive shape and brightly glowing LCD screen. "Tame Impala uses this on stage, and I took a friend to see Passion Pit at the Riv — they were using a Subsequent 37."
---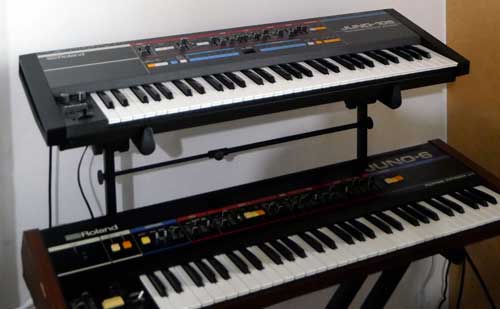 Roland Juno-6 and Juno-106
"When I played a Juno-60 for the first time — the first hardware synth I ever played — I was blown away," Pelayo enthuses. "The first thing I noticed was the low end and the harshness that comes from the filter — it's definitely not something you can get with digital." While he's not an analog purist, Pelayo appreciates the inconsistencies that add character to vintage hardware. "This is from '82. It's old," he says of his Roland Juno-6 keyboard, the predecessor to the Juno-60. "It drifts out of tune, and it drifts out of tempo when you're using the arpeggiator. And it's kind of fun; it gives it a different feel. When you're coming from a computer background, you're used to everything being so quantized and in tempo and synced up, with sounds perfectly in tune. There are some things that digital can't do."
---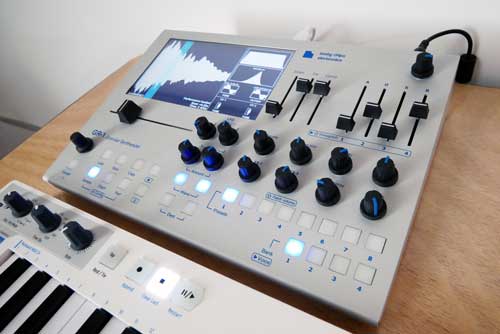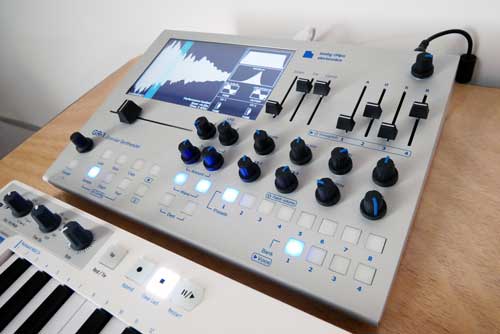 Tasty Chips GR-1
One of the more "boutiquey" pieces in Synth House Chicago's collection is the Tasty Chips GR-1 granular synthesizer, a digital module with a big, bright 7″ display. "This was made by a small company based near Amsterdam," Pelayo says. "Tasty Chips is a new company, and this type of gear is the outcome of people wanting to get their hands on synths and create."